Teacher Resume Examples & How to Write Guide 2023
If you have any experience applying to jobs, you already know that the market is inundated with cutthroat competition. Many talented people are vying for the same position you want, so it's crucial to take every step to set yourself apart from the pack.  

The first step? Craft a killer resume. The best way to do this is to look for teacher resume examples. While many of us don't want to believe this, one piece of paper is responsible for moving you on to the next step in the application process.
There's a fine art to creating a resume for teachers that not only encapsulates you and your skills but sells you to your potential employer before you even step foot in the interview room.
In this post, we will provide several samples and templates of teacher resumes to give you an idea of how to write the perfect resume to attain your dream teaching job. 


Teacher Resume Sample
Teacher resume samples will give you an idea of what to add to your own resume and what to avoid. The first thing you'll notice is that these resumes are clean, straightforward, and simple to read. The best resumes samples will show you have the skills without being overly verbose and taking up too much space.


As you'll see below, our teacher resume examples highlight the potential employee's skills, education, and knowledge of the field. The basic idea is to create a working document that you keep with you. Then, as you gain experience and education, you can add it in and fire the resume off to additional positions that you might be interested in.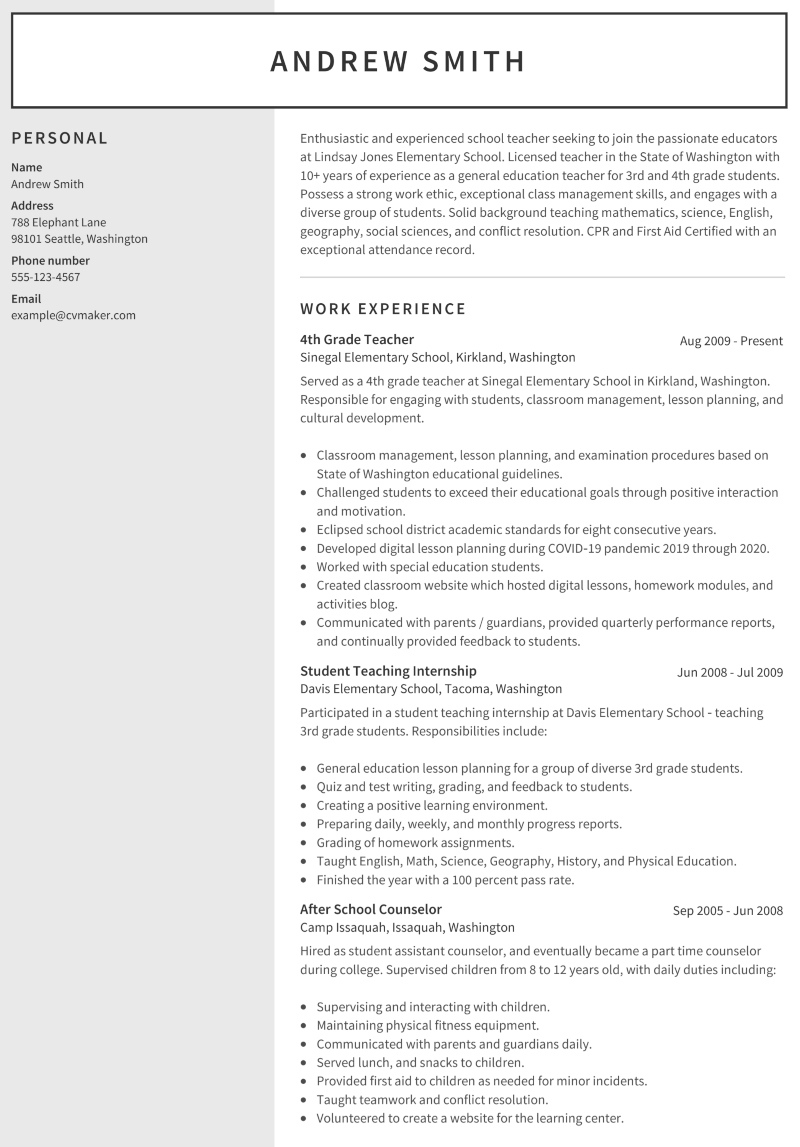 Personal Information
It's easy to overlook the importance of this section. It seems pretty straightforward, right? Simply write in your name, phone number, and email address, and bing, bam, boom, you're done.
Most people don't realize that this is the first impression you're making to your future employer. As such, you need to take extra care that there are no typos, all of the information is accurate, and that it's placed in the correct position.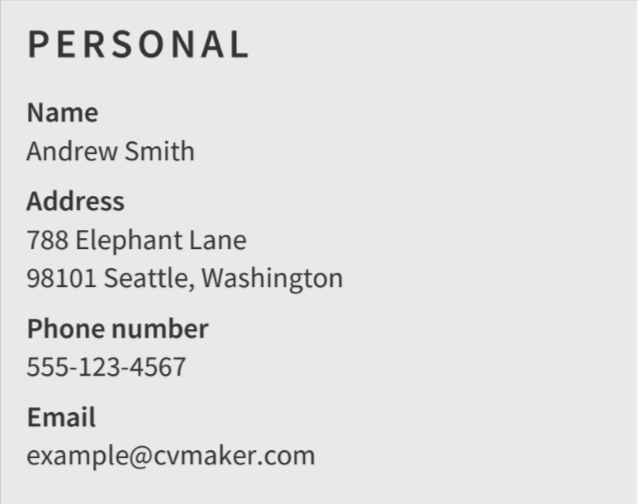 While there is undoubtedly leeway with where you position this section, many applicants place personal information at the top and bottom of the resume. Place the contact information once before the objective and then another time at the footer of the resume.
Why do this twice? First off, in your teacher resume, you want to remind them as much as possible what your name is, almost like subliminal advertising. You also want them to immediately see your contact information as soon as they decide they want to contact you.
Resume Objective
The resume objective is a crucial element of your resume and arguably one of the essential features of your teacher resume.
An optional part of the resume is the section where you state your career goals and speak about your most important skills. Make sure to mention the job title of the position you're applying to and keep the entire objective to two to three sentences.

To craft a successful resume objective, you want to include a sentence or two about your objectives and encapsulate the key elements of what makes you an effective teacher and educator. Such features include:
patience
tolerance
critical decision-making
a passion for imparting knowledge
But how do you distill all of that into one sentence? Make sure to use strong language, strong verbs, and sophisticated vocabulary. Try to illustrate your passion for equipping today's youth with the knowledge and skills they will need to succeed in life.
Personal Statement 
A personal statement is a little bit different than a resume objective. For one thing, a personal statement is much longer than a resume objective and is a place where you can showcase your strengths, achievements, and career aspirations.
When you build your personal statement, you have the opportunity to show how you'd be the best candidate for the open position. Typically personal statements should be around 200 to 500 words and include a brief overview of who you are in addition to your strengths, work experience, and education.
While it may be tempting to recycle the same personal statements, you should write a new statement every time you apply to a new position. Employers will be able to tell if you're using a canned, generic statement or if you are tailoring the statement to their specific position.
Professional Work Experience
Now we've come to the meat of your resume: the area where you list your professional work experience. Undoubtedly, it's the most crucial section of your resume and is an area that you want to shine and set yourself away from the crowd.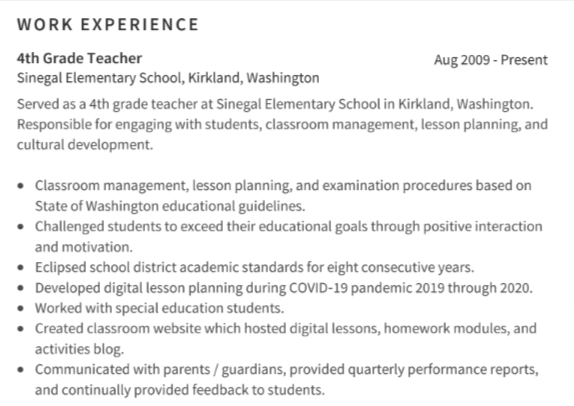 The key is to choose the most substantial, relevant experience and expand on the position with a series of bullet points where you state your accomplishments and further detail your experience. An important note, make sure that you list these experiences in reverse chronological order - meaning the most recent venture is the first listed.
Most people run into difficulty with this section because they attempt to cram too many experiences onto the page. Often, less is more. Stick with the most relevant positions. Include your most impressive teaching experience and your main accomplishments for each position you have held. More experienced teachers should focus on positions you are most proud of and jobs that directly connect to the position you are applying for.
Just starting and don't have many professional experiences? Include other activities or volunteer positions such as student teaching, tutoring, informal teaching positions, or leadership roles.
When it comes to writing these experiences, the more specific you can get, the better. When a job description sounds vague, it can feel made up or wishy-washy. Be direct, be clear, and let them know how these experiences can lead to you being the right candidate for the position.
When writing, keep these three tips in mind:
Use strong action words. Make sure to use words like spearheaded, organized, directed, and so forth. These types of bold, strong words demonstrate leadership, initiative, and strength.
Focus on accomplishments. The duties of teachers are, for the most part, the same. You don't want to fall into the same trap of monotony as your other competitors. Try to focus on your accomplishments in each position instead of writing the same old job description.
Use buzz words. As you write your resume, refer to the job posting to include their keywords. Also, use teaching buzz words to show you understand the atmosphere of the position. Such teaching buzz words include multicultural instruction, peer teaching, IEP (Individual Education Plan), critical thinking, and so forth.
Because this section is the bulk of your resume, formatting is key here.
There are many different styles that you can go with when creating a resume. Again, stick with the more relevant positions. Use bullet points to describe your various duties, responsibilities, and elements of past jobs where you think highlight why you believe you would make an excellent addition to their team.
Another thing to remember? Use the present tense to describe job duties of positions you currently hold and past tense to describe places where you no longer work. Make sure to include start and end dates, and make sure to list the company title and the address of the company.
For examples, check out these great education resume examples from Wison Teacher.
Manage benefit enrollment process for all new hires;
Communicate company benefits plans,
Assess common questions during orientation to improve presentation content.
Trained new employees in auditing and analytical processes.
Provided strategic direction during marketing communication plan development and in preparation for national launches
Designed a new Excel database for investments and reduced investment process time by 2.5 hours/day
Education
The education section is fairly straightforward as it is where you add the school you graduated from and what degree you hold. Some people put the date of their graduation, but if you're worried about facing age discrimination (whether from being young or old), then you can leave this out.


The education section can also list any additional certificates or qualifications relevant to the teaching job.
As for placement, you can either place this at the top or bottom of your resume. Because other resume areas are a little more critical, you may want to keep the education at the very bottom. If you think your education is especially pertinent to the job you're applying for (you went to an Ivy League school or went to a school with many contacts in the faculty), then you might want to place the education section at the top, so the employer sees it sooner.
There is also a debate on whether or not you should include your GPA within your education section.
To decide whether or not to include your GPA, use the same logic. If you had a GPA that will especially impress the employer (think 3.7 or higher), consider including it. If you don't have a GPA that reflects what an excellent worker you are, you can leave it off. Leaving off a GPA will usually never be detrimental.
Skills
An equally important aspect of your resume is the skills section, where you showcase the skills necessary for creating lesson plans, educating students, and interacting with parents.
Try to showcase skills that would aid your endeavors of being an educator. Think about listing abilities like listening, patience, tolerance, excellent communication skills, fluency in a second language, proficiency in computer programs, and so on.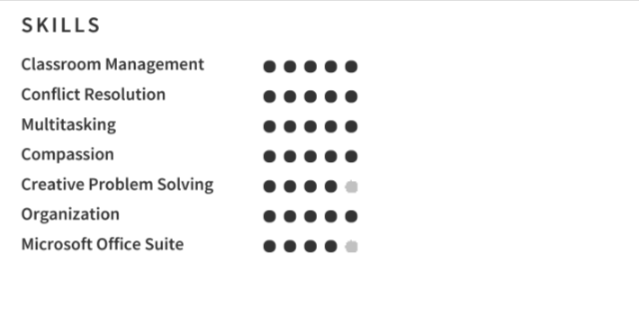 Another significant element is to include ways that you would be able to help with after-school activities. Employers love initiative, and showcasing skills that will make you an invaluable asset to the faculty during school hours and after will help immensely.
For formatting, you can either write a paragraph or list out your skills in a bullet list. Focus on the most relevant teaching skills or skills that differentiate you from other candidates. If you have experience working with challenging students or children with special needs, this would be an excellent place to put that.
Courses and Specializations
Listing your courses and specializations is a great way to get an edge on your competition. Employers want to hire well-rounded people who can apply a vast area of knowledge to challenges or struggles that may arise in the classroom.
Think about the courses you have taken that would make you stand out and appeal to a wide range of students. If you haven't taken any extra classes, you may consider listing specializations that you have that could impress employers.
Also, feel free to list conferences, workshops, or seminars that directly relate to education and teaching in your teacher resume.
References
Often people use references as an additional supplement to their actual resume. While, of course, you can add a few references at the bottom of your resume, you also can provide a separate sheet to include a more expansive reference list.


If you decide to include a separate reference list, the style must match your resume. Use the same heading on your sheet as you do on your resume. Ideally, the design should match as well.
List 3-5 references. Make sure to keep the most impactful and vital references at the top of the page. Also, make sure to include their name, relation to you, their address, phone number, and email.
The Process of Asking For References            
Since you should include between 3 and 5 references, you should plan to ask 6 or 7 colleagues to make sure that you still have enough references for your resume should someone reject your ask.
The best people to ask are supervisors, administrators, or other teachers. Of course, the higher the position, the more impactful the reference. If you are nervous about asking someone for a reference, go into the conversation prepared.
Speak passionately about the desired position and why you believe you would make an excellent fit. Not only is this a great way to help convince them of your case, but it is also tremendous practice for when you land an interview.
More Teacher Resume Templates
There are many great teacher resume examples 2023 floating around the internet that you can look through for guidance. Like with anything, the best way to learn how to format a resume is to absorb copious amounts of examples of best teacher resumes to see what sort of formatting resonates with you and resume design that you don't particularly like.
Teaching resumes are so vast because there are so many types of teaching positions that you can be. You can be a high school math teacher, a kindergarten teacher, a gym teacher, and so forth. Believe it or not, each specific role has different formatting techniques.
To help you in your endeavors with crafting a good teacher resume, here are some excellent examples of sample resumes for teachers and different teaching positions.
One of the most fun aspects of creating a resume is the design. The resume's design is equally important in standing out from the crowd.
Some candidates think that putting a photo on your resume, which we strongly advise against doing. Not only does it come across as grossly unprofessional, but it also allows employers to judge you based on your appearance and not on your credentials.
For resume design, it's imperative that your font is not too small and is also not some sort of unprofessional font. Fun fonts don't make you stand out as a professional. Make sure that everything is legible.
Sometimes candidates try to make the font small to fit more into the resume, but this ends up backfiring as the font is too small to read, and employers can automatically tell that there's too much information on the page.
Also, try to make sure that your line spacing is even throughout. Use headers and bolded lines to break up the resume visually.
A proper organization of your information is vital to a successful resume. Make sure your information is listed so that it tells the employer a whole story and gives the employer a complete idea of who you are without being chaotic, disorganized, or confusing.
Final Points on Writing a Teaching Resume
As your first impression to potential employers, your resume is essential towards getting you in the room for an interview.
Make sure to keep in style with standard resume rules, which means keep your resume to one page long, include bullet points, and let the professional experience and skills sections take up the bulk of your resume.
When writing your skills and experience, use clear, concise, strong language to emphasize your leadership and educator abilities.
If you're unsure of what resume style you should go with, you can browse plenty of examples on the internet to get a feel of what works for you and what doesn't.
FAQs related to teachers' resumes
Still a little confused on how to best format your teacher's resume? Below is a list of frequently asked questions to help you on your track to creating the best resume that showcases your skills.
How to list certifications on your teaching resume?
Your certifications should be included in the education or skills section. Because some teaching positions require proof of certifications, you must put your credentials on your resume where employers can see them easily.
Should teacher resumes be one page?
Yes. This is true across the board, no matter where you're applying. You want to ensure that everything is on one page and not overwhelm the educator by only including the most relevant experience.
How do I make my teacher's resume stand out?
Aside from crafting a resume with strong language and easy readability, the best thing to do is find a simple design that is simple, elegant, and grabs the attention of your employer.
You may want to consider playing around with bright colors. That being said, make sure not to make the design too noisy, or else it can be off-putting and hard to focus.