Teaching Assistant Resume Examples & How to Write Guide 2023
It takes patience, compassion, years of education, and a strong comprehension of education to become a teacher in the United States. However, there are some people who love working with children who are not quite ready or able to commit to this vocation full-time. These passionate people often seek a part-time or full-time teaching assistant position. But, to land the perfect job, a candidate must start with a well-written teaching assistant resume.
Like any other job search, applying for a teaching assistant position starts with filling out an application and forwarding your assistant teachers resume to the hiring office. The question many future candidates ponder is how they should draft teacher assistant resumes. So, how should you write resumes for teacher assistant positions? Are there differences between writing one when you have experience vs creating a teacher assistant resume with no experience?
These are all questions we'll answer in the information below.
Teacher Assistant Resume Example
A teaching assistant is a vital component of today's educational system. Some of them help with developing lesson plans, classroom management, supervising on field trips, or working with special needs students. Most candidates must have basic first aid experience, but you'll know what is required when you read the job description for the assistant position you're applying for.
Before we get too technical about how to write teacher assistant resumes, we'd like to provide a real-world assistant teachers resume sample. In the example teachers assistant resume, please take note of its structure, layout, formatting, and writing style. This an example of a professional resume for a candidate seeking a job in the State of Texas.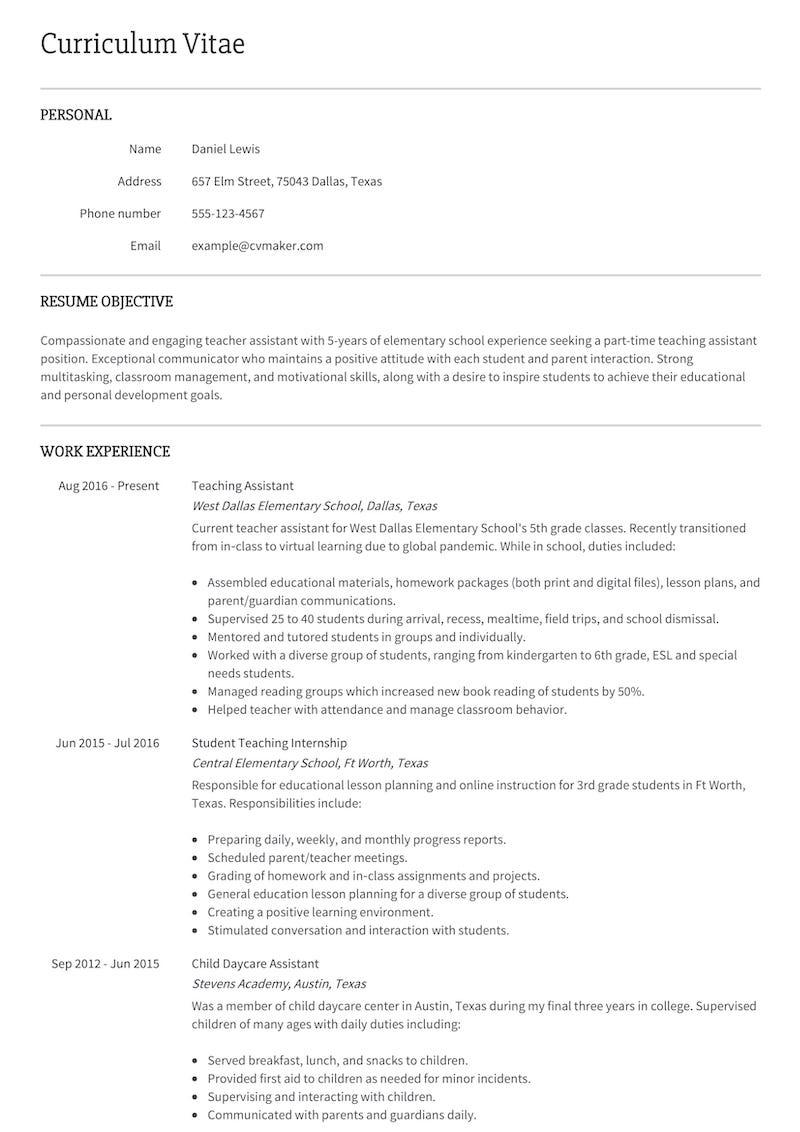 Download this resume example - Teaching Assistant

You'll notice in Daniel's teacher assistant resume sample that he is applying for a job in Texas. He has written a clean, professional, and easy-to-follow teacher assistant resume objective. It continues by listing his previous work history, education, and most importantly – his licensing and certifications. The resume gives practical examples of jobs he has held previously and showcases his skills.
Teacher Assistant Resume Guide: How to Write a Successful Teaching Assistant Resume
Contrary to popular myth, resume writing is not as difficult as you'd think. Most resumes for a teacher assistant blend together, which makes it difficult for a hiring manager to pick one for an interview.
The key to writing an engaging teacher's assistant resume is to tell a story. And like any story, the organization is the key. Starting with a master resume – which is a working document that allows you to list every detail and edit, is the key to engaging resumes for teaching assistants.
The master resume will allow you to document your contact info, hard and soft skills, work history, education and certifications, and your references. For a teaching assistant resume with no experience, you'll want to focus on internships or student teaching jobs. In the end, this master resume is your rough draft, or an opportunity to put everything together in one file.
When everything is listed, you'll be able to edit the content, spell and grammar check, and format it for the position you're applying for. The best advantage of this type of documents is that it can be used for a teacher assistant resume with no experience, a graduate teaching assistant resume, or any resume for a teacher's aid.
1. List Your Personal Information
Whether you're searching for an assistant preschool teacher resume or writing an advanced college teaching assistant resume, each one will start with your personal information. This section is basic but very important. It needs to be 100 percent up-to-date and accurate. It should include your legal name, mailing address, cell phone number, and email address.
It's always a good idea to list all this info on your master resume for a teachers aid.
2. Write Your Teaching Assistant Resume Description or Resume Objective
The teacher assistant resume objective is your chance to sell your application in less than five sentences. In this section, you'll want to explain why you're the perfect candidate for the job you are applying for. In Daniel's resume, you'll see that he is searching for an elementary school assistant teacher. His resume objective is written to highlight the skills needed to succeed at this level of education.
He documents his hard and soft skills, which many people often call 'buzzwords'. More importantly, the way in which it's written helps to provide the opening statement for telling a story – which will be supported with each section below.
If you're wondering what is required for a teacher assistant resumes skills section, the two paragraphs below will help you.
Hard Skills
If you are writing a teacher assistant resume with no experience or one with a plethora of work history, the hard skills you possess will help you stand out from the competition. These are the skills you have that help you become a good teaching assistant.
One of the best things you can do to organize this section is to answer a few important questions.
What are the qualifications or certifications that are required to become this type of teaching assistant in the state you are applying to? A few examples include grading exams and homework, state teaching credentials, or specific subject experience.
What are the tools that I'll use to be a successful teaching assistant? If you're drafting a preschool assistant teacher resume, it's likely that you will use art supplies, water-based paints, or some light technology resources. A graduate teaching assistant resume will include advanced technology – such as Microsoft Office Suites, Adobe platforms, and more.
Soft Skills
A teaching assistant's soft skills are those that permit them to engage with students, full-time teachers, parents, and more. This would include their ability to maintain patience, excellent communication skills, teamwork, compassion, organization, and attention to detail.
Bonus Tip: If you're applying for a specific assistant teaching position, like working in special education, children with disabilities, or childcare with small groups, make sure to include these skills in your opening statement. 
3. Work Experience for Becoming a Teacher Assistant
Daniel Lewis, who is our candidate in the teachers assistant resume sample, has a lot of previous work history – which you can clearly see in the example above. But this is not always the case. Sometimes you'll write a resume with no work experience. If this is your situation, you want to provide previous job history that is applicable to this position.
How to Format This Section
Work experience should always be listed in chronological order – starting with your most recent or current position. Make sure you list the name and location of the previous job, the dates of employment, and list four to six individual tasks in bullet points you were responsible for completing. It's also a great idea to provide some success stories for each job, as it will highlight your experience as a proven candidate.
4. Education and Certification for Becoming a Teacher Assistant
A teaching assistant applicant should possess a BA in Education or child development. They should also be licensed to teach in the state they are intending on working. The important thing to remember here is verifying which instructional education is required for the job you seek. If it's not listed on your resume, it will likely be discarded from the application process.
How to Format This Section
If you are licensed to teach – and if the position requires certification, this should be listed first. Education should be listed from highest completed to the minimum required. If a teaching assistant position requires a BA, there is no need to list your high school diploma or community college. If it requires a minimum of an associate's degree, then you'll want to include this along with higher learning if you've graduated.
5. Achievements
Achievements or awards you've received can help eclipse other applications. For teaching assistants, achievements you'd want to highlight are those you've received in previous jobs or education. You can also mention personal achievements, such as involvement with charity, non-profits, or community activities.
6. References
The reference section is essentially an opportunity for you to share personal or professional peers that can vouch for your work ethic and personal integrity. You'll want to choose people who will support the story you are writing in the resume. This will include supervisors or faculty members you've worked with in previous jobs, especially if you have previous teaching assistant experience.
Consistency is crucial when writing any resume, so it's vital to select references that are relevant to the information you've included on the application as well. Always verify their contact information and ensure it's up to date. More importantly, make sure you have their permission to be contacted if needed.
How to Format This Section
The reference section should only list the name and play of employment of your reference. You don't want to list their private contact information on a resume – as that would be a violation of their privacy. Simply write "available upon request" and provide that information if the hiring manager requests.
Bonus Tip – A good idea is to list two professional and one personal reference. If you're a teaching assistant candidate, you should ask two previous supervisors or peers. It's also a good idea to include an educational reference from college. Your personal reference should be someone who can vouch for your interpersonal skills or responsibility.
Final Points on Writing a Teaching Assistant Resume
Teacher assistant positions are rapidly becoming a crucial part of our modern educational system. They help full-time teachers with daily tasks, often work for different grade levels, and must be exceptional at connecting with children.
These are details that you must include on your resume. However, not all teaching assistant positions are identical – or require the same educational experience. The key to writing a resume that will stand out is to ensure it includes specific examples of the qualifications they are seeking in a candidate. This type of attention to detail will help you gain the attention of prospective employers.
Beyond documenting the relevant experience and customizing your resume for the specific job you're applying for, make sure to follow these crucial tips.
Make sure your resume flows from start to finish – and is reader-friendly. You don't want your resume to sound like a computer wrote it. Make it match your personality.
Always write your resume on a plain white background with black font.
Edit the document SEVERAL TIMES – through Grammarly.com and visual inspection.
Ensure its well-spaced, organized, and professional.
List all education, experience, and certifications in chronological order.
Verify your reference's contact information and use ones that support your resume.
The teaching assistant who takes time to focus on these crucial details is the one that will have a better opportunity to gain that important interview. Take time to write, edit, and fine-tune each resume for the specific job you're seeking. Finally, make sure your cover letter is written in a similar tone as the resume.
You should also take advantage of a high-quality teaching assistant resume template or resume builder that you can copy and paste the content into.