How to write work experience on a resume: what to include + examples
What do you think is one of the first sections a hiring manager looks at when receiving a resume? If you said work experience, you are right on target. Having a well-written work experience section will make job seekers' resumes stand out. If some of the most important skills for the career path are in place, the manager will move on to other sections.
Based on this, when it comes to moving forward in your career path, the work experience on a resume needs to be perfect. You don't want to risk being skimmed and put to the side. Instead, you want to get eyes glued on your resume and offer information that keeps them there. That's how you get an email asking you to schedule an interview.
Something you may or may not know is that managers often spend only a portion of a minute looking at the average minute. In the six seconds that your resume gets a glance, it needs to stand out and gain attention. Since work experience is one of the most important sections, that means doing everything perfectly.
But don't worry that there's no way you can do that. Once you understand what an employer wants to see, it's easy to give that to them. Then you'll be far more likely to get into the interview room and potentially a whole new career role. Take the tips and examples below to ensure your resume is as perfect as can be.
Why is the work experience section of a resume important?
There are tons of reasons to include relevant experience on a resume. The first is that many employers consider it the most important section. It trumps everything from your education and skills to the resume objective and references. The work experience section is often read first, which makes it essential for moving forward in the process of obtaining new employment.
When prospective employers look at the job experience in a resume, they use it to decide whether you have the skills and experience to succeed in whatever role you have applied for. In addition, you'll go into detail about your accomplishments, which is a great way to stand out from other applicants and get your foot in the door.
What to – and not to – include in your resume work experience section
When it comes to the work history in a resume, there are many things to include but just as many to avoid inserting. Information about the job you are applying for and what your employment history looks like will determine what to add.
TIP: Keep in mind that you should work with a reverse-chronological order. That means you start with the most recent position and move back to the previous position, and so on.
If your work experience is scattered, don't worry. It's becoming more and more common (and accepted) as time goes on. Adding side projects and part-time gigs is useful if any skills are related to the position you're applying for now.
When it comes down to it, you need to be ready to answer questions about your work choices, be able to explain your career path, and be honest about how much commitment you're interested in. After you decide which positions to list, there are several things you should add as you insert them into the resume. Each should have -
Action verbs – Action verbs are considered strong and work well in a resume format. Use words like "transformed" and "pioneered" to make yourself sound good. This also helps you avoid tons of adjectives.
Awards and honors – If you receive recognition at your job for great work, that's something you want to include. All of the work experience that you add to your resume should be as impressive as possible.
On-site training – If you gained certifications and skills on the job, those are great things to include. It can be a good way to showcase skills and prove you take initiative at work.
Quantitative info – When a hiring manager looks at your resume, numbers always stand out. They're tangible and specific. Whether you managed 20 clients each week or grew a reader base by 150%, make sure you include those details.
Results-based facts – The person reading the resume has the basics, so each of your job descriptions needs to be further. Focus on the ways you managed your positions in innovative manners.
Now that you know what to include on your resume, we want to delve into the things you should avoid. Some things do not need to be explained to the hiring manager. In addition, resumes have limited space, so you want to include only the most important bits.
You can do that by avoiding the things below -
Basic job requirements – The job title gives the basic information, so there's no reason to go into more detail. Instead, they'll better understand your role by reading the bullet points.
Filler text – Some words can be cut in a resume to save space. Think of words like the and I for a couple of examples.
Irrelevant information – Small responsibilities that have no bearing on the new position can be left out. Every word and bullet point should be focused on selling you.
What the company does – When you make a resume, you're showing yourself. It's not about another company. Hiring managers don't need to know those details.
How to write work experience on a resume: 5 steps to be noticed
You want to know how to write a job description on a resume. The good news is that it's not as challenging as you might think. Once you learn what to write in a resume for work experience and use it for a past entry, the others will be easier to compose. So take a breath and dig into the steps below in terms of how to write a job description for a resume.
Step #1: Create an eye-catching heading
The first step in creating a job history on a resume is making a heading that catches the eye. This can make you an appealing candidate from the very start. You'll want to include a title such as "work history" or "past employment" before you dig into the previous work experience and dates of employment.
One thing to take into consideration here is that the title looks better if it's a bit larger than the actual description. Use all capital letters or write in bold for extra visibility.
Step #2: Make sure experience is in the right place
After you look at a job posting and think about the job positions you want, make sure you create the resume in the right area of the resume.
If you're not sure where that is, don't worry. There are two typical options based on your work history. For those who have a reasonable amount of professional experience, add the section under your resume objective. Those who have less experience can put it under the education section.
Step #3: Use reverse-chronological order
Regardless of your key skills and any leadership positions, job candidates need to consider every aspect of how a resume is laid out. In most cases, employment history should be done in reverse-chronological order.
Not sure what that means? Don't worry; it's simple to understand. First, put your current or most recent position at the top of the section. Then move down and add the next most recent. Follow that format as you continue.
This is the most classic method for showing work history on a resume. However, there are other styles. Most are best served with this format but feel free to explore other options to make sure it's ideal for your needs.
Step #4: Keep things clean and easy to read
At the top of all your job listings, make sure to add the company name and location, what your title was, and which dates you were with the organization. You'll see several examples below to give you better insight into what this might look like for you.
It's fine to start with the company name or your position; nobody cares much about which you choose. However, work toward consistency. If you do it one way on the first job, keep that up with all the rest.
The same applies to dates of employment. Make sure they're in the same area with identical alignment.
Step #5: Add relevant bullets under each position
Every job that you list should have bullets after it to explain what you did there. Most bullets should be reserved for your current position. Add plenty of detail for this one. As you move backward, it's fine to limit the number of bullets as you do so.
For every point, you want to focus on your achievements. Don't stick to simple job responsibilities and duties. There's no need to add every single task you ever did. Instead, add the ones that are relevant and that you can include quantifiable information about.
TIP: As you write, use power words and action verbs so you create a persuasive message. You should also be sure that all your entries support the skills you say you have. Look at the job description and add keywords whenever you can.
3 Successful resume work experience examples
Now that you know what an employer expects, we want to share a few resume experience examples. Using professional experience examples for a resume lets you get a visual idea of how your document should look. This is a great way to see if you are on the right track or not. Below are three job experience examples for applicants of all kinds. Use the most relevant professional experience resume example as a guide for your resume.
Example #1
This first resume work experience example is for an applicant who is searching for a job in an electrical engineering position. You can see how her previous work experience is laid out and incorporates many of the tips we just provided to you.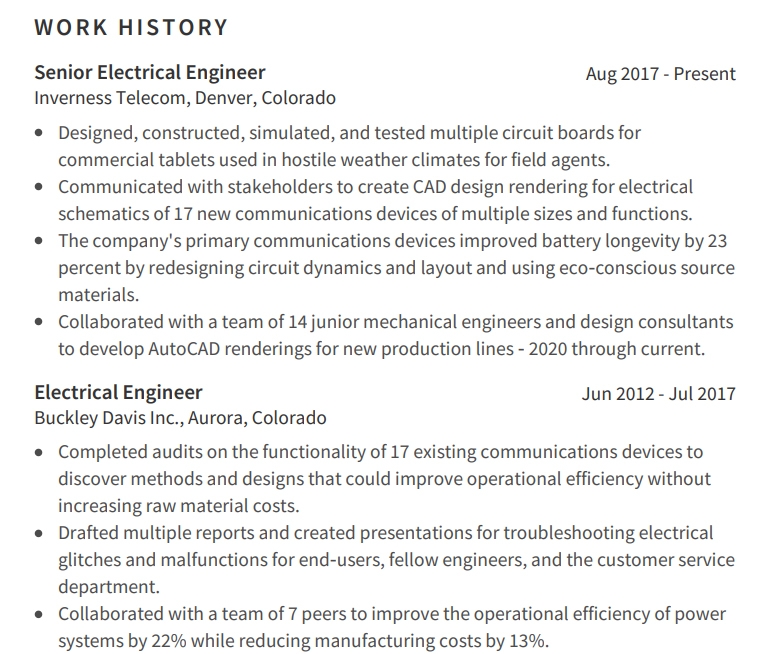 What makes this a good example
This work experience example contains two past jobs. Each of them has a well-made heading that includes all the needed information about the job role, company name and location, and dates of employment.
When you get into the bullets, you find action verbs and plenty of numbers to go with the achievement.
Example #2
Next up, you get a glimpse at what a hiring manager might see when a potential pharmacist sends in their resume. It offers two work positions from the past, along with limited bullet points under each of them.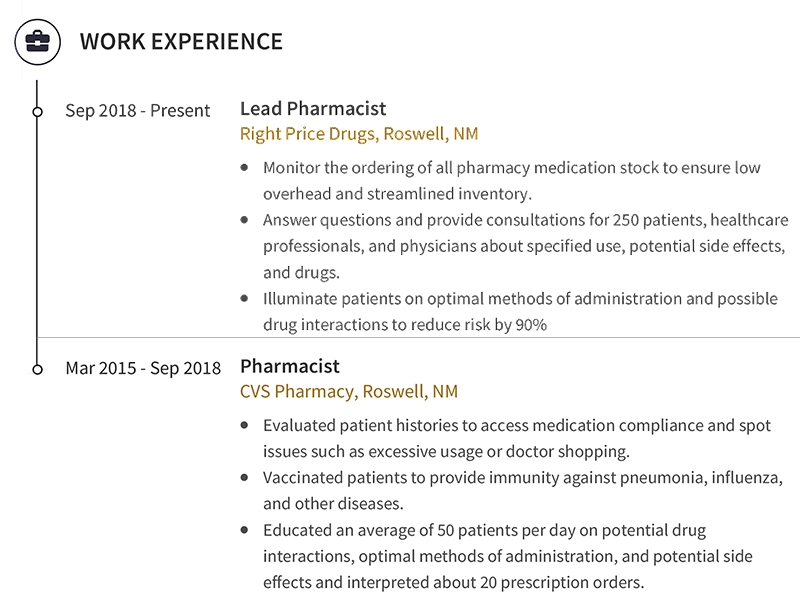 What makes this a good example
Previous employers will appreciate the way the work experience is laid out here. It's simple to see where one job ends and the next begins. The person who created the work experience section made sure to quantify their achievements and use keywords from the job description to tie everything together.
Example #3
Finally, we have an example employment history for someone who wants to work as a tutor. You can see the last two jobs they had in various tutoring positions. Everything is laid out professionally with the appropriate information, including dates of employment.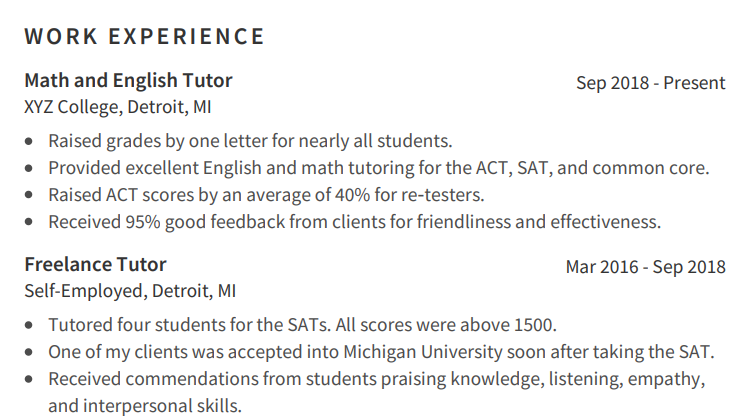 What makes this a good example
Future employers want to see your previous work experience and how well you did in past positions. This applicant makes that clear by describing how they helped students improve their grades and do well on various standardized tests. You can also get an idea of where their skills are the best.
What is the right resume experience format for a resume
When you're listing resume job experience, you want to be sure you show off your job responsibilities in the correct resume format. Each bit of relevant work experience should look the same, or it can be confusing to read. Being consistent shows you have an eye for detail and know how to follow the rules.
A few tips that will help you create the best work experience section include -
Format all entries the same with details like the company name and location, job title, dates of employment, and list of responsibilities.
TIP: Use the same font throughout and only use two styles, such as standard text for most of the resume and bold for job titles.
Make sure all sections are aligned in the same way, such as having right-aligned dates throughout.
Use the same font and method for all the headers to make sure this section of the resume is a breeze to read.
How to describe work experience on a resume: key takeaways
Now that you know what potential employers want to see in the work experience on a resume, all you have to do is spend a few minutes creating it. Make use of our resume builder to get it done fast. When you use the tips and examples above, you're sure to have a work experience section to be proud of.
Whether you have only a bit of experience or decades to add, the work experience section is one of the most important for your resume. Get it right, and you could be moving forward in the process. Good luck!
FAQs
How many years of work experience should you put on your resume?
When it comes to how much work history is on a resume, it can vary. It depends on how you ask. If you are asking us how many years of work experience is on a resume, we'd say to keep it to around a decade.
If it takes a bit more to fill the page, that's okay. The same applies if you need to use less for the section. Ten years is just a good average.
What to put on your resume if you don't have any work experience
Even if you don't have experience, you can create a great resume. Rather than focusing on the work experience section, put your effort into showing off relevant skills. Add in projects, hard and soft skills, hobbies and interests, and more. Achievements and certifications can also be added to show what you are capable of.
How to write work experience on a resume with employment gaps?
Many people have employment gaps for various reasons. There's no real need to draw attention to them on the resume itself. Simply write it with what experience you do have. If you get an interview and are asked about it, explain why you weren't working and describe a skill or ability you gained in that time.
How to list work experience for a career change?
There are several things you can do on a resume for a career change. Tie old experience to the skills needed in a new position. Focus on achievements using data and numbers. Tailor the descriptions for each job using relevant keywords to show you have the needed skills.
Should you include all work experience on your resume?
Full-time jobs, part-time jobs, volunteer experience, and internships can all be included in your work experience. However, that doesn't mean every role needs to be added. Those who have lots of experience can focus on the most relevant positions to create a better document.
Should you put unrelated work experience on a resume?
In most cases, it's better to stick with relevant work experience on a resume. However, it also depends on the type of job and how much other experience you have. If your past employment is limited, go ahead and add in other positions. But you want to try to tie the experience in, so highlight skills that apply to the new role.
Can you lie about work experience on your resume?
In theory, it's possible to do so, but it is very much not recommended. While an application and resume aren't legal documents, you can still get yourself in hot water. If the employer finds out you lied, you're likely to lose your job if you've been hired on. Instead, focus on key achievements in the position you have had.
How do you put international work experience on a resume?
So you've had additional experience, but it was in another country? You can still add it to your work experience section when building your resume. Format it like other experiences, and be sure to include the location. International experience is a great way to stand out!
How do you list remote work experience on a resume?
Having consistent employment experience for a resume is a good way to stand out. That includes both in-person and remote experience. If you want to showcase that you worked on a remote basis, simply add (remote) after the job title. However, you do not have to do this. It can look just like other positions if you prefer.
Is volunteer work experience on a resume?
Volunteer experience can be used as work experience on a resume. Just because you were doing good for free doesn't mean it can't be included. You'd insert it into a resume just like any other job you held. As long as the experience is relevant and shows off your skills, put it on the resume and let it shine.
How do you put stay-at-home mom on a resume without work experience?
Being a stay-at-home mom doesn't need to be a detriment as you embark on your career journey. It can be used in the work experience on a resume, just like other jobs. List it with a title like "caregiver" or "home manager," including dates, and put down some of the accomplishments you have.
How to write "currently working" in a resume?
If you're still employed somewhere, you should list it on your resume with the rest of your work experience. All you need to do is list the basics (name of company, position, and location) as well as the date. Since you still work there, simply put "present" or "currently working" as the end date.