Substitute Teacher Resume Examples and How to Write Guide 2023
You are ready to interview for a substitute teacher role. You send your substitute teacher resume to all the schools in your area. You have the skills, the qualifications, and the experience, but no one has asked to interview you.
You aren't the problem. The problem is your resume.
A hiring manager searching for an employee will only look at your resume for a few seconds before deciding whether or not to consider you. Your resume should encapsulate your entire professional life on a single page and attract the employer's attention within the first few lines. No pressure.
In this guide, you will learn how to craft a resume that will score you more interviews. With a clear resume objective and detailed chronology of your education and employment experience, you'll be in the classroom in no time.
Substitute teacher resume examples
The school system always needs substitute teachers. This means that yours will not be the only substitute teacher resume on a principal's desk. They will look at your resume for only a handful of seconds, so you need to make a favorable impression at a glance. This can be tricky when all you have is one sheet of paper.
If you have never been a substitute teacher before, don't let that discourage you from applying. You don't have to have substitute teaching on your resume to be hired, as long as you show that you have been properly trained and have the necessary skills. You have to start somewhere.
This guide will detail what you should include on your resume for a substitute teacher and how to organize that information so that principals will stop and look more closely. This guide includes a substitute teacher sample resume to help you visualize what your resume should look like before it's interview-ready.
Resume example - Substitute teacher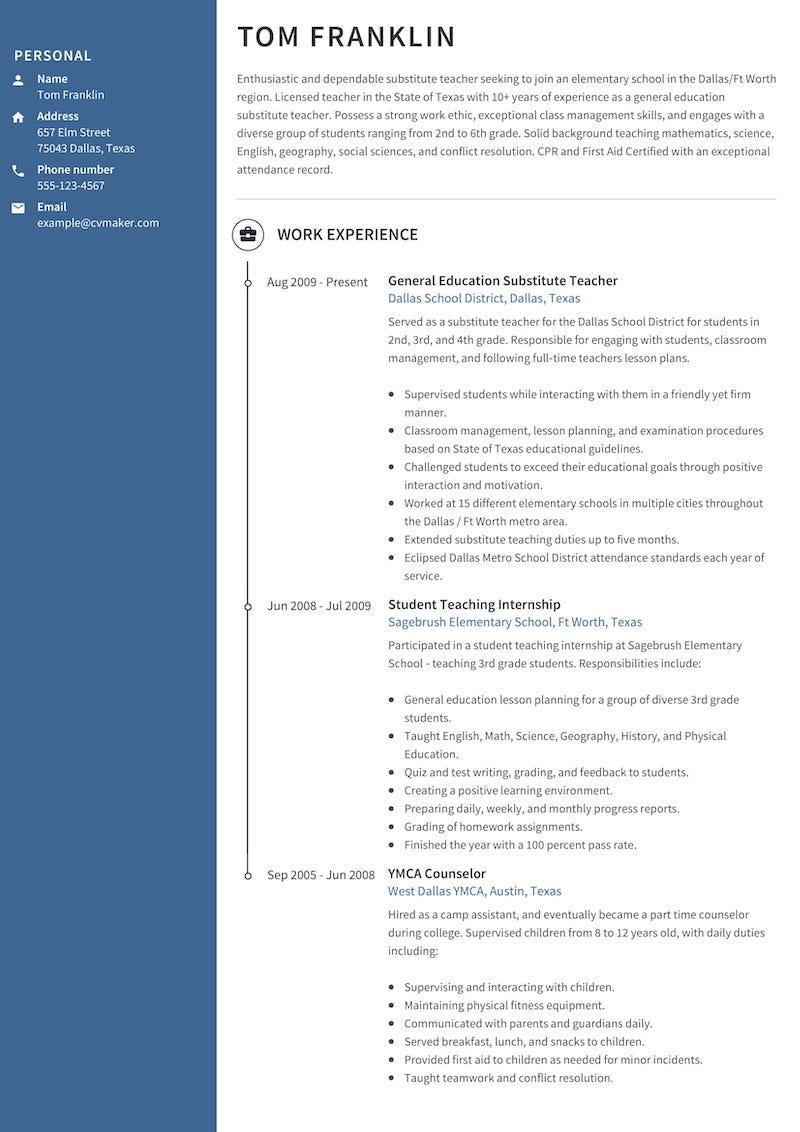 Download this resume example - Substitute teacher

Substitute teaching resume guide 2023: how to write a good resume for substitute teaching
Writing a resume for substitute teachers can be challenging because you will be applying for temporary positions at multiple schools, all of which have different requirements. The job of substitute teaching requires a lot of flexibility, and the same goes for your resume.
This guide includes a variety of substitute teacher resume samples for you to refer to when crafting your resume. There are a lot of different formats to choose from. A lot of your formatting will depend on your personal preferences. Don't feel like you have to stick to the format of only one sample substitute teacher resume.
The rest of this guide is a section-by-section substitute teacher resume description with example images to give you an idea of what your resume should look like. Feel free to make your resume your own, but there are certain guidelines you should stick to when it comes to content and format.
Personal information
It may seem obvious, but your personal information should be the first section of your resume. You can have the best qualifications in the stack, but that's useless if employers don't know who you are or how to contact you.
Your name should be the first item on your resume. That's kind of a given.
You don't need to write "resume" anywhere on the page. Hiring managers know what a resume looks like. Let the first thing they read be something they don't know.
Include contact information directly under your name. Email is how people will most likely reach you these days, so list that first, followed by a phone number and a mailing address. It's also a good idea to include their LinkedIn profile since some employers request that.
Your email address should be professional. The address "starlord420@hotmail" was pretty fun when you were a middle-schooler, but now that you're applying to teach middle-schoolers, you want to show that you are beyond them in maturity.
How to format this section
Choose a standard font that's easy to read. Your resume should be eye-catching, but this does not mean using a wacky font or a "fun and casual" tone. Doing that will just make your resume stand out in an inappropriate and offputting way, like a chicken running free at a funeral. Your resume should be professional and consistent, like you.
Write your name in a larger font than the rest of your resume so that it is easily visible. You can either place your name and personal info aligned to the left or centered. Depending on how savvy you are with formatting, your name and personal info might be in their own column on the side. This depends on personal preference, also.
Resume objective
When you sit down for a job interview, the interviewer often asks the question, "why do you want this job?" You can answer this question in your resume through your resume objective. The goal of a resume objective is to "hook" a potential employer. A hiring manager should read that one section and decide to keep on reading.
Since every substitute teaching job is different, you will need to tailor your resume according to the job description. Some positions place more emphasis on individual mentorship, while others require a substitute teacher who can easily manage a large group.
As a substitute teacher, you will work with students on a very short-term basis. A principal's main concern when hiring substitute teachers is that the substitute will be unable to pick up where the usual teacher left off. They fear that the students will "lose a day of school" and fall behind. Your resume should assure them that their students will stay on track with you.
Your resume objective should include both the skills that make you a good fit for the job and how this job will be a good fit for you. You may think that a principal won't care if you like your job, but remember that teachers who care about their students will make more of an effort to educate them engagingly. Your drive to teach matters to the principal.
You are more likely to land a job if you demonstrate that you aren't applying because you "just need the money." That phrase reeks of a substitute who puts on a movie for every class because she can't be bothered to teach.
Be specific about your experience. What were your duties? What part of your past job did you excel at? What makes you special? Why should the principal hire you instead of someone else?
How to format this section
Make sure your resume objective is concise and comprehensive. Choose your words carefully. Use action phrases like "developed and implemented a course syllabus" and "facilitated classroom discussions."
Professional work experience
You want potential employers to know that you fit the job description for a substitute teacher on your resume. Depending on what age group and subject matter you will be teaching, the principal will want to see that you have experience in certain areas.
Because you will be applying to a variety of schools, the list of substitute teacher responsibilities for your resume will have to be universal without being too vague.
Give detailed descriptions of your experience. Quantify your abilities to give potential employers an idea of what they can expect from you in the classroom. For example, don't just write that you worked for an after-school program. Explain what your responsibilities were there, and what you excelled at in that job.
For example, instead of writing, "Supervised kids," write something like, "Kept children safe and entertained through activities like sports and arts and crafts." The second example gives the impression that you worked hard at your job, but the first example indicates that you were paid to be a warm body in a room.
How to format this section
When listing your work experience, include your job title and the years you worked in that position. Don't leave any gaps if you can help it. You want the principal to see that you have been consistently employed and are therefore reliable. Format your work experience in reverse chronological order. The principal looking at your resume can easily see what you are doing currently, and if they want to see what you've done in the past, they can read on.
Education
When reviewing resumes for substitute teachers, the principal of a school will immediately check to make sure you have the proper qualifications. This varies per state, so you should make sure you fit the requirements before you apply.
Even for substitute teaching, you need to possess a teaching license. Getting a substitute teacher license is a lot simpler than getting a degree to be a full-time teacher. You do not require years of schooling specifically in education. In most states, a substitute teacher is also required to have a bachelor's degree. The degree does not have to be in education, though.
Just like the Employment section, list your Education in reverse chronological order. You want the principal to see your highest level of education first since this most likely will qualify you for the job.
How to format this section
Include the school where you studied and the degree you earned. Also include the year you graduated so that potential employers will know how long you have had your degree.
If you choose, you may include your certifications in a separate section from your education. It would also be wise to place your most relevant certification in the Personal Information section. This way, the principal will know immediately that you are qualified and won't toss your resume in the trash.
Skills
Being a substitute teacher requires a similar skill set to holding a permanent teaching position, but with a few key differences. When listing your substitute teacher skills for your resume, it's important to focus on skills that help you teach in short-term positions.
Being able to connect instantly with students is a must-have skill for a substitute teacher. Communication and interpersonal skills are both especially important substitute teacher resume skills.
This is the section of the resume where you can mention the experience you have that you didn't include in your Professional Work Experience section. Skills are universal and apply to more than one of the positions you have held in the past.
Include detailed descriptions of your skills. Don't just say you are good at something. Prove that you possess a certain skill by going in-depth and using quantitative language. Maybe you excel at managing difficult classes because of your exceptional interpersonal skills. Maybe you have exceptional mentorship skills thanks to a gift for connecting with students on an individual level.
When applying for a specific position, tailor your resume for that position. Read the job description. A principal can tell right away if you sent off your resume without reading the job requirements. If you possess qualities that the job description lists as important, make sure they are featured on your resume.
No matter what school you are applying to substitute teach at, there are a handful of skills that will always look good on your resume:
Classroom management is one of the most important skills for substitute teachers and will almost always appear in a job description. The principal who hires you will want to know you can keep students under control despite being a new face in the classroom. Make sure classroom management is prominent on your resume.
If you have experience working with special needs students, students with ADHD or dyslexia, make sure those skills are prominent as well. You want the principal to know that you are adaptable and capable of helping students through challenges they face while learning.
Include your knowledge of teaching programs like SMART Board and word processing programs like Microsoft Office. Technology has become a more central part of education in recent years, and these skills are essential in some teaching positions.
How to format this section
List your skills in a bulleted list and elaborate on each using the past tense. You not only possess a skill. You have put your skill into action. Anyone can say they have communication skills, but only a few can prove it with quantitative examples.
Courses and specializations
When the principal of a school reviews substitute teacher applications, the first question they ask is, "does this applicant have the necessary certification?" You could have the most awesome resume in the world, but if you lack the basic certification for the job, you may as well not apply. Even if they wanted to, the principal couldn't hire you if you aren't certified.
Include any teaching certifications in this section. This is one of the most important pieces of information a principal will be looking for. If you don't have a license to substitute teach, your resume will immediately go in the bin.
Substitute teacher qualifications vary depending on what state you want to teach in. Do your research and make sure you have all of the required certifications for the state in which you are applying. Even if everything else on your resume looks great, the principal of the school won't be able to hire you if you don't fulfill state requirements.
Most states require that substitute teachers possess a bachelor's degree. For substitute teaching, the degree does not necessarily have to be in education. This requirement is to ensure that all substitute teachers are well-educated.
How to format this section
Like I mentioned before, a principal will only look at your resume for a couple of seconds. You want them to see immediately that you have the necessary training and certification. If they don't see it within the first few seconds, they will discard your resume. Don't wait for the Courses and Specializations section to mention that you are qualified.
In addition to including your certification in the Courses and Specializations section, also include it in your Personal Information section at the beginning of your resume. This way the principal knows right away that you have the necessary training.
References
Listing all of your experience and skills in your resume is well and good, but a hiring manager will need more than just your word for it. References add credibility to the claims you make in your resume.
There are two kinds of references you can include in a resume: personal references and professional references.
Personal references are people who can vouch for your character outside the workplace. They can be acquaintances or even friends in your community. These references should attest to how you behave when you aren't in a school setting. They prove that your character is exemplary all the time, and not just when you're getting paid for it.
Professional references are current or former employers, supervisors, or co-workers who can attest to your abilities at work. These are people who know firsthand what it's like to work with you. By talking to a professional reference, a potential employer can get an inside look at what kind of employee you will be.
How to format this section
Include each reference's name and contact information like their email and phone number.
Some job applications will ask you how long you have known your references. This indicates how long you have been exemplary in your profession and your community.
Your application will also ask where you know your references from. If you list someone from your church community as a personal reference, this indicates more about your day-to-day activities than simply saying you know them from "around."
Do not list family members as references. Most job applications will require that your references be people who know you for other reasons than family ties. If you list your mom as a reference, it can usually be presupposed that she will give a biased account of you.
More teacher resume samples
There is more than one way to format a resume, and this guide includes several examples to choose from. Even if your professional resume contains all of the required information, a principal isn't going to bother reading it if the formatting is inconsistent or just plain weird. A resume should be elegant, concise, and professional. We've created some additional resume templates to get you started.
Final points on resumes for substitute teachers
A principal will only look at your resume for a few seconds, and you want those seconds to count. The two things you want the principal to see immediately are your substitute teacher's license and your Resume Objective.
Once you have their attention, prove that you are the best candidate for the job through quantitative descriptions of your work experience and the skills that make you an excellent substitute teacher.
As a substitute teacher, you will be applying to work in a lot of different schools. Make sure you know what each school requires of their substitutes, and tailor your resume accordingly. With a single page, you should be able to land your first substitute teacher job. Let's get you into the classroom!
FAQs related to teachers' resumes
Q: What skills should a substitute teacher have?
A: The most important skill for a substitute teacher to have is classroom management. They should also have above-average communication skills since they will have to connect with students quickly. If possible, they should also have experience in childcare, mentoring, and working with students who have special needs or learning disabilities.
Student engagement and student participation are also likely topics that will come up during an interview, so it's nice to outline classroom activities you've utilized to ensure positive outcomes for your students.
It's also nice to outline your experience at different grade levels where applicable, including high school, elementary school and past experience in the realm of special education.
Q: How to list a substitute teaching license on a resume?
A: Since a teaching license is required to teach, you want the principal to see almost immediately that you have one. Place your license information directly after your name in the personal information section. Also, include your license information in your list of certifications.
Q: What do I put on my resume if I have no work experience in substitute teaching?
A: Even if you don't have any teaching experience yet, having your substitute teaching license increases your credibility. Your attitude and your coursework also indicate how suitable you are for the job. Instead of focusing on your lack of teaching experience, demonstrate that you possess the qualities listed in the job description.
As you start to build your professional career, you can then begin adding your experience in creating lesson plans, creating a positive learning environment, and other regular teacher management skills that fall under a typical substitute teaching role.
Your job as an educator is to always be catering to the needs of your students, so make sure this shines in your resume even if you have no past experience.