ESL Teacher Resume Examples & Writing Guide 2023
Learning a new language is challenging for any aged student. Whether they are five-year-old kindergarten students or 55-year-old professionals, ESL Teachers are passionate educators who are tasked with helping them develop their skills. The ESL teacher resume they draft can make a significant impact on their ability to land that perfect job.
The pathway to becoming a teacher helping students learn the English language in the United States starts with specializing in a specific foreign language. Since English is the primary language of the USA, ESL teachers can either be native English speakers, or bilingual. With either path, they need to showcase the hard and soft skills, relevant work experience, and education on their resume.
This is what we'll focus on in this article. In the content below, we'll provide some practical examples of how to write a brilliant and eye-popping resume for an ESL teaching position in the United States. We will outline some best practices for writing any resume, highlight the hard skills and attributes you must infuse into your opening statement, and give you a sample resume to review – which is posted directly below.
New ESL Teacher Resume Example
Posted below is a great example of what an ESL teaching resume should be written. You'll notice that the resume is clean, grammatically accurate (very important for an English teacher), and structured in an easy-to-follow format. It also highlights several of the hard skills and interpersonal traits that educators look for in an ESL teacher.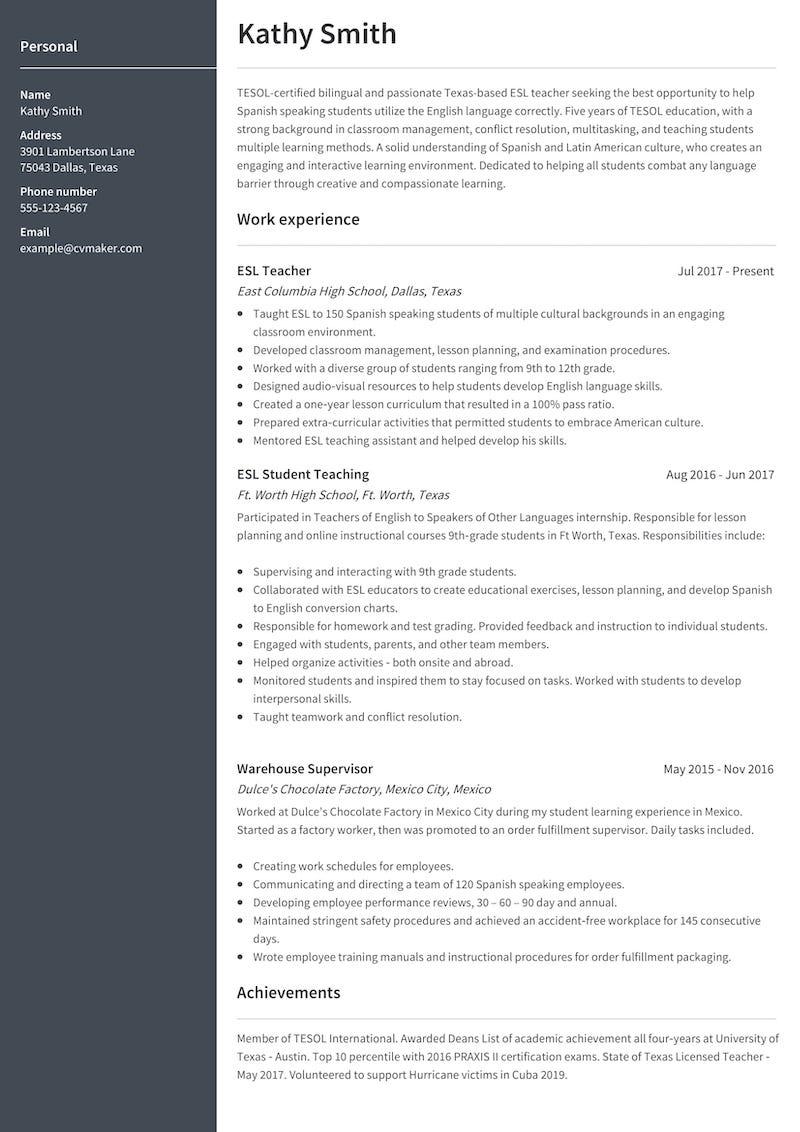 Download this resume example - ESL teacher

ESL Teacher Resume Guide: How to Write a Successful New Teacher's Resume
Consider writing an ESL resume like creating a lesson plan. Anytime you are creating a professional document, you want to start with a solid outline. This is what we call a master resume. Essentially, it allows you to outline each phase of your resume, listing all the relative content in each category, organize, edit, and ensure everything is accurate.
To help you with resume writing, we recommend starting each section with your most recent entry – then proceed in chronological order. When everything has been listed, you can fine-tune the content, grammar and spell-check each line, and prepare it to copy and paste into your ESL teacher resume template.
Here are some specific tips for building out each section of your ESL teaching resume.
1. List Your Personal Information
Accuracy and attention to detail are two critical interpersonal skills that any ESL teaching candidate must clearly articulate on their resume. It starts by ensuring everything in your personal information section is 100 percent factual and up to date.
If you review the sample resume posted above, you'll see that Kathy Smith has included her mailing and email address along with her phone number. It's always best to list a cell phone number, so that prospective employers can contact you – regardless of your location. This also allows them to reach out to you via a text message.
The next critical portion of your ESL teaching resume is showcasing your hard and soft skills. If you're not clear as to what these are, here is an easy-to-follow example.
What are Hard Skills for an ESL Teacher?
A hard skill is an ability you possess, such as knowing how to use software, hardware, or other tools that are required for doing your job better. To become an ESL teacher, most educators will require you to earn a BA in ESL or linguistics, complete the student internship program for TESOL, along with taking and passing your state's PRAXIS II exams and licensing (including background checks).
For an ESL teacher, some important hard skills may include:
The teaching certifications or licensing you've earned. ESL teachers in the United States must obtain a bachelor's degree in ESL. TESOL (Teachers of English to Speakers of Other Languages) is simply an acronym of this field of specialty – it is not a degree or educational program. So, make sure you accurately list your required education and licensing for the ESL position you are applying for.
If you're going to stand out as an ESL teacher, you need to be a strong and versatile communicator. The tools that would help you showcase this ability would be Microsoft Office (such as Word and Powerpoint) and perhaps some Photoshop or video editing software. Many foreign language primary speaking students learn better with visual aids.
What are Soft Skills for an ESL Teacher?
Soft skill is an interpersonal trait or ability you can showcase that helps you stand out among the slew of other qualified candidates. Some people call these interpersonal skills. To be a great ESL teacher, you need to showcase your ability to have patience, problem-solving, enthusiasm, organizational skills, classroom management, attention to detail, and cultural competence.
List all your soft skills on the master resume, so you can review them, and access those crucial buzz words that should be included in your opening statement. Hiring managers want to see these skills throughout your resume.
2. Work Experience for Becoming an ESL Teacher
Teaching English requires having practical work history. Work experience for experienced ESL or TESOL instructors is quite simple to articulate. You simply list them in chronological order. Those who are new to this industry tend to struggle with this section – simply due to the lack of practical work experience.
At this point, you should review those soft skills listed above, and pick work history where you've showcased those abilities and language skills. Here are some practical examples to consider in your job description section.
Cultural Competence. If you are going to teach English to students who speak a different primary language, it's critical to understand their culture. Depending on where they grew up, they likely have specific learning traits. Knowing this – and understanding their culture will help you communicate on their level. Highlight previous jobs where you've led others from different countries that you've specialized in communication.
Leadership abilities. An ESL teacher needs to be a leader of people. If you don't have previous ESL teaching experience, list a previous job where you've been a proven leader.
Communications. If you've held a previous position with an employer where you have demonstrated strong written and oral communication skills, specifically in your language of specialty, make sure to list this in your work history.
Pro Tip – If you've spent time in a foreign country in which you're certified to teach, and held a job in that country, a list that job in your work experience section.
3. Education for Becoming an ESL Teacher
We touched on this in the skills section above. However, the unique situation about being an ESL teacher is the multiple job opportunities in this specialty – each with their own required education experience. Likewise, in the education section, you need to highlight relevant experience that helps you developing lesson planning that establishes a positive learning environment.
This is not the section you want to list your certifications and licensing requirements. Place them in the information below.
Generally, all primary English speaking ESL teaching candidates must complete the following.
Undergraduate degree. ESL teachers must obtain a Bachelor of Science in Education – with an emphasis in linguistics or a specific language. Those who are native English speakers should have a major in the second language they intend on teaching. Teaching candidates who are foreign language primary speaking should have a degree in English communications.
Supervised teaching (internship). Most ESL teaching candidates will complete this after they've passed assessments or exams (such as PRAXIS II or state regents' examinations). Make sure to document the dates and locations of your training.
Master's Degree. This degree is optional for many ESL teaching positions. If you're going to work for a school district, it's often required – or will significantly improve your chances of gaining an interview. However, if you're applying for a private company – this is not always relevant.
4. Certifications & Licensing
You'll find it helpful to gain interview opportunities when you list your practical licensing and certifications for being an ESL teacher – in the state you are applying. In this section on your professional resume, list the dates and location of each license or certification you've obtained. You don't have to list your test results, but make sure you have copies of these files for interviews.
The vital items to include in this section will include:
Dates and location for your PRAXIS II exams.
Dates and location of your State License and Certification registration.
Professional memberships. Being a member of the National Association of Bilingual Education, TESOL International, the National Council of Teachers of English, or the International Reading Association are each a large attribute. Make sure to list this on your resume if applicable.
5. Showcasing Achievements
ESL teaching achievements should focus on the candidate's interpersonal skills and professional achievements. If you've been recognized in school or previous ESL positions, make sure to use this section to highlight those awards.
In the sample resume, you can see how Kathy Smith was a leader in both high school and college Spanish-speaking clubs. Not only does this highlight her Spanish-speaking experience, but also her leadership skills – vital for standing above other potential candidates - and connecting with ESL students.
Recap on the Master Resume for Becoming an ESL Teacher
Here are some important bullet points to follow when outlining your master resume.
Write down ALL practical work history. Document some bullet points that highlight your tasks and achievements, then determine if they showcase those vital skills needed.
Follow the template structure as listed above – including spacing, using a black font on a clean white background document.
List your work experience in chronological order – from current to your first job.
Document your education and certifications in the same format as your work experience.
List at least 2 professional and 1 personal reference. Make sure their contact information is accurate, and always gain their approval before listing them as a point of contact. A letter of recommendation from them will significantly help.
Write down your personal information as we described above.
When you've listed everything as mentioned above, copy and paste the content and place it in a Word doc or run it through a spelling/grammar checking website like Grammerly.com. This will help you save time and ensure all content is clean, neat, and ready for your professional resume.
How to Edit and Create the Best ESL Teacher Resume Format
Creating the master resume as mentioned above is a great first step. But eventually, you'll need to format and edit the content and place it in a professional resume builder. This is especially crucial for ESL teachers – who need to display their ability to write and speak English and other languages.
Step 1 – Create Your Personal Statement
The personal statement is typically the first item that prospective employers review. This statement needs to be written, including those vital hard skills we mentioned above, and clearly explain why you're the ideal ESL teaching candidate.
Here are some tips on how to write a great personal statement for a new teaching resume.
Write it like an elevator pitch. An ESL teaching candidate should mention their dedication to a specific language and use buzz terms that are relevant to this professional – such as cultural compassion, creativity, compassion, engagement, and diversity. These terms not only capture human attention, but they'll also pass software solutions that often skim through resumes before forwarding them to employers.
Use a professional – yet conversational tone. An ESL teaching candidate will connect with students by speaking in a conversational tone. This is why having practical work experience or international training in a foreign country is a huge advantage for ESL teachers. Your statement should highlight your ability to speak and write in a conversational – yet professional tone.
Keep it short and sweet. Ideally, you want to write about 4 to 5 sentences. Keep the messaging clear and concise.
Read it out loud – several times. Does it sound like you? Make sure it matches your vocal conversation. This will showcase consistency in communication.
When you've finalized the personal statement, run it through an online platform called Grammarly.com. This will ensure your spelling, punctuation, and tone are on par with grammatical best practices.
Step 2 – Which Job Experience is Best?
the best work experience for an ESL teaching candidate to showcase is previous ESL positions. However, we touched on this in the work experience above – if you worked or completed student learning in a foreign country that uses the language you speak as of their primary communication, you'll want to list that experience in this section.
Not only does this display years of experience in foreign languages, but also that you can communicate clearly with native language speakers.
If you don't have that type of specific job experience, make sure to list a previous job that highlights those Hard and Soft skill set you mentioned in your opening personal statement.
Step 3 – Listing Education & Certifications in Order
You are nearing the completion of your resume – but it's no excuse to let up on the attention to detail. In fact, with ESL instructors, the licensing, certifications, and education are arguably the most important part of the resume.
For example – you can see in the sample that Kathy passed her PRAXIS-II ESL exams, is currently licensed to teach in the State of Texas and has the relevant educational experience teaching large and small groups of students.
Step 4 – Which References to List?
It's been said multiple times in this article – consistency through your resume is crucial. An ESL teaching professional must display consistency – with their written ELS teacher resume, and when going through an interview. As such, you want to list references that can back up your information with practical examples.
Final Points on ESL Teacher Resumes
The best ESL teachers are those who connect with their students on a personal level. It's often assumed that those who have shared the same heritage as their students are the best to teach them English. However, this isn't always the case.
Great ESL teachers – especially those teaching in the 21st century, are those who have an uncanny ability to connect on a personal level. They don't have to be from that country – or even share the same heritage.
Those hiring are looking for diversity in their educators, but also candidates who are passionate, engaging, and creative. The key to getting that important interview begins with a strong resume, cover letter, and supporting documents. Make sure to follow these important tips.
Make sure your resume formatting is strong - flows from start to finish – and is reader-friendly.
Always write your resume on a plain white background with black font.
Edit the document SEVERAL TIMES – through Grammarly.com and visual inspection.
Ensure it's well-spaced, organized, and professional. Recruiters love this type of attention to detail.
List all education, experience, and certifications in chronological order.
Verify your reference's contact information and use ones that support your resume.
There are several teaching jobs available in the USA, but finding the right teacher job is always challenging. Use that sample resume for English teachers as a template and fine tune it to highlight the unique skills and experience you possess.
Above all – take your time assembling the perfect resume. You only get one shot at making a first impression – so make sure to put forth your best effort. Take time to review the ESL teacher resume sample above and put your personal spin on it to highlight your exceptional teaching skills.