If you're reading this, you're likely looking to land a great job. Maybe it's a promotion for you or the position pays more and has better benefits than your last (or current) position. However, you've been asking yourself whether you should include coursework on a resume. This is something many people question and we're here to provide the answers you seek.
Relevant experience is always a plus when creating a resume, but what about relevant coursework and extracurricular activities? Is coursework a great choice for everyone or only students? Can it act as an alternative for professional experience if you're just out of college? We'll make sure you have all the answers by the time you finish reading today.
Sure, a potential employer wants to look at past work experience. However, that does not mean that's all a hiring manager is looking for. Volunteer experiences, academic projects, school achievements, and even clubs are also things that can show you're a great fit. Below, we'll delve into all of those topics and a ton more.
What is relevant coursework for a resume?
What are resume-relevant courses? These are courses and subjects you studied that are pertinent to the role you want to acquire at a company. When you find something in the job description that you have experience with from school, it can be added under relevant coursework. However, when we say relevant skills, we mean it. If the classes have nothing to do with the job opening, do not add them.
Whether you're creating a student resume, an entry-level resume, or an internship resume, coursework is a great thing to add to the education section. It's a method to show what you're capable of even if you may not have a ton of experience in a specific field.
At the same time, adding this type of coursework isn't for everyone. Those with plenty of experience won't need to include coursework. Instead, focus on making sure the rest of your resume shines. Otherwise, only add the right courses. If it doesn't match the job, keep it out. After all, the number of courses isn't as important as what skills you have.
How to list relevant coursework on a resume: 7 pro tips to get it right
Including relevant coursework in a resume is a good idea for those who are students or who have recently graduated. It's an especially useful choice if the courses you've taken show that you know a great deal about a skill or subject that relates to the role of the job you want. In addition to sharing relevant projects and sources, you can also include volunteer experience or student organizations you were a part of.
Once you've been in the workplace for a year or more, your resume can have the coursework removed. At this point, there's no reason to highlight the experiences you had in college since you have work experience. In addition, college coursework might not be useful in all situations. It all depends on the position.
As you create the education section of the resume, keep the following tips in mind. They will ensure that you get things right and impress the recruiter or hiring manager who peruses your resume.
Tip #1: Carefully consider what to add
When you're going through courses you could add to a resume, make sure you choose only the ones that are directly relevant to the position you're applying for. For instance, maybe you're interested in a social media management job. You might list some communications courses. Graphic design courses would be another good option in this situation.
Tip #2: Use proper formatting
There are lots of methods to format your coursework in the education section of a resume. We'll show you three of the most common a bit later in this article. The first is to have a single column with your courses. This could include courses in a variety of subjects in a single place.
The second option is to have several columns, each of which is related to a specific subject. For instance, you might list several courses under the business heading, a few under psychology, and a handful about communications.
A more detailed format is also an option, especially for those who might have little to no experience. Instead of just writing down the class itself, you can add information about it and what you learned. This gives additional insight into what you have knowledge about.
Tip #3: Incorporate keywords
As with other sections of the resume, keywords matter when it comes to coursework. When you're thinking about what to add, make sure you have the job description handy. Look through it for phrases and terms that seem extremely important. When you add these things to the resume, it shows you paid attention and are a great candidate.
Tip #4: Include past experiences
As we've mentioned, the courses you include should relate to the position you hope to get. You also want to be certain that these courses can carry a conversation if you end up getting an interview. Anything you include on the resume could be brought up, so you want to be ready for that.
Before you walk into an interview, think about some impactful experiences you had that you could talk about for every course. This can range from research assignments to group projects or other things.
Tip #5: Show how you've grown
If you plan to expand on the details of each course, make sure you show which skills you learn from the chosen courses. Some courses might give you soft skills, such as communication or public speaking, while others might offer hard skills, like learning software or programming languages.
Tip #6: Change courses as needed
For those who are still going through college, you might apply for several jobs throughout the years of being a student. As an example, a freshman might have only introductory courses to list. Once you move into higher-level courses, make sure the resume is updated to reflect your new knowledge and skills.
Tip #7: Check for errors
You want to show that you pay attention to detail, which means having an error-free,  well-written resume is a must. To provide that, you need to read through the resume several times once you finish. Look for any errors and correct them before continuing.
Should you list online courses on a resume?
When it comes to relevant coursework, sometimes you might have online courses you could list. This can often show some professional experience with a skill listed in the job description. So should you include online courses, even if they're shorter and fully available on the Internet? The truth is that it depends.
There are a few things to ask yourself before you move forward into how to list training on a resume -
How much work experience do you already have?
Are your online courses provided by a reputable organization?
Do the courses show your proficiency with key skills?
Are the courses relevant to the position you're applying for?
If adding online courses is a good idea, there is a simple way to do so. First, make sure you focus on the most relevant options. Choose where to place them, whether in the education section, a certification section, or somewhere else. List the provider, the name of the course, and when you completed it. You can also add important things you learned as a bullet list if you like.
When to include your related coursework on a resume
So when should you add relevant courses on a resume? Before you start to consider how to add relevant courses to a resume, you need to be sure they're useful. Look over the job description and see if you have skills that you can only showcase by sharing coursework. A few reasons to add courses to a resume include -
If a qualification is in the job description, add the relevant course
Courses from highly credible institutions are better to add than less credible ones
When changing careers, courses can stand in for industry experience
Of course, new job seekers will also often find a good reason to include courses. In the end, the idea is to think about what value you offer by sharing a course. If it adds something to the resume, there's no reason not to add it.
When to skip the resume coursework section
Is relevant coursework necessary on a resume? No. In many cases, it isn't needed. It all depends on the job, the courses you've taken, and your own experience in a professional environment. A few guidelines for situations to avoid adding coursework include -
If the course is very short (a few days or less), there's no reason to include it
List only relevant courses that relate to the job role you want
Those who have experience should focus on it above coursework
If the class was held by an unreputable institution, don't add it
Half the battle is knowing when to add courses and when not to. If you aren't sure, think about how robust your resume is without it. If you already have plenty of information without courses, don't leave something out simply so you can add the classes in.
Where exactly to place the related coursework in your resume
We've answered the question of "Should I include relevant coursework on a resume?" but now we want to talk about where you should place it. For academic achievements, the most common choice is the education section, but other spots can display this information.
Education section
If you choose to place the information in the education section, you should go with a chronological format. For those who have more education than experience, you can also move the section up toward the top so it's seen early by a hiring manager. If you've taken recent courses that pertain to the position, the education section is a solid place to list them.
Courses section
Most people won't want a full section related to courses. A few lines are often enough. However, if you have many courses relevant to the position, you might choose a dedicated section for the most important courses. This can work well for those who might be changing careers and who have new experiences to share. However, only choose this method if it's valuable to your resume.
Project section
Those who have a project section on their resume can choose to place courses here. However, this should only be done if you are showing how you used those skills. Place your role, project name, and any needed bullet points. A link to GitHub or similar sites can also be used. This is only the right choice if you got a great deal of project experience from a course and you have little work experience otherwise.
Other sections
In some cases, you might want to create a separate section for your courses. Make sure you add a heading that describes the information, such as "certifications" or "courses." List the provider and where you took the class if that helps add some credibility. This works well for those who have little space but want to include some coursework information.
3 Relevant coursework examples on a resume
At this point, we want to delve into some relevant coursework examples so you have an idea of how to set your own up. The following examples of coursework will be in different formats so you can decide what works best for your needs. We'll get things started with the simplest coursework on a resume example below.
Example #1: Basic column courses
In this example, relevant keywords are included in a short list of courses. This is the simplest method to add to coursework, but it doesn't have the same level of detail as other options. It works well to save space and provide basic information.

What makes this a good example
An entire resume shouldn't focus too much on one section over another. This example quickly shows the most important classes a candidate has taken. Managers can easily understand what they've learned and how it would help them on the job. This works well for those with a mix of experience and education.
Example #2: Multiple-column courses
For those moving into a new career path, this example is a bit more detailed. Instead of compiling all the courses under one umbrella, separate sections are created. In this case, you can see that classes are broken up into two different subjects.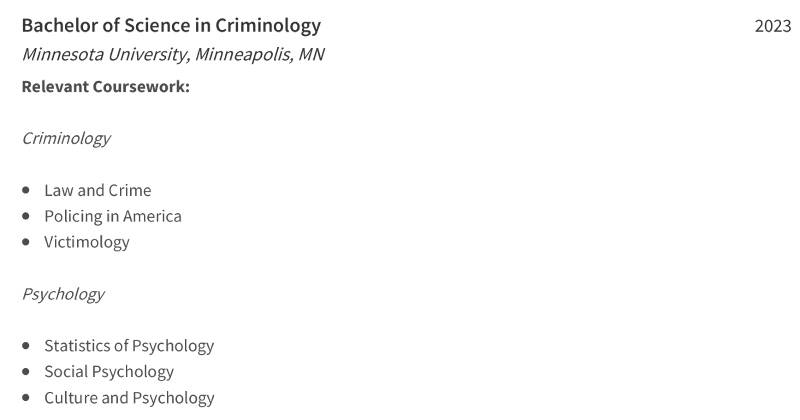 What makes this a good example
For entry-level and internship resumes, you might want to include several courses in various fields of education. This offers an easy way to do that and makes it simple to understand which class taught what skill. This is a middle ground that will work well for most people who are applying for a job.
Example #3: Detailed courses
Whether you want more focus on academic projects or certain learning outcomes, the detailed example provides an opportunity to dig a bit deeper. Not only are the subjects split up, but it includes extra information about each course. This is a good way to show exactly what you learned and how it relates to the position.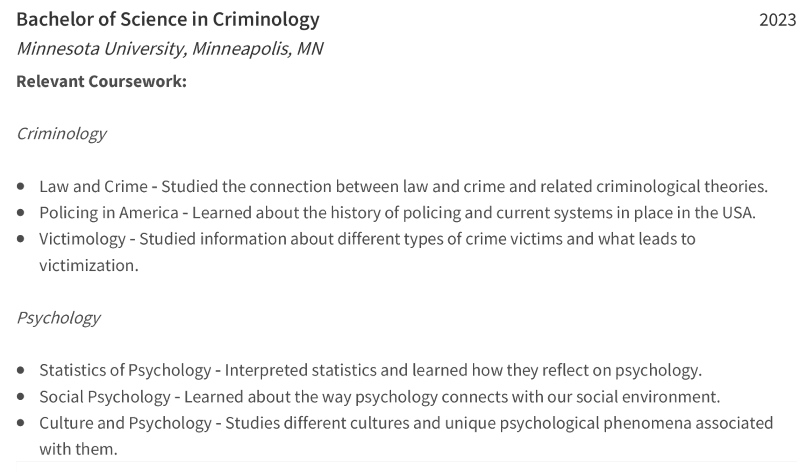 What makes this a good example
The perfect resume for any job position has lots of information for the hiring manager. This is the top choice when you have little experience and want to show off the education you have. It gives much more detail, and you can customize it to use keywords and incorporate skills that are important for this specific position.
What is the right format for a resume with coursework?
Part of adding resume-related coursework to your document is using the right format. If you need info on how to put relevant coursework on a resume, we have the details. The first thing you want to do is make sure you have an education section. This is where all classes and other school information will be listed.
In the education section, list where you went to school and which degree you got (or will have in the future). In most cases, you will want to include your graduation date. However, if it was more than 10 years ago, feel free to leave it out if you desire.
Underneath the basic information, make a bullet-point list or use some other method to list major honors and awards. For recent graduates and current students, you'll also want to add your coursework, level or results, and other important information. Make sure each class is there for a reason.
For those who have multiple degrees, listing them all is recommended. In most cases, they should be in chronological order. Place your most recent degree at the top and then work backward from that point. This will create a great education section that includes all the information you'd like to share.
Key takeaways on how to list courses on a resume
At this point, you know how to build a student resume that includes relevant coursework. You can take all your college coursework and academic experience to create a resume that positions you as a top candidate for a fantastic role in an industry you're passionate about.
Remember that the main goal of the relevant coursework (or any other parts of the resume) is to show you're a great applicant. As with any other section of a resume, it should strengthen the document. If it doesn't, something else might be a better choice. It's up to you to decide if the relevant coursework is right for you.
One of the easiest methods to tailor your resume is by using a resume builder. We offer one with several templates so you can make the entire resume your own. Plug in your information, select a style, and download a resume that looks great on phones, laptops, tablets, and other devices.
To sum it all up, remember that adding courses is optional, but it works well on entry-level and student resumes. For those with more than a year of experience, it isn't needed. The education section is the best place for coursework, but you can make a dedicated section if you prefer. Remember to add only relevant information. Good luck with job hunting!
FAQs
Should you include coursework on a resume for every job application?
Should you put relevant coursework on a resume every time? No. It's an optional method to show off your educational achievements. The rule of thumb is that you shouldn't include this information unless you have less than one year of experience. When you don't, go ahead and add it.
Those with more experience should fill in the rest of the resume, rather than focusing on projects and courses. At the point where you've worked in a role for a year, you should have other achievements and skills that you want to share.
How to mention an ongoing course in a resume?
Education doesn't have to be only related to your academic background. Some people are still in school and want to list relevant coursework they haven't completed. These courses can still be listed, but make sure to note that you are taking them now. Even if you haven't finished, it shows you are interested in relevant topics.
How many relevant courses to list on your resume?
When you're creating a professional resume for a specific job posting, you might wonder how many relevant courses to include. There's no exact answer, but it's best to keep things brief. In most cases, anywhere from three to eight courses should be fine. It gives insight into what you know without being overly long.
The more courses you choose to include, the more important it is to get the formatting right. A list will work best for a longer number of courses to make things easy to read.
What online courses look good on a resume?
When it comes to educational experience, some look better than others. As far as online courses go, focus on the ones that apply to the job you want. Every position is different and has unique requirements. For some, courses in Microsoft Office are a great addition. Others might wish to include programming or social media courses.
How should I put relevant coursework on my resume as a student?
When you want to include relevant coursework in a student resume, it's easier than you think. Whether you have theories on a subject or hands-on experience, you can list important courses in the education section. Add in the basic information, followed by a short list of relevant courses.