Special Education Teacher Resume Examples & Writing Guide 2023
Patience, compassion, and exceptional communication skills are crucial for becoming a special education teacher. While there will always be a need for qualified and experienced teachers of special education, landing that perfect job can be challenging in this competitive industry. As such, many new and experienced teachers often seek guidance on how to craft an engaging special education teacher resume.
Fortunately, you've come to the right place for resume writing tips. In the information below, we'll provide you with a step-by-step tutorial on how to write an exceptional special education resume. You can review a sample special education teacher resume below, then scroll down the article to learn how to write and format each section.
Special Education Teacher Resume Sample
Directly below, you'll find a great example of how a resume for a special education teacher should be written and formatted. The resume starts with a phenomenal special education teacher resume objective, which is crisp, easy to read, and identifies Susan as the best candidate.
She makes sure to include the interpersonal skills that are crucial for a special ed teacher and lists her previous work and educational experience in chronological order. It is similar as you'd find with most general education teachers resume in format, but focuses on this specialty.
Resume example - High School Resume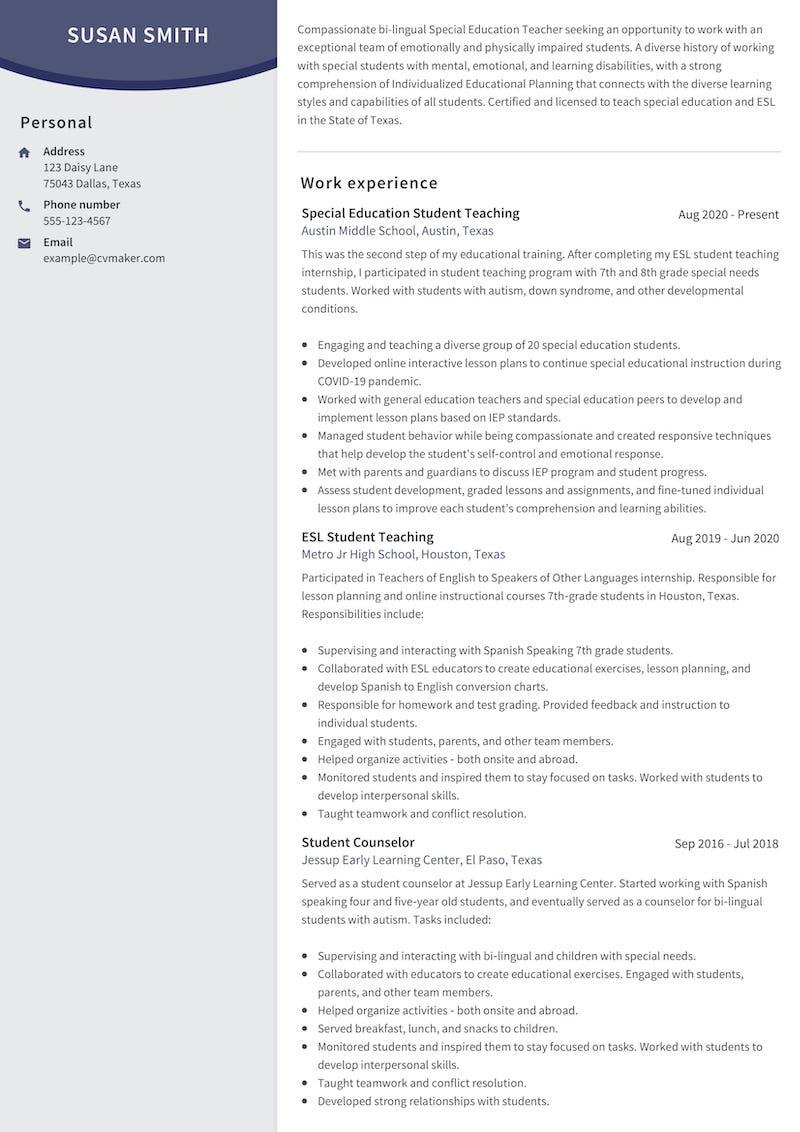 Download this resume example - Special Education Teacher

Special Education Teacher Resume&Guide: How to Write a Successful Resume
Everyone who aspires to become a special ed teacher understands the challenges that this position holds. Writing a resume for a special ed teacher can be just as difficult to manage without a strong and organized plan.
Most successful resumes for special education teachers begin with an outline, or what we refer to as a master resume. This permits you the flexibility to document each skill, trait, work experience, and educational record – then edit and fine-tune the content. The cover letter is used to support and enhance the information in your resume. For now, let's focus on the resume.
Here are some specific tips for building out each section of your special education teaching resume.
1. List Your Personal Information
In the sample special education teacher resume, you'll see that Susan Smith has listed her personal information on top of the resume. Specifically, she paid attention to details to ensure any possible recruiter or employer can contact her with ease. This includes listing her cell phone (which allows prospective employers to text her), updated email, and mailing address.
How to Format Personal Information Section
Keep it simple, clean, and accurate. With any teaching resume, you want to make it simple for future employers to contact you. For example, if you have multiple email addresses, make sure to list one that you have connected to your mobile device. If a prospective employer sends you an email, make sure you can reply quickly.
Many future special education teachers find it helpful to use a professional resume template, which will ensure your personal information is formatted clean, neat, and straight.
2. Creating Your Resume Objective
Arguably the first item any employer reviews in a resume is the applicant's personal statement or resume objective. This is your four to a five-sentence elevator pitch, where you sell your interpersonal skills and experience that separates you from competitors. Today's special education teachers should also have a solid understanding of IEP or individualized education plan documentation and procedures.
The opening statement should also highlight students you've worked with previously - including those living with autism, physical handicaps, visual or hearing impaired, or specific learning challenges such as ADHD.
What are Hard Skills for a Special Education Teacher?
Hard skills are those that allow you to utilize tools to accomplish your job. For a special education teacher, you'll be challenged to create educational lesson plans that are engaging to your students. These are life skills that help accelerate your professional development, and improve your job search ability. This may include using video editing software, photoshop, PowerPoint, and other graphic design and visual aid tools.
What are Soft Skills for a Special Education Teacher?
The best special education teachers have an exceptional ability to connect with students with special needs. This includes maintaining patience in challenging situations, having compassion, managing student progress, and being able to maintain strong classroom management and positive learning environment.
When you're listing all your soft skills on the master resume, make sure to include those that are practical to the job you are applying for. For example, if you specialize in working with children with emotional or physical impairment, this should be listed in your resume objective. If you have a diverse history with all students who participate in special educational instruction, ensure to outline those skills as well.
How to Create the Resume Format for the Objective or Opening Statement Section
We mentioned this above, but it's important to drive this message home. Your resume objective or statement is what often captures the attention of the reader. It must be short, sweet, and to the point – yet written in a professional – yet conversational tone. Using a resume builder once your done will ensure it's properly formatted.
Here are some specific tips to consider.
- Keep it to no more than five sentences. You need to find a way to explain why you're the best candidate quickly. Consider this your elevator pitch to a prospective employer.
- Use a conversational and professional tone. A special education teacher must be personable. One of the best ways to showcase this skill will be your opening statement.
Does it sound good? When you have a rough draft ready, read it aloud. Does it sound like a conversation or sales pitchy? Edit the content until it reads as if you're speaking with the employer personally.
When you've finalized the personal statement, run it through an online platform called Grammarly.com. This will ensure your spelling, punctuation, and tone are on par with grammatical best practices.
3. Work Experience for Becoming a Special Education Teacher
In the special education teacher job description resume section, the goal is clear – showcase previous experience that is relevant to the position you are applying for. Most special ed teachers are taught to work with a diverse group of students. However, if you are applying for a specialist position – such as working with hearing or visually impaired students, highlighting this experience is a must for your years of experience section.
For special education teachers, it's advised to list your student teaching position as a previous work history – not education.
How to Format the Work Experience Section
Within this section, you should always list jobs from your current or most recent position to those in the past. If you are applying for your first full-time special education teaching position and don't have three previous jobs, use a former job where you've worked with children or special needs people.
The important item that many future teachers forget to list is the soft skills they utilized to become successful teachers of special needs students.
A few important items to document in this section would include:
- The type of special needs students you worked with previously.
- The amounts of students you taught during individual classes.
- Ability to work with parents, faculty, and peers to develop strong lesson planning.
- Your CPR or First Aid Certifications and experience.
4. Education for Special Education Teacher Resume
To become a special education teacher in the United States, applicants must possess a minimum of a Bachelor's Degree in Education or a focus on Special Education learning. They must also become certified in the state they wish to work, which includes passing licensing exams, background checks, and other state-specific guidelines.
How to Format the Education Section
This information should be documented in your education section – listed in the order mentioned below:
Highest Level of Education: If you have a master's degree or doctorate in special education, you should list this first. A general rule of most hiring managers or educators is to hire a candidate with the most practical experience or education – especially when two candidates appear equally qualified.
Bachelor's Degree: In the sample resume, you'll notice that Susan Smith was seeking her first full-time special education position. At this time, she did not complete her master's degree (but was in the process of finishing). In a professional resume, you only want to document the education you've completed.
5. Certifications & Licensing
Candidates for a special education teaching position must pass state-specific certifications and licenses. While it's important to document the dates and locations of your certifications, you can stand above others applying for the same profession by listing any memberships in professional organizations here.
Some of the organizations you may consider joining in the USA would include:
The National Association of Special Education Teachers
The Council for Exceptional Children
The Association for Persons with Severe Handicaps
The National Organization on Disability
National Center for Learning Disabilities
How to Format the Certifications and Licensing Section
Most special education teaching positions do not require specific certifications or licensing (beyond their state requirements). However, it's important to be consistent with your resume – so make sure to list your appropriate certifications in order.
This should include when you passed your teaching credentials exam (PRAXIS II). A good idea would be to list these certifications in your education section as the sample resume above displays.
6. Showcasing Achievements
Achievements on a special education teaching resume should focus on the candidate's professional and educational successes. Typically, a special education teaching resume will highlight memberships in national organizations (as we mentioned above), awards in college, or time spent volunteering in their community.
This section can significantly help you accelerate past other applicants – so make sure to list your achievements that amplify the interpersonal skills you mentioned in your opening statement.
7. References for Special Education Teaching Resumes
The key to listing references with any resume is choosing those who can support the information documented on your application. It's always best to select three total references, two of which should be professional (meaning a mentor at a previous job or during your education).
The final reference should be a personal one – or an individual who can testify for your character. In the sample resume, you'll notice that Susan selected her former high school volleyball coach – where she served as a captain of a state championship team.
Final Points on Writing a Resume for a Special Education Teacher's Position
We understand that the information above contains a lot of valuable information. And perhaps it's a lot to retain. So, to simplify the content and tips listed above, here are some critical points to remember when writing your special ed teaching resume.
Take advantage of that master resume. List everything relevant for each section first. Then, take time to organize it in order, edit the content, and triple-check it for any grammar or spelling errors.
Have a peer review of the resume. It never hurts to have a second set of eyes review your resume. Ask a peer – especially someone who you respect review your resume notes first.
Follow the template structure as listed above – including spacing, using a black font on a clean white background document.
Take time with your opening statement. Remember, you get one shot to make a great impression, and that resume objective is a prime opportunity.
List your work experience in chronological order – from current to your first job.
List at least 2 professional and 1 personal reference. Make sure their contact information is accurate, and always gain their approval before listing them as a point of contact. A letter of recommendation from them will significantly help.
When you've listed everything as mentioned above, copy, and paste the content and place it in a Word doc or run it through a spelling/grammar checking website like Grammerly.com. This will help you save time and ensure all content is clean, neat, and ready for your professional resume.
The best advice we can provide is to take advantage of the tools offered. One of the best tools for any new or experienced teacher is an easy-to-use online resume template. This will allow you to edit your content first, copy, and paste it into an online template. Once you're finished, you can select which template style best fits your resume content.
Always take your time with a special education teaching resume. Don't overthink the content or try to use words that simply don't fit your personality. Too many prospective teachers fail to capture the job they seek simply because the content in their resume simply didn't match the way they communicated during an interview. By utilizing the free tips mentioned above, you'll have a better chance of landing an interview – so you can dazzle them in person.
FAQs Related to Resumes for Special Education Teachers
What should a preschool special education teacher put on their resume?
Focus on your patience and compassion. Young special education students tend to require a significant amount of attention and connect with people who are warm and inviting. Candidates who are looking to become preschool special education teachers should highlight those impersonal skills applicable for working with young children with special needs.
How to describe special needs teaching experience on a resume?
Specific to the job you're applying for. If you're looking to become a special education teacher for elementary school, you'll highlight previous jobs where you worked with that age group. The same thing applies to high school, preschool, or adults. The key to gaining an interview is to tell a consistent story through your resume. Use examples that are relevant to the job you seek.
How do I make my resume for a special ed teacher stand out?
Showcase the interpersonal skills that make you an exceptional candidate. The best special education teachers are those who can connect with their students on a personal level. Highlight those specific skills that permit you to be an outstanding person who treats all people equally – regardless of their abilities.
How to write a resume as a teacher for foreign language and special education?
Take time to highlight your foreign language or ESL skills. If you speak a second language fluently and are certified as an ESL teacher as well, this must be included in your opening statement – and supported throughout your resume. Provide work history, education, and references who can support your bilingual abilities.