College Resume Example, Template & Writing Guide 2023
Applying to college is a stressful situation for most high school students. Arguably the most frustrating part of the application process is trying to write a resume that will showcase your skills and abilities, but also clearly articulate why you're a student that will succeed at a university. The truth is, writing a college student's resume is not as difficult as you'd think.
A resume for a college student is much different than applying for a job. While employers want to see your previous work history, recruiters and admissions officers seek more intimate data. They're want to see that you're articulate, focused, detailed oriented, and more importantly – will contribute positively to their university or college.
A college student resume is simple to write when you follow a proven process, utilize the right writing techniques, and take advantage of college resume examples that give you a practical example of how to craft your high school resume for college.
In the information below, we'll provide you with a free college resume template to review, and helpful tips on how to draft, edit and write a stunning college application resume. Many of these resume writing tips can be used for any CV you create. Let's get started.
College Student Resume Template and Student Resume Example
There are several resume examples for college students posted online. Some of them are filled with creative buzzwords, while others are written to be used for all applications for jobs and admissions. As you can see with the college resume sample below, the objective is to craft a resume that is written specifically to the college or university you are applying to.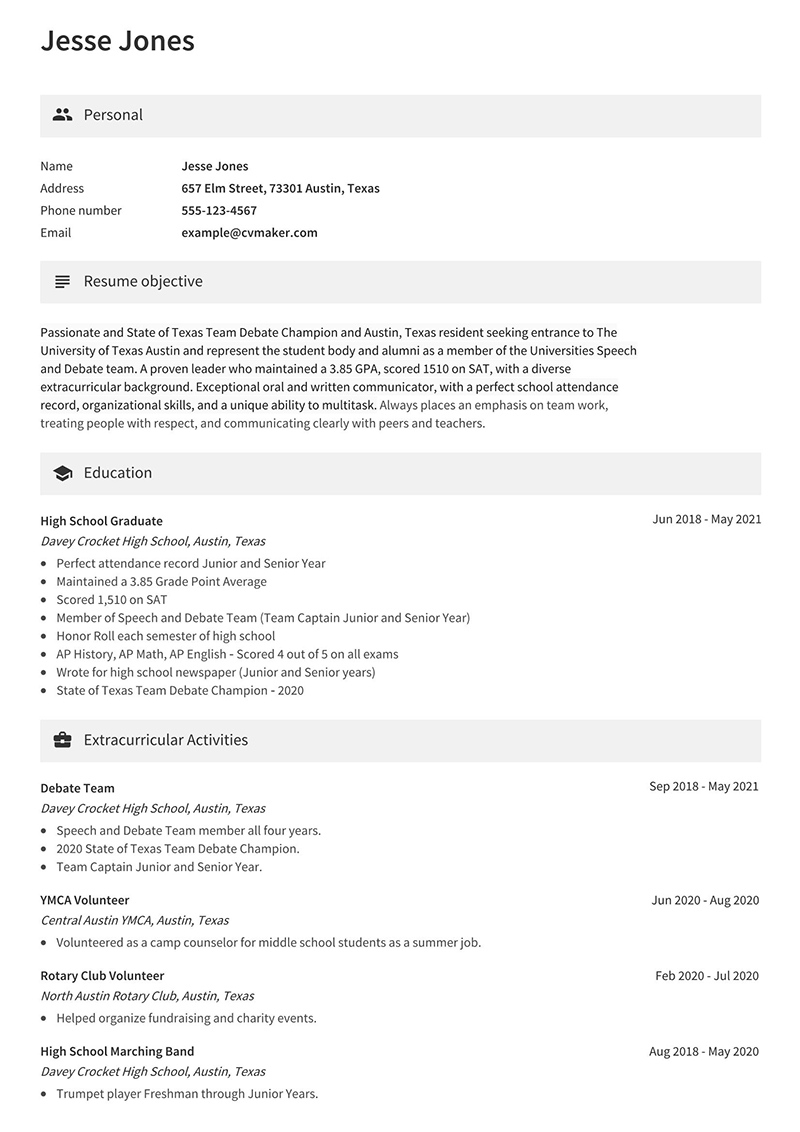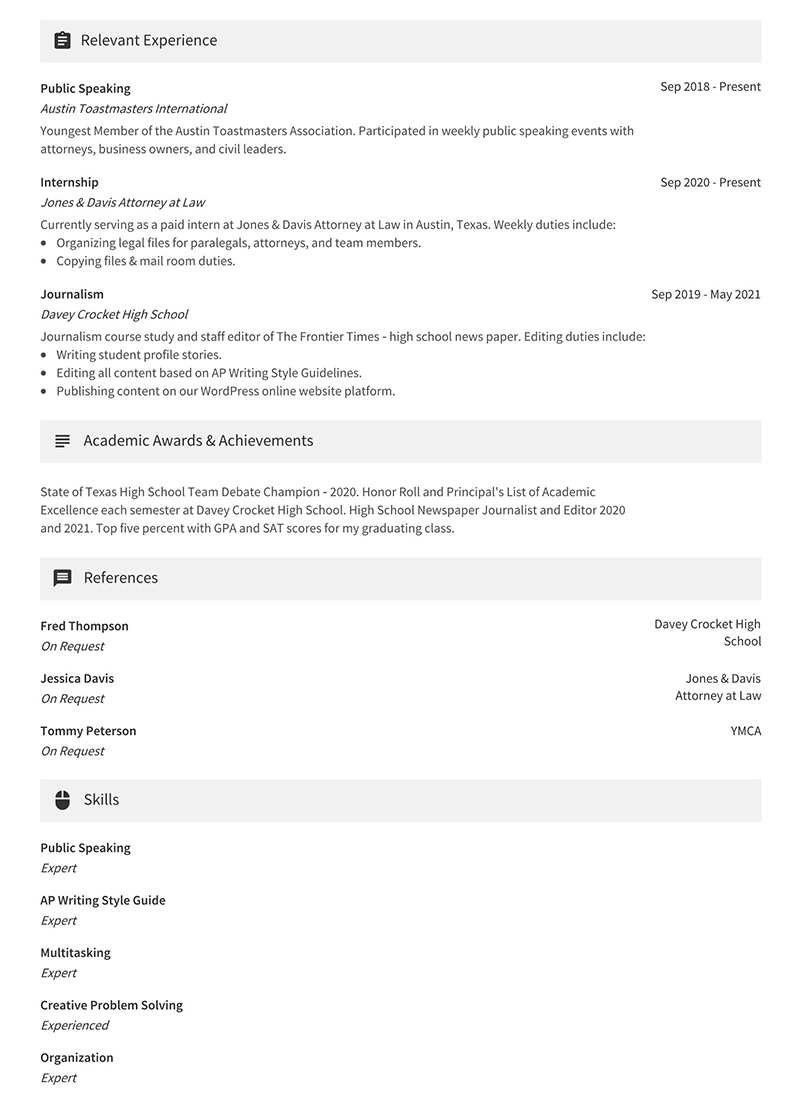 This resume is for a college student named Jesse Jones, who is applying for freshman admission to The University of Texas – Austin. He is a local student, having gone to high school in the same city – and wishes to attend a major university close to his home. He has included information about his education, but also community involvement, and even volunteering at the University during fundraising for a local non-profit organization.
He is telling a story that he is not only a responsible student but has a deep history and desire to be a positive contributor to the University and its community. Take some time to carefully review the entire resume – then feel free to scroll back up to review individual sections as we break them down in the information below.
College Resume Guide: How to Write a Successful Resume for College Students
There are two types of college resumes, one that is intended to help an applicant gain admission to a university or a program at the college, and one for a college student seeking employment. For purposes of this article, we'll focus on the resume for college application – as a college student resume for employment should be written like any other job resume.
To start – we'd like to introduce you to a great way to craft a visually stunning, and impactful resume – organization. Writing a resume is tricky, but if you document everything on a master resume – or an easy-to-edit document, you'll save time, have the flexibility to work on the formatting, pick and choose the relevant information that will help the resume stand out.
To create your master resume for a college student, begin by setting up a few major sections:
Contact Information
Education
Relevant Experience
Academic Awards & Achievements
Extracurricular Activities
References
Skills
You'll notice that we don't recommend adding a work experience or work history section, but instead, a section that is titled Relevant Experience. This is where you can insert previous jobs where you've displayed hard skills that a great college student should have – such as attention to detail, ability to multitask, and more.
Now that you have the basic structure, here is how you pick what type of content to use, and how to write it to stand out among your competition.
Section #1 – List Your Personal Information
College admissions experts are looking for students who will pay attention to details to easily transition from high school living to a bustling college environment. In Jesse's resume, you'll see that he keeps his contact information clean, straightforward, and easy for the admissions team to follow. He simply lists his full name, mailing address, email address, and his cell phone number.
Personal Information Example

Several college admissions managers will send an automated text to ensure the student is aware their resume and application are under review. This is why the student's cell number (assuming they have one) is crucial. If you don't have a cell phone that can receive SMS text messages, list your parents or guardian number.
It's also a great idea to create an email address under a major server – such as Gmail. This will reduce the potential of bounce-back emails or ending up in the spam folder. A major deciding factor for hiring managers or college admissions staff is how quickly and professionally the future student replies to inquiries. Make it easy for them to get ahold of you – and be proactive about replying to their questions.
How to Format Personal Information Section
The personal information or contact section needs to be clean, neat, and accurate. Make sure to use the same font, text color, and sizes consistently throughout your resume. Using a professional college resume template will help you format this section and other areas of your resume with ease.
Step #2 – Creating Your Resume Objective
A resume objective or personal statement should always be customized for each college application. This not only shows a dedication to accuracy and personalization, but it will help you stand above the competition.
Resume Objective Example for College Resume

Your resume objective should communicate why you want to attend the college or university, what makes you an exceptional candidate, and the skills and previous experiences that have prepared you for this journey.
In the sample resume above, you can see that Jesse is applying for the University of Texas – Austin. Specifically, he is wanting to major in communications and has provided the hard skills and abilities needed to succeed in this competitive industry. Mainly, this statement is easy to read, in a conversational – yet professional tone and makes a powerful opening argument.
What are Hard Skills?
Think of a hard skill as technical experience. For purposes of this sample resume, Jesse has mentioned his experience and coursework with Speech and Debate, his State of Texas championship, and diverse extracurricular activity background.
He's also experienced at Microsoft or Apple technology suites (like Photoshop, Adobe, Illustrator, and such), but will highlight these abilities in his skills section. These technical skills show recruiters that you've done a lot of the leg work which will help you be a better student. If you speak a foreign language, this is where you'd list that skill.
What are the Soft Skills?
Soft skill is an interpersonal ability that helps you succeed in a specific profession. For a communications major in college, the candidate must have strong organizational skills, problem-solving, is a solid written and oral communicator, and can accept constructive criticism. Remember, the resume should always tell a story for the position you are applying for – so you should customize the opening section with soft skills mainly.
How to Create the Resume Format for the Objective or Opening Statement Section
The resume opening statement should be no more than 5 sentences. It should be written in a clear, concise, and organized fashion – with a welcoming yet confident tone. Using a resume builder after you've fine-tuned and edited content, will ensure it includes those action verbs or soft skills we mentioned earlier.
If you're applying as a college student here are some key pointers:
Highlight your dedication to learning.
Showcase your personality.
Edit the written content through an online platform called Grammarly.com. This will edit the document for grammar, spelling, punctuation, and tone.
Read it aloud. When you're finished editing the content, read it aloud. If it sounds like you're speaking to someone vs a computer being too stuffy, that's a good sign.
Section #3 - Education Section
In this section, your primary objective is to provide an overview of your high school education. You need to list your expected graduation date, cumulative grade point average (GPA), and SAT/ACT entrance exam scores. You should also add some relevant coursework that will support the career or degree you are planning to achieve.
Education Example

How to Format this Section
You want to keep this section very simple. Document the name and location of your high school – and list those specifics in bullet points.
Section #4 – Extracurricular Activities
If you're applying for entrance to a college – and there are other candidates with similar academic backgrounds and achievements, your extracurricular activities may be the section that allows you to accelerate over the competition. Listing any volunteer work, community service, and any part or full-time internships would likewise be good to add in this experience section.
Extracurricular Activities Example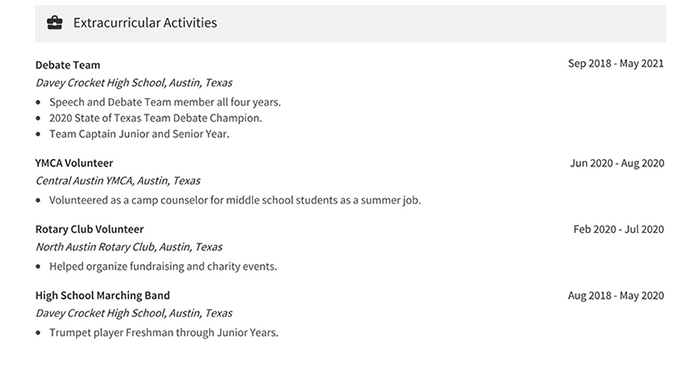 How to Format this Section
Extracurricular activities should be listed in chronological order of when you've completed them – from most recent to previous. It's a good idea to pick the top three extracurricular activities that are relevant to your college major or intended career.
Section #5 – Relevant Experience
This is an optional section – if it applies to your college admission. If they are asking for examples of previous jobs you've held – or leadership positions (specifically for scholarships in sports, or school activities). In this resume, Jesse is applying for entrance to the University of Texas but wants to join their highly competitive Speech and Debate team.
Relevant Experience Example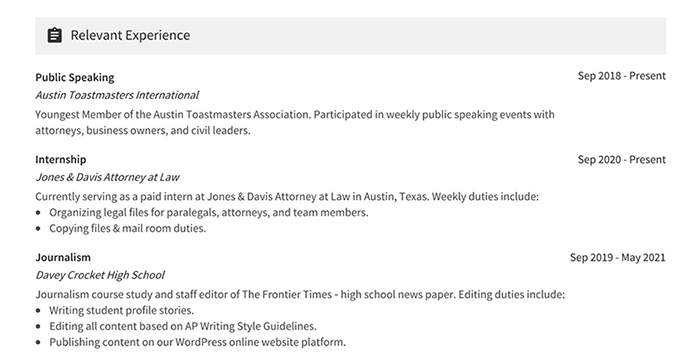 If you have any part-time jobs or work experience, make sure to add your job description, job title, and duties in the relevant skills section. List your summer jobs - but pick one that supports your future career if applicable. Having a strong work ethic is a great attribute that college recruiters are seeking.
How to Format this Section
This section should be documented like a previous job or work history entry on a resume. List the name and location of the school where you participated in this specific activity. In the section below, provide a brief overview of your activity.
Below that overview, list your specific achievements in bullet points. This is where you want to focus on details that showcase your leadership, and success stories.
Section #6 – Academic Awards & Achievements
College recruiters are looking for winners and candidates who will be positive contributors to their schools. Highlighting your academic awards and achievements will help support your GPA and entrance testing.
Academic Awards & Achievements Example

This is not the section where you'll list your extracurricular activities. That will be in the section below.
How to Format this Section
You should format this section like the one above – listing the location of the achievement, dates, and specifics in bullet points. As you can see in the college resume example, Jesse uses three specific achievements, his high school state debate championship, winner of his city chamber of commerce volunteer of the year, and his high school awards.
Section #7 – References for College Student Resume
Any reference listed on a resume must be one that you have a strong connection with currently. You'll want to ensure they can support the information you documented on the resume with practical examples.
References Example

When you apply to college, your references should be professionals. If you know mentors who attended that same university or college, that's a huge bonus. It's a good idea to list three references – including a high school teacher, family friend, or a professional – such as a doctor, politician, or a positive member of the community.
Final Points on Writing a College Resume and Cover Letter
Writing a college entrance resume becomes much easier when you start with a plan. Taking advantage of the master resume format will help you outline each section, fine-tune, and edit the content, then paste in a college resume template.
Your ultimate objective should be to tell a story throughout the resume, that is easy to follow, well organized, and focuses on details. It is also best practice to draft a cover letter that will serve to introduce yourself to the college admissions team.
Here are some specific tips to consider.
Follow the template structure as listed above – including spacing, using a black font on a clean white background document. Take advantage of the master resume.
Take time with your opening statement. Remember, you get one shot to make a great impression, and that resume objective is a prime opportunity.
List at least 2 professional and 1 personal reference. Make sure their contact information is accurate, and always gain their approval before listing them as a point of contact. A letter of recommendation from them will significantly help.
When you've listed everything as mentioned above, copy, and paste the content and place it in a Word doc or run it through a spelling/grammar checking website like Grammerly.com. This will proofread the content, help you save time, and ensure all content is clean, neat, and ready for your professional resume.
Ask a teacher you respect to review your resume. It never hurts to have a second set of eyes review your resume. A parent, guardian, or family friend who hires people would also be a great resource.
The best piece of advice we can offer is to take your time, take advantage of free resume examples for college students and a college student resume template. When you follow the tips listed below, you'll find it easier to create a college application resume that will stand out among others.