Winning Resume Objective Examples + Writing Tips that Work in 2023
Your resume is the first chance you get to make an impression on a potential employer. It allows you to put your best foot forward and highlight why you should get the job.
The first thing a hiring manager will read is your resume objective. Therefore, you must ensure your objective is spot-on and tells the right story about who you are in order to convince the manager to continue reading.
To write a standout resume objective, you need to learn more about what it is. You also need to find out what makes an objective different from a summary, and get some tips and examples to help you as you write your own.
What is a Resume Objective Statement?
One of the most important questions you should have before beginning your resume is, "what is an objective statement?" You need to get a definition to know where to begin.
According to U.S. News and World Report, resume objective statements tell employers who you are, why you want the job, and why they should give you the job over anyone else.
An objective is like a sales pitch. It should always be short and concise. Every word needs a purpose.
You should always customize your objective statement to the specific job for which you are applying. It should act as a targeted statement that positions you as the person to hire for the job. You should not use a generic statement to apply to multiple jobs at different companies. It needs to speak to the specific company and hiring manager to work correctly.
Why Should You Include a Career Objective on a Resume?
While you certainly have the right to include whatever you want in your resume, an objective in a resume works best when you are changing fields or new to the job market. In these situations, your background may not match the position for which you are applying. The objective focuses on the important aspects of who you are and tells the hiring manager that you meant to send this resume to him or her.
It will help to remove any doubt or confusion because you can use the statement to talk about how your past relates to your desire to work in this position. The objective will also urge the hiring manager to keep reading your resume and allow you to show you do have a skill set that will be beneficial if you were to get the job.
An objective also can work well if you want to target a specific job title. For example, if you know the role you want and have a solid case to plead to the hiring manager, an objective can allow you to state that upfront and show the manager why you are a top candidate.
Resume Objective or Summary Statement: Which Should You Use When?
There is some confusion between a resume objective and a summary statement. They are not the same and certainly not interchangeable. Instead, they serve two very different purposes, so it is essential for you to understand how to use each of them.
An objective tells a hiring manager what your goal is with submitting the resume. It's useful when you want to target a specific position, and you know how your experience, education, and accomplishments make you the ideal person for the job. If you are a person who knows the job you want and can communicate that concisely and exactly, then an objective is a good choice.
A summary is similar to a short review of the main points of your resume. Its focus is more about selling your skills and abilities and how they suit the job for which you are applying. Many people compare a summary to a cover letter in that it hits on the important points and tells a hiring manager why you are a good fit.
What To (and What Not To) Include in a Good Objective for a Resume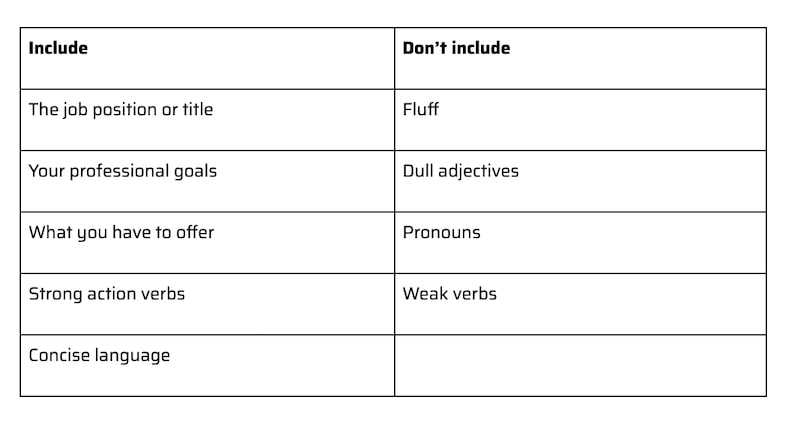 How to Write an Objective for a Resume in 5 Simple Steps
Learning how to write a resume objective may seem simple. After all, good resume objectives are only about 50 words long. However, once you begin working on it, you will see having such a limited space in which to write makes the task harder.
While you can look over job objective examples to see how to write one, it is better if you follow a step-by-step process. Remember, you won't just write one objective. You need to write a new one for every resume you send out, so having a precise step-by-step process will help you to ensure each one you write is stellar.
Step 1: Read the job description
You need to always look at the job description before starting to think about crafting an objective. The job description will contain important information you need to know to put together a targeted statement.
It is helpful if you take notes as you read. You'll want to specifically write down key terms the ad uses and pay attention to the requirements so you can note how your experience and skills match up.
Step 2: Write your main goal
It doesn't have to be a beautiful sentence. Just write out what your goal is with this resume. You can go back and spruce it up later.
Because the whole point of the objective is to state your goal, you need to know what this is before you can go any further. Try to customize this goal to the company and position for which you are applying.
Step 3: State who you are
Now you can write a sentence explaining who you are. You want to give details about relevant skills and experience. Use a sentence or two to connect your background to the job.
Step 4: Tell them why you are the one to hire
The last thing you need to do is connect everything you've said so far to why the hiring manager should look no further and hire you. Let the reader know what you will bring to the table and why you will be of value as an employee.
Step 5: Edit
Once you have completed the writing, you will probably need to go back over it and tighten it up. Remove any needless words or information. Keep it simple and concise. Do not use flowery language. You want it to read straightforwardly.
Make sure to also check for grammar and spelling errors. Make sure once you finish editing, it reads clearly and makes sense.
Mistakes to Avoid When Writing Objectives for Resumes
There are a few ways your resume objective could go wrong. Since it is the first thing a hiring manager will see and the introduction he or she has to you, it is essential to avoid making mistakes when writing it.
Here's a look at some of the most common mistakes people make and how to avoid them.
Using the same objective for every resume
It cannot be said enough that you must create a new objective for every single resume you send out. You must have one that matches the job and employer. Even if you apply to one company for multiple positions, you will want a unique objective for each position.
The reason you need a different objective is that it is so specific to the job. You are not just talking about yourself. You are telling the hiring manager why you want this job and why you are a fit for this job.
It is easy to avoid this mistake by simply writing a fresh objective every time you send out a new resume.
Not stating what you will bring to the company
One of the main goals of your objective is to show the hiring manager that you are going to be an asset. If you fail to state what value you will bring as an employee, your objective fails.
Hiring managers do not want to just hire bodies to fill positions. They want to find people who will bring something to the company and serve to improve the company. You need to have value and something unique about you that you can offer that nobody else can.
If you follow the step-by-step process for writing your objective, you shouldn't have any problems remembering to include this in your statement.
Not proofreading
You cannot write anything and assume it is perfect. You must always read back over anything you write to catch errors. Errors might be grammar issues or spelling mistakes. These things make your resume look unprofessional.
It may help for you to have someone else read over your objective. Having fresh eyes look at it can help you ensure you don't overlook any issues.
Talking about information not found in your resume
Your objective statement should be a highlight of what the hiring manager can expect. You won't explain things in this statement, so the manager needs to be able to look further down on your resume to get additional information.
You should never include anything in the objective that is not elsewhere on your resume. It will be confusing and leave the hiring manager wondering about how truthful you were in your objective.
Make sure you can match all points in your objective to other parts of your resume after you finish writing it.
Writing too much
The objective needs to be short and concise. It should never go over three sentences. Ideally, you want to keep it 50 words or less.
The hiring manager doesn't have all the time in the world to read long chunks of text, so you will fail if this is what you present as the first thing on the page. Keep it short and to the point.
It can help if you cut out adjectives and unnecessary words. Play around with it to find different ways to say what you want to say in a shorter way. You may have to adjust things quite a bit, but once you get used to writing objectives, it should become easier to keep the wording tight.
Making no point
If you are writing an objective just because you think you need one, then you probably shouldn't have one. An objective is only useful when you have a reason for it.
Make sure that there isn't an alternative way to begin your resume that works better. Never use an objective to fill space or because you think there has to be a blurb at the beginning of your resume.
If you cannot make it through the step-by-step writing process easily, you may not need one in your resume.
10 Killer Resume Objective Examples for Multiple Jobs
Nobody ever said writing a resume objective is easy. It can be tough, even if you know you need to include one.
While the step-by-step process can help make it easier, looking at some resume objective statement examples can be beneficial. Keep in mind that you should use these as inspiration. Do not copy them or try to use them verbatim. Remember, an objective should always be unique to you, the job, and the company, so using someone else's won't work.
National Honor Society member and high school valedictorian with an aptitude for math and science looking for an internship in a company that is a leader in the engineering field. Will bring a strong work ethic and focus on learning as a valuable team member.
This is a resume objective sample for someone with no work history. It relies on high school accomplishments and knowledge to show fitness for the job. This person is seeking an internship with an engineering company, which is a good fit for his or her skill and experience level. Note that the writer also highlights becoming a valuable member of the team. Since engineering often involves teamwork, this shows the value the person will bring to the company.
High school graduate with two years of retail experience looking for a part-time position selling women's shoes. Seeking a store close to campus that will allow leverage of customer service skills and sales experience. Desire to bring an energetic presence with an eye on trends to the sales team.
 This is one of those resume objective samples that broadcasts this person's energy and enthusiasm for the position. It is clear this recent high school grad is passionate about fashion and has skills that could be very beneficial to the employer.
Researcher looking for an entry-level position on a team working in molecular biology. Experience in researching lab reports, studies, and findings to reach conclusions. Enthusiastic about doing work in a field that can help others.
 The writer here highlights his or her experience, which relates to the job. The person also mentions the entry-level aspect of the job, which helps ensure the hiring manager knows the person knows about this aspect of the job. This is important if this applicant has experience in the field. The hiring manager could think this was a mistake, and the person meant to apply to another position.
Creative mind desiring to put a unique artistic viewpoint on display in a gallery show. Experience in presenting at exhibits and smaller venues. Looking for a gallery with an appreciation of avant-garde style.
 A creative field requires a bit more of a flourish in the objective statement. This is a perfect example of strong language and professionalism. The writer makes it clear what he or she has to offer and what he or she desires.
Executive ready to put professional experience and leadership skills to use in a Fortune 500 company. Strong work ethic with a focus on helping a business grow and exceed expectations even within difficult markets.
 Here is someone who has plenty of experience and a good skill base looking to move up even more in his or her career. By reading this, it is easy to see this person is driven to be successful and wants to help the company do better.
Language expert who speaks German and English fluently. Looking for a position to use interpretation skills to assist others. Seeks work in a social services environment.
 It is clear from this objective this writer has strong language skills and wants to help people. He or she wants to work as a German/English interpreter and has the background to support that. It will be very clear to the hiring manager this person is worth considering for the position.
Final Points on Career Objective Examples and Writing
A resume objective is not a requirement in every resume, but it can help you land the job for the right situation. When you know what you want and have clear professional goals, an objective can enable you to sell yourself to a hiring manager in a clear and concise way.
Writing an objective statement requires knowing your main goal and reason why you want the job, understanding the job description, and crafting a few sentences explaining why you are the best choice for the position. It requires specific language that is unique to each employer and position for which you apply.
When you put together a solid resume objective, you can elevate yourself above other applicants and increase your chances of getting an interview.
FAQs on Resume Objectives
Before you go, here is a look at some of the common questions people have about resume objectives. These cover a few extra points that you may need to know.
What is a good objective for a resume with no experience?
If you have no prior work experience, you are likely applying to a job that doesn't require any. You should start with the mindset that you are competing with others in your same situation.
The objective examples for resumes above give a few ideas you can use. Focus on the things about you and the skills you have that will work for the job. This should allow you to create a winning objective.
What can I put on my resume instead of an objective?
You don't have to use an objective, and you shouldn't use one if it doesn't suit your needs. An alternative is a summary statement, which is like a synopsis of your resume. You also could jump straight into a list of your skills, or you could use nothing. Do what works best in your situation and for your needs.
What is your objective as a student?
The objective for resume examples show a couple for students. Your objective at this stage in life may be to find part-time employment, a job that will work around your school schedule, or a position close to campus.
You should figure out what your main goal is and find a way to work that into the objective statement in your resume. However, it is really important to ensure you show why you are valuable to the company and not only focus on why you want this specific job.
How do you write an objective for a part-time job?
When seeking part-time employment, you want to approach the objective the same way you would for a full-time job. Nothing should change about your approach with the exception that you might want to mention part-time in the statement to reassure the hiring manager you understand this is not a full-time position.