Accounts Receivable Resume Sample, Template & Writing Guide for 2023
You're an ace at keeping your DSO right down and meeting collection targets month in and month out.
How do you get your incredible abilities onto an accounts receivable resume, though, when it comes to job hunting?
It's likely less complicated than you think.
However, there are a few critical steps to success that we'll share with you.
Things like resume format matter as much as content. And resume content doesn't include your entire work experience.
There's quite a bit to share, so let's get into it!
Sample Accounts Receivable Resume
Free accounts receivable resume examples are a dime a dozen online.
The problem is that many of them are outdated, meaning your accounts receivable resume pdf could be fatally flawed.
Tech plays a huge role in recruitment today. If you submit a resume that's not formatted for AI, it can be rejected immediately.
The tried and tested solution?
Resume builders because they get updated to stay one step ahead of HR AI. These accounts receivable resume samples are the real deal.
Each sample resume for accounts receivable below is for a different career level. Use them as a guide to figure out what works best for you.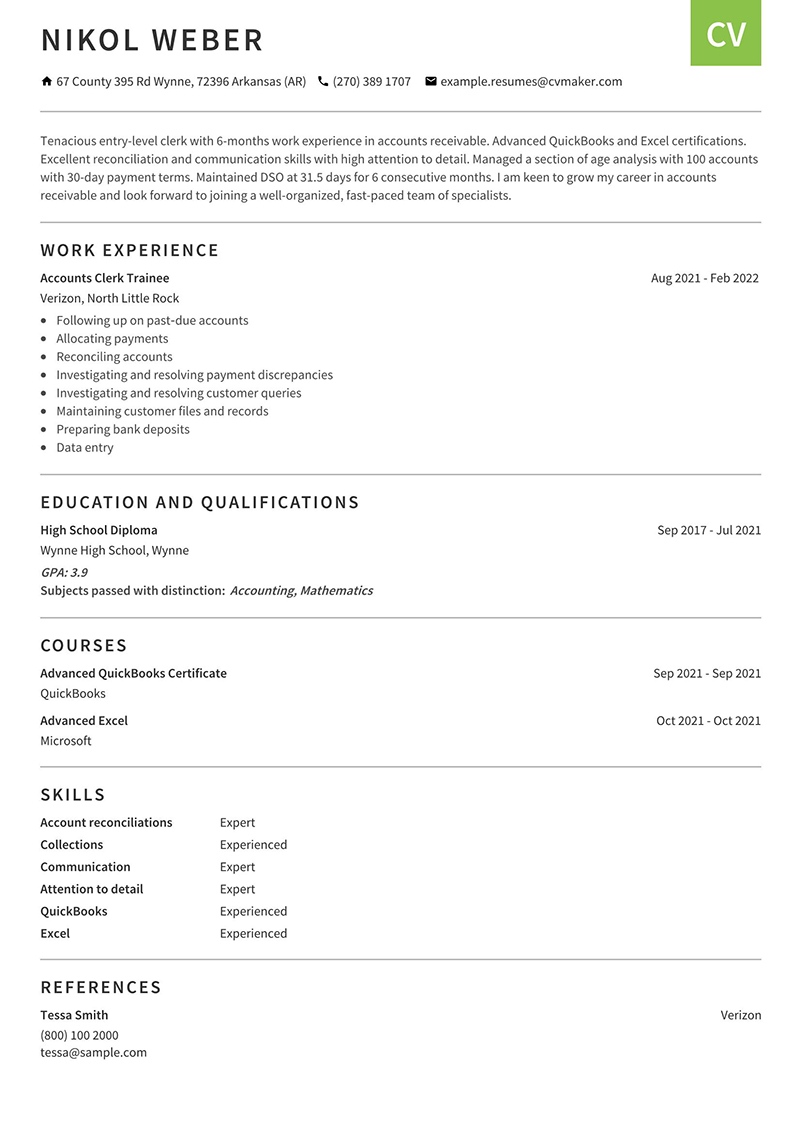 Nikol has selected our Otago resume template, touched with green.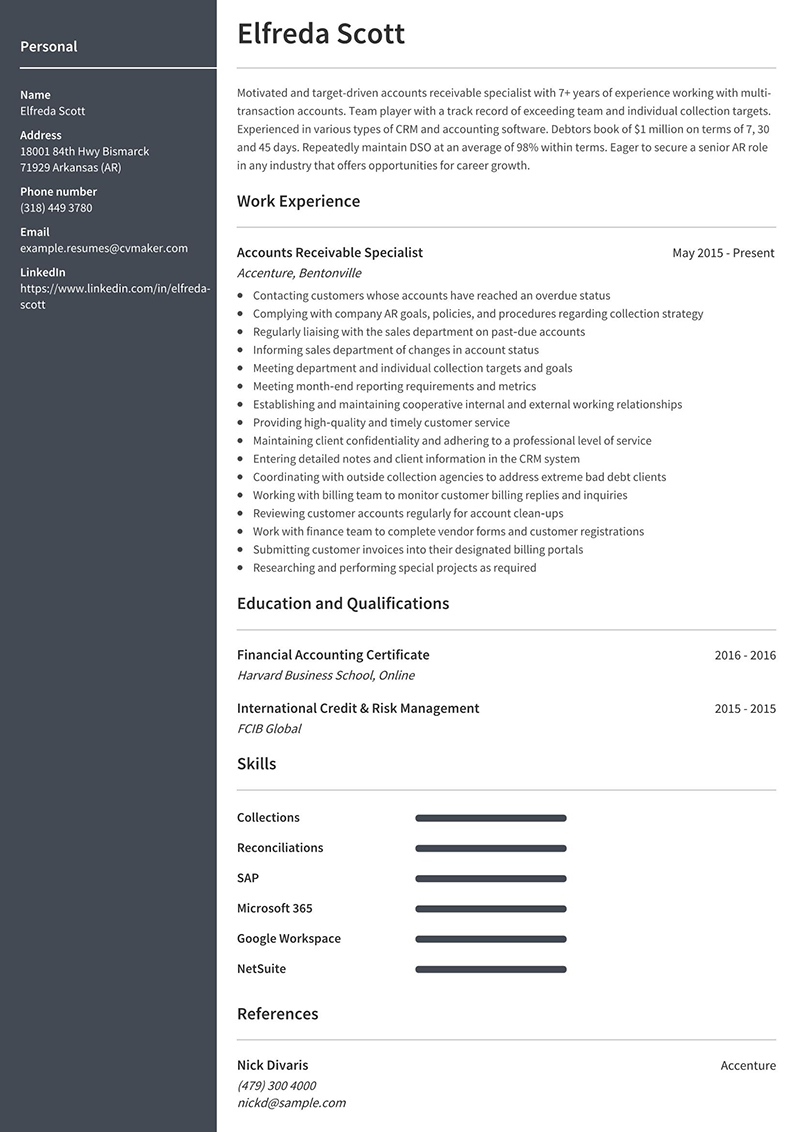 For this accounts receivable specialist job description for resume, Elfreda opted for our Stanford template in black and white.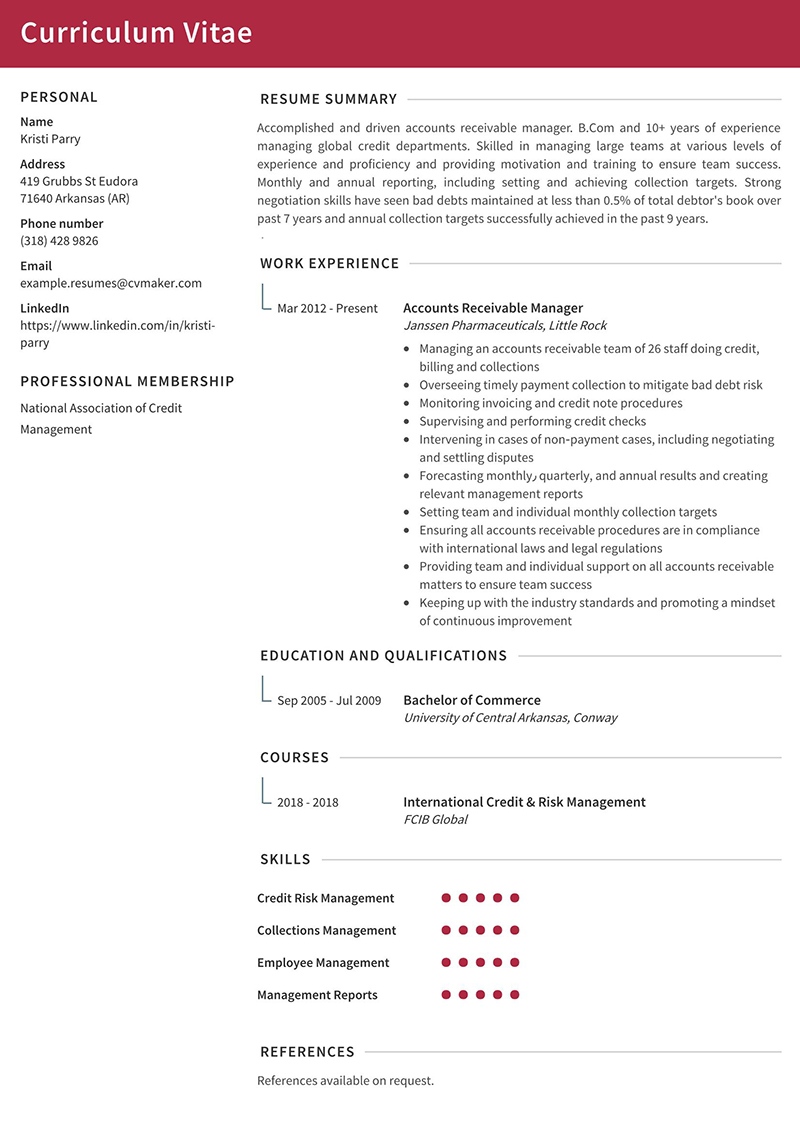 Kristi chose our Cambridge resume template in red.
How to Write a Professional Accounts Receivable Specialist Resume: Full AR Resume Guide for 2023
A healthy cash flow is essential to the success of any business.
Accounts receivable clerks play a major role in ensuring healthy cash flow by keeping customer accounts within payment terms.
They also identify discrepancies, allocate payments, make refunds, do account reconciliations, pass journal entries and validate aging reports.
Their opposite in accounting is accounts payable.
Without the efforts of the accounts receivable department, a business could quickly run into liquidity problems. Left unattended, this can lead to bad debts and write-offs.
Every business across industries needs someone to ensure customers pay for their purchases.
While the U.S. Bureau of Labor Statistics predicts a slight decline in jobs of 5% by 2031, there are still plenty of opportunities.
Also, accounts receivable clerks willing to invest in accounting software like QuickBooks can freelance. You could earn more money working for several small businesses than being employed full-time.
Whether it's perm or part-time employment, you still need an accounts receivable job description for resume purposes.
One certainty with declining jobs is that applicants outnumber openings.
Recruiters and hiring managers quickly become fatigued when faced with many accounts receivable resumes.
The result?
They opt for the first, most suitable applicant, not necessarily the best resume.
You know you're the best and deserve the job. You need a plan to get your accounts receivable clerk resume over in a flash.
The solution?
Have a wholly updated resume for accounts receivables available always.
Do this by compiling a comprehensive master accounts receivable resume with all your professional experience, skills and education. Update it regularly to make it a living document.
When you spot the perfect job, draw the necessary info from your master and get a perfect resume submitted in no time.
Another thing -
Recruiters use applicant tracking systems or ATS to identify the most qualified accounts receivable resumes in the pile of applications.
ATS have parsing software that searches each resume for critical keywords provided by hiring managers.
Recruiters load these keywords to the ATS as they post job ads to websites, job boards and social media like LinkedIn.
If parsers find the keywords on your resume for accounts receivable specialist, you're on the interview shortlist. Otherwise, even your best resume ends up getting binned.
Resume format is another consideration.
To match the expectations of ATS and hiring teams, your accounts receivable resume must be reader-friendly with a specific layout.
It needs clear business font styles, appropriate headings and bullet points. I must also not exceed one to two pages.
A resume builder takes care of these issues, making it the way to go.
Now you've got the basics, let's look at some accounts receivable resume examples of how to do it.
Personal Information
Take care in this section because typos here can be self-sabotage.
Transposing numbers or letters in your contact details means recruiters can't get hold of you. It's unlikely they'll try to track you down either with so many applications.
Include your full name, address, contact number, and email address. A complete address isn't necessary; state only will do.
If you have an up-to-date LinkedIn profile, this is where it goes. Just ensure it matches the details on your accounts receivable description for resume.
Personal Information Example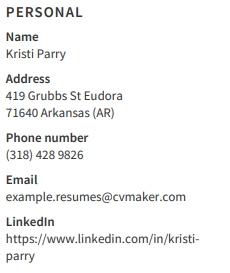 Accurate personal info is all that's necessary.
How to Format this Section
Precise, accurate and to the point is all that's required.
Make it well-spaced with a clear font and ensure it's scannable.
Even a minor oversight can see your accounts receivable resume rejected.
Resume Objective
Open your professional resume with an eye-catching resume objective or summary.
Which one should you use?
Write a resume objective if you have little or no professional experience.
An accounts receivable resume objective focuses on education and motivation to convince hiring managers you're right for the job.
On the other hand, a resume summary is a brief synopsis of your relevant accounts receivable experience and achievements.
Be sure to include keywords from the job description to make an impact right away.
A well-worded resume objective or summary is a short, sharp intro that gets readers wanting to know more.
A bland, generic intro puts your resume in the bin with all the other generic resumes.
Standing out because you've got the experience, skills and right attitude is how you get on the interview shortlist.
How it Differs from a Cover Letter
A resume summary condenses your relevant experience, skills and achievements into no more than 80 words. Likewise, a resume objective uses qualifications and goals.
Both open accounts receivable resumes offering a sneak preview of what you have to offer.
Conversely, a cover letter is a proper letter addressed to a specific individual with a company name.
The intended reader is addressed by name and motivates your application.
While there's no limit to a cover letter's word count, it shouldn't be more than one page.
A cover letter gives you more latitude to elaborate on aspects of the vacancy.
However, don't overuse cover letters and don't have a generic copy to go with every job application.
Generally, there are two instances to include a cover letter with your accounts payable resume –
If the job post asks for a cover letter
Where you're applying directly and not responding to a public job ad
Entry-level jobs are more likely to accept direct applications with a cover letter.
Avoid cover letters for public job posts unless requested. Transparent hiring processes often exclude direct applications.
Resume Objective for a Resume for Account Receivable with No Experience

This entry-level resume objective uses basic experience and future goals to catch the reader's eye.
Resume Summary for Experienced Accounting Receivable Resume

Whereas this resume summary talks about actual achievements to keep readers engaged.
How to Format this Section
You need to say a lot in no more than 80 words, so keep it relevant, targeted and direct.
Backed your resume summary up in your accounts receivable resume.
Write it from the perspective of the hiring manager or recruiter.
When you review it, ask yourself if you would hire yourself for the job based on what you've read.
Professional Work Experience
Getting the work experience section correct is crucial because it's the first place ATS visit.
You want to align your accounts receivable duties for resume with the ad's job title and description.
Take keywords from the post and mirror them on your resume, making sure to use the same order of importance.
This is known as a targeted resume, and you use info extracted from your master accounts receivable resume.
While each company uses their own language and terms, there are some typical keywords you'll find, such as –
Accounting software
Aging reports
Bank accounts
Bookkeeping
Budgeting
Communication skills
Customer accounts
Data entry
Detail-oriented
Discrepancies
Excel
Financial reports
General ledger
Interpersonal skills
Invoice processing
Journal entries
Lockbox
Management skills
Microsoft 365
Month end
Organizational skills
Outstanding balances
Past due
Problem solving
QuickBooks
Refunds
SAP
Spreadsheets
Team members
Time management
Professional Work Experience Example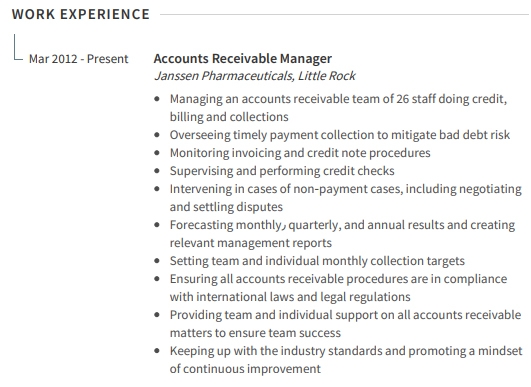 Keep work experience focused on the job requirements only as in this accounts receivable resume sample.
How to Format this Section
Keep the work experience section easy to navigate and reader-friendly.
Use clear business fonts, plenty of white space and bullet points to make your resume scannable.
Make each core job function a single bullet point.
In big corporations, various people will likely view your accounts receivable resume. So, make it easy to follow, comment on and share.
Lastly, always use the same order as the job posting and copy the job title.
Education, Courses and Certifications
A high school diploma and some courses are enough to become an accounts receivable clerk. If you want to grow in your career, though, you will need a higher education than high school.
Regularly updating your skills in accounting software is a must. Evolving programs and functionality make older certifications obsolete.
The education section matters more on an accounts receivable clerk resume with little or no experience. Once you've gained more than about three years of experience, it matters much less.
Education, Courses and Certifications Example

List details correctly and separate formal education from short courses.
How to Format this Section
The education section must be uncomplicated, easy to read and accurate.
To list numerous qualifications, begin with the most recent and continue in descending order.
Keep formal education separate from short courses if you have both.
Write the institution first, followed by the qualification and dates.
When listing software certifications, only list the most recent.
Skills
ATS love the skills section so ensure you include the right keywords on your accounts receivable resume skills list.
A successful accounts receivable clerk gets along well with customers and team members. These are traits considered soft skills and include communication and interpersonal skills.
Hard or technical skills are learned through education, courses and on-the-job training. Bookkeeping, the use of various software and generating aging reports are great examples.
Skills Example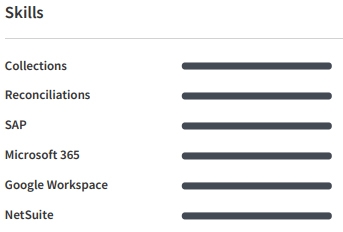 Keep with the skills mentioned in the job advert only.
How to Format this Section
Irrespective of how extensive your skills are, mention only those on-the-job posts.
List them verbatim to make your skills section ATS-friendly, so you move to the interview shortlist.
A rating for each skill helps readers quickly evaluate your depth of experience.
References
End your accounts receivable resume with references.
It's not essential to include references unless specified in the job advert. Even then, one or two references is enough.
Always try to tell referees upfront, so they know you're assured they're available.
If you're omitting references, state they're available on request.
References Example

Just one or two references are necessary with the right details.
How to Format this Section
Accurately stating the company name, referee's name, phone number and email address is all that's necessary.
Related Resume Templates
Accounts receivable resume templates aren't exactly what you had in mind?
We have plenty of other accounting resume templates for you.
Final Points on Successful Accounts Receivable Resumes
Here's a recap on the resume writing essentials for essentials -
Write a master resume to keep as a living document
Target each job individually
Extract keywords from each job post
Take time selecting info from your master
Select the correct type of resume template for the job
Stay with a one to two-page resume
Use professional but easy-to-read wording
Use action verbs and positive language to keep it engaging
Submit your resume in pdf format