Student Resume: Example, Template & Writing Guide [2023]
In many cases, students are anxious about creating resumes. You might worry you don't have the same level of experience as others and wonder what the format should look like based on that. The good news is that a great student resume can help you land the position you want. No matter your level of experience, you can craft a stellar resume that appeals to hiring managers and recruiters.

Sure, experience matters when it comes to landing a job. However, it isn't the only thing that employers are looking for. Everything from your skills and education to your personality and accomplishments can all make a huge impact on a hiring manager. When you make a great student resume, there's no reason you can't get the job of your dreams.
Whether you're a high school or college student, you may have limited experience creating resumes. But if you want to move into the working world, now is a good time to gain those skills. The sooner you learn to make great resumes, the quicker you can enjoy employment at a position of your choice.
Don't worry, because you don't have to figure out the ins and outs of the process all on your own. We'll share the basics of creating a student resume, how to make it impress recruiters, and the best way to craft resume sections to show off what you're capable of. You can use our examples and tips to build a resume you're proud to share.
Student resume writing guide: Where to start?
Taking a quick look at student resume examples is a good way to get yourself ready to make your own document. Later on in this guide, we'll share one that you can use as a guide for yourself. For now, we want to talk about the two major steps involved in creating a student resume. You start with making a master resume and then segue into penning one for a specific job.
Master resume for Student
The first document you want to make is a master resume. This is not the same as the resume you turn in with your applications. It's a simple document that you keep for yourself. This is where you compile information about your experience, courses, training, certifications, and other information so you can easily access it in the future.
Instead of jotting down only the most relevant information, this is a place to include everything that could be useful in the future. It doesn't matter if it might be outdated or seem irrelevant right now. Take it down so you have it if you need it at some point. The document is a log of your academic and work history that you can peruse whenever you need these details.
Keep in mind that as you continue to work, it will start to be more challenging to remember all the projects and tasks you did in the past. Having a master resume, whether it's on your computer or in a notebook, keeps all that information saved for you in case you need it. Just remember to update it with new jobs, tasks, achievements, and skills on occasion so it stays current and you don't forget anything.
Your master resume is a never-ending document. Keep a record at work of all the things you do from daily tasks, projects, and more, even if they are not part of your job description in your master resume. This will help you in vacancy-specific resume writing in the future.
Job-specific resume for Student
The second stage of creating a resume is all about the job-specific resume. This is going to be similar to any sample student resume that you see when you do a Google search. This is a resume designed specifically for a certain position you want. It contains only relevant information that relates to the role.
One of the most important aspects of this process is researching the company and position that you want. This is done to see what skills and keywords are best to include in your student resume. You can then use them throughout the resume to show you're a good choice for the position.
Of course, making a master resume and then a job-specific resume can take time. However, you're going to have an easier time gaining employment with a tailored resume. In addition, this isn't an overly long document. Most students have resumes of only one page, although you can go up to two pages if needed.
If you run into problems writing your resume, take some time to do a bit of research on the company culture, such as the work environment, values, and clients. Incorporating these things into your resume or cover letter can give you an edge over the competition. Research now is also useful since you can use that information in an interview down the line.
Student resume example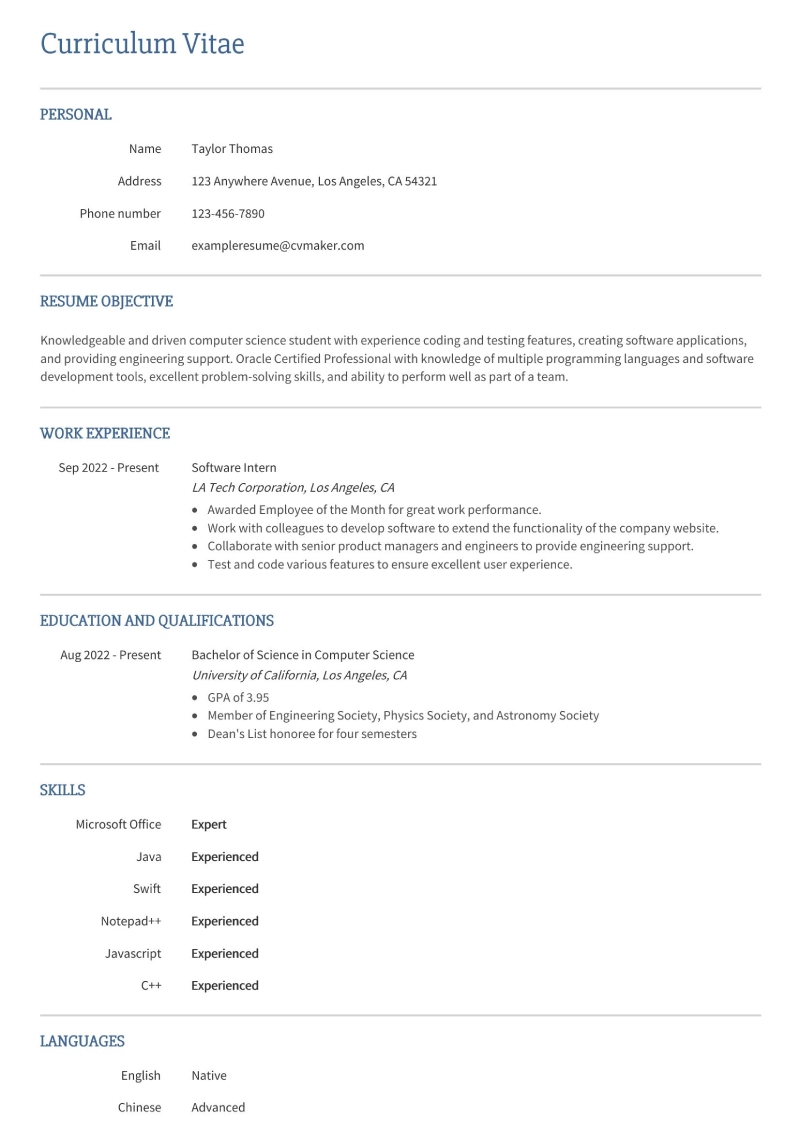 Here's a great addition to the resume examples for students that you look at while making your own document. You can easily see what the applicant has done in the past and which skills they are bringing to the table. They add extra information about their education since they're currently still in university. An extra section is included for languages since it is relevant to the position.
What to include in a Student resume? Writing tips and examples
Every student resume sample you look at will have some sections in common with others. That's because these are expected by hiring managers. However, there are also sections that you can choose to add or omit depending on the specifics of your situation. Below is some guidance on how to put together some of the mandatory sections so you can be sure your resume is noticed.
How to write a resume objective on a Student resume
Besides the contact information, which includes your email address and phone number, the resume objective might be the most crucial part of your student resume. It's where you share your largest accomplishments, top skills, and what you'd like to do in the future. At the same time, every student resume objective is going to be unique.
The resume objective is a very short paragraph that sits at the top of your resume. It can be anywhere from one to four sentences long, but it's best not to go longer than that. It's meant to be very brief and to the point, so be as concise as you can. Incorporating numbers and action verbs can help you with the process.
You can use our example resume objective to get an idea of what yours might sound like when you're done:
"Knowledgeable and driven computer science student with experience coding and testing features, creating software applications, and providing engineering support. Oracle Certified Professional with knowledge of multiple programming languages and software development tools, excellent problem-solving skills, and ability to perform well as a team."
Don't have much experience? Focus on your education and skills. If you do have experience in another industry, talk about that. The point is to present yourself in the best light in terms of getting the position you want.
Tips for listing education on a Student resume
A strong focus on educational courses, accomplishments, and related items is recommended when creating a student resume. If you have limited experience, place the education on top of your experience. Those with experience can choose to place experience on top instead.
While most resumes have a short blurb for the education section, a student resume can go into much more detail. Make sure you include where you are going to school, what you're studying, and when you graduated (if you already have). You can also include details about your GPA, clubs you're in, courses you've taken, and other details.
If you're looking for an internship or will be graduating soon, you can focus on projects and courses that are relevant.
You want to compile as much information here as you can, especially if you have limited work experience. Make sure it's relevant, but don't be afraid to add detail to this section. Since the work experience section is usually the longest, you want to add to education so your resume takes up a full page at minimum.
How to include work experience on a Student resume
The main purpose of the work experience section is to share any relevant positions you have held, including what you've accomplished or learned, how you've applied knowledge, and what your duties were. Experience should revolve around only things relevant to the role you are interested in. You can also include other things if there are transferable skills.
We know not everyone has work experience or may have very little of it, which means you may need a different tactic than someone who has decades of work in the past. Those who have internships or volunteer experience can use that in this section. Add in details about what you did and learned from the experience.
If you have no experience to speak of, a skill-based resume can be the better choice. For this type of resume, you focus on your abilities. You might have a small list of skills and include additional information under each of them to show an employer what you can do and how it is relevant to the position you desire.
People who have no formal education but have other experiences should include those, as well. For instance, job shadowing and internships can give you experience that you can use on the job. Talk about the skills you gained to show you'd be a good addition to the workplace.
The same applies to things like apprenticeships, freelancing, self-employment, and other types of work. The important thing is to show that what you did is relevant and had a positive impact on your skills. Include the same kind of information for these entries, such as the position, client, or company, and dates.
With our guide and examples, you're well on your way to crafting a student resume that draws the eye. The only thing left is selecting a design that shows off your skills and accomplishments. CVMaker offers several templates that you can use to perfect your resume before you send it off. Select your favorite and move forward with confidence.
Key takeaways
Creating a resume for students with no experience (or little experience) doesn't have to be a huge challenge. Use the tips and examples above to build a resume that is perfect for the position you want. Don't forget that tailoring the document is a must to make a great impression. By using our advice, you'll soon have a student resume to pair with your cover letter for your next application.
Resume tips for Student:
·       Look over the resume for any typos and misspellings, especially in the contact information section. Be sure the email address and phone number are accurate.
·       Use simple language, but stay professional as you craft your student resume. Stay away from jargon and slang as much as possible.
·       Consider using a service like Grammarly to make sure your writing is perfect before you decide your resume is ready to send off to an employer.
·       Be careful about how many fonts and colors you use as you don't want to make the document overwhelming. Two fonts and two colors are considered best.
·       For students with no experience, internships and entry-level positions are good options for starting your move into the working world.
·       Make sure you read over the resume one last time to check on the flow. Handle any final changes before you apply for the job you want.
Next steps?
Do you need some help improving your writing and making sure your resume makes sense from top to bottom? You can visit our CVMaker website to access professional Resume Writing Services. Reach out to us to get advice and help from an expert who has created tons of resumes in the past.
FAQs
How should I format my student resume?
The best resume format for students is going to vary based on other aspects of the document. As long as you have a good structure and an appropriate layout, you can format as you like but make sure to keep things professional. Resumes can be formatted in a plethora of ways so you can be creative with the process.
When it comes to format, it applies to the font face, size, and color you choose, as well as what hues you use to highlight important sections. However, it also goes far beyond that. For instance, the spacing choice you make between sections is also part of formatting. No matter what choices you make, be sure the resume doesn't span more than two pages at most.
Which layout is ideal for a college student resume?
In addition to the student resume format you choose, you also want to consider the layout. This is how you place things on the page and should largely be done by putting the most relevant and important sections toward the top of the page. For instance, most people place the contact information at the top middle or top side of the page.
Beyond that, most resumes will include a resume objective near the top of the page. From there, you can insert your education and experience in whatever order seems best. Skills are typically under those along with any extra sections, like languages or references, that you choose to include.
Which writing style is best for a student resume?
As you craft a student resume, make sure you are very clear throughout the document. Decide on a structure and stick with it so it's easy to read the entire thing and understand what you want to say. Adding action verbs is useful to be persuasive and have a better chance of being brought in for an interview.
In addition, make sure you use keywords from the job position and the company website. Keep in mind that a resume is meant to be a formal document so you should do what you can to stick to that. This applies even to companies who might have a less formal feel on social media and their website.
How long should a student resume be?
On average, any resume should be between one and two pages long. There are exceptions, but for a student resume, going over two pages is likely going too long. Most students with little to no work experience will want to go with a single-page resume. It will have plenty of information and be easier to read for a hiring manager.
If you happen to have additional experience or more information in other sections, you can choose to go up to two pages. At the same time, going shorter is recommended if possible. A resume is meant to be concise and has only the most important information. Everything else can come out during the interview.
What structure should be used for a student resume?
In most cases, the first thing you'll add to a student resume is your contact information. At that point, you can move to the resume objective. Under that are the core sections like education and work experience. As you write these sections, use complete sentences and incorporate action verbs or adjectives to make the document persuasive.
The following items are included in most student resumes:
·       Contact information
·       Resume objective
·       Education
·       Work experience
·       Skills
There are also several sections you can add on as needed, including:
·       Other types of experience
·       Accomplishments
·       References
·       Certifications and courses
·       Technical proficiencies
·       Interests and hobbies
·       Languages
How are student resumes different from other resumes?
Most of the time, someone making a student resume has less experience than someone who has been working for several years. While this is a disadvantage, employers realize that students are not likely to have the same skills as someone who has been in the workforce for a long period.
Based on this, a student resume needs to go beyond simply highlighting work experience. Instead, you want to weave in positive attributes and share the skills and abilities that you do have. Some student resumes will focus more on skills and education than experience.
What steps are there to write a student resume?
There are two phases to writing any resume, including one for a student. The first is to create a master resume that holds all of your professional information. This can be used to build a job-specific resume that is customized for a certain position. The first is solely for the applicant while the second is shared with a potential employer.
As you build your job-specific resume, you want to incorporate keywords and add relevant information. Choosing a structure and layout is also part of the process. Then, you want to proofread the resume before you send it in and wait for an interview.
What makes a student resume stand out?
There are lots of things you can do to make sure your student resume stands out. The first is to make sure it is written professionally and include keywords that come from the job description. You want it to be easy to read and give a good impression of who you are and what you can do.
You also want to make sure the resume looks nice visually. For that, you can design on your own or use a template, the latter of which will take less time. Beyond that, you can highlight certain sections and information to draw attention to the things you most want a recruiter to notice.
Now that you have the tips you need for a great resume, a template is perfect for bringing it all together. CVMaker offers a wide variety of templates that you can customize to make them your own. Choose the one you like most, add your information, and make use of a gorgeous student resume to attach to your application.