High School Resume Template, Example & How to Write Guide 2021
Whether you're applying for that first job, an internship, or preparing to head to college, creating a high school resume is often the first professional task a young person will undertake. Writing a resume can be challenging for anyone – even a seasoned professional with years of job experience. However, when you follow a proven method, give yourself plenty of time, and focus on the details, this vital task can be completed right the first time.

If you're in search of a high school resume template, or high school resume examples, you've landed on the right page. In the information below, we'll outline some of the proven methods that help anyone develop an eye-popping and engaging resume – regardless of their skills and experience.
We will provide some valuable information that should be included on all resumes for high school students. We will also provide you with a professionally written sample high school resume – posted below. This will give you a practical example of what is possible when you follow some of the methods and tips listed below.
High School Resume Sample
In the high school graduate resume posted below, you can see that it's clean, neat, and straight to the point. This is the formatting and structure that college admissions and hiring managers seek in the candidates they select.
The high schooler resume below is well-written, creative, and highlights Tommy's accomplishments, skills, and the limited work history he's accomplished in a few years. Mainly, the resume is a working document, that allows him to add work experience and accomplishments. It tells his story in an easy-to-follow format.
Resume example - High School Resume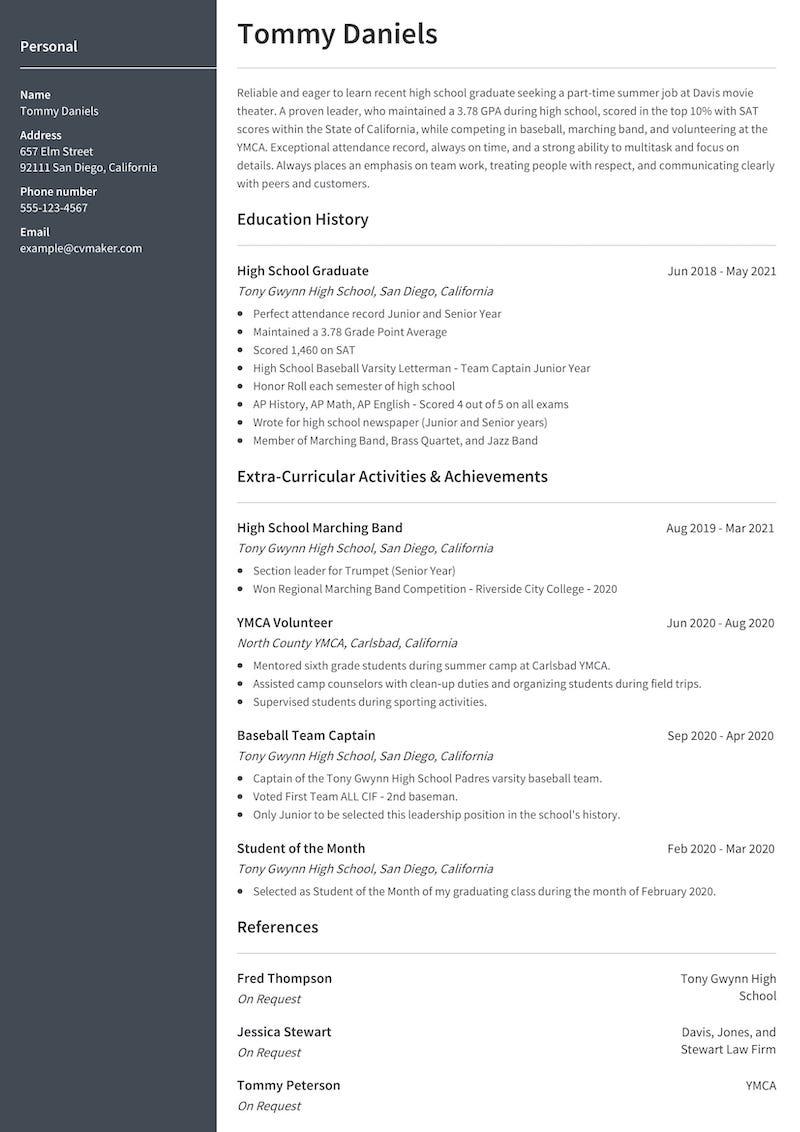 Download this resume example - High School Resume

High School Resume Guide: How to Write a Successful Resume
Every good document starts and ends with the organization. But when you don't have a lot of work or education experience – it's also crucial to infuse some creativity. So – let's get started.
Most professional resumes include the candidate's personal contact information, a resume objective statement, work history that applies to the job they are applying for, relevant education, achievements, and certifications or licensing. A high school student's resume with no work experience or limited history needs to be outlined differently.
The best resumes begin with an outline or what we call a master resume. This is a word document or other editable electronic file that permits you the ability to document all relevant information that was posted in the job description.
To create your master resume for a high school student, begin by setting up a few major sections:
Contact Information
Your Resume Objective
Education
Extracurricular Activities & Achievements
Work Experience (if any)
References
Skills and Abilities
Now that you have the basic structure, here is how you pick what type of content to use, and how to write it to stand out among your competition.
1. List Your Personal Information
Let's take a closer look at Tommy's resume examples for high school students. His contact information is the first thing displayed – and includes his name, address, phone number, and email. However, the important detail to consider is how he selected the contact information.
Tommy has a phone at his house but listed his cell phone number as his point of contact. The reason for this is that his landline phone number is not capable of receiving SMS text messages. Many hiring managers or companies will send a text message to a candidate if they wish to schedule an interview. So, make sure you list your cell phone on your resume.
The email address is just as crucial. For privacy reasons, we inserted our email address – but for your high school job resume, you'll want to use one that is hosted on a major server – such as Gmail. This will provide some much-needed credibility and reduce the potential of email bounce back or spam folder landing.
How to Format Personal Information Section
Keep it simple, clean, and accurate. A high school student that showcases the ability to be organized and detailed is going to stand out among the competition. If you can use a good high school resume template, this will help with the structure.
2. Creating Your Resume Objective
The resume objective is one of the most misunderstood sections of a resume. Many professionals believe that this statement can be used for every position you're applying for. That's just not accurate. The resume objective should always be written specifically to the intended audience.
In the resume sample, you can see that Tommy is applying for a summer part-time job at a movie theater. He has written a five-sentence paragraph that explains what he is applying for, his hard and soft skills and abilities that would make him a great movie theater employee, and leadership skills he has used in personal activities.
The important message to remember here is that every resume objective should be unique for the job you're applying for. If you are applying for an internship, write the objective for that position. Same thing with a college resume. Make it specific for the exact school you are contacting. This type of attention to detail is what separates exceptional candidates from others.
What are Hard Skills?
Hard skills are those you possess that help you complete a specific task. These are generally abilities – such as being able to use tools, hardware, or software programs. Some examples of hard skills a high school student would possess include using Microsoft or Apple technology suites (like Photoshop, Adobe, Illustrator, and such), creating websites (WordPress or other solutions), and communications tools.
What are the Soft Skills?
Consider a soft skill to be the interpersonal abilities you possess that helps you accomplish tasks, lead others, or be a good employee/student. This would include attention to detail, problem-solving, communication, and leadership abilities.
How to Create the Resume Format for the Objective or Opening Statement Section
When you're listing all your hard and soft skills on the master resume, make sure to include those that are practical to the job you are applying for. In Tommy's resume, you'll notice he stated he was a proven leader (supported by his awards as a Captain of his High School Baseball team), ability to multitask, and being a good communicator. These are all skills a movie theater employee should have to be valuable to the company.
Your opening statement must be short, sweet, and to the point – yet written in a professional – yet conversational tone. Using a resume builder after you've fine-tuned and edited content, will ensure it includes those action verbs. Also, make sure it reads clean, neat, and straight on the final resume.
Specifically, here are four tips:
Showcase your personality. Your writing tone should be professional, yet relaxed.
Make sure to include the skills that are relative to the position you're applying for.
Read it aloud. When you're finished editing the content, read it aloud. If it sounds like you're speaking to someone vs a computer being too stuffy, that's a good sign.
Edit the document through an online platform called Grammarly.com. This will ensure your spelling, punctuation, and tone are on par with grammatical best practices.
3. Education Section
This will be the easiest part of your high school resume. Don't bother listing your elementary or middle school. Keep it simple and list your high school. If you've recently graduated – or are going to graduate within a few months, document the graduation date on the resume.
You should list your GPA and date of graduation and some of your top academic accomplishments. Don't worry about getting too technical about specific coursework, classes you've taken, as you can list this in your achievements section if it's applicable to your position.
4. Extracurricular & Achievements
In the sample resume, you'll see that Tommy mentioned his GPA in high school, his SAT score, and his student leadership positions in the opening statement. He also mentioned his leadership on the baseball team, his participation in the high school band, and honor roll.
The Extracurricular section allows him to expand on this information. He mentions his marching band participation, volunteer at the YMCA, and winning a student of the month for English his Junior year.
How to Format the Achievements Section
This will be a paragraph section, where you can highlight some of your achievements and Extracurricular activities. You'll want to maintain the same written tone you used in the resume objective – again to maintain consistency and show attention to detail.
5. Work History
This is the section many high school students struggle to document. However, it's important to remember that you can – and should, document any previous jobs that can be verified through a reference. If you've never had a 'real job' – simply write – "no previous work history". You want to be 100% honest in a resume – so it's better to be transparent vs trying to fake it.
For those with work history, list them in chronological order – starting with your most recent position and working backward.
How to Format the Work History Section
It's important to list the name and location of the previous jobs you've held. In the sections below, describe what tasks you accomplished. You want to highlight tasks that are relevant to the position you're applying for. If the job search position you're applying for involves working with children, listing previous babysitting experience would be an example of practical experience.
In Tommy's resume for a high school student – you can see he has only had one previous job, working at a grocery store. He lists the job duties that he assumes are important as a movie theater. This included cleaning, handling cash, using a register, greeting customers, solving problems, and communicating with customers. Start with a brief job description, then list your tasks in bullet points.
6. References for High School Student Resumes
Any reference listed on a resume must be one that you have a strong connection with currently. You'll want to ensure they can support the information you documented on the resume with practical examples.
For a high school student's resume, it's recommended to select three references. One should be a family friend, one should be a teacher, and if you've had a job – the previous employer or supervisor is a great addition. This is especially important for writing a resume for a college application. You should also mention you have references available on your cover letter.
Make sure you have their permission to be used as a reference and ensure you have their accurate contact information. You don't want to list their private information on a resume, but make sure you have it available if they ask. Simply write – references available upon request.
Final Points on Writing a High School Resume and Cover Letter
Most high school resumes are written poorly, without structure, and quite frankly – sound the same. The key to standing out among your competition is showcasing your ability to focus on details, being a clear communicator, and being reliable. Most resumes are also turned in without a cover letter.
The information above is a guide – but if you follow the tips we mentioned and customize them for the specific position you are applying for, you'll have a better shot at gaining that important interview.
Here are some specific tips to consider.
Follow the template structure as listed above – including spacing, using a black font on a clean white background document. Take advantage of the master resume.
Take time with your opening statement. Remember, you get one shot to make a great impression, and that resume objective is a prime opportunity.
Showcase your examples of being responsible. If you've got a great attendance record in school or a previous job, make sure to highlight that in your resume.
List at least 2 professional and 1 personal reference. Make sure their contact information is accurate, and always gain their approval before listing them as a point of contact. A letter of recommendation from them will significantly help.
When you've listed everything as mentioned above, copy, and paste the content and place it in a Word doc or run it through a spelling/grammar checking website like Grammerly.com. This will proofread the content, help you save time and ensure all content is clean, neat, and ready for your professional resume.
Ask a teacher you respect to review your resume. It never hurts to have a second set of eyes review your resume. A parent, guardian, or family friend who hires people would also be a great resource.
The best piece of advice we can offer is to take your time, take advantage of a free resume template – where you simply create the sections, paste your edited content, and pick the best template that fits you best, that's a recipe for success.
By infusing the free tips mentioned above, you'll have a better chance of landing an interview – so you can dazzle them in person.
FAQs Related to High Schooler Resume
How to write a resume for a high school student with no work experience?
Focus on your achievements and responsibility. Many employers are hesitant to hire students mainly due to a lack of focus or ability to show up to work as scheduled. If you can clearly articulate why and how you eclipse those objectives, you are likely to stand above other candidates.
Does a 15-year-old need a resume?
Anyone applying for any position should create a resume. This is a professional outline that makes it easier for people to review your skills, abilities, and what makes you unique. Even a 15-year old student who is looking for their first summer job or part-time opportunity should take advantage of creating a resume. If you're 15, don't stress too hard on being too technical – just list your details, keep it simple, but make it sound professional.
How long should a high school student's resume be?
It depends on your objective. If you're applying for a first job, and don't have a lot of experience, keeping it simple is best. The main item you want to document on a resume are your skills, abilities, and why you're a responsible candidate for the position. Being on time to school, or being a leader in extracurricular activities can outweigh previous work history in many cases.
How do I make my high school student's resume stand out?
It is always best to personalize the high school student's resume to match the job or position they are applying for. If they are sending a resume for an internship, make sure to document the skills needed to succeed as an intern for that industry. If it's for a fast-food restaurant, making sure to explain why the student can thrive in high-pressure situations, follows direction, and is accountable.