Warehouse Resume Sample, Template & How to Write Guide 2023
A warehouse is a bustling hive of activity. In the global movement of commodities, warehousing represents a critical key in the modern supply chain. From storing freight and inventory to completing order fulfillment and shipping to end customers, warehouse workers are vital to maintaining commerce. The need for qualified employees within the supply chain is extreme in 2023. And to retain these positions, candidates need an engaging and easy-to-read warehouse resume.
Most warehouse positions are published on job search engines or directly by the company seeking help. As it's more likely that you will submit a warehouse position resume online, it's critical to take advantage of automated tracking software that searches for keywords related to the specific job.
However, you also want to write the resume focusing on user experience – or making it easy to scan, review, and in a convincing manner. How should you format a warehouse associate resume vs. a general labor warehouse resume? Are there different requirements for warehouse specialists or managers? And what are the keywords or action verbs that should be included in your warehouse resume objective?
These are a few questions we will answer in the content below.
Warehouse Resume Sample
Before you begin writing a resume for a warehouse worker, it's essential to review a good resume sample for warehouse worker. We'll do two better – by providing you with three unique resumes for warehousing positions – from general laborers to supply chain specialists and warehouse managers.
Let's examine these three warehouse resume examples. The first is a warehouse associate resume – for a picking and packing warehouse worker or fulfillment position. The second is a warehouse logistics coordinator, and the third for a warehouse manager position.
Warehouse Associate Resume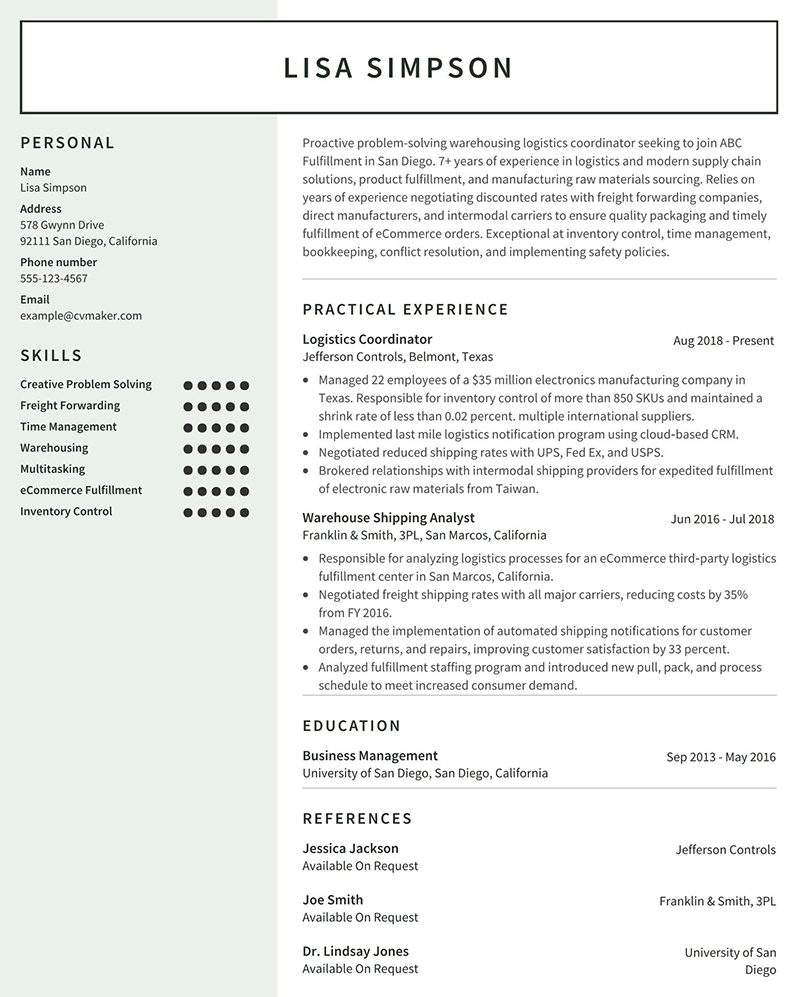 Our first warehouse worker resume example is for our hypothetical warehouse worker candidate Brett Smith. When you review the finished resume, it's clear to see what position he is seeking, the relevant experience that supports the candidacy, and the skills required to succeed on the job.
His resume was written by one of our professional resume writers at CVMaker.com, using the proven formatting, writing, and editing strategy we'll introduce in the content sections below.
This sample warehouse worker's resume is clean, organized, and easy to read. It starts with his basic contact information and continues with a well-written resume overview, specifically of the company he hopes to join.
He has listed a single job, but it fits the position he has applied to, includes multiple bullet points of key warehouse work and warehouse operations such as being a product picker and packager in his work environment, experience with inventory management software, unloading trucks, using hand trucks, shipping labeling, and is backed with a professional reference from that employer.
Further, you'll notice that he has listed his skills in the sidebar, quickly identifying them. This format also saves space, allowing him to post all relevant information on a single page.
Warehouse Logistics Coordinator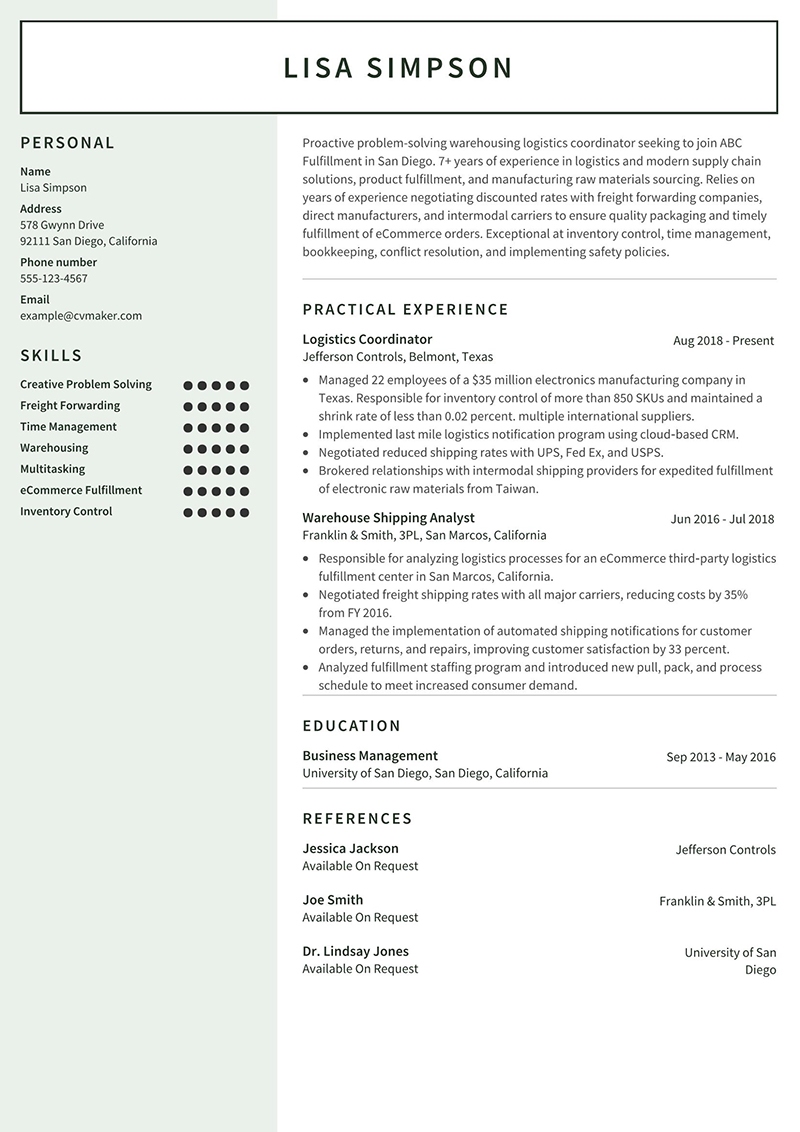 The next warehouse worker resume sample is for a warehouse logistics coordinator named Lisa Simpson. Our professional resume writers wrote this resume using a different resume template. Like Brett's resume above, her document includes her contact information, a powerful resume overview (once again – directly written to the company she is applying to), and relevant work history.
However, one significant difference between Brett's resume and Lisa's can be found in the Practical Experience section. While Brett has mentioned a few of his everyday job duties, Lisa, as a Logistics Coordinator, has focused on key accomplishments.
In her first warehouse worker job listing, she mentioned the number of employees working under her direction, the size of the company, and the diversity in SKUs. She has also mentioned essential job duties this job requires, such as creating last-mile logistics programs, negotiating with freight carriers, and intermodal shipping lanes.
Her second job listing continues this strategy but also shows growth from one job to another. The resume finishes with three professional references, two from her current and previous employers and a former college professor.
Warehouse Manager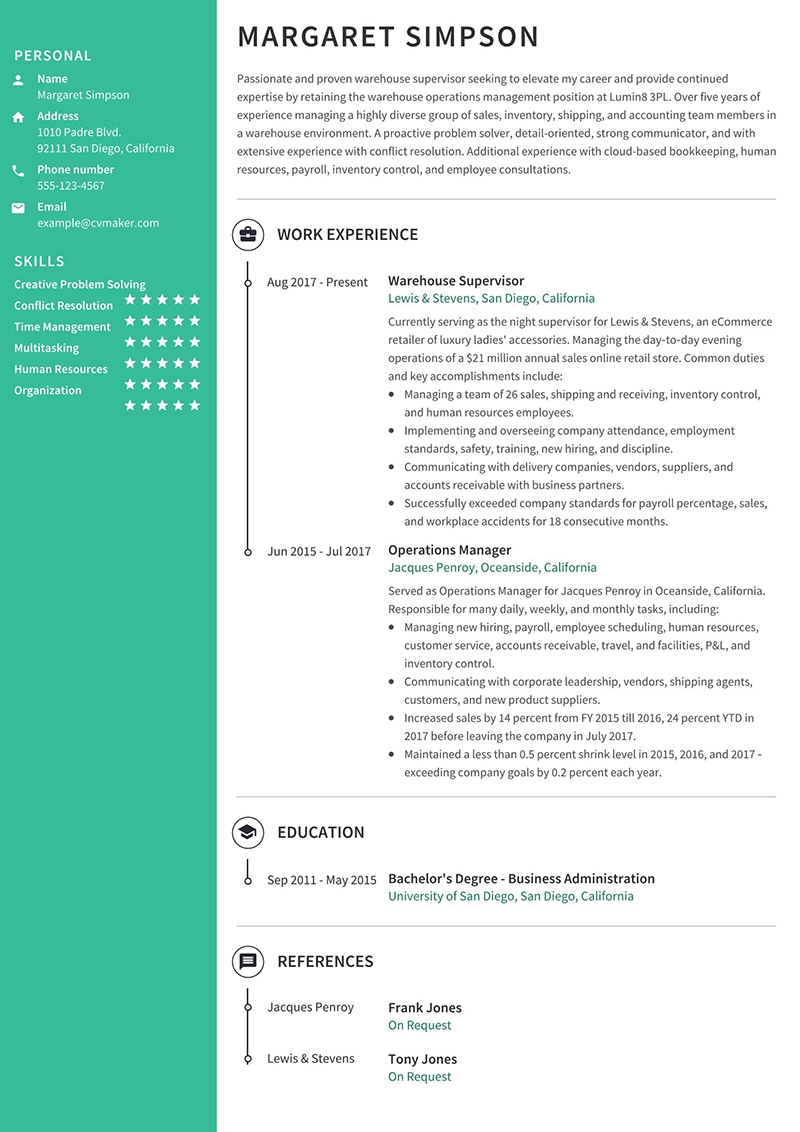 The final warehouse resume summary example is for our warehouse manager candidate Margaret. Like the two samples above, this one was crafted by our team of expert resume writers and uses a different elegant resume template better suited for executive positions.
It follows the same format and structure as Brett and Lisa's resume but includes additional details that support her candidacy for a management position in a warehouse environment. Her work history explains her expertise as a warehouse supervisor, record keeping, payroll, OSHA safety systems, fulfillment and order picking quality control, data entry using cloud-based computer systems, maintaining a safe working environment and managing multiple team members.
The main takeaway with all three examples is that regardless of the type of warehouse position you are seeking, you can create an engaging and effective resume by following a proven structure, using a resume template that takes care of formatting for you, and injecting some action verbs that will trigger those automated tools used by recruiters and job search engines.
So – if you're ready to learn how our team writes resumes like the ones displayed above, let's get started.
How to Write a Good Resume for Warehouse Worker in 2023: Guide to Successful Resume for Warehousing
A warehouse's resume is designed to provide greater credibility and support a job application. Warehouses differ from most careers because most openings are filled through an application process. The applicant will fill out a company-specific application, submit it via an online portal or onsite location, and wait for an interview.
However, attaching a resume and a cover letter to the application can quickly place the applicant at the top of the potential interview list (when positions become available). This is why a warehouse applicant tries to create an easy-to-read, exciting resume.
A warehouse resume is as easy to make as any other resume. A master resume document, like any other document, is best created with a plan of action. We propose using a master resume document whether you're creating an Amazon warehouse job description resume or one for any other industry.
This live document allows you to format the resume, fill in relevant information for each section, create essential bullet points, and fine-tune the content until it reads smoothly and grammatically correct.
A master resume allows you to include every aspect of your work history and any skills or experience relevant to the position for which you're applying. You have flexibility because you can list anything, for example, past employment history. At that point, you may choose your two or three favorite jobs from throughout your career.
Here's a quick rundown of the roadmap for developing each section of a warehouse worker resume.
Section #1 – List Your Personal Information
When applying for any position, the first item to double-check on your application and resume is the contact information you've included on both. If you make a mistake by typing your phone number or email address incorrectly, you can lose a job opportunity quickly. Let's review Brett's resume sample for a practical example of how this section should appear on the finished resume.

In this case, Brett is applying for a new fulfillment specialist or general warehousing position for a 3PL (third-party logistics company) in Denver.
The first section of his resume is the contact or personal information area. Here he provides his full name, mailing address, email, and mobile phone number. He lists a mobile number vs. a landline because the employer can send him SMS notifications with the application or interview status.
How to Format Personal Information Section
The personal information section of any resume should be written at the top of your resume in a simple and clean format. Double-check each entry in this section, including the email, mailing address, and phone number. Attention to detail is a critical skill all warehouses must possess. Start by showcasing that ability in the first section.
Step #2 – Creating Your Resume Objective
A well-written resume objective or opening statement might help you get an interview. The resume summary, which is usually the first thing a hiring manager sees, is at the top of your resume, immediately below your contact information.
It's a four to five-sentence recap of your career goals, qualifications, and interpersonal qualities that make you the go-to candidate for any job. Let's review two distinct examples.
Entry Level Warehouse Job
Let's review Brett's resume as an example of an entry-level or general warehouse worker position. He starts the resume overview by mentioning his desire to join the 3PL in Denver, to which he has applied directly. When you use a resume builder template like those we offer here at CVMaker.com - you can quickly revise the first sentence to target each potential employer.

Further, the opening statement mentions his previous experience working in a warehouse environment. If you've never worked in a warehouse before, you'll simply swap out that experience with your job history. However, it's essential to focus on the same job qualities as Brett's, such as being a problem solver, being organized, and maintaining a positive demeanor.
Warehouse Leadership Position
Lisa's resume overview example for a point of reference for a warehouse worker or leadership role. You'll notice that she starts by mentioning her goal of joining the company to which she applied directly. This attention to detail will allow your resume to stand out among others in a pile.

As you continue, you'll notice that she has listed her years of practical experience as a logistics coordinator. She has expressed that she "relies on years of experience negotiating discounted rates with freight forwarding companies, direct manufacturers, and intermodal carriers to ensure quality packaging and timely fulfillment of eCommerce orders."
This sentence tells her story of qualifications for the warehouse logistics coordinator position and a few essential keywords, such as negotiating discounted rates with freight forwarding companies, intermodal carriers, and eCommerce fulfillment.
Finally, in the last sentence, she indicated her expertise in several of the job duties of this type of position. It's well-written, grammatically accurate, and gives a hiring manager a good overview of her candidacy.
How to Format This Section
The objective section of your resume should be written in paragraph form, with an easy-to-read and exciting tone. You should keep a professional writing style, but don't be afraid to show your personality in the content.
Make sure the personal summary statement is less than 250 words, and read it aloud - to make sure it sounds natural. Remember that this part of your profile is intended as an elevator speech, so write it accordingly.
Here are some specific tips to consider.
Use a casual, conversational tone. The greatest warehouse workers are people who connect with peers, vendors, and suppliers. An excellent approach to demonstrate this ability is through the writing tone.
Read it aloud before you modify it. It's possible to focus on how things sound rather than how they read in some cases. The personal statement is a chance to sell your talents to get an interview.
Make sure the material is edited with a competent tool. Run your personal statement through Grammarly or another online editor before you finish it. This will eliminate grammatical mistakes from the content.
Section #3 - Work Experience 
The next major section of a warehouse position resume includes your previous work history. Most hiring managers are looking for candidates with practical experience handling freight and pallets, inventory control, and fulfillment experience. However, these skills can be taught.
There are also looking for people who are effective communicators, know how to resolve conflict, and can receive constructive criticism. You can learn these skills in any job – or even internships. Logically, when drafting a resume for a warehouse position, you should start by listing previously held positions in this space. This will give the hiring manager a clear perspective of your experience.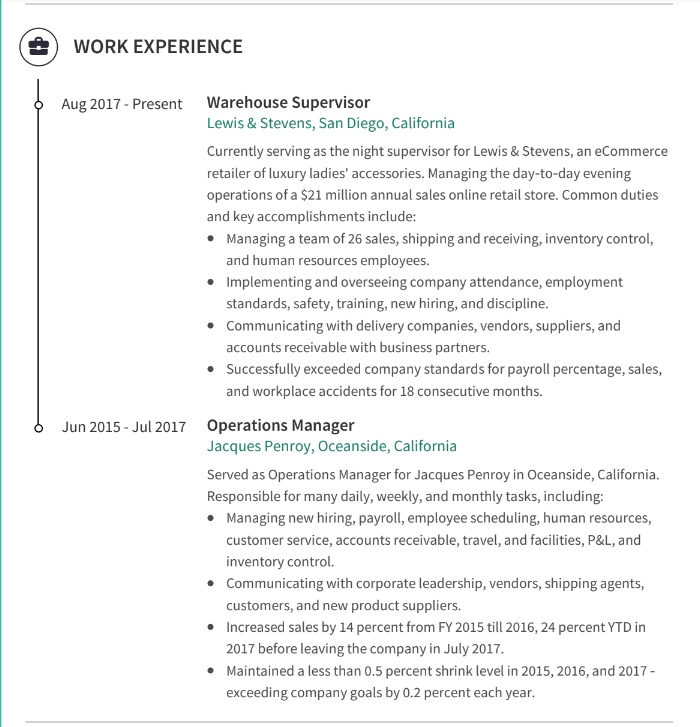 Let's review Margaret's resume for a warehouse manager as a great example of how your work history section should appear on a resume. You'll notice she's listed her two previous jobs – starting with her current position as a supervisor in San Diego. She has listed multiple bullet points of critical accomplishments which support her desire to elevate her career.
How to Format the Work Experience Section
In this portion, you'll need to create a chronology of your work experiences in reverse order. This implies starting with your most recent or current employment and progressing backward. According to resume writing standards, you should list two previous employers. If you don't have two prior jobs, compile as many jobs as possible relevant to the warehousing industry - or where you've showcased some of the important job skills.
Here are a few important items to remember:
List the company's name, the dates of employment, and the location.
Write a few bullet points that showcase some of your achievements – specifically, that show your experience with warehousing tasks, shipping, fulfillment, and safe work practices.
Keep the bullet points short – just one sentence per point.
Section #4 - Education 
A warehouse employee needs to be aware of their surroundings – as multiple pieces of heavy equipment are operating around the clock. However, they should also possess strong problem-solving skills. And should also have a solid ability to work well under pressure. These are skills that are generally not developed through education.
Most warehouse positions require a high school diploma or GED certificate. As such, the education section does not need to be fleshed out as much as a professional career – such as being a doctor or lawyer. However, suppose you have attended college or are currently enrolled. In that case, this may help you gain a competitive advantage over other candidates.

Let's review Lisa's resume for a great example of how your education section should appear. She has received her bachelor's degree in Business Management, which is a crucial attribute for logistics coordinators – as they touch on many aspects of the business operations of warehouse activity.
How to Format the Education Section
When formatting the education section, it should be documented as such.
List the name of your school, the location, graduation dates (or current enrollment), and the degree earned.
Start with the highest level of education you've completed. If you're currently taking courses at a college or university, make sure to document your progress and the degree you're striving to earn if you choose. However, this should be in a separate Courses section.
There is no need to add any education before high school.
Section #5 – Skills
So, what are the skills to put on a resume for a warehouse position? We touched on the skills for becoming a warehouse above. This is the warehouse resume skills section to showcase the attributes that will make you an exceptional warehouse.
Before you start writing down skills on paper, it's crucial to understand the difference between hard and soft skills. Lisa's example shows how your skills section should appear on the final resume.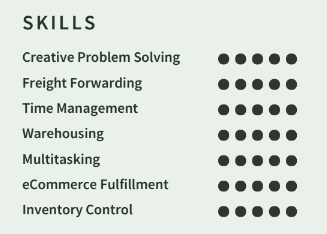 Hard skills are those that you learn to help you complete the job with better success. For example, a warehouse's hard skills include working with forklifts, pallet jacks, packaging supplies, and some fulfillment software skills (for some warehouse positions requiring invoicing for debit or credit accounts) and dedication to safety.
A soft skill is an interpersonal one that helps you build relationships within the workplace. This may include communication skills, conflict management, compassion, time management, taking care of their work area, and a strong work ethic. If you plan to become a supervisor or manager, you'll also want to showcase your leadership abilities.
How to Format This Section
Skills are best listed in a bullet point format. Many of the best warehouse resume templates made today will format the skills for you. Generally, you'll have two places to display the skills.
Sidebar: On the resume template, you may choose a format that has your abilities in the sidebar. This is an excellent idea, especially if you don't have enough material for a full two-page resume.
Bottom of the Resume: The alternative approach is to list your talents at the bottom of your website. It's generally assumed that a candidate will have the required abilities, especially if you've worked before. However, it's still important to list them on your resume. This is significant because many hiring agencies utilize a software program that searches for action verbs - many of which are soft and hard skills.
Section #6 – References 
A reference is a person or company that can attest to your integrity, expertise, and work ethic. They're included on a resume to lend credibility and support to the previously mentioned skills, work history, and education. Lisa's resume sample is an excellent example of how your reference section should appear.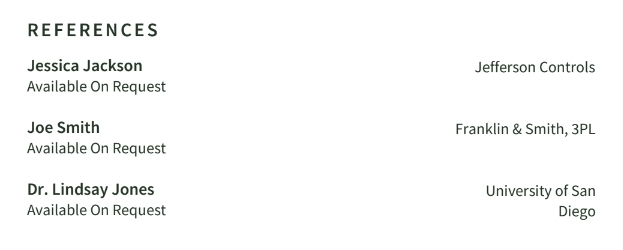 Most businesses will contact one of your connections. As a result, it's critical to pick individuals ready to assist you in your job search. Here are some pointers to help pick appropriate references for a warehouse worker resume.
Choose two professional references. It's best to select a professional reference from a previous job (especially if you were a good employee) or one from a school you attended. While it's OK to add a personal reference, most companies don't take the time to contact them any longer.
Make sure they are available. If you select a reference, they must have the time to reply to an inquiry.
How to Format This Section
When writing down your references, it's a great idea to collect two forms of communication – that they prefer. Whether it's their phone number, email, or mailing address, you need to have this data available for future employers.
However, you don't want to disclose their personal contact information on the resume. This violates their personal information – and you don't want random people contacting your references. Simply write their name and place of employment, and list "upon request" with their contact information.
Related Resume Templates
Writing a resume for a warehouse position is easier when you can review practical examples. We've collected sample resumes in multiple industries – including those in the warehouse environment. Please take some time to review some of our warehouse resume samples, and feel free to incorporate some of the ideas you find into your own.
*Edit Note: These resumes and articles have not yet been written or published. It would likely be better to publish these on this article and link them as they are completed.
forklift operator resume
supply chain manager resume
logistics coordinator resume
logistics manager resume
logistics specialist resume
shipping clerk resume
logistics analyst resume
logistics supervisor resume
logistics dispatcher resume
medical logistics specialist resume
freight forwarder resume
navy logistics specialist resume
warehouse logistics resume
director of logistics resume
logistics operations manager resume
transportation planner resume
logistics clerk resume
delivery truck driver resume
logistics engineer resume
Final Points on Crafting Effective Warehouse Job Resume
There is a lot of valuable information in the article above. And we understand that it can be a lot to absorb and process. So, here is a brief recap of the essential items to remember when you start the process of writing your resume, edit the content, and choose the suitable resume template.
Embrace using the master resume. List everything relevant for each section first. Then, take time to organize it in order, edit the content, and triple-check it for any grammar or spelling errors.
Keep it clean, neat, and professional. Use black font on a clean white background document.
Take time with your opening statement. This is your opportunity to make a positive impression.
List your work experience chronologically – from your current to your first job.
When you've listed everything mentioned above, copy and paste the content and place it in a Word doc or run it through a spelling/grammar-checking website like Grammarly.
The best advice we can provide is to take advantage of the tools offered. An easy-to-use online resume template is one of the best tools for any soon-to-be warehouse. This will allow you to edit your content first, copy, and paste it into an online template. Once you're finished, you can select which template style best fits your warehouse resume content.