Manufacturing Engineer Resume Sample, Template & Writing Guide for 2023
Taking a new project from concept and design to production launch is a walk in the park for you.
Your familiar ground includes documenting manufacturing processes, process control, problem-solving and root cause analysis.
However, you start feeling uneasy when it comes to words like recruiters, ATS, hiring team and manufacturing engineer resume.
It's not your turf – your line is engineering, not HR.
That's where we come in.
This article is a mini tutorial that tells you exactly what ATS and recruiters want.
Following our resume guide will get your manufacturing engineering resume in the #1 spot on hiring managers' interview list.
Manufacturing Engineer Resume Sample
We've included three prototypes to see how it's done and the end result.
These manufacturing engineer resume examples are typical entry-level, mid-career and senior resumes.
Each manufacturing engineer resume pdf is made on our resume builder from our range of resume template styles and colors.
Manufacturing Engineer Resume Samples
If you've been searching online for "good resume examples manufacturing engineer", search no more.
Use these three manufacturing engineering resume examples to find the right resume format and style for your resume.
Entry level manufacturing engineer resume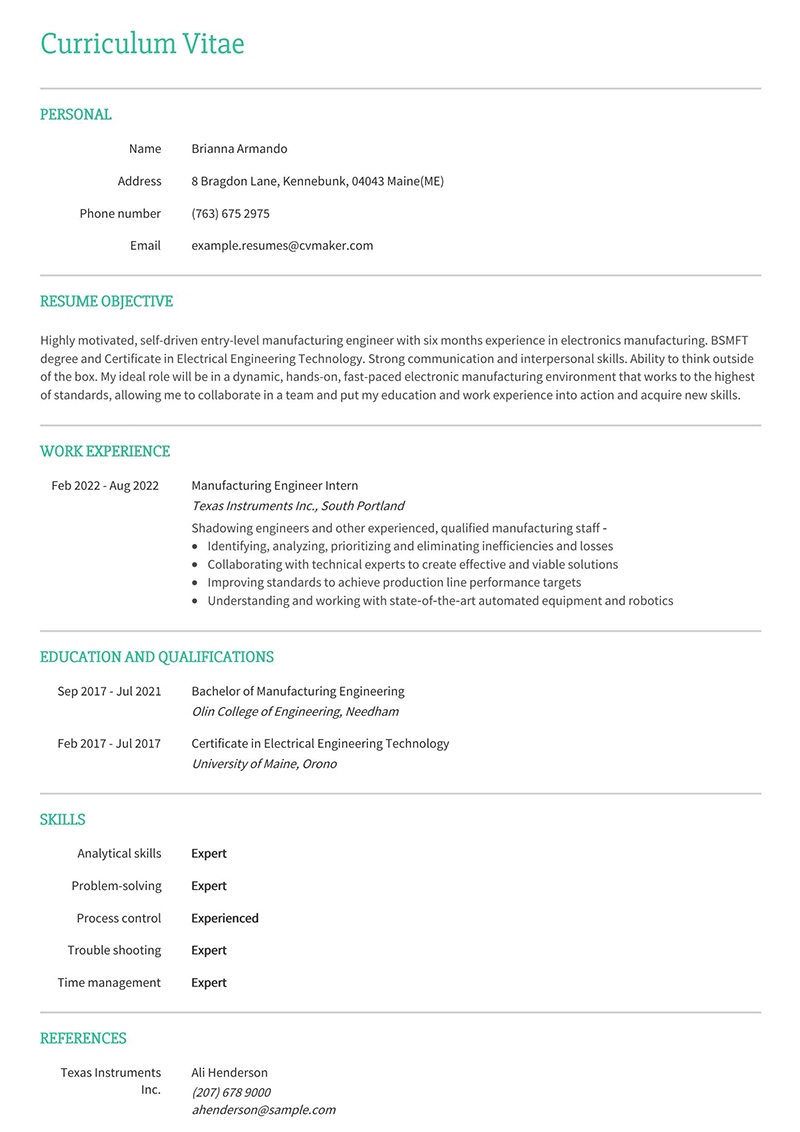 Download this resume example - Entry Level Manufacturing Engineer
Brianna selected our teal trimmed Princeton resume template for her entry-level resume.
Resume for manufacturing engineer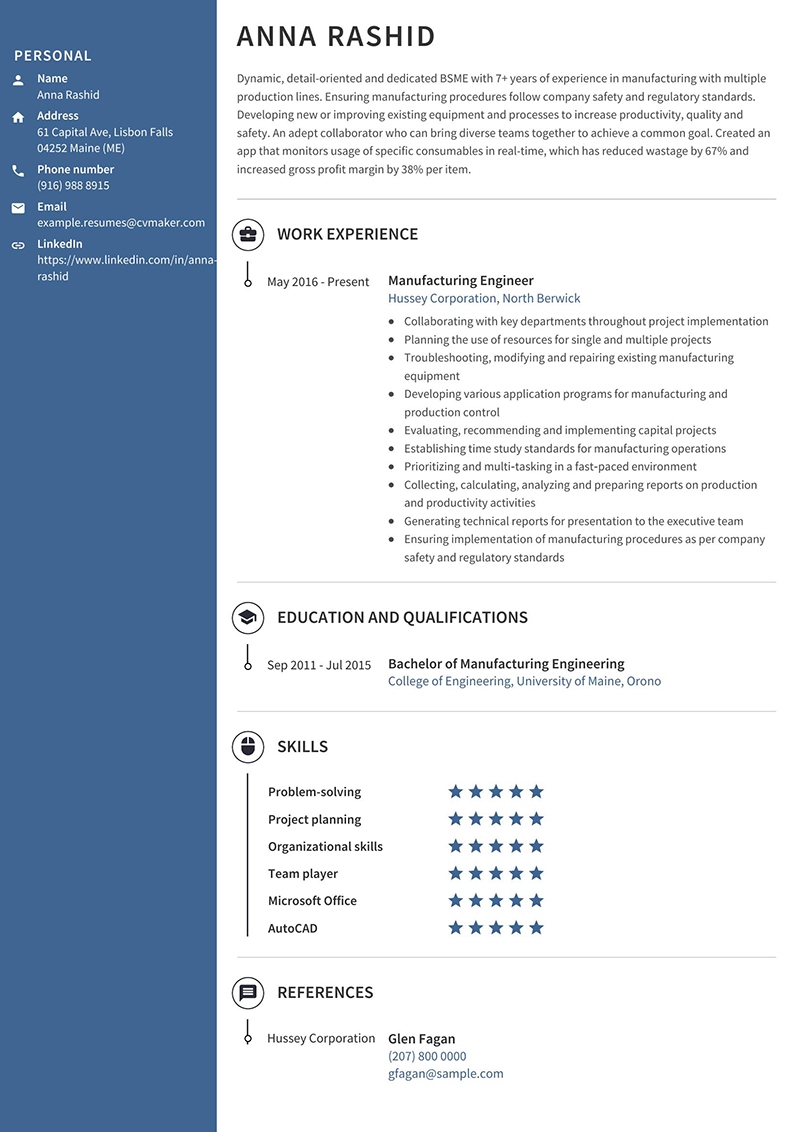 Download this resume example - Manufacturing Engineer
Our blue Harvard resume template created this professional resume for Anna.
Senior manufacturing engineer resume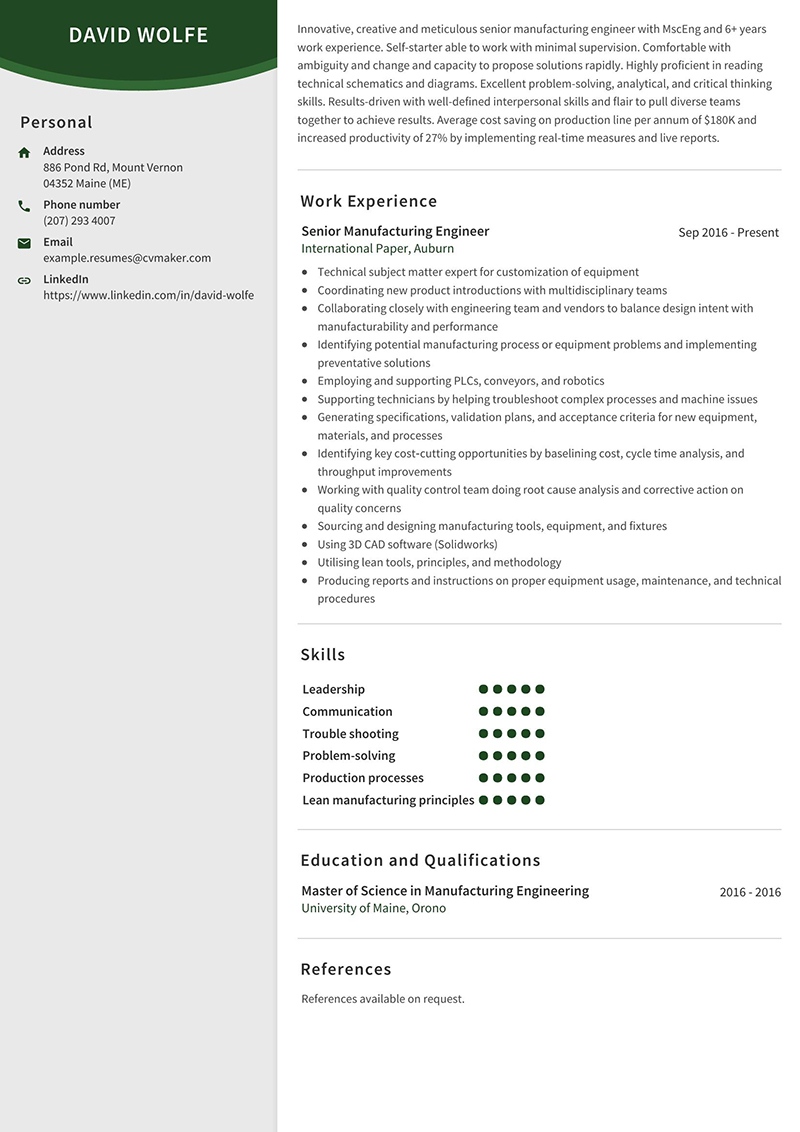 Download this resume example - Senior Manufacturing Engineer
Engineering manager David opted for our green Edinburgh resume template.
Writing a Winning Resume for Manufacturing Engineer: Full Manufacturing Engineering Resume Guide for 2023
Successful manufacturing engineers embrace innovation and have a can-do attitude. They hunger for continuous improvement and embrace technology and automation as tools for greater efficiency.
Manufacturing engineers focus on designing and operating integrated systems to produce economically competitive superior products. End-to-end project management is an essential skill for the job.
They're responsible for ensuring that production lines are safe, effective and efficient. You'll also find them involved in product design, process improvement, production processes and testing new equipment.
There's enormous scope for manufacturing engineers in various industries, from major manufacturers to mines and government departments.
Manufacturing engineer skills are in great demand throughout the US. The need is expected to increase in the coming decade, making it a career for the future.
As a result, job titles for resumes may vary –
Production engg resume
Manufacturing process engineer resume
Manufacturing test engineer resume
Manufacturing engineer resume format
Production engineer resumes
Medical device manufacturing engineer resume
Manufacturing engineering technologist resume
Lean manufacturing engineer resume
Manufacturing strategy engineer resume
High demand for specific skills sees wave upon wave of new graduates entering the market yearly to fill the gaps.
Whether you're already in a manufacturing engineer position or you're an up-and-coming graduate, you can't be resting on your laurels.
Competition between job seekers will become tougher; you must submit your best manufacturing engineer resume every time.
Your resume must immediately expose your experience, skills and value. With so many applicants, there's no time for recruiters to read pages and pages.
If it doesn't, and you don't stand out from the long list of job seekers rivaling for the job, you're wasting time.
So how do you stand out?
By creating individually targeted resumes for each vacancy.
When you do that, you win over recruiters, and they champion your application to hiring managers.
Before you reach recruiters, though, you've got to beat ATS.
Befriend ATS and Win Over Recruiters
ATS, or applicant tracking systems, are your first contact point when applying.
Parsing software in ATS retain keywords from job descriptions in posts and search incoming manufacturing engineering resumes for those keywords.
The denser the keyword ratio, the higher your resume moves up the rankings.
Recruiters get to see the top and middle-ranked resumes only. The rest are unknown and can only be viewed by searching for them.
And no recruiter will have the time to do that. They already know the candidates don't meet the hiring managers' criteria.
Here's the thing –
If you understand ATS, your resume will be flagged on top, and recruiters will love what they see.
In turn, their endorsement will make hiring managers want to interview you ASAP.
The secret to getting hired is including appropriate keywords in a short, targeted resume.
One-pagers are easy to read and share and have only the information required for the job.
Readers can see right away that you meet the criteria and are worth interviewing.
All your other unrelated achievements, experience and skills can be discussed when you meet the hiring team.
While a one to two-page maximum resume for manufacturing engineer might sound easy, it's not. Especially if you have several years of experience. Under pressure to apply, you could forget vital info.
A Master Manufacturing Engineer Resume Solves the Problem
Once you hit submit when applying for manufacturing engineer jobs, the deed's done. There's no going because you forgot to include something.
Save time and irreversible omissions by creating a master resume and keeping it as a living document.
Go to the start of your career and list every job responsibility in detail, with employer particulars and employment dates. Also, include achievements, education, and further training.
Save it to an accessible folder and update it when things change, making it a living document.
If you're an entry-level manufacturing engineer, you can still create a master resume but focus on education, achievements, and engineering-related personal interests
Now you've always got all the necessary facts and details when a career opportunity arises.
Typical Manufacturing Engineering Keywords
Keywords are your key to hiring success, so let's look at some examples you're likely to come across -
3D printing
Analytical skills
Assembly line
AutoCAD
Automation
Communication skills
Continuous improvement
Cost savings
Customer requirements
Cycle time
Engineering manager
Excel
Implementing
ISO9001
Jigs
Kaizen
Lean manufacturing
MATLAB
Mechanical engineering
Methodologies
Metrics
Microsoft
New product
New product introduction
Optimize
Problem-solving
Process control
Process engineering
Process improvement
Product quality
Production line
Production processes
Prototypes
Quality control
Quality engineer
Robotics
SAP
Six Sigma
SolidWorks
Time management
Troubleshooting
Validation
Personal Information
This is a crucial section of your resume because, without it, you're uncontactable.
Pay particular attention to your contact information and avoid transposed letters and numbers.
Without personal information, your civil engineering CV is worth nothing.
That said, don't complicate anything – all you need is your full name, telephone number and email.
If you have an up-to-date LinkedIn profile, include it here.
Personal Information Example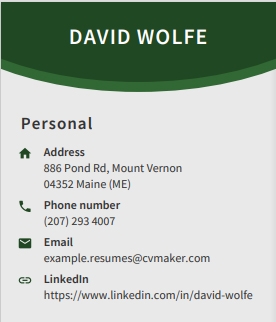 Precise, clear and easy to read.
How to Format this Section
Keep everything well-spaced and use a business font.
Accuracy is essential – so pay attention.
State only or complete address – either is fine.
Make sure your LinkedIn profile matches the info on your resume for manufacturing engineer resume; otherwise, it's a liability.
Resume Objective and Summary
A resume objective or manufacturing engineer resume summary is a short synopsis of your qualifications and career. It shouldn't exceed 80 words.
It includes education, years of experience, manufacturing engineer skills and achievements.
As a resume opener, it sits right at the top and is the first thing readers see.
There's no one-size-fits-all resume objective that you can use for every job application.
Each one must be written to align with individual job posts. Keywords matter, so select them from the ad and back them up in your manufacturing engineering resume.
Think each resume summary through carefully. First impressions count.
There's a difference between a resume objective and a resume summary.
An objective is for entry-level candidates and those with up to around three years of experience. It includes work experience but has more emphasis on education and career goals.
A more senior manufacturing engineer uses a resume summary focusing more on work experience and achievements.
Is a Resume Objective like a Cover Letter?
No, a resume summary or objective is different because they're very brief, and cover letters are more detailed.
Where a resume objective is a teaser to read on, a cover letter is an intro and motivation to arrange an interview.
In addition, a resume summary is part of your manufacturing engineer resume. On the other hand, a cover letter is separate.
Plus, cover letters are addressed to someone specific at a particular company, just like any business letter.
Keep it to one page when writing a cover letter. Use positive, persuasive language backed up by facts in your resume.
Avoid including a generic cover letter as part of your application, as it can confuse ATS, reducing the keyword count.
That means even your best professional resume could fall out or move way down the ranking.
Only include a cover letter if -
A cover letter is a specification in the job ad
You're applying directly and not responding to a public job post
Resume Objective for an Entry Level Manufacturing Engineer Resume

A combination of career goals and education makes up for lack of work experience.
Resume Summary for a Senior Manufacturing Engineer Resume

Experience, achievements and skills are more important than education.
How to Format this Section
Both a resume summary and resume objective shouldn't exceed 80 words.
Conveying valuable info in so few words is a challenge, so take your time and get creative.
Using quantifiable numbers, percentages and statistics gives you leeway to include valuable keywords
Professional Work Experience
Optimize the work section to give ATS what they're looking for.
Avoid including unnecessary information and stick with the required experience from the job description in the post.
Remember, parsing software is AI. It reads keywords exactly and won't recognize variations.
After extracting keywords and matching them to your master manufacturing engineer resume, quote them verbatim. Otherwise, they won't be picked up.
Targeting your professional work experience is crucial to making it to the hiring manager's desk. Everything to that point works on precise keyword recognition. Only the hiring team knows the ins and outs of manufacturing engineer job responsibilities.
Entry-level candidates lacking work experience can use the experience gained from university projects or relevant voluntary work. If it matches the job prerequisites, it counts.
Professional Work Experience Example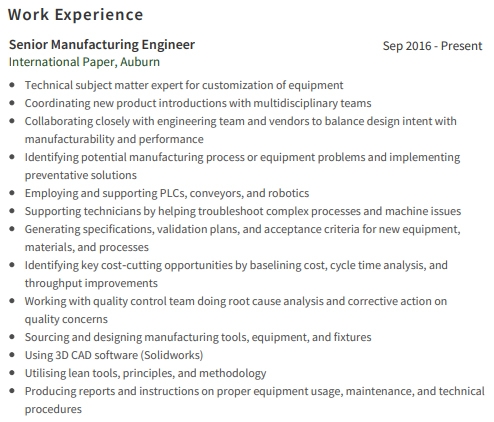 Keywords and bullet points convey work experience perfectly.
How to Format this Section
A resume for manufacturing engineer jobs generally works best in reverse chronological resume format. Starting with your current job, you continue in descending order.
Your work history must be reader-friendly and easy to navigate.
Each job responsibility must be customized and targeted to include keywords and fit into a single bullet point. If there are various facets, use sub-bullet points.
Keep with the manufacturing engineer jargon of the job description in the advert. These words are recognized and appreciated by the hiring teams –
Continuous improvement
Customer requirements
Cycle time
Microsoft
Process control
Process improvement
Project management
Root cause analysis
Six Sigma
Team members
Allow plenty of white space to keep it clear and use a business font.
Since a hiring team will likely view your professional resume, make it easy to follow, comment on, and share.
Lastly, use the same job title and follow the same job sequence as the post.
Projects
A projects section can be especially handy for manufacturing engineers.
It allows you to showcase project management success and highlight specific achievements related to the vacancy.
Of course, these can be included in the work experience section. Or, you might want to replace the work experience section with a projects section.
Isolating certain projects lets you include details on scope, cycle time, process control, process improvement, etc.
Aligning projects with the job requirements and including relevant keywords demonstrates your understanding of the potential employer's needs.
By showing your grasp of the role, you automatically earn the confidence of the hiring team. An applicant who displays comprehension early on will definitely bring continuous improvement.
Education
Manufacturing engineers require a bachelor's degree together with various certifications.
If you have several qualifications, list only those specified.
The education section of your resume becomes less important as you gain more years of experience.
Conversely, it's a crucial section for entry-level manufacturing engineers. Listing related subjects can make up for a lack of on-the-job experience.
Education Example

Nothing more than the facts is required.
How to Format this Section
The education section must be precise and scannable.
Begin with your most recent qualifications and continue in descending order, only mentioning the required education.
List the institution, qualification, and dates if applicable.
Licensing and Certifications
Manufacturing engineers working directly with the public must be licensed throughout the USA.
Licensing requirements include a bachelor's degree from an ABET-accredited institution, four years of work experience and passing a state exam.
New graduates can take the Fundamentals of Engineering exam and progress to an engineering intern position. After four years, they can take the Principles and Practice of Engineering exam and proceed to apply for a license.
Continuing education programs are necessary to retain the license.
Not all employers require manufacturing engineers to be licensed; however, most want certifications, particularly in specific areas of specialization.
Skills
A manufacturing engineer skills resume must include both soft and hard or technical skills, and keywords really matter here.
Find the skills in the job ad and list them verbatim. Only list needed skills in the same order of importance.
Hard and soft skills differ. Hard skills are taught through education and work experience, while soft skills relate to interpersonal skills or personality traits.
Skills Example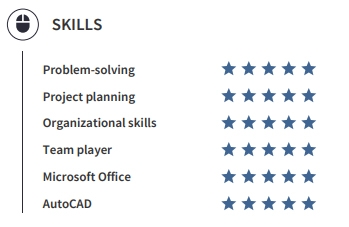 List only skills in the job post.
How to Format this Section
Don't be tempted to seek validation by showing off your vast range of skills. Stay with only what's necessary.
Copy keywords to the letter and include a rating for quick assessment.
References
The references section closes your manufacturing engineer resume.
No more than two is good enough, or you can choose to say, "available on request".
It's always best to give referees an upfront call to tell them you're in the job market and confirm they're still available. That way, they know to expect reference calls, and you're assured they'll give you a good reference.
References Example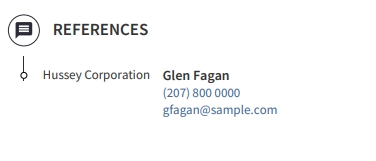 Ensure all reference details are correct.
How to Format this Section
This section requires all of your past employers' company names and the contact details of referees.
Do I need a Resume Builder?
Well, that's up to you, but consider this -
While there are loads of free manufacturing engineer resume samples online, success lies in quality content and resume format.
With so much at stake, you must be confident that your resume layout and sequence are perfect. The right fonts, well-placed bullet points and enough white space are crucial to easy readability.
There's no one size fits all resume template to go with every application, either.
A quality resume impresses in every aspect, not just content.
Unless you're a Microsoft Office fundi with plenty of time to kill, you could either –
Cost yourself opportunities because your resume is all over the place
Take too long to get your application in while trying to get it right
Frequently, a manufacturing engineer position needs to be filled urgently. In that case, the cut-off time for submissions could be as little as 24 hours.
The successful applicant will always be the first, most suitable candidate.
Maybe you're more qualified and a better fit – but if your resume comes in too late, who will know?
Resume builder templates are designed by hiring experts who are at the cutting edge of HR tech. They know what HR AI and modern hiring teams want.
In as little as 10 to 15 minutes, you could have the best manufacturing engineer resume ready to smash its way to the top of the interview list.
It's a known fact that resumes made on a resume builder win more interviews. Therefore, you're more likely to get hired.
The answer to your question is obvious, isn't it?
Related Resume Templates
If these resume templates for manufacturing jobs aren't what you're looking for, these might suit you better -
Final Points on Successful Production Engineer Resumes
That's it!
You can now write a top-shelf resume for manufacturing engineer positions.
Let's do a quick rundown of the essential points -
Write a master resume to keep as a living document
Target each job individually
Extract specific keywords from the job post
Carefully match info from your master to keywords
Choose the best resume template for the job
Stay with a one to two-page resume
Use professional, reader-friendly language
Include action verbs and positive language to keep it engaging
Opt for the professionalism of a resume builder
Submit your resume in pdf format