References on your cv; mandatory or optional?
There comes a point in your life when you either start or decide to look for a new step in your career. This would require you to work on your CV. Although all parts of a CV should be up to date and impress, the importance of references on a cv is debatable.
What are references?
References, often called referees, are individuals who have experience working with you in a professional environment and are able to offer insight into your capabilities and personal characteristics. They can be contacted by recruiters to give an objective opinion on a candidate in regard to their skillset and suitability for a vacancy.
Should I mention references on my CV?
The necessity of references depends on the vacancy itself. If a company clearly states that you have to add references to your cv, then you do not have a choice. However, if they do not request this, then it would be better if you leave it out. Recruiters prefer a compact cv no more than 2 pages, so you have to be efficient with space. In addition, it would more advantageous to use it in the later stages of the application process. Listing references can be useful if you lack work experience and want to fill in the blank spaces on your CV.
Pros and cons of adding references
Adding references to your cv offers different advantages. One of the major benefits is that it provides credibility to your cv. A candidate that has a reference on his/her cv that can support claims about specific skills will be more believable than a candidate that does not have references. In addition, if your reference is someone well known in the industry or has an admirable position in an organisation, it could impress the recruiter. However, adding references could be disadvantageous as well. As mentioned before, adding references will require space and this might be scarce if you have a decent amount of experience. It could also be considered unnecessary considering that you are only at the beginning of the application process.
Type of references
It is highly likely that you worked with other individuals professionally throughout the years. These individuals could be:
Your employer. As mentioned before, the recruiter will contact a referee to question your competences and personality. A co-worker with a superior role over you can be a great referee because they can vouch for your dependability and punctuality.
A colleague. Someone who worked with you on a project can be a perfect fit to back up your claims as they have personal experience in witnessing your capabilities and personality. Especially if you had a higher position than your co-worker, because they can support claims about your managerial capabilities.
Lecturers. It is possible that you lack work experience and therefore do not know someone that can endorse you on a professional level. Alternatively, you can use a professor as a referee.
Criteria for references
Keep in mind that your references can greatly influence your chances at getting hired. You have to make sure that they are most likely to offer positive insight into you as a professional. In addition, make sure that you avoid adding a neighbour, friends, or family members as a reference because they can be biased in their opinion.
How to get references
It is important that you ask for permission before you add someone as a reference. There are different ways to do this, depending on your relationship between you and your referee. The best way to ask for approval is face to face as you can explain what kind of jobs you are interested in and you can find out what they think of you as a professional. Otherwise, an email or a message on another online platform will suffice. In general, try to find at least three references for your cv.
Alternative references in case of little/no work experience
It is possible that you have not built a lot of work experience throughout the years, and therefore do not have someone that you can add as a referee. Should this be the case, you can add other types of individuals to offer credibility to your cv. As mentioned before, you can add a professor as a referee. If for example this person has worked with you on a thesis, he or she can vouch for your organisational and research skills. If you were a member of an extracurricular club, you could ask its coach as a referee. Another example could be a volunteer coordinator should you have done voluntary work in the past. Although recruiters prefer professional referees, these alternatives will make sure that you will have a chance at getting the job as well.
How and where to add references on cv
Keep in mind that your references should be added at the end of your cv. It should include their full name, job title, their employer, and a brief description about your relationship with them. Despite that adding the contact details of references is common, it can also be beneficial if you decide to leave it out. Firstly, if the recruiter contacts you to ask for the contact details of your references, you will already know that they consider you a serious candidate because they are conducting a background check. Secondly, once you know that they will do a background check, you can inform your referees that they can receive a phone call soon and prepare them. Your referees might also not appreciate their contact details to be out in the public if your cv is on an online platform and you added them to your cv.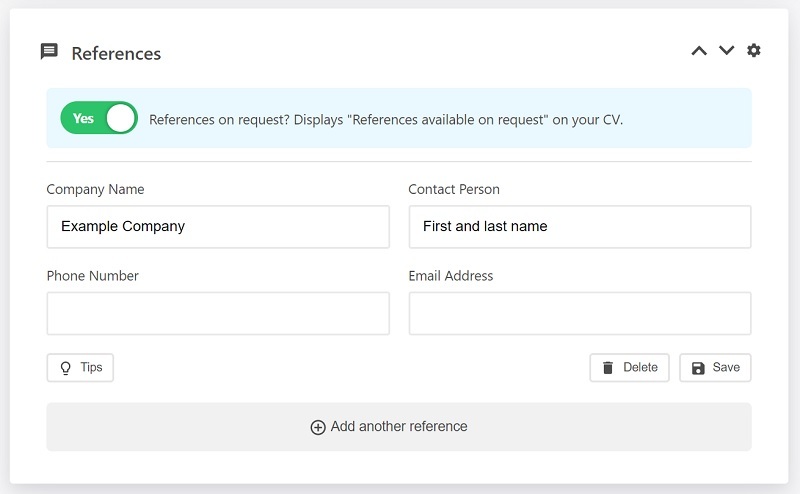 Adding a reference to your cv with CVmaker
Preparing a reference for a call
Once you know that the recruiter will contact your referees, you can prepare them to make sure that you maximise your chances at getting hired. There are multiple ways to do this. The first step is to inform them about the situation, the position that you applied for (if possible, give them the job description) and the name of the organisation. You can also ask your referees to highlight specific skills you have and your achievements when they receive a phone call from the recruiter. In general, recruiters ask referees similar questions about the applicant. These include questions about starting and end date of employment, reason for leaving, responsibilities, punctuality, strength and weaknesses, how well the applicant got along with others etc.
Do's and don'ts mentioning references
Besides all the information given above, it is also important to consider the following:
do order your references alphabetically
do thank them if you got the job
do keep in touch with your referees from time to time
do tailor your references to the relevance of the vacancy
don't add someone as a reference who had a bad experience with you
don't add an outdated reference to your cv. Unless you do not have enough job experience, you do not need to use your first employer as a referee
don't make your reference list too long. Try to write down three to a maximum of five references.
don't write down "references upon request" as this is completely unnecessary. Recruiters are aware that they can ask for references when they need someone to support your claims.