Customer Service Supervisor Resume Sample, Job Description & Writing Guide for 2023
When you craft a customer service supervisor resume, you want to knock the socks off of the recruiters. An excellent resume is a must when you want to show how competitive and skilled you are. Whether you have a high school diploma or a bachelor's degree in business administration, you can turn yourself into a compelling candidate with the help of CVMaker and our suite of templates, examples, and tools to craft a one-of-a-kind resume.
You have the needed skills in conflict resolution, resolving customer complaints, and more. We have a variety of ways to let you express that on a resume that turns heads. Instead of spending hours or days building a resume, you can use our services to get it done fast. All those extra hours can be used for other things you want to do. Our resume builder is simple to use and creates aesthetically pleasing documents in minutes.
Showing off your experience, skills, and education is a good start toward a stellar customer service supervisor resume. However, there are tricks and tips that you may not be aware of. This guide will give you all those extra details to ensure your resume shines. We'll walk you through several resume sections so you're totally ready to move forward.
Customer service supervisor resume writing guide: Where to start?
Before you get started putting anything down on paper (or Microsoft Word), it's important to understand the basics. Most resumes are only seen for a few seconds, so yours has to be better than average. You want the professional experience on your resume for a customer service supervisor to get noticed. This means building a concise but personalized document each time you send in an application.
Our recommendation is to craft a resume in two separate stages. The first half of the process involves creating a master resume. This is a document where you store all the details about your skills, education, and employment regardless of whether it fits a particular job description. The second half is building a custom resume for a specific application based on what the job is all about.
Master resume for customer service supervisor
A master resume for a call center supervisor (or other customer service manager) will have info about your skills in account management, customer experience, and other common tasks. You want to use this document to keep everything compiled. Then, when you find a job you want, you can pull from the master to build a tailored resume. It may initially take time to build a master resume but it can pay off in massive ways as you move forward.
Honestly, if you've had more than a single customer service supervisor position, you probably have forgotten a few things about past employment. This can be frustrating, so why not keep all that information in one spot? The master resume is made for that. All the details are in a safe place where you can access them whenever you need to do so.
There are many ways to create a master resume. Make a document on your computer, jot down things on paper, or choose another storage method. The format is far less important than making sure you don't lose track of something important that you may need to apply for positions in the future. After this resume is complete, you can move on to a job-specific customer service supervisor resume.
Job-specific resume for customer service supervisor
If you want to impress hiring managers, your resume has to be professional and provide all the needed information. The best way to do this is through a customized customer service supervisor resume. Take a look at the skills and information throughout the job description and pick out what you want to focus on. Whether that's call volume or client relations, keep it in mind for this resume.
When you take a look at a few resume examples for a customer service manager, you'll notice that the length tends to be fairly standard. Most are going to be one page long, but you may come across an occasion CV that is two pages. Keep that in mind as you make your own customer service supervisor resume. Another tip is to check out the company on social media so you can see what the culture is like and use that in your writing.
Customer service supervisor resume example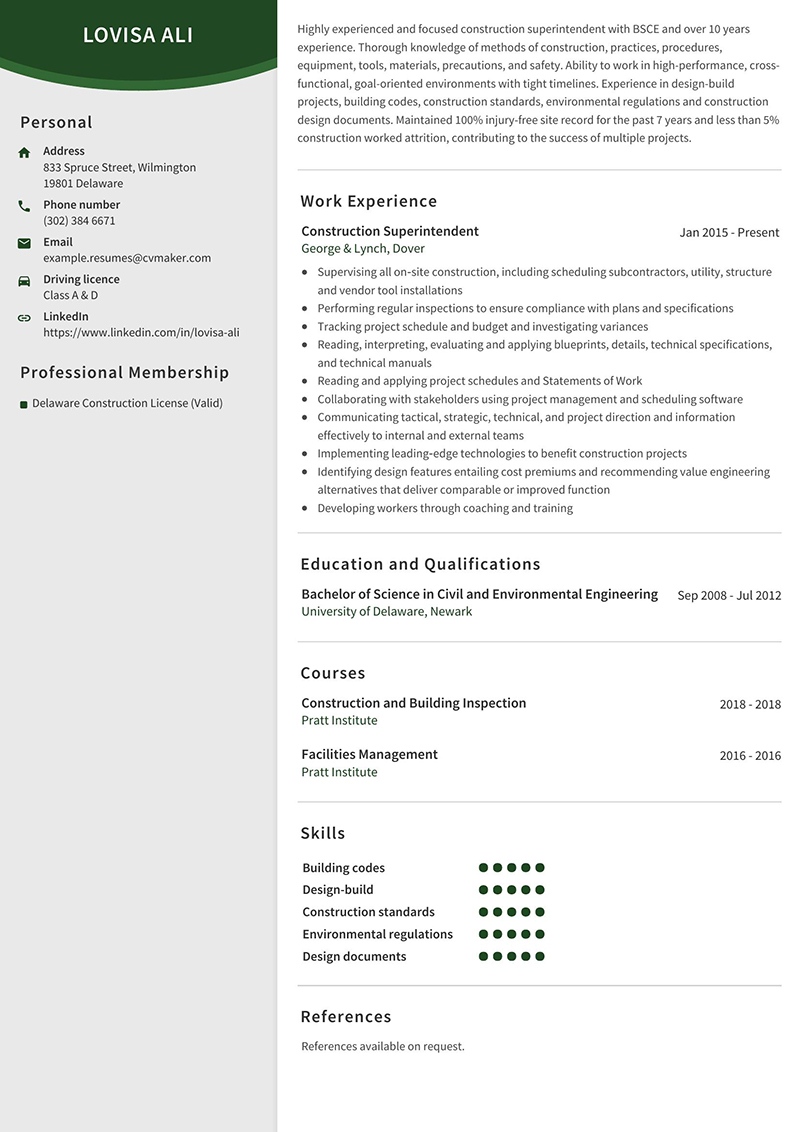 Download this resume example - Customer Service Supervisor
Using our resume template for customer service resumes, Angela can share all the most important details about her skills and achievements for a job application. You might notice that she goes into detail about her experience (including things like metrics) and lists several crucial skills. Download the template above to build your own resume or choose a different style on the CVMaker website!
What to include in a customer service supervisor resume? Writing tips and examples
So, you want to get started making your professional resume. You'll find that some sections are pretty integral to the process. Many of these are present in call center supervisor resume examples you can see at CVMaker and other parts of the Internet. Include personal information, skills like customer relations, a customer service supervisor resume objective, education info, and a set of references.
How to write a personal profile on a customer service supervisor resume?
Personal profiles, also known as customer service manager objective statements, are what you provide a concise statement about who you are, what you can do, and what your goals are. The idea is to show the things you are most proficient in and draw attention to any achievements and accomplishments you've had in the past. This section is all about selling yourself so it needs to be relevant all the way through.
Examples of a resume objective
Everyone is different so your objective might be very different from the next person's. Your level of education, amount of experience, and top skills are all going to play a part in what you choose to write in this section. Below are a few examples you can use as a guide as you craft your own personal profile.
Entry-level employee
Enthusiastic and passionate recent college graduate with a degree in business administration. Demonstrated experience in customer service, team management, and conflict resolution. Seeking to use my analytical and communication skills in a position as a customer service supervisor. Searching for internships and entry-level positions.
Mid-level employee
Detail-oriented customer service supervisor with specialization in escalation skills and communication skills. Highly skilled and passionate about customer service and leading a team to success. Eager to provide my problem-solving and administrative skills in a workplace to increase customer loyalty and level of team synchronicity.
Experienced employee
Organized and attentive customer service supervisor with 5+ years of experience in call centers and retail establishments. Experience with building relationships with team members and customers to ensure a great work environment. Adept at organization, time management, and conflict resolution. Searching for a position as a senior supervisor at a respected retail company.
Skills to list on a customer service supervisor resume
As you go through customer service supervisor resume samples, you'll notice that skills can vary. Some people will lean into soft skills (like communication skills) while others might focus on technical knowledge (hard skills). Everything from escalation skills to problem-solving can be good for this kind of resume. Below are a few examples to get you started:
Soft skill examples
Soft skills, which are sometimes called personal skills, are generally things that come naturally to people. Many of them are less measurable than hard skills but act as interpersonal skills that let someone interact and build relationships with those around them.
·       Empathy
·       Patience
·       Flexibility
·       Time management
·       Adaptability
Hard skill examples
Hard skills can be just as useful as soft ones. These are often considered professional skills and typically can be trained. Most of these skills can be seen and measured, unlike soft skills. A few of the most common hard skills listed on a customer service supervisor resume include:
·       Customer management
·       Digital awareness
·       Analytical understanding
·       Product expertise
·       Standardized practices
Transferable skills
Most people have heard of soft and hard skills, but there is another category to be aware of. Transferable skills are useful abilities that can be a benefit in any industry. If you are moving into customer service supervision from a different career, these may be skills that move between the two roles.
·       Teamwork
·       Adaptability
·       Critical thinking
·       Problem-solving
·       Leadership
How to write work experience on a customer service supervisor resume
Now we come to one of the most important sections for customer service representatives (and supervisors). Sharing your work experience is a great way to indicate how many years of experience you have and what you did in past positions. While experience isn't needed to move into the customer service department, it doesn't hurt to have it.
Keep in mind that you should also include experiences that are related to the one you want. Showing that you have the skills to do the job is the purpose here. The job title doesn't have to be the same but the responsibilities should line up. Otherwise, you might wish to skip a position in favor of providing more relevant information.
The basic process is to create a heading with the job title, company, and dates of employment. Underneath, you can use bullet points to share your accomplishments and duties. Consider how these things relate to the job you want and provide what puts you in the best light. All of your competitors will be doing the same thing.
For those who have less experience, there are options here. For instance, you could include part-time positions and volunteer work you've done in the past. Internships, apprenticeships, freelancing, and things of that nature can also be used if they tie into the job you want. Being creative is fine as long as it all fits together.
How to list references on a customer service supervisor resume
Who knows better than past team members that you're great at increasing customer satisfaction and retention? Probably nobody. That's exactly why the references section is an integral part of a customer service supervisor resume. References can give an idea of what people from past jobs think about you and your work ethic. It can also just provide a way to verify you worked where you said you did.
When choosing references for your customer service supervisor resume, think broadly. You might choose some front-end workers as well as those in upper management. Before adding anyone as a reference to the document, make sure you have their consent. That's the best way to ensure the references will say positive things about you.
However, not all your references have to be people from past employment. You can choose past educators, people you know in the neighborhood, or others who come to mind. The main rule to be aware of is that you shouldn't add family members or friends. You also may want to hold off from providing contact information until asked to keep personal information private.
Ready to get started? Visit our template page and choose a resume style you like!
Key takeaways
The tips and examples above should have you ready to create an excellent customer service supervisor resume. You can show that you know how to be a part of a customer service team and will lead employees to success. Use the information about the sections and tailor your resume to create a document you're proud of. The tips below can help as you start writing the document.
Resume tips for customer service supervisors:
·       Remember to include contact information. This should include a professional email address and an up-to-date phone number.
·       Avoid outdated and unprofessional information. Only add relevant details to your customer service supervisor resume.
·       Be concise and use simple language without a lot of jargon.
·       Only include information relevant to the position. The job description can guide you on what to include.
·       Proofread the resume and your cover letter before you send it in and apply for a job in customer support.
Next steps?
Want to show off your excellent customer service skills on a resume? Visit the CVMaker website and check out our CV Writing Service. Reach out to us to get guidance and assistance from experts who have created hundreds of resumes. We'll help you have the best chance of getting the job.
FAQs
What should a customer service supervisor put on a resume?
There are numerous things you should include on a resume. If you browse customer service supervisor resume samples, you'll see the most common sections. These include contact information, a resume objective, work experience, educational background, skills, and references. As long as you include those, you'll stand up to the competitors.
Focus on the things that set you apart. For instance, make sure to detail any successful initiatives you have led. Other sections can be used depending on the position and your background. Adding interests, certifications, and more could be what makes your resume the best one to reach the hiring manager.
Does the job description matter for a customer service supervisor resume?
Yes. You should always have access to the customer service supervisor job description for a resume. Look through and read it several times to get an idea of what is more important to an employer. If that's interpersonal skills, hype those up. The same applies no matter what is prioritized for a position.
Keywords can be pulled from the job description and added to your resume. This has two benefits. The first is that an applicant tracking system looks for those words and phrases. If you have them in your resume, it's more likely a manager will see the document. Plus, the more you tailor the resume, the more it shows you understand the position you want.
How do you describe supervisory experience on a resume?
Call center supervisor resume samples will often give information about how to include management skills. However, It's not as challenging as it might seem. Indicate any tasks you have done that are typically reserved for supervisors. This might mean training newcomers, making work schedules, or doing job performance appraisals.
Try to incorporate these details into each part of your employment section for the resume. Use action verbs and numbers as much as possible to bring more attention to what you are capable of.
What are the five roles of a supervisor?
Understanding the five roles of a supervisor can give you insight into how to craft your resume. Use this info in tandem with a call center supervisor job description for the resume. The five key roles include director, counselor, coach, sponsor, and educator.
All supervisors do these five roles at some point but you may spend more time on one or two than the other. Consider which of these aligns with the position you want and focus on relevant details associated with them. Implement bits of the other roles if that makes sense for the position.
What do employers expect from a customer service supervisor?
It really depends on the position. Some are looking for process improvements, others want to see quality assurance, and some may be mainly focused on profitability. Regardless of the overall goal, supervisors should create resumes that show they can handle a wide variety of situations. After all, leaders often need to jump in and deal with challenges.
Every job is different, which is why it's best to create a personalized resume for each position. This allows you to home in on the things that matter the most and leave the rest out. It also helps ensure your resume doesn't get overly long, which makes it less likely to be entirely read.
What is the best structure for a customer service supervisor resume?
Your resume format should start with contact details across the top or on the sidebar. You can get an idea of how each looks with our resume summary examples for a customer service supervisor. Next, you want to move to the resume objective, work experience, education, and so on. In most cases, the objective is at the head of the page but should be crafted last.
The most common structure for a customer service supervisor resume will look something like this:
·       Contact information
·       Resume objective
·       Work experience
·       Education
·       Skills
·       References
There are also several other sections you can add as needed. These include hobbies, languages, certifications, technical proficiencies, and achievements. Use as many as is relevant but don't include so many that the resume is overly long.
What writing style should be used on a customer service supervisor resume?
There is no specific writing style to be used other than professional. You don't want to craft a casual resume, regardless of industry. While you start writing, use clear wording, include strong action verbs, and try to avoid ambiguities. Make sure to include keywords from the job description and the company website or social media.
Resumes are formal and you aren't expected to keep that in mind as you create yours. Even employers who might seem more casual and cool expect your resume to have a professional tone.
How long should my customer service supervisor resume be?
The short answer is that most customer service supervisor resumes should be no longer than one page. However, that isn't the case in every situation. For instance, if you've worked in customer service for more than a decade, you simply may have too much experience to contain it on a single page. In this case, going to two pages is fine.
However, it's always better to go shorter if that's doable without compromising information. The longer a resume is, the more likely that someone won't take in all the information. Try to be concise in all sections and keep it short if possible.