Civil Engineer Resume Example, Template & Writing Guide for 2023
Did you know civil engineers are one of the first core pillars of urban life?
In truth, it's a profession which outdates most others we know today.
Civil engineers have been applying their specialized skills for millennia.
It's a vocation born from ancient humans abandoning their nomadic existence for a more settled lifestyle.
Fixed structured dwellings, wells, irrigation and even the wheel became a big thing. Those folks needed basic infrastructure and turned to civil engineers for help.
Back then, there was no such thing as a civil engineer resume, of course.
Since then, much has changed, and you won't get hired without a spectacular civil engineering CV these days.
Professional resume writers will tell you there's skill and technique in writing the perfect resume.
That's true!
However, acing a perfect resume isn't out of your grasp.
This article is packed with resume tips, examples and samples that guarantee you a place on recruiters' shortlist.
Civil Engineering Resume Example
These three civil engineer resume examples from our resume builder replicate typical entry-level, mid-career and senior applicants.
Use them as a guide and inspiration to craft your own winning civil engineer resume.
Throughout this article, you'll also find civil engineer resume samples for individual resume sections.
Entry Level Civil Engineering Resume
Download this resume example - Entry Level Civil Engineering
Hattie chose our Otago resume format in blue for this civil engineering student resume.
Mid-Career Sample Resume of a Civil Engineer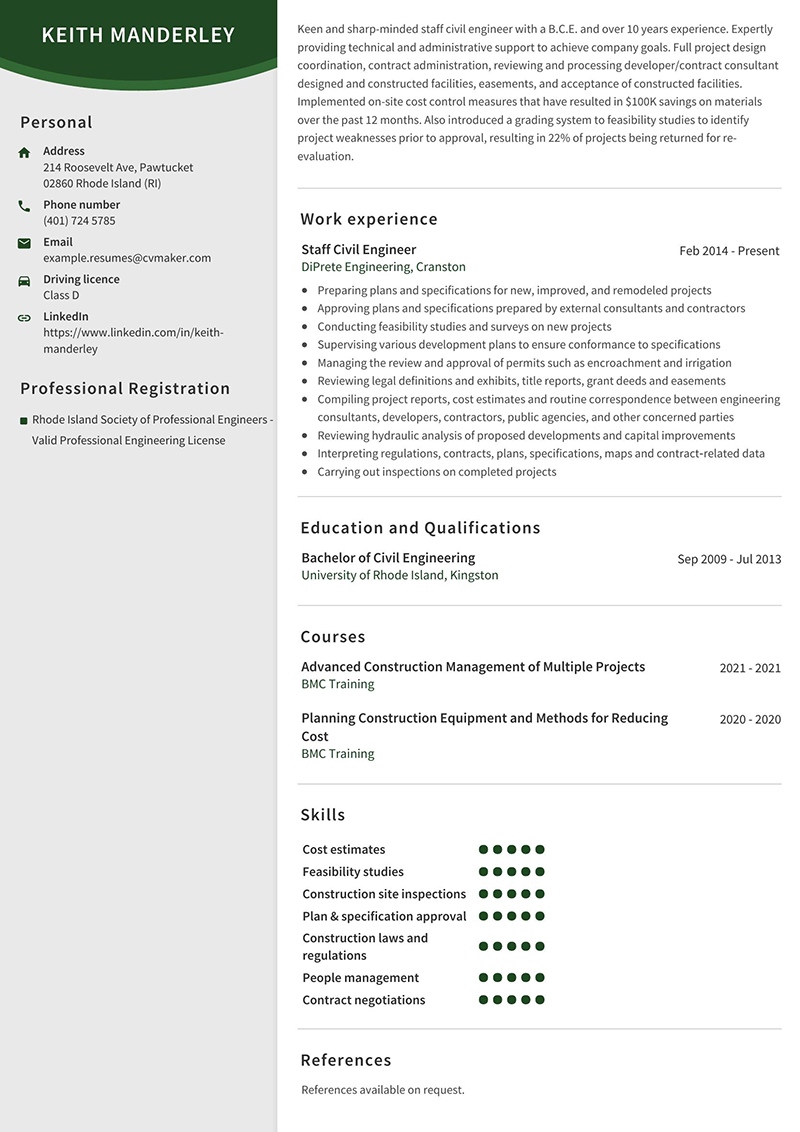 Download this resume example - Mid-Career Civil Engineer

Sample civil engineering resumes show you what you can do with a resume builder. Keith's resume is made with our green Edinburgh template.

Sample Resume for Civil Engineer at a Senior Level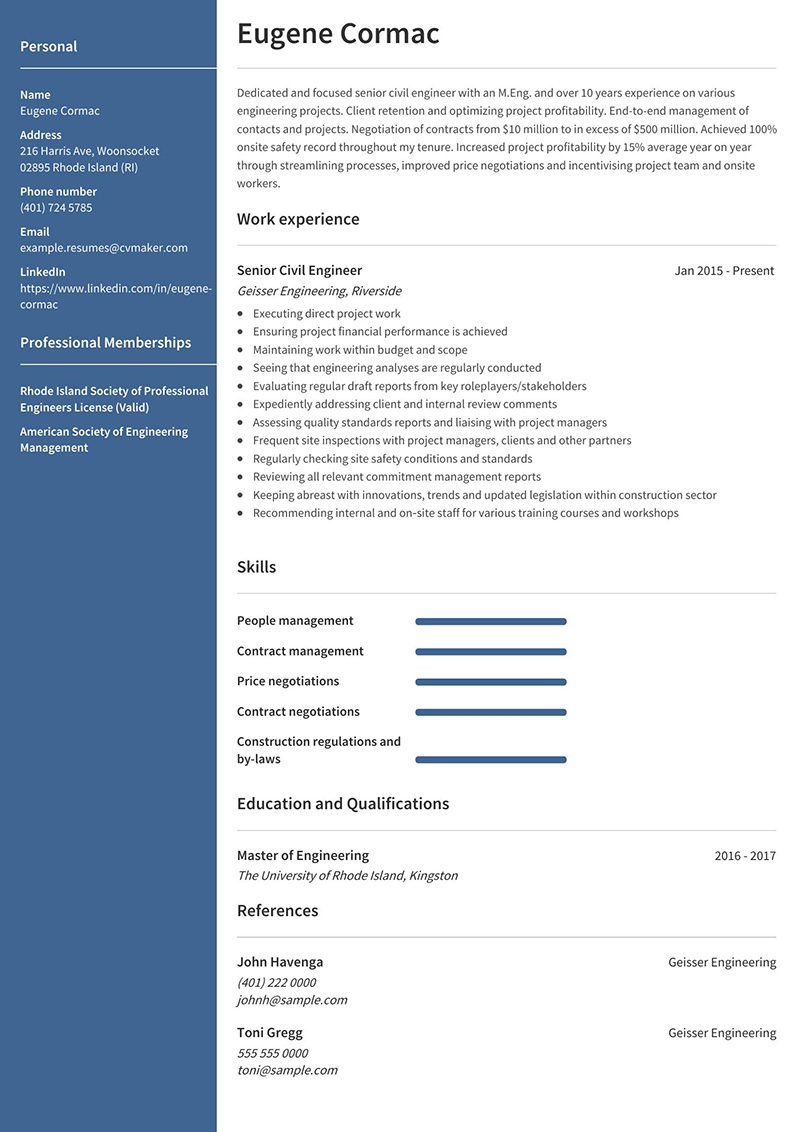 Download this resume example - Senior Civil Engineering
Eugene's senior civil engineering resume shows our Stanford resume template in blue.
How to Write a Winning Resume for Civil Engineer in 2023: Professional Civil Engineer Resume Guide
Civil engineers speak a universal language of science, mathematics and consideration for people, the environment and improving effectiveness.
Job opportunities abound for skilled and qualified civil engineers, and they can choose to work locally or internationally.
They're involved in planning and designing construction projects, such as buildings, homes, roads, bridges, tunnels, water supply and sewerage systems. They also do construction management and maintenance of developments associated with building design.
While it might look pretty straightforward, civil engineering is a vast, complicated field involving countless aspects of calculation and deliberation.
Many things the average Joe takes for granted are the results of engineering genius.
For instance, clean running water involves carrying natural water from a far-off source into towns and cities. A water faucet flows at the wrist's flick, but intricate engineering processes make it that simple.
Naturally, it's brilliant to be in a sought-after profession; the downside is constantly competing with other job seekers.
Your CV for civil engineer jobs must burst with knowledge, passion, skills and experience employers need. And it must be written to stand out from other job seekers vying for the hiring manager's attention.
How is it done?
Out with long, one-size-fits-all generic resumes and in with concise, targeted applications.
Recruiters aren't interested in screeds and screeds of text telling them how awesome you are.
They're looking for one to two pages demonstrating you meet the job description's critical requirements.
They spend no more than a few seconds to find what they're looking for. Therefore, details must be quick to find, and the resume easy to navigate.
If not, you'll never make it into the hiring manager folder.
Make ATS your Ally
There's a good chance not even recruiters will get to see your civil engineering CV.
That's a fact!
The early hiring stages are run by AI in applicant tracking systems or ATS.
Parsing software in ATS are loaded with critical keywords from the job description. As each electronic application comes in, it's immediately scanned for those keywords.
If they're there, your civil engineer resume moves on to recruiters; if not, it's unceremoniously binned without anyone seeing it.
However, an applicant tracking system can be a job seeker's ally.
Keywords bind your cause. They want them, and you want the job. So, give them their keywords, and your civil engineering resume rockets up the rankings.
Hiring managers put vital keywords into job descriptions and job titles. They're education, work experience and skills necessary to succeed at the job.
Your task is to identify keywords and write them verbatim into your civil engineering resume if you meet the mark.
Now, write a targeted professional engineer one-pager using only the info from the job post.
Here's a pro tip -
Compile a master civil engineer resume to save time when job hunting.
Go back to the start of your career and list every job in detail, with employer particulars and employment dates. Include your achievements, education, and further training.
Upload it to a folder and update it when things change, making it a living document.
Do the same for a civil engineering student resume or a civil engineer resume for fresher.
Instead of work experience and skills, focus on education, achievements, and engineering-related personal interests.
This way, you've always got the necessary facts and figures when a career opportunity arises.
With so many specialties and fields in civil engineering, the potential list of keywords is enormous.
These are some typical keywords you might find –
 AutoCAD
Bachelor's degree
Blueprints
Civil 3D
Civil engineering skills
Communication skills
Construction management
Construction projects
Cost estimates
EIT
Engineering projects
Geotechnical
Infrastructure projects
Interpersonal skills
Microsoft
Problem-solving
Project management
Revit
Structural analysis
Structural engineering
Subcontractors
Personal Information
Without personal information, your civil engineering CV is worth nothing.
Oddly, it's one resume section job seekers frequently get wrong.
Transposed letters and numbers could mean you're uncontactable, and recruiters aren't likely to hunt you down.
Your full name, telephone number and email are all that's required.
If you have an up-to-date LinkedIn profile, this is where it goes.
Personal Information Example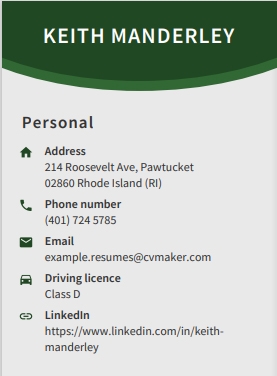 Professional, accurate and easy to read.
How to Format this Section
Well-spaced business fonts and accurate details are all that's required.
You can include your full address or city and state only – both are acceptable.
Ensure your LinkedIn profile matches the info on your civil engineer resume for it to be of value.
Resume Summary Statement
A resume summary is a short synopsis of your qualifications, years of experience, civil engineering skills and achievements.
Also known as a resume objective, it sits at the top of your civil engineer resume.
It includes a brief overview of your career that must align with pertinent info and keywords from the job post.
Put time and effort in here. If your professional summary doesn't read well, it's unreasonable to think anyone will read further.
An objective for civil engineer resume is more suited to entry-level and fresher applicants with less than three years of work experience.
Rather than focusing on work experience and skills, a civil engineer resume objective describes education and career objectives. Still, keep it in line with the job requirements.
When to Include a Cover Letter?
A cover letter isn't the same as a resume summary.
Where a resume summary is brief and to the point, a cover letter is more comprehensive.
See a cover letter as motivation to hire you. In contrast, a resume summary is an invitation to continue reading.
Like any other business letter, a cover letter is addressed to someone specific at a particular company. It's also separate from your civil engineer resume.
Generally, a cover letter should be no more than one page persuading the reader to consider your application.
Including a generic cover letter as part of your civil engineering CV can confuse ATS, reducing the keyword count. Even your best resume could fall out or move way down the applicant ranking.
Only include a cover letter if -
A cover letter is a specification in the job ad
You're applying directly and not responding to a public job post
Resume Objective for an Entry Level Civil Engineering Resume

A fresher civil engineer relies on education and career ambitions to win over recruiters.
Resume Summary for Experienced Resumes for Civil Engineers

Experienced civil engineers use their experience, skills and achievements that match the role in convincing hiring managers.
How to Format this Section
Whether you're writing a resume summary or an objective, it shouldn't exceed 80 words.
To convey valuable information in so few words is challenging. Using quantifiable numbers and statistics gives you room to maneuver and space for keywords.
Professional Civil Engineer Experience
Applicant tracking systems head straight to this section, searching for keywords. It's crucial to mirror keywords from the job description here.
Extract appropriate experience from your master resume and adapt the wording if necessary.
Targeting your work history in your civil engineer experience resume means parsers rank you highly. Next, recruiters love what they see, and the hiring manager wants to interview you.
If you're an entry-level candidate looking for internships, focus on your education and any civil engineering experience you have.
Whether tertiary engineering projects or voluntary infrastructure projects, it counts if it matches the job requirements.
Remember that a professional resume shows hiring managers you've got what they need, and that's why they must hire you.
Avoid trying to impress by including information, not in the job specification. It's an unnecessary distraction that can confuse ATS in the screening stage, harming your chances.
Professional Civil Engineer Experience Example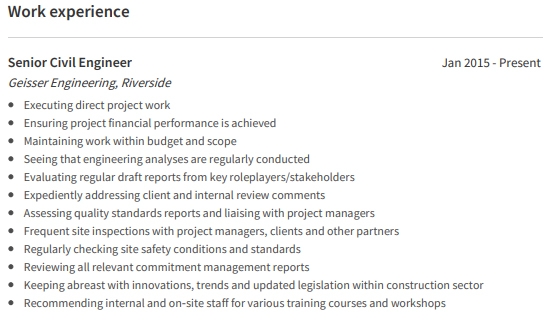 Well-spaced, bullet points and keywords make for perfection.
How to Format this Section
A reverse chronological resume format works best for a CV for civil engineer. In other words, start with your most recent job and continue in descending order.
Vitally, your work history must be easy to read and navigate.
Use clear business-style fonts, bullet points and lots of white space.
Customize each job responsibility to include keywords and fit in a single bullet point.
A hiring team will likely view your civil engineering resume, so make it easy to follow, comment on, and share.
Finally, use the same job title and follow the same job sequence as the post.
Education and Certifications
Civil engineers need a bachelor's degree with various additional certifications.
They must also be registered with professional bodies and be licensed to practice.
Once again, list only the required education and certifications and your license details.
The less work experience you have, the more the education section of your resume matters.
If you're a fresher civil engineer with no work history, listing relevant subjects will do. Only include a GPA score if it's 3 or higher, though.
Education and Certifications Example

Precise details only is all that's required.
How to Format this Section
Make the education section easy to scan over and accurate.
Start with your most recent qualifications and continue in descending order.
Separate education, certifications, and registrations on your civil engineer resume.
List the institution, qualification, and dates, if applicable.
Technical Skills for Civil Engineering
Civil engineering resume skills include technical or hard skills, as well as soft skills.
The correct keywords matter in the skills section, as this is another favorite ATS hangout.
You'll find technical skills and soft skills in the job post; only use these specific skills to win over ATS.
To explain further on civil engineer resume skills -
Hard skills are teachable skills we learn through education, courses and work experience. On the other hand, soft skills relate to personality traits known as interpersonal skills.
Technical Skills for Civil Engineering Example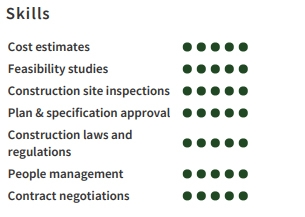 Use skills for civil engineer resume that are in the post. Other technical skills can be discussed during interviews.
How to Format this Section
Regardless of how impressive your skills portfolio is, mention only those required.
ATS read skills precisely per keywords; do the same.
Including a rating makes assessment easier for hiring managers.
References
End your CV for civil engineer jobs with the references section.
You don't need more than one or two. Opting for "available on request" is another alternative.
It's usually best to give referees a heads-up. That way, they know to expect a call, and you're assured they're still available.
References Example

Basic details precisely recorded.
How to Format this Section
All this resume section needs is the referee and company names, phone numbers and email addresses.
Related Resume Templates
Civil engineering resume templates not for you?
Apart from a civil engineer resume template, we have other resume samples that might interest you.
Final Points on Successful Civil Engineering Resume Examples
There you have it; you're equipped to write a perfect civil engineering resume.
Let's recap the essential points -
Write a master resume to keep as a living document
Target each job individually
Extract individual keywords from the job post
Carefully select info from your master
Choose the best resume template for the job
Stay with a one to two-page resume
Use professional, reader-friendly language
Include action verbs and positive language to make it engaging
Submit your resume in pdf format