Restaurant Server Resume Example, Template & How to Write Tips for 2023
Servers are the public face of any eating establishment.

You're likely aware of food service managers' high standards on staff members' skills, attitude, and appearance. But do you know they expect that excellence to already shine through in server resumes?
If they don't see it, you won't get a call no matter how much effort you put into your application.
We've put together everything you need to get noticed in the service industry. In this article, you'll find a server resume sample and examples of resume formats and content.
Let's dive in and get you crafting your best server resume.
Restaurant Server Resume Example
Server resume examples can help you find a layout and resume format that works for you.
When checking them out, ensure you select restaurant server resume examples specifically.
Although all resumes require similar info, specific designs make more sense in the food service industry.
In this sample server resume, Henri has chosen our stylish Edinburgh resume template.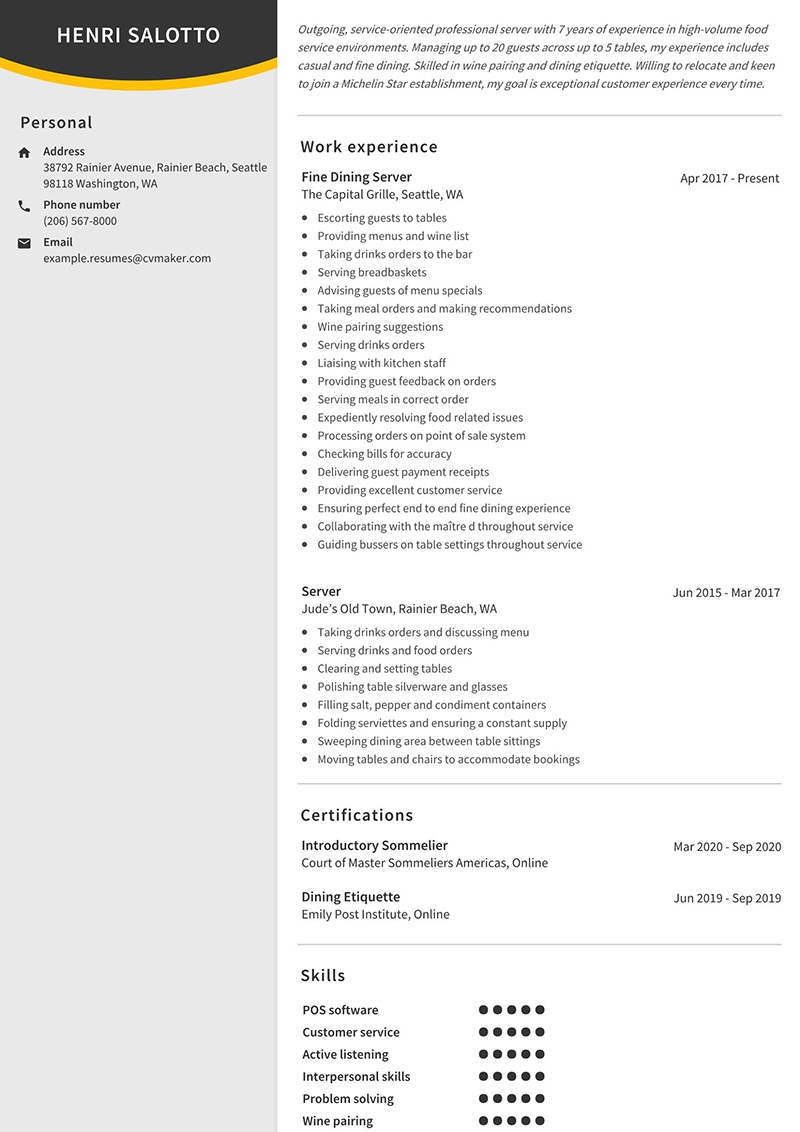 How to Write a Good Resume for a Server in 2023: Full Guide to Server Resumes
Many think that working as a server is side work, but it's not. Just look at a server resume description to see how many tasks servers have.
While a high school diploma is usually enough to get into the industry, working as a server is a profession. That's why you need a professional resume and there are loads of server resume templates to help you.
Working as a server can be your gateway to opening your own restaurant one day; every global destination needs servers. Experienced servers are highly sought after, especially if they're multi-lingual.
Hiring managers who want to fill a server position need to know you can deliver exceptional customer service. Even on a new server resume, interpersonal skills matter; show you've got what it takes to keep customers happy.
Other essential soft skills on a server job description resume include problem-solving, teamwork, multitasking and communication skills.
Servers work in a fast-paced environment, often serving high-volume table turnover. You must get along with kitchen staff and all other team members to ensure customer satisfaction.
Hard skills are equally essential on server experience resumes. There are skills that can be learned through certifications or on the job.
Also, consider the role of ATS or applicant tracking systems when writing your restaurant server resume. ATS are part of the hiring process.
Recruiters load vital keywords for server jobs to ATS parsing software from the job description. Each application gets scanned for keywords, and if they're not there, the resume gets binned.
All sounding too complicated?
Nail it with a resume builder!
Free resume templates might point you in the right direction. But resume builders bring pro resume writers' advanced skills and experience.
No more worrying about the correct resume format, headings and sections. That's a resume builder's job. Your job is crafting your perfect resume.
Here's how to get started making your food server resume.
Personal Information
Forget to include personal info on your server resume, and no one's going to contact you.
Even if it sounds like a no-brainer, ensure you record your details correctly. The tiniest typo, especially on your phone number, could mean you're uncontactable.
You can also add your LinkedIn profile here if you have one.
Personal Information Example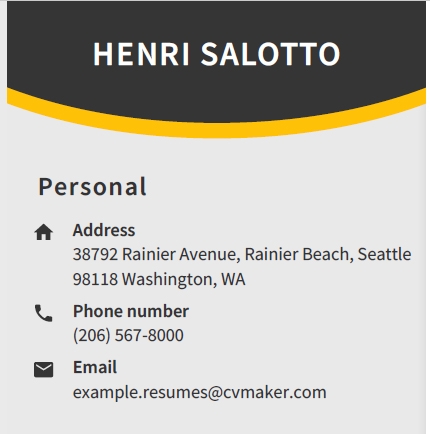 Keep details exact and make it reader-friendly – nothing more.
How to Format this Section
Don't complicate this section with anything unnecessary.
Use a business font that's easy to read and allow adequate space between your names, residential address, phone numbers and email.
When you're done, re-read your details to confirm they're correct.
Resume Objective
Make a striking first impression with a great resume objective, also known as a resume summary.
You have only a few seconds to impress recruiters. A stunning objective right at the top of a resume for a server can work wonders.
Since it's the first thing readers see, use it to grab their attention and carry on reading.
A resume objective is a short summary of what you have to offer, unlike a more detailed cover letter. It's like a short server description for resumes.
Write a positive, convincing objective based on your skills, experience, and keywords from the job post.
Take a look at these two examples.
Resume Objective Example for an Entry-Level Serving Resume

You know immediately that this applicant has no server experience and is willing to learn.
Resume Objective Example for an Experienced Server Resume

Numbers make a great impact here to show this server is very experienced and ambitious.
How to Format this Section
All you have is about 50 to 60 words to convince the reader you're worth an interview.
Choose your words wisely, weaving keywords between numbers and stats for the biggest impact.
Be sure to only include your skills and work experience related to the job ad.
Back up your objective with details on your resume. And of course, be honest; don't claim to be who you're not.
Professional Work Experience
Responsibilities of a server for resume purposes are listed here.
The experience section is also where ATS hang out. Take your time tying up your server career to keywords for to ATS find what they're looking for.
Server experience resumes differ, so make sure you give hiring managers what they want.
Extract years of experience and matching skills from your work history and adapt the wording to mirror keywords in the job advert.
These are some classic keywords to look out for when crafting the skills section of your server duties resume.
Dining area
Dining experience
Fine dining
Food handling
Food preparation
Menu items
Pairings
Point of sale
POS
Setting tables
Silverware
Upselling
Professional Work Experience Example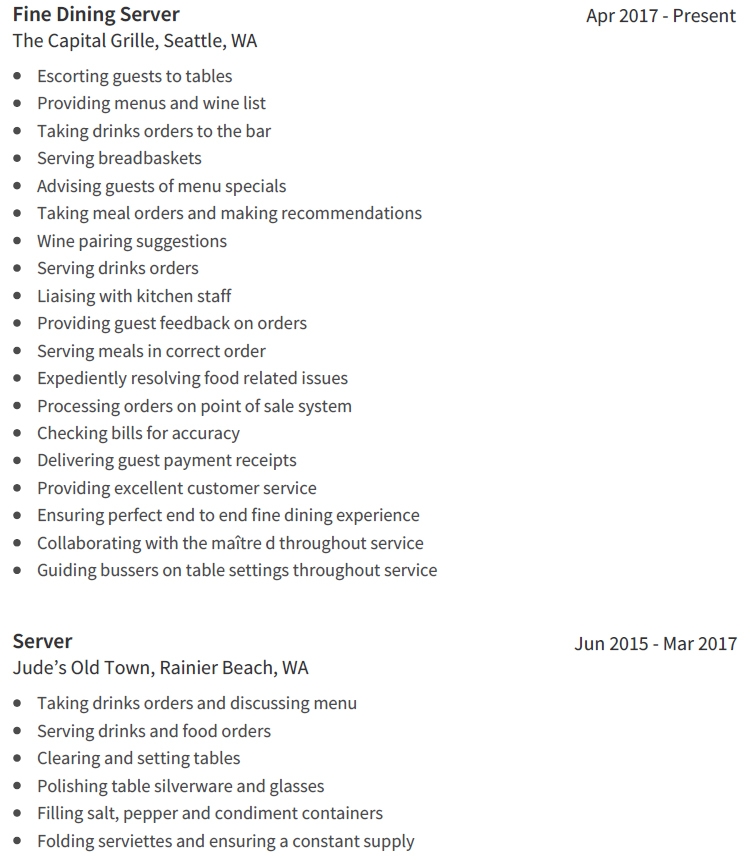 Note how vital keywords are included in the server responsibilities for resume to ensure it mirrors the job post.
How to Format this Section
The experience section asks for plenty of white space business styles font and bullet points.
You want the wording to be concise but still convey crucial info. Stats, percentages and currency are excellent for expressing essential experience without becoming longwinded.
Working from the post, write each requisite job responsibility to fit a bullet point. Always use the same order as the job advert, as well.
Unless you've had more than one role with the same employer, you don't need an opening statement for each job.
Education and Certifications
A high school diploma is usually enough to land a server job. It's not necessary on your resume, though, if you have more than three years working experience and certifications.
Adding certifications, however, will make you more employable. Particularly if you want to carve a career in the food industry.
Food server resumes frequently have certifications such as a food handler card or certified food management.
The Culinary Institute of America's DISH Program is a brilliant membership program for servers.
You can't go wrong by adding a sommelier short course to your repertoire of certifications. This is particularly handy if you want to make wine pairing recommendations in fine dining.
Education and Certifications Example

Facts are all that's required in this section.
How to Format this Section
The education section must be factual and reader-friendly.
All readers need to do is scan over the content to see your qualifications.
Begin with the most recent certifications and work backwards.
List the training institution first, followed by your accreditation.
Skills
Server resume skills are a vital section. It's another place where ATS hangout looking for keywords.
Soft and hard skills carry equal weight if listed in a job post. Spend time on your server skills for resume prep. The extra effort you put in will pay back in the long run.
Skills Example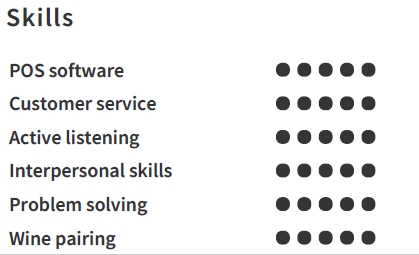 This layout is reader-friendly and gives the skills level of expertise.
How to Format this Section
Only list the skills you have that are also in the server job description. Leave your other skills for discussion in the interview process.
Use short descriptions and rate them according to your proficiency.
The intention is to get ATS to read keywords and move your resume for servers to the interview shortlist.
References
End your resume with references.
For security reasons, it's best to not give too many details.
Only list complete contact info if a post wants contactable references.
Offer no more than two and let them know you're on a job search so they can expect a reference call.
References Example

Plain, simple and accurate.
How to Format this Section
You only need basic details in the reference section.
Other Related Resume Templates
If the server resume template isn't what you're after, take a look at our other cool resume templates.
Final Points on Writing a Resume for Restaurant Servers
 Let's recap on the fundamentals of a perfect restaurant server resume -
Make excellent customer service the focus
Extract keywords for each job post
Spend time selecting resume info
Stick to a two-page resume
Use clear and concise wording
Include numbers and statistics
Focus on abilities and what value you bring
Check facts before including them
Use positive language