Data Entry Resume Sample, Example, & Writing Tips 2023
A perfect resume is vital for any profession, but nowhere it is more essential than with data entry positions. Someone working in data entry has to have a variety of talents, may work in an array of industries, and can provide specialized services.
This makes it challenging to determine what recruiters are looking for when seeking out potential hires.
So what do you need to do to stand out? You require a data entry resume that looks great, has all the necessary information, and shows your many talents. You have to show that you are a master of data, something that makes the entire world spin around on its axis.
But don't worry. You don't have to travel that path alone. This article will walk you through everything you need to know to create a resume that stops a recruiter in their tracks. Then, we'll give you the information you need to stand out on paper and get yourself into the office for an interview.
Data Entry Resume Sample
One of the best ways to understand what employers are looking for is browsing data entry resume examples. This article will provide you with data entry resume samples.
Beyond that, we'll delve into what you should include in your data entry resume and how you can make sure you have the edge over everyone else who is interested in the same position.
Below, you can see the first of our data entry clerk resume examples. You can put your feet into Charlie's shoes as she tries to find a worthwhile and fulfilling position as a data entry specialist that uses her skills from over 10 years of experience in the industry.
Take a look to get an idea of the kind of resume you're up against, and then keep reading to make yours even better.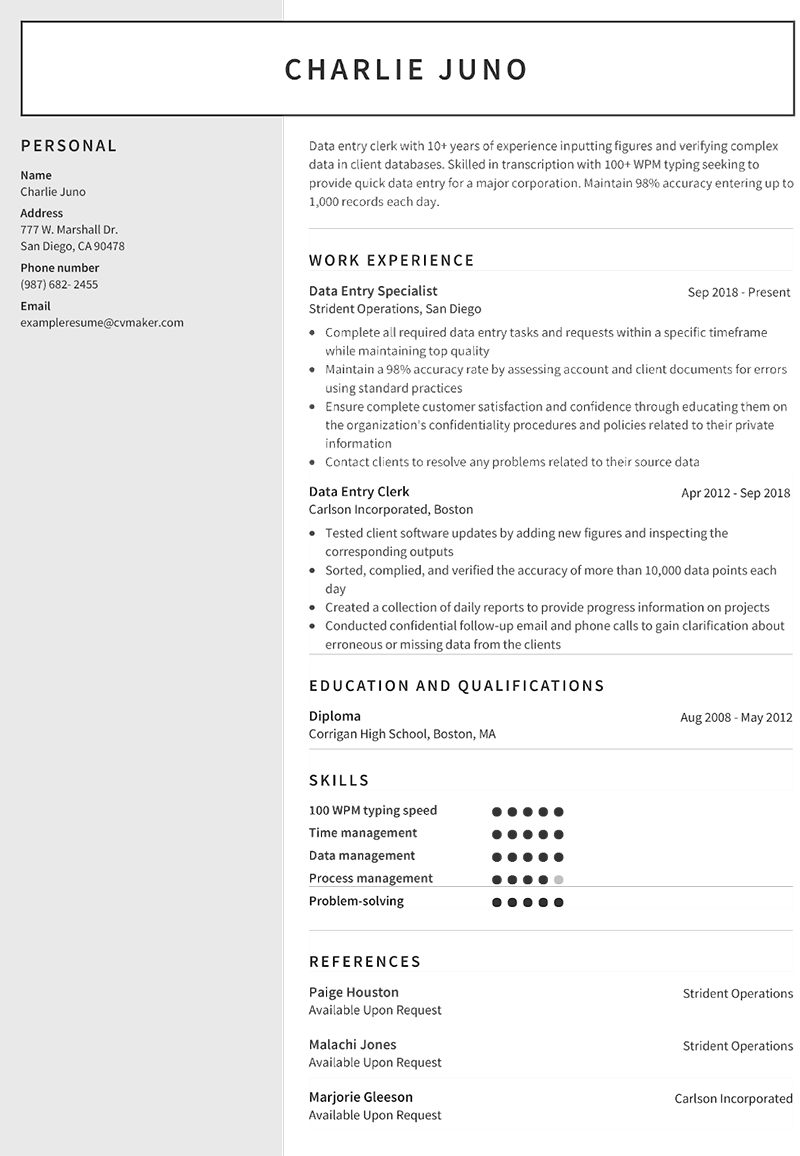 How to Write a Successful Resume for Data Entry in 2023: Data Entry Clerk Resume Tips
So, what should you include on your data entry job resume? It depends on the specific position, but you want to show all the ways you have worked with data in the past. Resumes for data entry jobs will focus on everything from your professional experience to your top skills and the kind of education you possess.
Your resume needs to show who you are – and it needs to indicate you're the right person for the job.
As you create a resume for data entry jobs, keep in mind that it should be tailored for a specific position. Therefore, use the data entry job description as you write the resume. That entails delving into what the employer is looking for and making sure you show off your talents in those areas on a one- to two-page professional document.
The rest of this guide will get into details about the various sections of a resume. We'll show you what you want to include in each part and how you should format it for the best results. By the time you finish reading, you'll have everything you need to create a data entry resume that opens doors for you.
Personal Information
Of course, any resume needs to include your personal information. The recruiter or hiring manager needs to have a way to contact you when they decide to give you an interview.
It might seem like this is a no-brainer and you don't need tips to get it right. However, mistakes can happen, and you don't want that to happen while you're introducing yourself.
Personal Information Example
The example above gives you an idea of what you should include on your data entry resume in terms of personal information. In this case, you see Charlie's name, address, phone number, and email.
Of these four components, three are integral, and the other is optional. However, we recommend including all of this information since it can be helpful.
Make sure to include your name, your phone number, and your email address. The location can also be useful, but it doesn't have to be included. Decide for yourself whether you want to provide it. This is all information you know by heart, but that doesn't mean you shouldn't look it over once you're done. You never know when a typo will ruin your day.
Curious about whether to add a link to your LinkedIn profile or another professional network? You can, but the general consensus is that you should avoid it unless the employer asks for it. There's no reason to clutter up this small section of the resume with unnecessary details. Explain who you are and move on to the next section.
How to Format This Section
Unlike some sections of a data entry resume, the formatting for your personal information is relatively straightforward. All you need to do is provide your contact information in an easy-to-read manner.
Avoid superfluous details and excessive formatting that might make things hard to understand. Doing the opposite could result in landing on a stack of resumes that didn't make the cut.
Now that you know the things you should avoid, let's talk about what you should make sure to do. The personal information section should use a simple font. Add your name, followed by your phone number and email in whichever order you prefer.
Tack on an address if you want to share that. Make sure the email address is professional as it will be noticed when sending out further information to you.
Resume Objective
Once you have your contact information ready, it's time to move on to the data entry resume objective. To understand precisely how important this section is, consider this: most recruiters will look at your resume for no more than about six seconds. Some will spend even less time viewing resumes for data entry clerks.
Since you have a minimal amount of time to show who you are and what you can do, the resume objective is likely the most crucial part of the entire document. It should show both your hard and soft skills, such as your typing speed and your work on teams.
As you create your data resume summary, keep the job description close at hand. This is the space where you concisely provide evidence that you are the best possible candidate. This isn't going to be the same process for everyone. The data entry resume samples below will give you an idea of what to include depending on your experience level.
Resume Objective for Entry Level Data Entry Resume Sample

If you're seeking your first data entry role, you're at a disadvantage in terms of professional experience. But that doesn't mean you don't have a chance at the job you want. Think about the things you have done that translate to the position. That means you should talk about your typing speed in WPM, the experience you have with MS office and spreadsheets, or how you've keyed in customer orders in a retail position.
Resume Objective for Mid-Career Data Entry Specialist Resume

Individuals with some professional experience will take a different tactic than those who have never worked as a data entry operator. Of course, you have experience, and you should show it off. But go beyond saying you have computer skills or know how to source documents. Instead, provide evidence of how skilled you are. Talk about how you've made a past workplace a better place through your unique talents and abilities.
Resume Objective for Senior Data Entry Clerk Resume

Those with many years of experience are in the best position, but a great resume objective is still essential. When you apply for a new data entry position, you need to quantify your experience and show why you are undeniably the best candidate.
That means using percentages and other numbers to show your skills. A professional resume objective is the best way to make a recruiter give you a call.
How to Format This Section
The resume format you use for the objective is just as important as it is for other sections of the document. The first thing to watch for is being overly wordy. The objective should be short while packing in as much information as possible.
Going over three to four sentences should be avoided whenever possible. Incorporate statistics and other evidence of your abilities throughout the objective.
Professional Work Experience
Now that you have your personal information and an objective for a specific job, it's time to look at your professional work experience. This section is a culmination of information about companies and locations where you have done data entry work in the past.
To get ready for this part of the resume creation process, look at data entry job resume samples to get some inspiration.
When you write down your experience, focus on the things that the employer is looking for. For example, if they want to know you have a certain typing speed, be sure you add that to the resume. On the other hand, if they focus on teamwork and collaboration, be sure you add examples of that throughout your work experience section.
And don't worry, a data entry resume sample with no experience exists too. Those who are entry-level without experience may need to be more creative with filling this part of the document.
Detail other jobs you have had or volunteer opportunities you have been a part of. Weave in examples of things you've done that pertain to the job you hope to get.
Professional Work Experience Example
The work experience section is the next place a recruiter's eyes will go if your objective was done right. It needs to show that you have had experience in the past that makes you ready to take on the challenge of this new position.
For example, if a considerable part of the job is adding data to Excel and working with Microsoft Office, make sure you mention past experiences doing those things. Likewise, note how experienced you are working with Outlook or other email services if you'll be emailing clients.
Every employer is different, but most people hiring a data entry specialist want to see that you can type quickly without making errors.
They hope to find an employee who will notice erroneous data and step in to correct it. Technical skills are essential but don't forget to indicate that you have communication skills and the ability to work with others. It could make you stand out as a future star on the team.
How to Format This Section
Unlike the personal information section and the resume objective section, formatting is more complicated with work experience. But you can use your data entry skills to create something beautiful and easy for a recruiter to understand.
For example, rather than writing a block of text, break up each job into bullet points that show what you did in the position. This gives you the chance to focus on things the employer wants to see.
While there are several ways to format work experience, we recommend choosing a chronological format. This essentially means that you start at the top with your most recent job and then continue down the line as you move back in time.
Create bullet points with your achievements after listing the name of the company and its location. Then move on to the next until you provide all your recent and relevant experience.
Education
Curious whether you need an education section for your data entry resume? You do. It's a great way to round out the resume with important information that an employer is interested in. And the incredible thing about data entry positions is that most of them don't require a tremendous amount of education. However, a high school education is often necessary.
If you are working in certain industries or with specific companies, an associate's degree or a bachelor's degree may also be typical for the position. Assuming you have several types of education, include them all. Show that you have a thorough education to back any experience you have included on the data entry resume.
Education Example

As you can see, Charlie's education includes a high school diploma. Beyond that, fast typing could be enough to get her into an interview room. Of course, if she had other education or certifications, those would also fall under this section. But even without that, this education section shows that the applicant has the traditional education required for the position.
For those who are moving into an entry-level position, you might want to include extra information. For example, maybe you took specific typing or business classes that apply to the job description you are interested in. Add any specialized information that might put you a cut above other people who want the position.
How to Format This Section
The format for the education section is pretty simple and straightforward. If you have multiple degrees, put the highest one on top. So, for someone who has an associate degree, place that on top and add your high school diploma below it. Ensure that you include the type of degree or diploma you hold, what school you went to, and where it was located.
Those who want to add extra information have the opportunity to do so. For instance, you might talk about how you won typing awards, had a high GPA, or tutored others in data skills. Any academic achievements like honors or awards can be included to add extra information to a sparse resume.
Skills
Now we come to the skills section of your data entry resume. This is a particular part of the resume where you can add extra information about what you are capable of. If it didn't fit into the education or work experience sections, add it to your data entry resume skills. Talk about your most desirable skills – but only if they are things that you are exceptionally good at. You want to make your resume as impressive as possible.
Data skills will be an obvious lock for this section of a resume, but they aren't all you should focus on. Soft skills are just as necessary as technical skills. If you have experience with management, teamwork, or problem-solving, you can add those things here to give your resume an extra edge.
Skills Example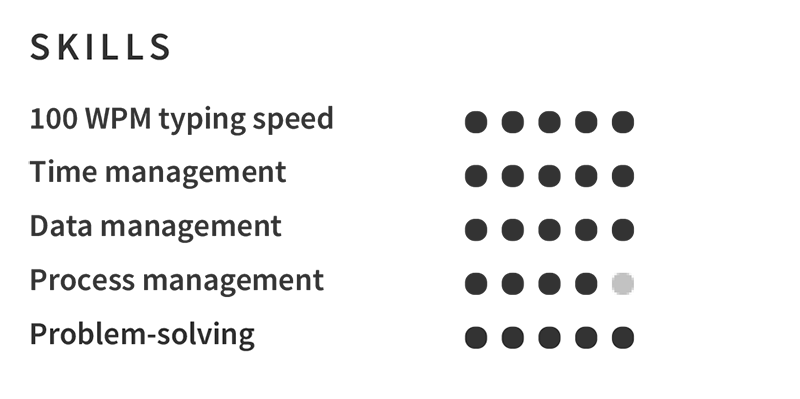 As you can see in the resume example above, Charlie focuses on hard skills and weaves in soft skills that matter as a data entry clerk. Hiring managers want to see that you have communication skills, time management skills, and the ability to work with other people when needed.
While data entry may have a lot of solitary aspects, when you need to work with others, you should show you're proficient at that.
Everything from your typing speed to unique talents, like data management and process management, can make your resume more pleasing to a recruiter. Show that you possess attention to detail, can work with your peers and clients without problem, and do it all while providing excellent data entry skills.
How to Format This Section
Creativity is fine for this section's format, but make sure the information can be understood at a glance. Make a list of your best skills and then indicate your level of ability with them.
If you notice you're better at some things than others, those are the ones you want to keep. There's no need to include every skill you have, so prioritize the most relevant to the position.
Some people choose to add extra information about skills, which is a personal decision. If you choose to go with this method, add no more than a sentence about the skills and your proficiency with them.
Don't add too much information and overwhelm whoever is looking at the data entry resume.
References
Finally, we come to the references on your resume. There's a lot of conflicting information about whether or not to include references, but we believe you should. The format section will give you more insight into how to do it right. Employers typically expect to see references for a typist, so don't put yourself out of the running for no reason.
References Example

References should make up a small amount of your document. You don't want to make the resume too long by simply adding references. Most data entry resumes are only a page long, and going with more than three references can make that challenging. References are important in a job search but not as essential as your experience and skills.
How to Format This Section
Formatting for the references section will be simple and straightforward. You can do one of three things here. The first is to simply state that references are provided upon request. The second is to list our references and their contact information. The last, and the one we recommend, is to list the names and companies of the references but make the contact information available on request.
This lets you keep private information unless it's needed and requested. It also provides time to ensure all your references are aware you've applied for a new position. Most of the references should be professional, but adding one that is personal is also acceptable.
Other Data Related Resume Templates
Data entry resume templates can make the process of resume writing much easier than expected. The one throughout this article is a great place to begin, but feel free to look at others to find one that matches your needs. In addition, all of our templates are available to be customized so you can be sure to knock the socks off of a hiring manager.
No matter which resume template or example you work with, be sure it's short and professional. View our wide variety of templates and find the one that works best for you. It will make the writing process much easier than expected.
Final Points on Writing Good Data Entry Resumes
Now that you have an excellent data entry resume showing your education, experience, and typing skills, you're almost ready to apply. However, don't make the mistake of forgetting to pen a cover letter to go with it.
Once everything is ready, it's time to read over the documents to do some proofreading. Make sure everything is perfect and ready for the hiring manager.
If you follow these tips and use an excellent template, recruiters will likely be knocking down your doors. So take your time to make a resume that you are proud of. It's far more likely to get you a job than something that is just slapped together and sent out at random.
So get started and create a data entry resume that gets you that interview.