Cashier Resume Sample, Template & How to Write Guide 2023
A cashier is one of the most underappreciated positions in global commerce. It's the cashier who processes all financial transactions between consumers and merchants at physical locations. The cashier is often the individual whose actions and customer service create the perception of the quality of a business. Applying for a cashier position is the easy part, however, writing a cashier resume can be tricky for many hard-working candidates.
It's typically assumed that a cashier CV is not attached to most applications. As long as they can operation a point of sale register, and have a charming personality, the job should be easy to earn. However, writing a professional resume by using a resume builder to help format and structure it certainly doesn't hurt your chances to obtain that premium cashier position.
So, how should you structure a resume for a cashier position? What is the cashier resume description that will ensure you success, and is it a good idea to include cashier resume examples before starting this task? These are a few of the questions we will answer in the content below.
Cashier Resume Sample
If you look below these two paragraphs, you'll see a great example of a professionally written cashier resume. Like many resumes examples for cashier positions, this one introduces the candidate, provides their contact information, a brief professional summary, their previous work history, education, skills, and of course – references who can vouch for their work ethic.
This candidate named Jessie explains that she is looking to become a cashier for a well-established membership big-box store (Costco) and has supported each section in the resume with critical skills and abilities that will help her in this endeavor.
She mentions her comprehension of basic math skills, using multiple POS system tools, her years of experience with cash handling, excellent customer service skills - such as handling  customer complaints. She also talks about taking time to learn product knowledge, so she can successfully reply to customer inquiries. Take some time to review the resume examples for cashiers, then proceed below to learn how this project is simplified.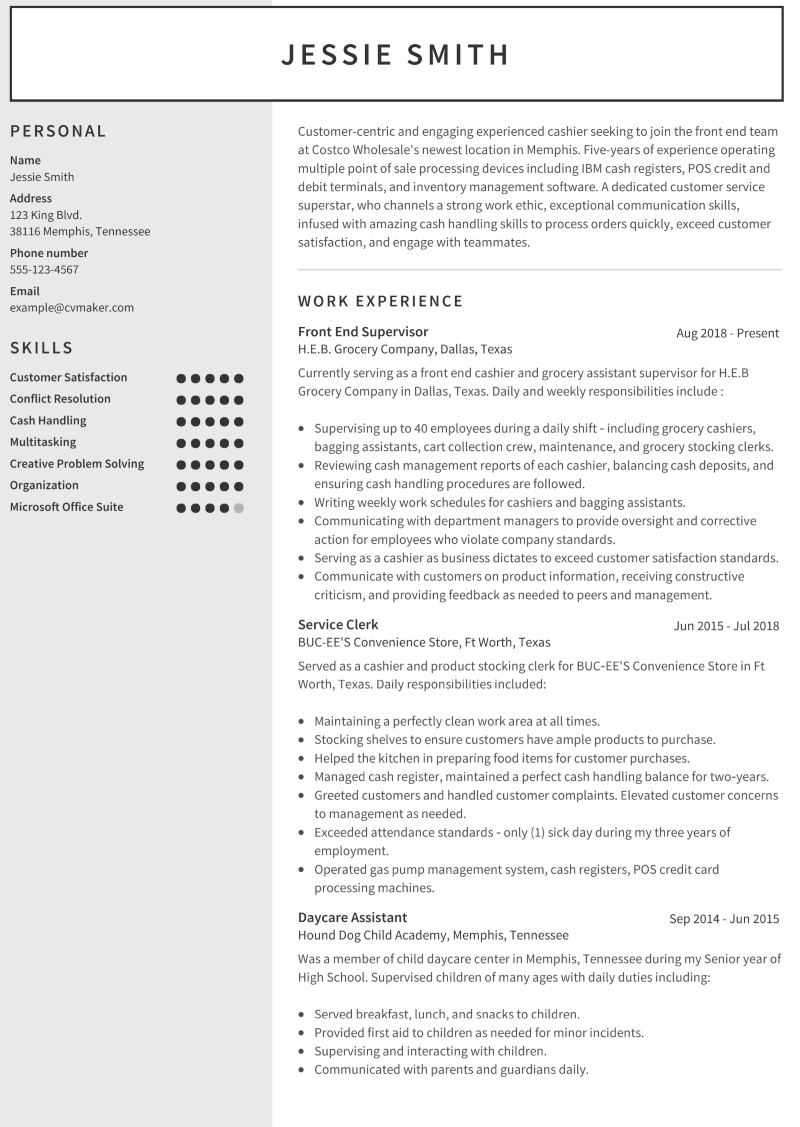 How to Craft a Successful Resume for a Cashier: 2023 Guide to Writing Cashier Job Resumes
A cashier's resume is intended to provide added credibility and support a job application. Unlike other careers, most cashier jobs are filled through an application process. Essentially, the candidate will fill out a company-specific application, submit it through an online portal or onsite location, and patiently wait for an interview.
However, attaching a resume and a cover letter with the application can accelerate the candidate to the top of the potential interview list (when positions become available). This is the primary reason why a cashier candidate would want to draft an easy to review and engaging resume.
Like any other document, a retail cashier resume is best accomplished when you start with a plan of action. Whether you're creating a restaurant cashier resume or one for any other industry, we recommend using a master resume document.
This is a working document that allows you to structure the format of the resume, fill in specific entries for each section, write out key bullet points, and finally edit the content until it reads well and is grammatically correct.
Working with a master resume also gives you the flexibility to list every detail possible – such as previous work history. At that point, you can pick your best two or three previous jobs that are relative to the cashier position you intend on applying for.
Now that we've provided the general overview and plan of attack, here is a simple to review the roadmap for creating each section of a cash register resume.
Section #1 – List Your Personal Information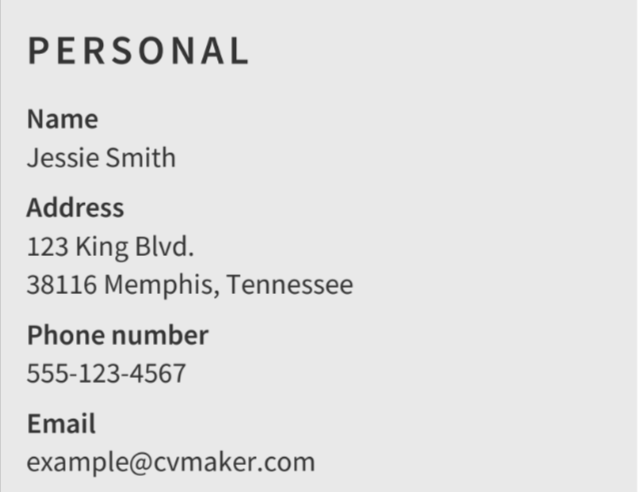 Jessie Smith has her eyes set on becoming a cashier for Costco Wholesale. And honestly, that's a great target. Of all the retailers in the United States, Costco offers some of the best employee perks, exceptional growth opportunities, a competitive salary, and a great work environment. However, it can be difficult to obtain a cashier position as a new hire.
In this case, Jessie is applying for a new location that is opening in her hometown of Memphis, Tennessee. The first section of her resume is the contact or personal information area. Here she provides her full name, mailing address, email, and mobile phone number. The reason she lists a mobile number vs a landline is so the employer can send her SMS text notifications with the application or interview status.
How to Format Personal Information Section
The personal information section of any resume should be written at the top of your resume, in a simple and clean format. Make sure to double-check each entry in this section, such as the email, mailing address, and phone number. Attention to detail is a critical skill all cashiers must possess, so start by showcasing that ability in the first section.
Step #2 – Creating Your Resume Objective

A well-written resume objective or opening statement can accelerate your opportunities for an interview. The resume summary located at the top of your resume, directly below your contact information – and is typically the first item a hiring manager will review.
It's a four to five-sentence recap of your career goals, qualifications, and interpersonal qualities that make you the go-to candidate for any job. For a retail cashier resume, you should make sure to write about your responsibility, organizational skills, customer service, and attention to detail. These are all keywords that are searched for with many digital or AI resume scanning tools.
How to Format this Section
The resume format for the objective section should be written in a paragraph format, with an easy-to-scan and engaging tone. You should maintain a professional writing style, but don't be afraid to showcase your personality with the content. Keep the personal summary statement to less than 250 words, and make sure to read it aloud – to ensure it sounds natural. Remember – this section is your elevator pitch, so write it as such.
Here are some specific tips to consider.
Use a relaxed and conversational tone. The best cashiers are exceptional people, who engage with customers on a personal level. One way to showcase this talent is in the writing tone.
Read it aloud before you edit. Sometimes it makes sense to focus on how content sounds vs how it reads. The personal statement is an opportunity to get an interview based on your ability to sell your skills.
Make sure to edit the content with a professional tool. Before you finish the personal statement, run it through a program called Grammarly.com. This will edit the content for grammatical errors.
Section #3 - Work Experience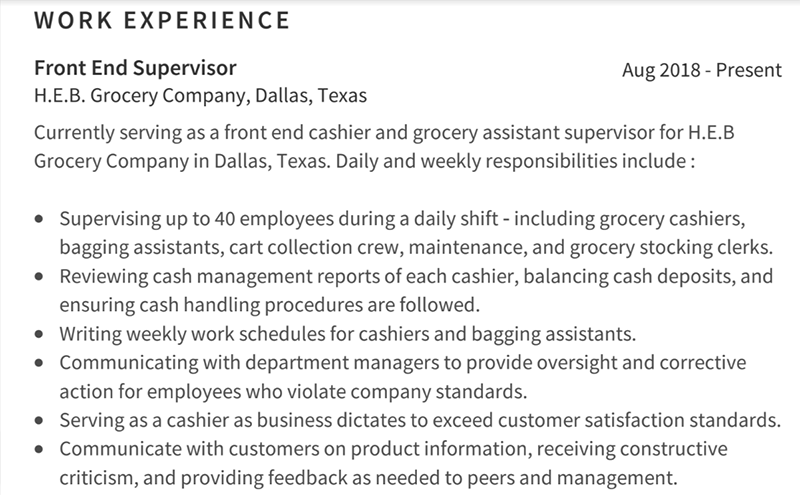 The next major section of a cashier position resume is including your previous work history. Most hiring managers are looking for candidates who have practical experience with handling transactions, cash management, credit card processing, and customer service. There are also looking for people who are effective communicators, know how to resolve conflict, and can receive constructive criticism.
Logically, when drafting a resume for a cashier position, you should start by listing previously held positions in this space. This will give the hiring manager a clear perspective of your experience. However, if you have never been a cashier, you need to list previous jobs where you've displayed these qualities.
How to Format the Work Experience Section
In this section, you'll need to list all work experiences in reverse chronological order. This means, start with your most recent or current job, then list previous jobs from the most recent. Best practices for resume writing suggest that you should list three previous jobs. If you don't have three previous jobs, write down as many jobs as possible.
Here are a few important items to remember:
List the name of the company, the dates of employment, and the location.
Write a few bullet points that showcase some of your achievements – specifically, that show your experience with customers, money management, and handling conflict.
Keep the bullet points short – just one sentence per point.
Section #4 - Education 

A cashier needs to possess good money management skills, as they are directly responsible for the transactions they process. They should also have a strong ability to work well under pressure. These are skills that are developed through education – and finishing assigned tasks, such as homework or school projects.
Most cashier positions require a high school diploma or GED certificate. As such, the education section does not need to be fleshed out as much as a professional career – such as being a doctor or lawyer. However, if you have attended college, or are currently enrolled, this may help you gain a competitive advantage over other candidates.
How to Format the Education Section
When formatting the education section, it should be documented as such.
List the name of your school, the location, dates of graduation (or current enrollment), and the degree earned.
Start with the highest level of education you've been enrolled in. If you're currently taking courses at a college or university, make sure to document your progress and the degree you're striving to earn.
There is no need to add any education before high school.
Section #5 – Skills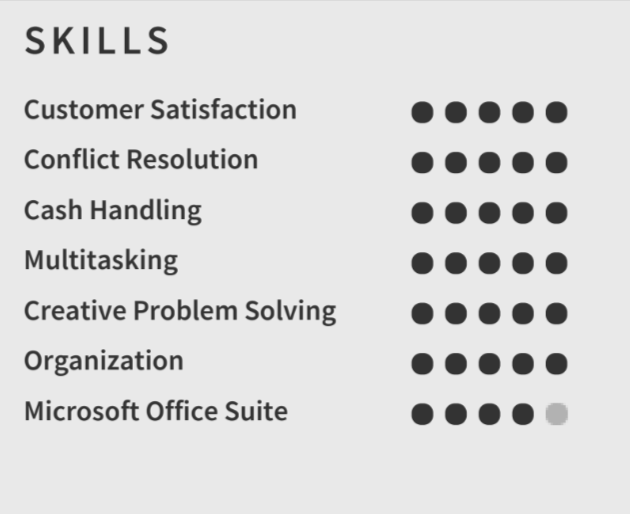 So, what are the skills to put on a resume for a cashier position? We touched on the skills for becoming a cashier above. This is the cashier resume skills  section to showcase the attributes you possess that will make you an exceptional cashier. Before you start writing down skills on paper, it's crucial to understand the difference between hard and soft skills.
Hard skills are those that you learn to help you complete the job with better success. For example, a cashier's hard skills would include working with POS cash registers, cash management, cash drawer organization, bagging purchased items, computer skills (for some cashier positions that require invoicing for debit or credit accounts), and dedication to customer satisfaction.
A soft skill is an interpersonal one that helps you build relationships within the workplace. This may include communication skills, conflict management, compassion, time management, taking care of their work area, and a strong work ethic. If you plan to become a supervisor or manager at some point, you'll also want to showcase your business administration experience.
How to Format this Section
Skills are best listed in a bullet point format. Many of the best cashier resume templates made today will format the skills for you. Generally, you'll have two places to display the skills.
Sidebar: You can select a format on the resume template that will list your skills on the sidebar. This is a good idea – especially if you don't have enough content for a two-page resume.
Bottom of the Resume: The second option is to list your skills at the bottom of your page. It's generally assumed – especially if you have previous experience – that the candidate will possess the required skills. However, it's still important to list them on a resume. This is crucial because many recruiting offices use a software solution that searches for action verbs – many of which are soft and hard skills.
Section #6 – References 

A reference is a personal or professional mentor who can vouch for your character, experience, and work ethic. They are listed on a resume to provide support and credibility of the skills, work history, and education you listed earlier.
Most companies will contact one of your references. As such, it's important to choose those who are willing to help you in your job search. Here are a few tips that will help you choose the right references for your cashier position resume.
Choose three references. It's best to select a reference from a previous job (especially if you were a good employee), one from a school you attended, and a personal reference (not a relative).
Make sure they are available. If you select a reference, they must have the time to reply to an inquiry.
How to Format this Section
When you are writing down your references, it's a great idea to collect two forms of communication – that they prefer. Whether it's their phone number and email, or their mailing address, you need to have this data available for future employers.
However, on the resume, you don't want to disclose their personal contact information. This is a violation of their personal information – and you don't want random people contacting your references. Simply write their name, place of employment, and list "upon request" with regards to their contact information.
Final Points on Resumes for Cashier Jobs
There is a lot of valuable information in the article above. And we understand that it can be a lot to absorb and process. So, here is a brief recap of the important items to remember when you start the process of writing your resume, edit the content, and choose the right resume template.
Embrace using the master resume. List everything relevant for each section first. Then, take time to organize it in order, edit the content, and triple-check it for any grammar or spelling errors.
Keep it clean, neat, and professional. Use a black font on a clean white background document.
Take time with your opening statement. This is your opportunity to make a positive impression.
List your work experience in chronological order – from current to your first job.
List at least 2 professional and 1 personal reference.
When you've listed everything as mentioned above, copy, and paste the content and place it in a Word doc or run it through a spelling/grammar checking website like Grammerly.com.
The best advice we can provide is to take advantage of the tools offered. One of the best tools for any soon-to-be cashier is an easy-to-use online resume template. This will allow you to edit your content first, copy, and paste it into an online template. Once you're finished, you can select which template style best fits your resume content.