Barista Resume Example, Template & Writing Tips for 2023
You know how to warmly welcome customers and serve hot or cold speciality coffee drinks. Plus, you strive to match customers' often made-to-order preferences.
The big question is, however, do you know how to craft your barista resume to win jobs?
Picture it – there you are with all your skills and experience. Suddenly, a dream opportunity crosses your path - a Starbucks barista. You reach for your resume to apply, but it's a mess…
Don't stress! That was just a bad daydream.
We'll show you how to have a perfect resume at your fingertips always, anywhere, anytime.
Read on to get samples, examples and barista resume templates to move your application straight onto recruiters' shortlists.
Barista Resume Example
When you're an entry-level barista, you watch more experienced baristas show you how it's done.
Creating your winning barista resume works the same way.
We've already done barista resume examples for you to know how the end result should look.
No confusion or fuss - it's effortless that way. You get to focus on your job search while we take care of your resume.
Kit has chosen our Harvard resume template in bright red in this barista resume sample.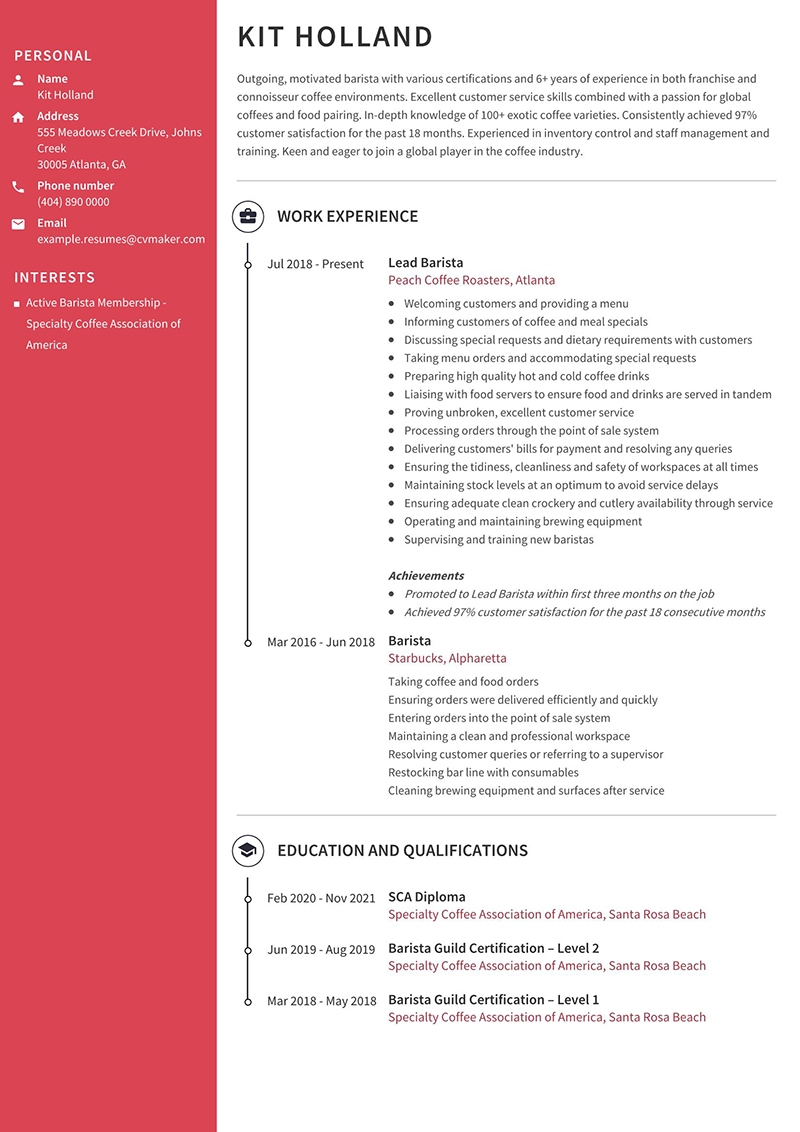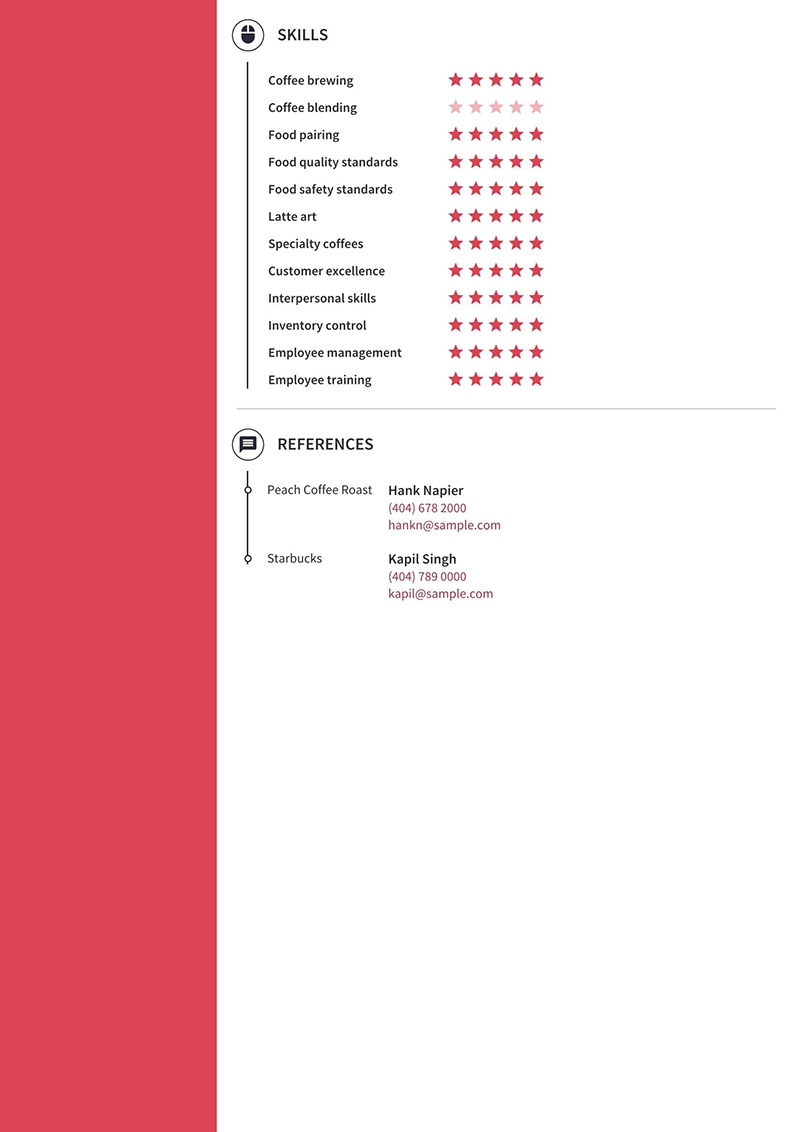 How to Write a Good Resume for Barista in 2023: Barista Resume Description & Guide
Jobs are won by writing a creative barista resume that grabs hiring managers' attention right away.
The reality is that you only have a few seconds of exposure to recruiters and hiring managers. They scan through the barista resume summary and move on if it's flat and irrelevant.
If the summary looks appealing, they'll browse the barista job description for resume purposes. It's all about using keywords that make for attention-grabbing reading.
Whether it's a local café resume or for a classy hotel, your resume must outclass the pile of bland applications.
Professional baristas are uber coffee connoisseurs. They know all the different types of coffee, which coffee beans to use and what blends work best.
Baristas make customers feel at home in their coffee shop and give them menu items. Excellent customer service comes from hot and cold coffee drinks prepared with love and passion.
From super strong espresso to creamy latte and cappuccino, baristas know how to get coffee blends on point to keep customers coming back.
Professional baristas are also at home with brewing equipment, espresso machines, milk frothers, cash registers and point-of-sale systems.
The art of creating quality beverages is much more than coffee brewing. So much so that top baristas compete in the annual World Barista Championships.
Coffee-making, multitasking and excellent communication skills are essential for an experienced barista. Providing excellent customer service combined with highly developed interpersonal skills must be second nature.
The word "barista" originates from the Spanish/Italian for "bartender". Traditionally, coffee baristas worked morning and lunch shifts while alcoholic bartenders worked evenings into nighttime.
Today, establishments like Starbucks can't do without baristas in service during operating hours, making them essential staff.
Of course, a lot more happens between creating latte art and keeping customers happy.
Therefore a lot hangs on your barista resume skills, and you don't want to be getting them wrong.
To avoid critical omissions, write down all your barista skills. Also, include any food service experience you've got. Now keep this as your master barista resume to refer to when you apply for new jobs.
Another essential element of a top-shelf barista resume description is using power verbs to accentuate your barista experience.
Avoid the same jaded vocab everyone else uses on their barista or coffee shop resume. Reframe your work experience with words like these –
Carryout
Contribute
Convey
Coordinate
Discuss
Facilitate
Maximize
Relay
Shape
Slash
Batistas don't need more than a high school diploma to get their foot in the coffee shop door. However, additional certifications are crucial if you want to make it to Starbucks manager, coffee shop owner, or world champion barista.
Without a quick word on parsing software in applicant tracking systems or ATS, we can't move on yet.
While applications to local cafés may not get processed by an ATS, Starbucks resume skills are definitely passed through parsing software.
ATS are widely used in hiring, and recruiters load job posts with vital keywords. Each application is screened by parsers for these keywords, and there are only two options. If the keywords are found, resumes move to the shortlist; if not, it's binned.
Here's a quick heads-up – use a resume builder.
That way, you don't have to stress about getting a parser-friendly resume format with all the right keywords.
So let's move on to barista resume examples.
Personal Information
Accurate personal information is crucial to your barista resume.
Frequently when people do resume templates in Word, for example, they overlook this critical section. A resume builder won't let that happen.
Even transposing two letters or numbers leave you uncontactable.
What's the point of even applying for a barista position in that case?
Your LinkedIn profile can be included here as well to showcase your professional work experience as a barista. It's not essential but can help if you have, say, Starbucks barista resume skills.
Personal Information Example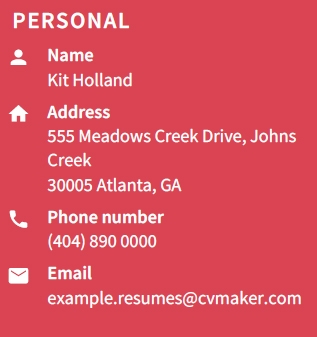 Reader-friendly, correct, and concise like this barista resume sample.
How to Format this Section
This section calls for your personal details, address and contact information, and that's it.
Don't include anything unnecessary, and use a reader-friendly business font.
Resume Objective
Your barista resume objective is the first thing readers will see. It must grab their attention immediately, or they'll move on to the next one.
An objective is also known as a resume summary but differs from a barista cover letter.
A resume objective summarizes your years of experience, hard and soft skills, and achievements. In contrast, a cover letter has plenty of room for details.
In an objective, you must say enough to persuade the hiring bar manager to reach out and contact you, but in only a few words.
A dull, inapt resume objective will do your barista resume no favor!
Keep it positive, confident and engaging and include numbers and stats for greater impact.
Choose which barista resume summary below works best for you.
Resume Objective for a Barista Resume with no Experience

New baristas often apply to major franchises like this resume objective for a Starbucks resume with no experience.
Resume Objective for an Experienced Barista Resume

This applicant uses numbers and percentages to entice readers to their barista duties for resume.
How to Format this Section
This is your only chance to convince a reader you're worthy.
So much responsibility in only around 50 to 60 words.
Get creative!
Ingeniously combine facts, keywords, numbers personal stats for a power first impression.
Remember to only use work experience and job-related skills taken from the job ad.
You'll have ample time to expand on your barista resume skills during the hiring process.
Furthermore, no matter how desperately you want a job, never misrepresent your skills. It might come out in interviews, but even worse on the job. You don't want to tarnish your barista reputation.
Professional Work Experience
Here's where you tell coffee shop managers you're not the average barista.
Ensure your barista responsibilities resume expresses your barista skills, customer service skills and hard and soft skills.
Your barista job description must contain keywords listed in the job description and title of job posts. So always read ads carefully before you apply.
After extracting keywords, match them to your barista experience and then mirror them on your barista duties for resume purposes.
To confirm, use the employer's barista job description with their phrasing and order of importance.
Why?
Because parsing software heads straight to the work experience section looking for keywords. Beat the parsers by giving them what they're searching for.
Even though all baristas have similar responsibilities, each coffee shop has its own requirements. For instance, some baristas work with food service while others don't.
Give employers exactly what they want on your barista job description for your resume.
Common keywords for barista duties include –
Blends
Brewing equipment
Cash handling
Cash register
Cappuccino
Coffee beans
Coffee blends
Coffee brewing
Coffee drinks
Coffee-making
Communication skills
Customer orders
Customer satisfaction
Customer service skills
Espresso machines
Food safety
Food service
Latte
Latte art
Menu items
Multitasking
POS
Point of sale
Quality beverages
Specialty coffee
Teamwork
Workspace management
Time management
Professional Experience Example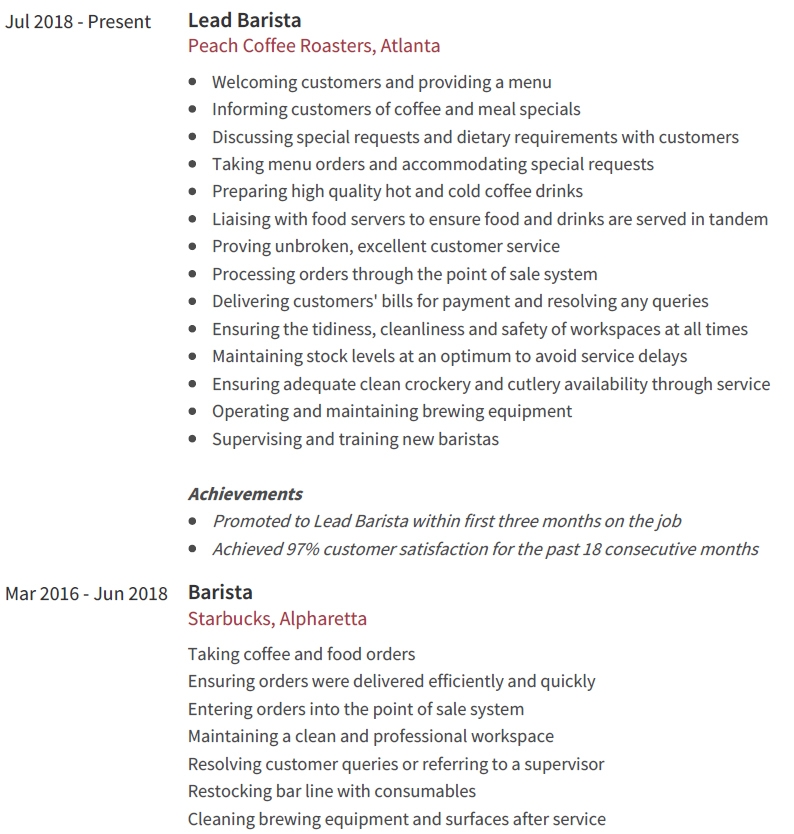 See how these barista resume skills are packed with vital keywords.
How to Format this Section
A reverse chronological resume format is best for your barista work experience section. Start with the most recent job and list your work history in descending order.
Bullet points, business style fonts and lots of white space are the correct resume format in the experience section. If that sounds like a lot to remember, let a resume builder take care of it.
Keep the wording concise without omitting essential details. Monetary values, percentages, and statistics perfectly present your professional experience without rambling.
Fit each required job responsibility into a bullet point in the same order as the job advert.
Unless you've had more than one role with the same employer, you don't need an opening statement.
Education and Certifications
A high school diploma is enough to start out as a barista.
Lead baristas and managers at places like Starbucks usually have additional certifications in their portfolios.
New baristas seeking entry-level barista positions would do well getting some extra certifications on their Starbucks barista job description resume.
Education Example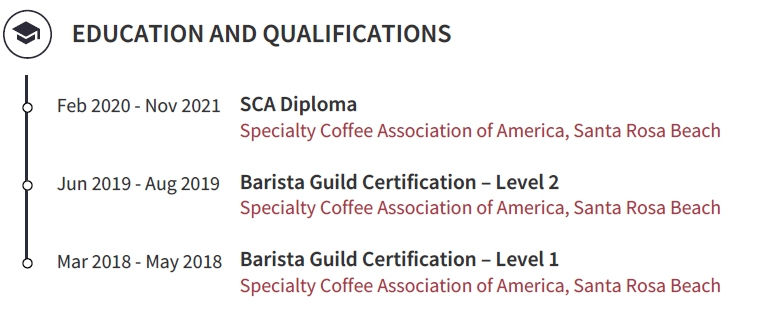 List certifications in descending order, starting with the most recent as on this Starbucks barista job description resume.
How to Format this Section
The education section must be factual and to the point.
Coffee shop managers only breeze through here when looking for qualifications.
Start with your most recent certification and list the training institution, followed by the accreditation. Continue in descending order.
Skills
ATS parsers prowl the barista resume skills section, too, hunting for keywords.
Find required skills in job posts and list them in your skills section.
Source the required skills in job posts and list them in the skills section.
Consider both your hard and soft skills as they're equally important.
Don't rush writing your barista resume skills. You're bound to reap the rewards for your extra effort.
Skills Example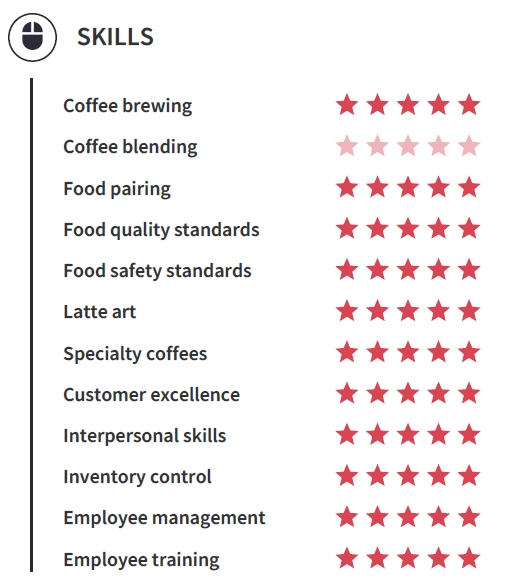 Rating your skills level gives readers a clearer picture.
How to Format this Section
List only skills that are in the barista job description. Different skills you have can be chatted about in interviews.
Rate each according to your expertise and keep descriptions short.
References
The reference section closes your barista resume.
For obvious security reasons, avoid giving too much detail. References may be listed as available on request unless the job post specifically asks for contactable references.
Generally, it's best to contact referees upfront to let them know you're in the job market. That way, they know to expect a reference call.
References Example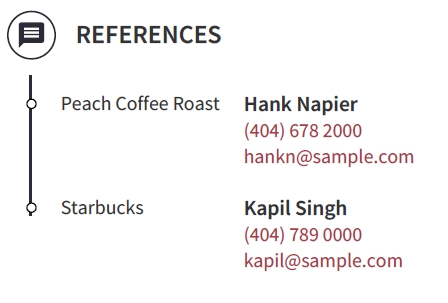 The company name and correct referee contact details are all that is needed.
How to Format this Section
Keep it accurate and direct.
Other Related Resume Templates
Just realized a barista description for resume purposes isn't for you?
No problem!
Starbucks barista resume examples aside, we've got plenty of others that might suit you better.
Take a look -
Final Points on Writing Coffee Shop Resumes
Keep these fundamentals in mind when crafting your perfect resume –
Use the correct resume format
Extract keywords from each job post
Take time selecting resume info
Use clear and concise wording
Include numbers and statistics
Use action verbs and positive language
Use bullet points and business fonts
Get your resume format right
Ensure there's plenty of white space
Stick to a two-page resume
Send your resume in pdf format