Computer Technician Resume Sample, Example & Writing Tips 2023
There are many things recruiters want to see when they receive a professional resume. While building a computer technician resume, you need to show that you understand computer systems, offer a variety of technical skills, and can provide knowledge of all facets of information technology.
Of course, it's just as important to convey that you're a team player who works well with others. Being able to fix malfunctioning laptops is a start, but being capable of working with diverse employees is a core competency for anyone involved in technical fields.
This guide will give you all the information you need to create a perfect resume for hiring managers. We'll share all the best practices and things to avoid so you can be sure your resume is one of the few read from top to bottom. If you follow the tips below, you'll be ready to apply for any job listing that you find yourself interested in.
Computer Technician Sample Resume
Before creating the best resume possible, it's a good idea to look at computer tech resume samples. This will provide an idea of what the basic computer technician resume looks like. Viewing an IT technician resume sample can also give you insight into what information to include and how to arrange your resume sections.
Throughout this guide, you'll find various computer technician resume examples. We'll share a sample resume from an experienced computer technician searching for a new position. While we do so, we'll delve into every aspect of the resume and why it is made in specific ways with appropriate wording and information.
Below you can see the entire resume from start to finish to give you an idea of the typical format for a computer technician resume. In this resume, you can see that Brenda has over a decade of experience in this position and understands the best way to lay out her information to get a hiring manager's attention.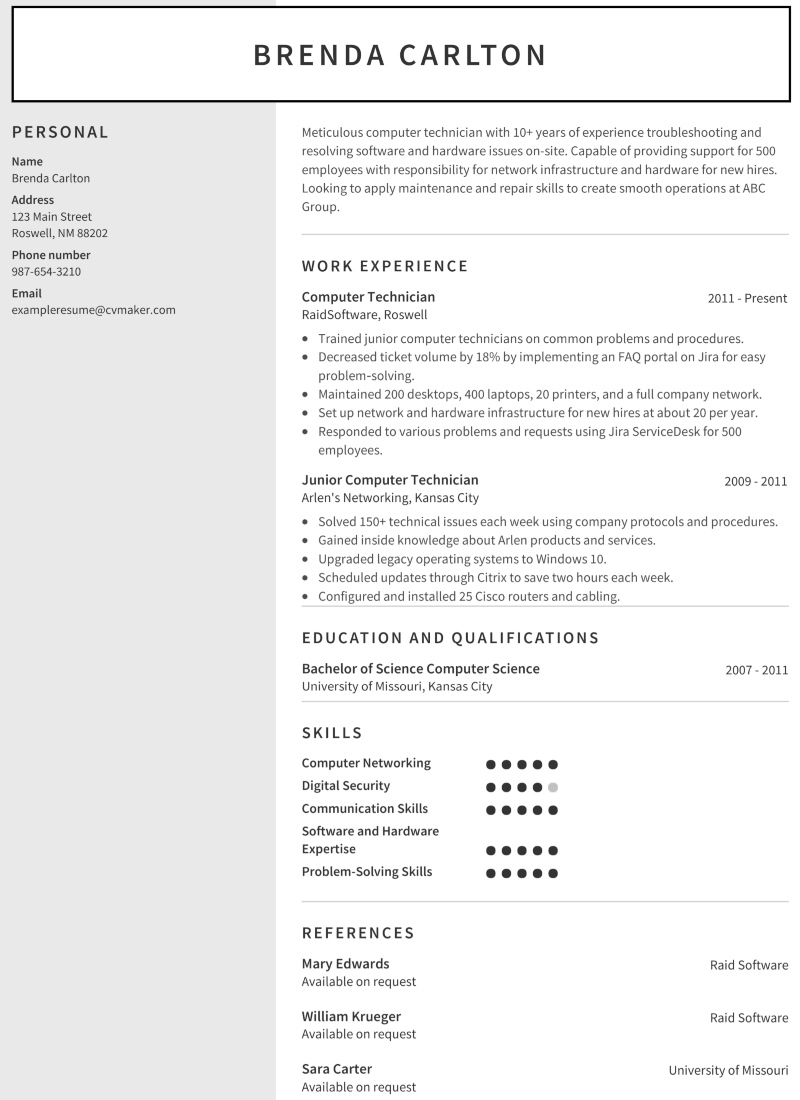 We'll help you create a resume just as good – or even better – than the one featured here.
How to Write a Successful IT Technician Resume in 2023: Computer Technical Resume Tips That Work
The first question you might have is, "what information should I include on my computer repair resume?" While the specifics can vary based on the job description, the idea is to show all the experience and education you have regarding the technical aspects of computers. You will share any past work you've done in the field, your educational background, and what skills you can share with a new employer.
As you craft a computer support technician resume, consider what you know and how that fits with the requirements on the job description. Craft your PC technician resume with each of those things in mind to have the best chance of landing an interview. Be brief whenever possible since most resumes are expected to be one to two pages long.
It also should be noted that resumes are not often given a lot of attention, so every bit of information you include should be relevant. If it's not, this could result in being passed over for the position. The most important sections of a computer technician resume include the following:
Contact Information
Resume Objective
Work Experience
Educational Background
Skills and Abilities
References
As we go through the rest of this guide, we'll focus on each of these sections. Feel free to work alongside the guide by completing your own computer tech resume. Once you have a basic resume ready to go, you can make small changes as you apply for jobs to ensure it only provides information a recruiter wants to know.
Section #1: Contact Information
Once you have your Windows or Mac computer fired up, it's time to start with the first section. This is all about you – and providing a hiring manager with the needed information to get in contact with you. After all, someone could have fantastic experience, excellent education, and valuable skills, but that doesn't help if there's no way for a recruiter to communicate with them.
Contact Information Example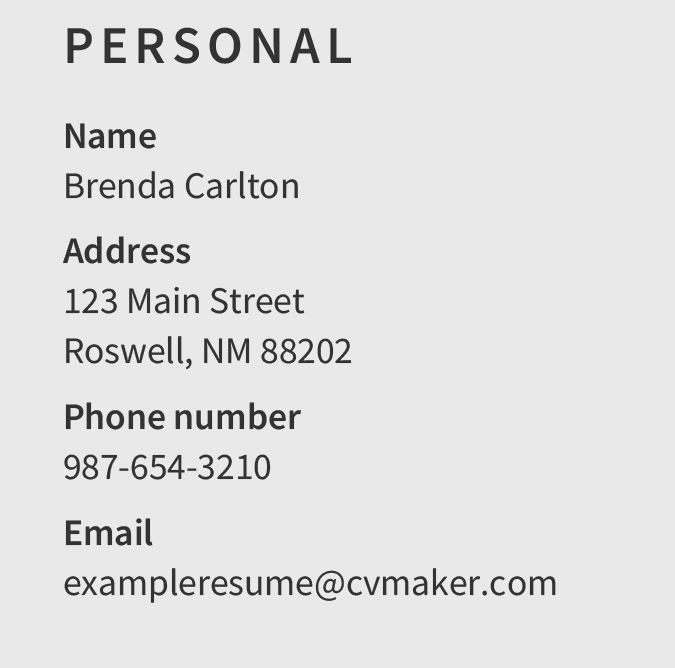 As you can see above, this section focuses only on who you are and how to get in touch with you. Once the employer reads on and learns about your experience with Microsoft software, wireless networks, and Unix, they'll revisit this section to contact you for an interview.
The example above shows you the amount of information needed here. You want to put your name front and center, as well as at least two ways you can be contacted. The best options are to provide your email address and phone number since this is how most hiring managers will choose to reach out to you.
In most cases, adding your full street address is recommended. However, you can also include just your state and city if you prefer. While this is all information you share regularly, you should make sure to go over it for typos or errors. If you submit the wrong phone number or email, you may never see correspondence from a recruiter.
How to Format This Section
The resume format for the contact section can be done in several ways. However, all of them are simplistic and made to ensure contacting you is easy. The example above has the contact information along the left side of the resume, but you can place it on the right side or even at the top of the computer technician resume.
There's no need to go with a fancy font or add additional information. While you might be tempted to add a link to your LinkedIn or other social media, there's no real need. The only real exception is if the job description asks for one. In that case, feel free to add it. Otherwise, stick to the simplest forms of contact so employers can reach you.
Section #2: Resume Objective
The next section to work on is the computer technician resume objective, which is essential for any resume. The basic idea is to share what you are capable of and why you want to work with a specific company. What makes it a bit more complicated is that you need to provide this information in only a few sentences.
When a recruiter looks at the computer technician resume summary, it's also typically when they decide whether to keep going. Since a hiring manager only looks at a resume for a few seconds, you need to make the resume objective stand out. Share what you are capable of that the next candidate might not be. This is the place to sell yourself.
When crafting a computer technician resume objective, keep the job description somewhere handy. You want to refer to it to decide what accomplishments and information to share. The keywords throughout the job description should align with how you present your education and experience.
How to Format This Section
Whether you are new to computer technician work or have been doing it for decades, format this section to be concise and easy to understand. Those who have lots of experience with Linux, technical issues, and more can add all of those things.
However, you also want to quantify the experience. For instance, instead of writing "experienced computer tech in troubleshooting," a better hook would be "10+ years' experience with troubleshooting 200 in-house computers."
This resume now should provide a good idea of who you are and what you can do. Don't be too verbose or use a lot of jargon. Sometimes the person in charge of hiring won't grasp all the technical terminology. However, you want to show yourself as an experienced professional, regardless of how long you've worked in this field.
Section #3: Professional Work Experience
Armed with contact information and an excellent resume objective, it's time to move to the meat of the resume. This refers to all of your professional work experience. This will take up a large part of your resume in most cases. However, for a computer technician resume with no experience, the focus may be on your education and skills.
Your computer technician job description resume shows all the incredible things you've managed to do in the past in other positions. For those who have had previous experience in similar roles, this is a matter of packaging it right. If your experience is lacking, you may need to be more creative. However, other positions with similar responsibilities can tie in nicely.
When you write down your work experience, focus on the items that the employer is looking for. If you know the ins and outs of LAN and WAN, and those are mentioned on the listing, make sure to include them. The same applies to all sorts of skills and abilities, such as troubleshooting operating systems, making upgrades to computer hardware, and working with routers, peripherals, and cabling.
Professional Work Experience Example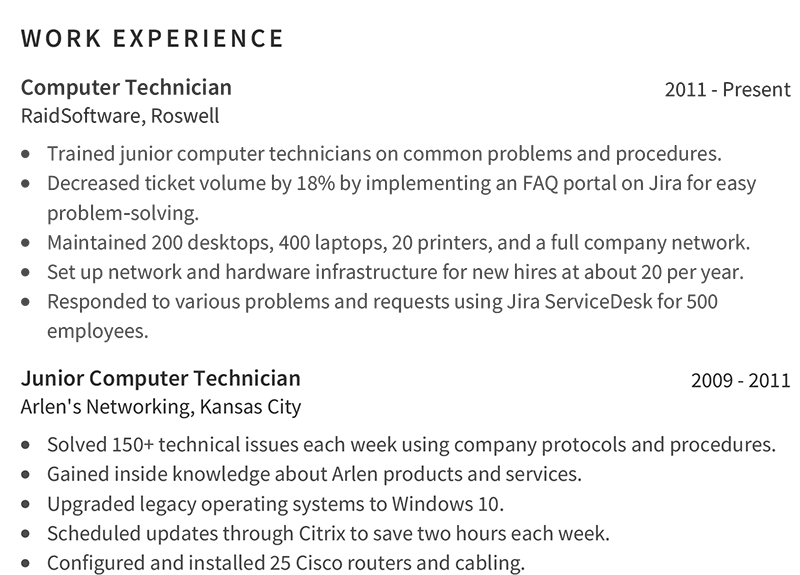 Once the recruiter reads beyond the resume objective, the work experience is the next thing they will view. That means you need to keep them interested throughout this section. Being honest about what you can and have done is essential, but you should also prove you can handle a new position's challenges.
You can see in the image above that Brenda has a lot of experience, but she still takes time to list out the most important things she did in her past positions. What really makes her stand out from other applicants is the inclusion of how the roles she filled helped the company be faster and more efficient. If you can incorporate this in your own computer technician resume, it can be a massive benefit through the hiring process.
How to Format This Section
When formatting resumes for computer technicians, the employment section is vital to get right. If you choose to use a template like the one we provide here, that can make the process simple. All you have to do is pick an example you like, add your professional information, and then move on to the next section.
Of course, you can also create a resume by hand. In either case, make sure to include the most critical information. You should list the company name, your job title, when you were in the position, and what you did. A list of bullet points is an excellent way to share your experience without creating long paragraphs that may be hard to read through.
Section #4: Education
The education section is a must for those of you who don't have a ton of experience (or maybe even none at all). It's essential for anyone, but it lets you share skills and accomplishments you might not have if you are new to computer technician work. The good thing about the computer technician field is that jobs vary to a large degree. Some companies might want a computer science degree, while others only want to see a high school diploma.
Getting into the field can be easier with a higher degree, but skills are just as necessary. For instance, showing that you know how to diagnose issues with software packages might override the need for a bachelor's degree. However, whatever education you have should be showcased since it is a consideration when hiring managers are filling a role.
Education Example

As the image above shows, Brenda has more than enough education to be a computer repair technician. Her computer science degree works in tandem with problem-solving skills to ensure she can work a help desk or even repair malfunctioning hardware. If she had additional education, this would also be included. For instance, a master's degree would be listed above the bachelor's, so it's the most prominent.
Basic information is all most people need, but an entry-level computer technician resume might include extras. Since you might not have much work experience, adding your GPA, any honors you hold, or courses you have done well in can add something extra to the education section. It might even be enough to get you into an interview room.
How to Format This Section
With this section, you want to make the format similar to the work experience section. For instance, you would put the most recent certification or degree on top and follow up with the next most recent and so on. When you place the information about your education, make sure to mention the degree or certification you hold and where you got it.
You can add the years when you were working for the degree, but this may not be the best idea for older individuals in the workforce. Otherwise, those having trouble filling up a page for a computer technician resume can often add extra educational information to show that you are knowledgeable and ready to be a positive influence in a new position.
Section #5: Skills
At this point, you've worked through your contact information, resume objective, work experience, and education. The next area where you should focus is the skills section. This part of the resume gives you a chance to shine and show off the skills that you are best at. For instance, computer technician resume skills might range from knowledge of Excel and personal computers to interpersonal and leadership skills.
Desktop support skills, the ability to work around software issues, and knowing how to handle connectivity problems are all excellent choices here. However, the skills relevant to the job posting are the most important to include. This is especially the case if you haven't had a chance to feature them in other resume sections you have worked on.
Skills Example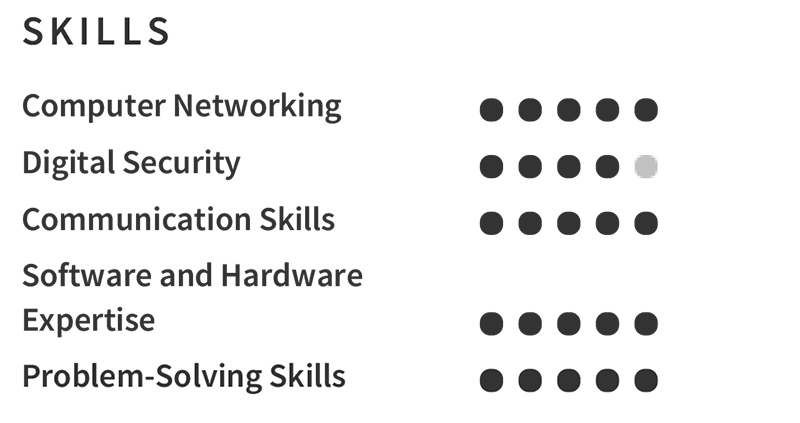 As the computer technician resume example above shows, it's good to offer both hard and soft skills here. Even if you are applying for a job that doesn't interact with end-users, you'll likely end up on a team at some point. Knowing how to give a compelling presentation or work with people of all backgrounds can make you a better choice in some cases. Of course, temper this by offering information about computer skills, too.
Recruiters will look at skills to see what you bring to the table. If you are uniquely qualified, that's something that will get you noticed. Brenda notes a few of her best technician skills and adds in interpersonal skills to show she has no problem with those either. It's a great example to use to include your own abilities in a resume.
How to Format This Section
Whether you are skilled in debugging software applications or have experience with many types of software installation, the skills section is the place to include that. However, it's essential to consider the formatting for this section. The last thing a manager wants to see is a block of text that is nothing but a list of all the skills you have.
Instead, consider bullet points or another format that makes things easier to read. In addition to listing the skills you want to highlight, make sure you note how much experience and knowledge you have with each of them. This can be done with a star system or just a note that you are an "expert" or "experienced" with various abilities.
Section #6: References
As we move toward the end of this computer tech resume example, it's crucial to touch on the references section. In our opinion, this section should always be included. It lets hiring managers and recruiters know that you have people who can vouch for your technical support skills. Most employers expect references to be included, so it's a good rule of thumb to do so.
References Example

Brenda's example shows people she has shared workstations with and who know her through her years of experience. She also includes someone from her university as an extra reference who can speak to her intellectual abilities. As you can see, this is a short section without a lot of extra information. That's purposeful. A hiring manager just needs to see the names of references and a way to contact them.
How to Format This Section
Our sample resume for a computer technician shows the formatting needed for a list of references. However, there are a few ways to set up the section. In the example, you see names of people, where they work, and a line that shows contact information is available upon request. Another option is to add a single line that reads "references upon request," but it isn't recommended. Adding names and contact information is also possible but runs the risk of privacy breaches.
With the version we used in the example, enough information is shared to make a recruiter happy, but contact data stays private. The actual phone numbers and emails aren't provided unless asked for. Another benefit of this is that you can let references know if you have shared their information so they can be waiting on a call or email.
Related Resume Templates
The IT technician resume examples above are a great way to format your resume to look fantastic. However, you can use several other resume formats if you prefer a different style. Some of the best options for someone who is crafting a computer technician resume include the following:
Choosing a template makes the process of building a resume quicker and easier. You can customize them to meet your needs no matter which you select. This can be a more streamlined option when you want to make the best possible resume and turn it in fast.
Final Points on Writing Good Computer Technician Resumes
With the help of excellent computer technician resume samples, you should be on your way to interviews that propel you into a job you want. The last step is to write a cover letter that puts your resume at the top of the pile. Then you have the chance to ace an interview and move into a future you have been dreaming of.
Follow the tips mentioned in this guide, and you'll be ready to go. Make sure to proofread your resume before you send it out for review. Using a tool like Grammarly can help you ensure everything is top-notch. All you have to do is get started, and you could land that computer technician job you've been hoping for.