Bank Teller Resume Sample, Example & How to Write Tips 2023
While there has been a rapid expansion of online or virtual banking technology, there will always be a need for trustworthy and ethical bank tellers. A bank teller position is awarded to candidates who exhibit accountability, have a proven record of cash management, and have a positive work history. Every candidate must showcase these skills and attributes on their bank teller resume to obtain these jobs.
A resume for bank tellers is often required while submitting an employment application, along with a well-written cover letter. Many prospective tellers ponder the question: How do you write resumes for bank tellers? Are there certain required certifications or sections – and what is the bank teller job description for resume writing?
These are a few of the questions we'll answer in the article below. We will also provide a few senior bank teller resume examples and break down the must-have inclusions for each significant section of bank teller resumes.
Bank Teller Resume Sample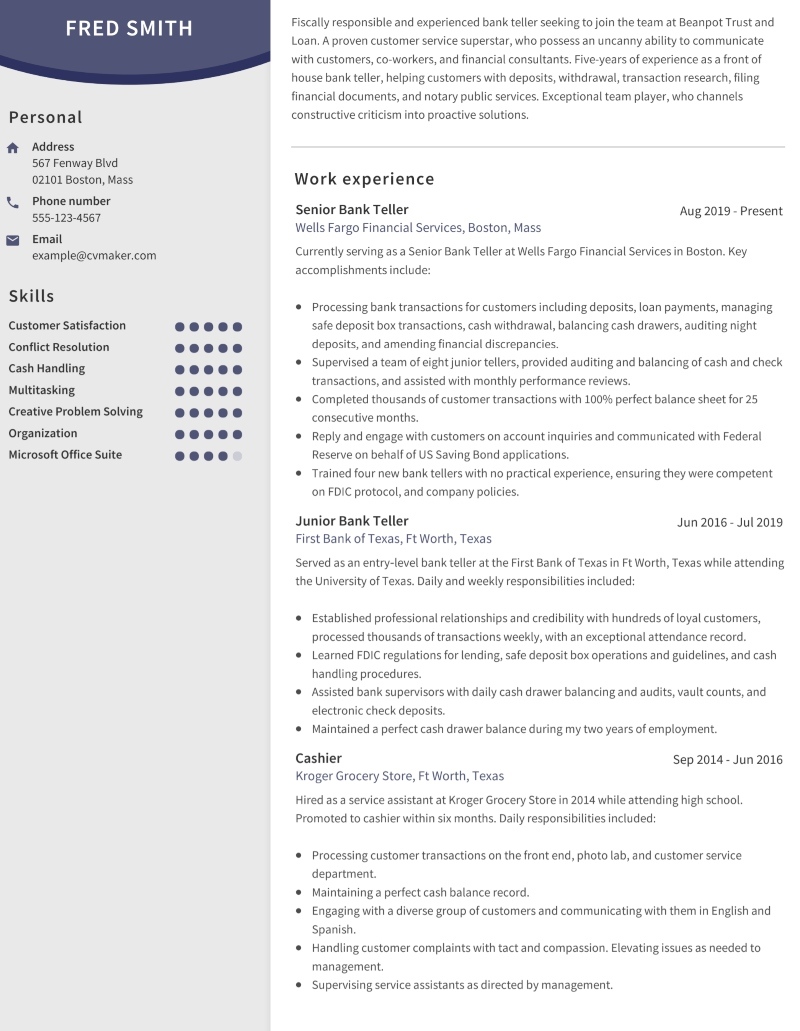 One of our professional writers wrote this sample resume for bank tellers. Any bank teller resume objective is to highlight your skills, experience, and education that separates you from other candidates. The bank teller resume description is broken down into multiple, primary sections including:
Personal Information: This section includes your name, address, phone number, and email.
Resume Objective: If you write a bank teller resume with no experience, this section may help you gain that valuable first opportunity. The objective will showcase your skills, talents, and interpersonal skills that make you trustworthy, accountable, and a customer service superstar.
Work History: The work history section in an entry level bank teller's resume might be thin. However, like the sample resume for bank tellers posted below, you'll see that Fred provides two examples of previous positions that showcase his skills including cash drawer management, loan payments processing, money orders, and handling large withdrawals.
Education: Most entry level bank teller positions require a high school diploma. This section is crucial but does not need to be fleshed out. The exception is when your bank teller position requires a higher education. This is typically the situation when you deal with ancillary bank products - such as approving accounts.
References: Your ability to provide solid business or personal contacts can make a big difference – primarily if they are known by the bank you are applying to.
Skills: A bank teller skills resume section will include bullet points similar in format to the resume examples for bank tellers posted below.
Take some time to review the completed sample resume for a teller position with no experience posted below. Pay special attention to the action verbs in the outline, which are vital for any bank teller position candidate to possess – and articulate in their resume.
How to Write a Successful Resume for a Bank Teller in 2023: Tips that Work
A resume for a bank teller should be clean, short and sweet, and filled with valuable data that sells your experience and skills. It's a tool that helps to support your application and helps you gain that crucial interview.
Many banks hired their tellers through recruiting agencies or third-party job search engines. Most of these agencies utilize automated software that scans resumes for keywords or action verbs associated with this type of career. A few action verbs include cash handling skills, processing cashier's checks, and cross-selling customer accounts on other bank services.
As such, it's essential to sprinkle these hard and soft skills throughout the resume. The issue many future bank tellers struggle with is writing and formatting their resumes. Fortunately, there is an easy solution to this dilemma.
Planning and organization can significantly reduce stress and ensure success like any other project. For writing resumes for bank tellers, we suggest using a master resume. This is essentially a working and editable word document that will permit you to write down all relevant details for the primary sections.
The document will permit you to edit content, spell check, and upload to a grammar checking platform – such as Grammarly.com. When everything is perfect on the master resume, uploading the content to a resume builder is a snap.
Now that we've provided the general overview and plan of attack, here is a simple to review roadmap for creating each section of resumes for a bank teller. .
Section #1 – List Your Personal Information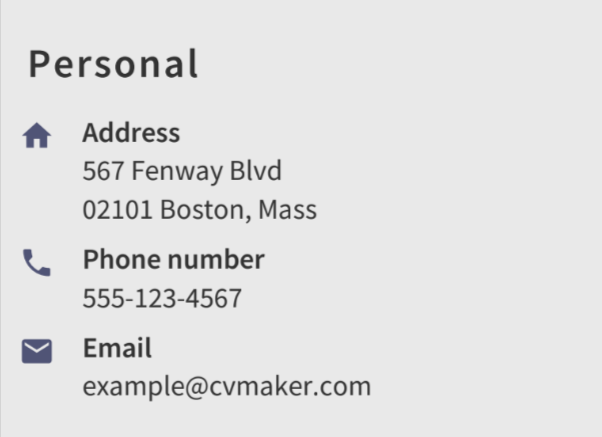 Our bank teller candidate above, Fred Smith, is applying to Boston Financial Services – a mythical bank located in the Greater Boston area. His information section will include:
His full legal name.
Mailing address.
Cell phone number (that has SMS text capability and access to his email account).
Email address.
It is essential to have a mobile device that you can access at any time. The reason for this is simple. Many recruiting agencies (who send qualified candidates to banks) will use automated software and communication tools to connect with prospective employees. If the candidate is not quick to reply, they will proceed to the next candidate in many instances.
How to Format Personal Information Section
Please keep it simple. The personal information section should always be at the top of your resume. Depending on the resume template you utilize, the name can be listed on the top – with the relevant contact details directly underneath or in one of the side columns.
Always double-check your information for spelling, especially your email address. Bank tellers must possess strong attention to detail – so making errors right off the bat can jeopardize your employment chances.
Step #2 – Creating Your Resume Objective

The first item most hiring managers read is your resume objective. When you think about resume objectives for bank tellers, the primary goal is to convince someone to set up an interview. This is essentially your bank teller application elevator pitch or opportunity to explain why you're an ideal candidate quickly.
The resume objective section should be filled with the action verbs correlated with being a bank teller. These critical terms include cash management, accounting, customer satisfaction, experience with Excel sheets, finance, accountability, trustworthiness, and attention to detail.
For an Entry Level Bank Teller
The most crucial detail about a resume objective is accuracy based on your application. If you're not experienced or are seeking an entry-level bank teller position, it's vital to write your resume objective to showcase your skills and abilities versus practical experience. For example – an entry-level bank teller should emphasize their potential for being an employee worth investing time, effort, and resources.
The best way to accomplish this is to focus on your skills such as excellent customer service, accountability, and attention to detail.
For a Senior Level Bank Teller
Those with years of experience as seasoned bank tellers should write their resume objectives with the primary goal of highlighting their years of experience. Good bank tellers – especially those who are experienced are very difficult to find. Many new bank locations will pay a premium wage for senior bank tellers with the right experience and leadership abilities.
How to Format this Section
A resume objective should be written with a professional – yet conversational tone. It should be no more than five sentences or 250 words. A bank teller must be a people-friendly individual – who can multitask. To showcase this in the objective statement, take time to read the paragraph aloud. This is a winning formula if it sounds conversational and includes those crucial action verbs.
Here are some specific tips to consider.
Write your bank teller resume to the specific company you are applying to. If you submit multiple resumes, edit the first sentence to reflect the financial institution (like our sample bank teller resume shows).
Read it aloud before completing this section. Remember, you want the hiring manager to be engaged while reading the first part of your resume. So - make sure it reads well.
Edit before you send it. The resume objective is a paragraph. As such, you need to edit this for grammatical errors.
Section #3 - Work Experience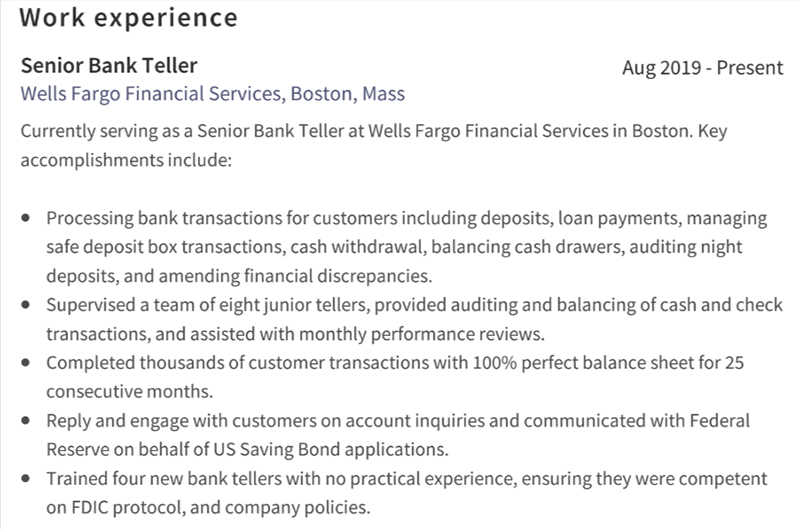 Practical work history is another essential qualification for bank tellers. Having experience with banking procedures, laws, and emergency response situations is a quick way of having your resume stand out. Some of the automated software solutions used with hiring programs will forward some resumes of candidates with previous bank employment.
Like any other resume, you should strive to list at least three previous jobs that are relevant to the industry you're trying to join. This may include previous cashier positions (primarily if you served in a supervisory role). Pertinent other jobs for bank tellers include exceptional customer service skills, accounting, processing transactions, and cash management.
How to Format the Work Experience Section
If you have three previous bank teller jobs, list them in order – from your most current to the latest (in reverse chronological order). As you likely know (if you're experienced in banking), your background (including financial credit reports and previous employment) will be verified before being hired. It is crucial that all information you list in the work history section is 100 percent accurate. A minor error in this section that does not add up with facts can usually disqualify a candidate.
Here are a few critical items to remember:
List the company name, location, and dates of employment.
List a few bullet points of achievements you've completed during your time with each position. This is an excellent opportunity to highlight those action verbs we discussed earlier.
Keep those bullet points short – no longer than one sentence.
Section #4 - Education 

As technology advances, many financial institutions have begun to increase their required education for entry-level bank teller positions. Most bank teller positions require a high school diploma. The key is to verify with the job posting to determine what level of education is needed. If a position requires a college education, make sure to list this – along with your high school. If the job is a high school degree only – there is no need to add your middle school – and so forth.
How to Format the Education Section
When formatting the education section, it should be documented as such.
List the name of your school, the location, dates of graduation (or current enrollment), and the degree earned.
It's always best to begin with your highest level of education (especially if you are currently enrolled in secondary education, and your declared major is relevant to the financial industry.
Section #5 – Skills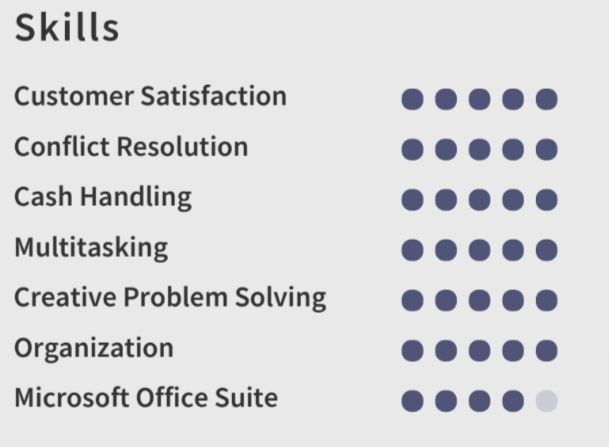 Two types of skills should be taken under consideration when writing a bank teller's resume. A hard skill you've learned helps you become a better bank teller. An example of a few relevant hard skills for bank tellers would include cash management, accounting, computer skills, and comprehension of fiscal regulations.
Soft skills are interpersonal – meaning they help you work with fellow employees or customers. These skills would include conflict management, time management, multitasking, and strong communication skills.
How to Format this Section
There are two places you can list your skills on a bank teller resume. The most common is to list your top 7 to 10 skills in bullet point format directly related to the banking industry. Some of the best bank teller resume templates will permit you to list the competency of your skill – such as listing if you're an expert, experienced, or familiar.
Section #6 – References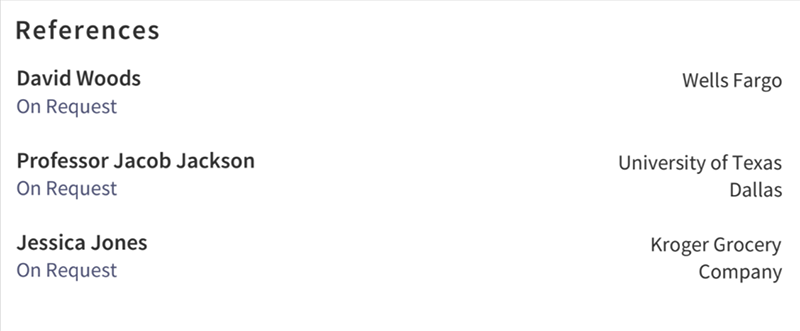 Every potential bank teller will undergo a credit and criminal background check. It's a requirement of FDIC-approved financial institutions. As such, you'll want to select personal and professional references who will vouch for the information you've stated on the application and resume.
References are going to be contacted by most banks' HR departments. It's a good idea to pick two professional and one personal. The professional reference will speak to your work ethic, accountability, and trustworthiness. Personal references are generally character witnesses.
How to Format this Section
References should be listed with their first and last name, their current or previous employer (that aligns with work history or education), and a statement that says, "upon request." This will be their contact information.
For their privacy, it's not a good idea to list your reference phone or email address in your professional resume. If you get to a point where the employer will contact the reference, make sure you have their up-to-date information to supply the employer.
Final Points on Writing a Good Resume for Bank Tellers 
Several banks work with HR firms or hiring agencies to weed through their pool of applicants. However, if you have a good work history, a proven work ethic, and trustworthiness, you might find an opportunity in the banking industry.
The key to standing out amongst the pool of candidates is focusing on the minor details that HR managers are trained to discover in applications, a cover letter, and a resume. The information above will serve as an outline on how to format and write each section. However, here is a recap of the important tips for writing bank teller resumes if you prefer.
Take time to outline each section of your resume using the master resume.
Use a black font on a clean white background document.
Don't be afraid to review other bank teller resume samples.
Write your resume objective like an elevator pitch.
List your work experience in reverse chronological order – and only practical work history.
List at least two professional and one personal reference.
When you've listed everything mentioned above, copy and paste the content and place it in a Word doc or run it through a spelling/grammar checking website like Grammerly.com.
When you've completed your resume, consider using a resume template that will permit you to copy and paste the content into the formatting tool. The best bank teller resume templates allow each candidate to customize theirs to suit their personality or the company they intend on working with.