Law Clerk Resume Sample, Example & How to Write Tips 2023
The career path to becoming a lawyer often starts with a successful internship. For most legal candidates, this begins with taking on a law clerk position with an established law firm, a judge, or with a private attorney. While this job is one of the easier to obtain, landing the right law clerk position can significantly help accelerate your legal career once you pass the bar exam. As such, writing a stunning and engaging law clerk resume should be a top priority for any candidate.
A law clerk position is typically awarded to a candidate who has the right experience, education, is not afraid of legal research, can draft memoranda, and passion that fits the culture of the firm they apply to. Nevertheless, before you have a chance to dazzle the hiring manager during an interview, you've got to make an impression with the resume.
The problem most law students struggle with is learning how to write and structure their law clerk resumes. Should they use a judicial clerk resume template – or is it best to free form the resume for maximum impact? What is a law clerk resume description, and how can you ensure to hit every key point within the document? Are there good law clerk resume samples that they can review to provide a roadmap? And arguably most important, are there items that must be on a resume for a law clerk?
These are all questions we'll answer in the information below.
In this article, we'll dive deep into the best practices for writing and structuring a law clerk's resume. You'll have a chance to review a professionally written law clerk resume, for our candidate Brett Jones. Further, we'll explain how to tackle this project, so you can save time – without compromising quality.
Let's get started.
Law Clerk Resume Sample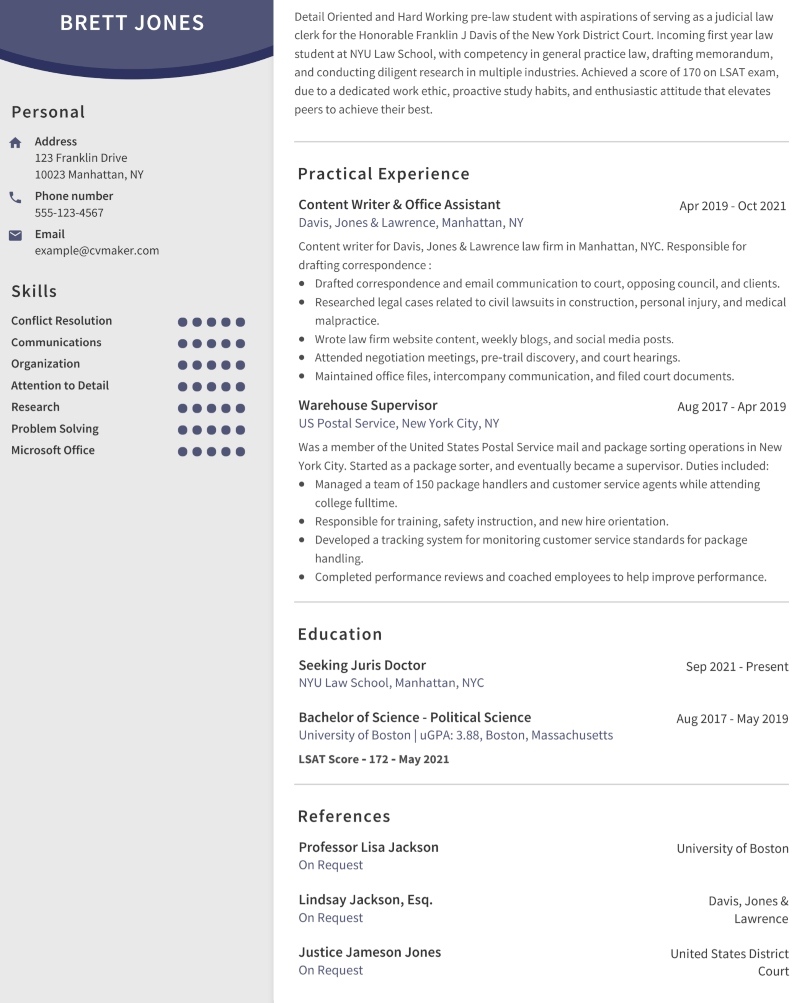 A law clerk is going to learn a lot about being an attorney. They will become proficient at drafting legal briefs, pleadings, attending depositions, and gain practical work experience. They'll get a chance to review case law, attend court proceedings, and in some positions, learn civil litigation procedures. The candidate will either work for a judge or in a busy law office.
You'll find it easier to tackle any project when you can review a real-world sample. Since we want you to succeed when planning your legal clerk resume, we've provided you with a professional legal clerk resume sample. While this sample resume for a law clerk looks simple enough, there was a lot of structure, organization, and thought that went into developing the finished product.
Take some time to review the legal clerk job description resume below. As you do, take note of the resume's structure, flow, tone, and attention to detail with each section.
As you can see, in our candidate Brett has written a federal law clerk resume for a Judge sitting on the District Court in New York. This document is organized, well-structured, easy to read, and articulates clearly why he is the ideal candidate to assume this clerk position. His resume for law clerk starts with a professional summary that outlines his qualifications, strengths, and key interpersonal skills that will permit him to provide value to the judge's office.
Further within the resume, he provides a few practical samples of previous jobs that shows his leadership abilities, ability to multitask, and complete tasks on time. Within the education section, he provides his current school, the results of his LSAT exams, and the law school he has been accepted to for the upcoming semester.
How to Write a Good Legal Clerk Resume: Tips that Work
It's common for pre-law school students to apply for clerk positions – which is essentially an internship under the direction of a judge or lawyers. However, it's commonly misunderstood what law clerk duties include. To expedite this information, here is a general law clerk job description for resume writing.
A legal clerk is a law student who works for a law firm, individual attorney, or judge. Their job is to help their supervising legal professional with research to help them formulate legal briefs, opinions, or to create a prosecution or defense. They likewise help the lawyer or judge to draft legal orders, write opinions, or prepare legal documents. These law clerk resume duties should be mentioned in your final submission.
Now that you understand what is entailed in becoming a legal or judicial clerk, it should be easier to organize and write a stunning resume. Like any other project, a well-written law clerk resume will begin with an outline. We call this a master resume, which serves as a working document that can be added, edited, fine-tuned, and structured with ease.
A resume for a legal clerk must be concise, well-organized, and easy to follow. You have to have a good understanding of legal issues, and comprehend technical terms including interrogatories, appellate briefs, discovery requests, intellectual property, and legal memoranda. Remember - you're applying for a legal assistant position, but you'll learn from an experienced paralegal, and likely junior attorneys.
Although different firms or courts may require specific information to be included on your resume, these sections should always be added.
Personal contact information
Professional Summary
Work History
Education
References
Section #1 – List Your Contact Information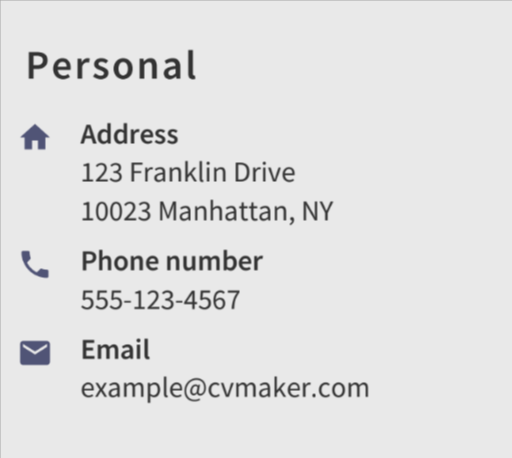 Whether you're looking to learn family law, personal injury, criminal cases, or compile vital experience with business law, the first step is to create a resume. Every attorney, regardless of their specialty or area of practice, must possess exceptional attention to detail. In fact, the resume submitted for their first law clerk position is the first opportunity to showcase this crucial skill.
For prospective civil or criminal law employers to schedule an interview, they must have the correct contact information. It's recommended to include your complete legal name, mailing address, email, and a mobile phone that has SMS text services. It's also suggested that your mobile device should be connected to your email – with a professional signature line included. This will permit you to quickly reply to inquiries submitted by potential hiring firms.
How to Format This Section
Most law clerk resume templates provide you the flexibility to format to fit your taste or to match your brand. As such, using such a template will significantly reduce the frustration of trying to perfectly format each line.
For those not using a template, keep it simple and clean. Don't worry about including your LinkedIn links – especially if it's a PDF document. If the hiring agency or firm asks – provide them with the direct link to social media profiles.
Section #2 – Professional Summary 

Most job candidates consider the professional summary as the hardest to write. The main reason for the trepidation is simply put – overthinking this section. The purpose of this section is to explain why the candidate has the right experience or skills to succeed with law clerk resume duties they plan on assuming.
Consider the professional summary as your opening statement in court. You need to clearly articulate why the intended audience should support your case. With a resume, the goal is to convince the recipient to contact you for that critical interview. It's important to include the relevant skills and attributes that the best judicial law clerk candidates possess.
Some of these skills include:
A general understanding of legal statutes, subpoenas, and trial preparation.
Strong oral and written communication skills
Attention to detail and strong research skills
An ability to maintain discretion with private or sensitive information.
The ability to work without direct supervision
How to Format this Section
Resume writing best practices suggest that a professional summary should be no longer than 200 words – or 4 to 5 sentences. Make sure to write this section with a professional – yet conversational tone, including those crucial action verbs – which enhance your hard and soft skills. Think of this section as a short elevator pitch to support your job search.
Section #3 – Work Experience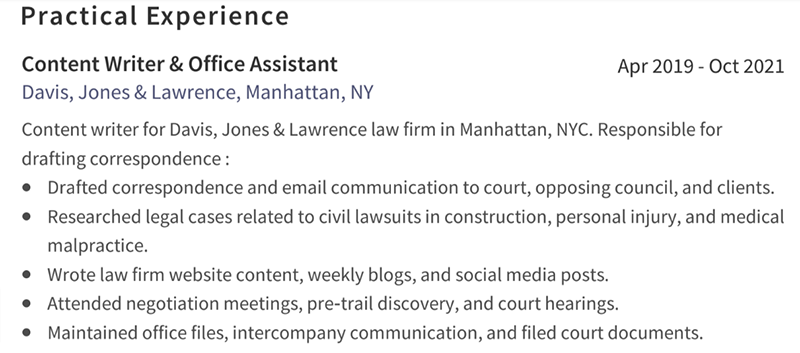 When you look at a resume of an experienced attorney, the first job on the document is typically their first legal intern or law clerk position. In fact, it's quite possible that you have not held many jobs during college or prior. It's due to this fact, that many law clerk candidates struggle to find previous jobs to list on the resume.
If this is the case, don't worry about that – in fact, skip this section. If you'd like to be creative, consider renaming this section Relevant Experience. At that point, you can list previously held positions – such as volunteer work, where you've completed some of the required tasks of a legal clerk. However, if you have a work history, and it's relevant to being a law clerk – this is where you want to showcase those positions.
How to Format this Section
The employment history or relevant experience section should be written in a reverse-chronological format. This means – start with your most recent position and continuing with previous jobs in order. Best practices suggest listing the name of the employer, its location, job title, the dates of employment and providing a few bullet points of key accomplishments.
Section #4 – Education

The great thing about becoming a law clerk is you can apply for positions without actively being in law school. In fact, it's common for many legal clerks to serve in smaller firms during summer breaks while earning their undergraduate or bachelor's degree.
Regardless of where you are actively enrolled in school, the critical detail to remember is to list your current educational status. If you're in-between undergraduate and law school, it's suggested to list both.
How to Format This Section
In the case, you're getting ready to attend law school, start with this entry in the education section. You'll want to list the start date of enrollment – and indicate it's your current educational location. It's a great idea to list your LSAT exam scores – as it will show you as a dedicated law clerk candidate.
*Bonus Tip – If you currently attend a college or law school at the same location as a judge or one an attorney at the firm you are applying to – make sure to document this in the education section. Many experienced attorneys prefer to work with like-minded individuals.
Section #5 – References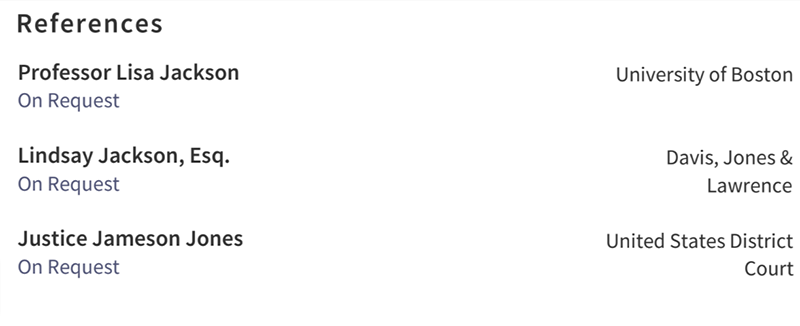 If there is an entry-level legal position where having the right references makes a difference, it's applying for a law clerk job. Since it's likely that you don't have a lot of practical work history, you'll benefit from references who can vouch for your ability to serve as a clerk.
All references included must be aware that you are using them in an application resume. Always ask them for a letter of recommendation, which you can add to the application when you initially apply.
How to Format This Section
Best practices for references on any legal resume are to include the individual name and their place of employment. For privacy reasons, you don't want to document their contact information on a resume. Simply write "available on request" on the resume.
Section #6 – Skills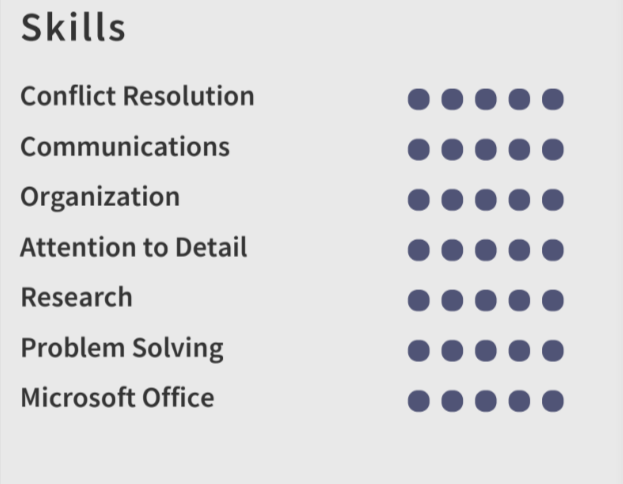 The skills section is often added to the sidebar of a resume. This is simplified when you utilize a professional legal clerk resume template. Within this section, you'll want to list the hard and soft skills you possess that will help you succeed as a legal clerk.
Some of these skills include strong researching skills, attention to detail, analytical thinking, communication skills, document review, writing skills, and experience with technical software such as PowerPoint, Excel, Adobe Suite, and Word or Apple software solutions.
How to Format This Section
Use a resume builder or template to help you format the skills section. While many consider them an afterthought or optional section, listing these skills will help – especially if the hiring firm uses automated software that searches for key terms.
Other Legal Resume Templates
It's always a great idea to review other legal industry resumes to get an idea of how they are written and formatted. We've taken time to collect multiple resumes from lawyers, law school students, and specific legal specialties. Take time to review some law clerk resume examples or some of the links below, so you can gain valuable insight into how professional resumes are written.
Final Points on Writing Successful Judicial Law Clerk Resumes 
While having good grades, a solid work ethic, and relevant work history is crucial to obtaining a job, a legal clerk position is often achieved based on the strength of the candidate's resume. A legal clerk's resume should be short, well-written, and flow from start to finish. You need to build a case, explaining why you'd be an exceptional and trustworthy law clerk, and support that with evidence through the resume. It should also be supported by a cover letter.
Always remember – your law clerk resume should be customized for each application you submit. This can be done in the professional summary – just as our sample law clerk resume showcases.
Here are some additional critical tips to remember.
Proofread the resume aloud to make sure what you've written sounds natural and articulate.
Make sure the resume has a smooth flow. Each section should lead to the next.
Always write your resume on a plain white background with black font.
Edit the document SEVERAL TIMES – through Grammarly.com and visual inspection.
Finally, have a few peers review your law clerk resume.
Once all details have been wrapped up, feel free to paste the content into a legal clerk resume template.
Remember, it takes time to write a resume – and it should. The resume you build can make or break your opportunity to obtain the perfect job. Consider sprinkling those action verbs throughout your resume (for software optimization), and don't be afraid to seek input from experienced attorneys.