How to Write an Academic Resume in 2023: Full Guide to Successful Academic Resumes
You might be asking how to make an academic resume and that's a good place to start. The reality is that first, you need to think "what is an academic resume?" It's going to be slightly different from resumes for other jobs. As someone who is looking to work in an educational and research setting, some of the things that are prioritized on an academic resume will differ from a resume for a computer science or retail job.
We mentioned that the job description is important and that's true. You want to use the description to consider the keywords you want to include on your academic resume. As you fill in integral sections like your educational background and any honors you've had in the past, using words in the description will make you stand out.
Another common question is what does an academic resume look like? Well, the truth is that the resume format can differ from other jobs. Rather than focusing on a one page document as you might for other jobs, academic resumes can be multiple pages. Some people tack on all sorts of details and have long CVs or an academic resume for a high school or university.
Many people call an academic resume a curriculum vitae (or CV). This means it's more comprehensive and can go into more detail about your experience. At the same time, it's not unheard of to go with something shorter as long as it provides the needed information. Keep in mind that awards, grants and fellowships, teaching experience, and associations are all things to include.
Section #1: Personal Information
The first thing you want to start with in resume writing is your contact information. This is an easy place to begin since it's all information that you can easily jot down. The other reason to start here first is because it will either be the header for the entire resume or an important part of the sidebar that a committee will use if they decide to contact you about the job.
While you might be ready to start getting into your passions in academia, you'll have to hold back for a short minute. The next section will let you start going wild sharing what you love about academics and research. For now, you want to give the person looking at the resume an idea of who you are and how to reach you in the future.
Personal Information Example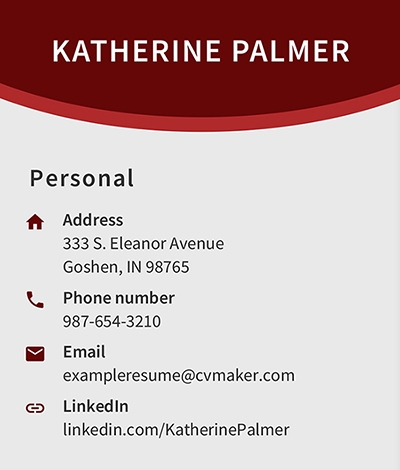 You can see in the image above that the personal information section is short, sweet, and easy to read. You'll have your name as well as your mailing address attached. In addition, it's expected that you provide several ways to contact you, one of which should be a phone number.
Adding social media links, such as your profile on LinkedIn isn't mandatory, but the applicant here has chosen to include it. It's a matter of preference unless the educational institution requests it.
How to Format This Section
It doesn't matter too much how you format this part, as long as it's simple to read. Start with your name and address and include at least two forms of contact information below. In addition to your phone number, an email address is recommended.
Any other information you wish to include will go below that. Make sure it's easy to read with a font color that doesn't blend in with the background. Otherwise, a short list or a banner will have you ready to move on to the next section of your academic resume.
Section #2: Resume Objective
When you envision the perfect resume, it has to include a resume objective. However, in some cases, the name will differ. For instance, some prefer to call this section a "personal profile" or "research objective." Regardless of the title, it will largely contain the same information. This is a short paragraph where you give information about yourself and your research or academic plans.
Those who are focusing on research will have a document about research goals. That doesn't mean you don't need to get this section right. You'll need to go over everything again. In most cases, the committee looking at an academic resume looks at it before the other documents.
Resume Objective for a No Experience Academic Resume

For those who are looking for an entry-level position, you might not have as many achievements to list here. However, you can still make yourself look like a great candidate by considering extracurricular activities like community service or internships. Put in information about the education you have and why you'd be great in an academic position.
Resume Objective for an Experienced Academic Resume

For an academic experience resume, you have plenty to choose from. Focus on the things that are your biggest achievements or most pertinent research topics to fill out the academic summary template. Research is most important if you are focusing solely on that. Go with a personal profile if you want a permanent position at a specific institution.
How to Format This Section
The main thing to be aware of is that you can't make this section overly long. It needs to be about two to four sentences. Going beyond that may make it too wordy, and it could end up being left half-read. That will cut your chances of moving forward. Pack in action verbs and quantify your achievements to show that you are the right person for the position that you want.
Section #3: Education
After you get your resume objective ready, your next step is to work on the education section. This is an essential part of the professional document for academic fields. It goes higher on the page than work experience because your degrees are a huge part of the hiring decision. As such, you want to be sure you include all of them beyond high school.
Your academic background and affiliations can play a huge part in moving forward with a committee, so take time to add all the requisite information here. You want to include all your degrees in reverse chronological order, so start with the last one you received and go backward. If you have certifications, those can also be added here.
Education Example

You can get an idea of what to go for by looking at the image above. You see the Ph.D. followed by grad school information and then the bachelor. There's no superfluous information like GPA or classes listed. However, it's a matter of taste. Those who have less experience might want to include additional details here beyond what you see in the example for this guide.
How to Format This Section
Hiring managers expect this to be formatted to be easy to understand. Place the dates when you got your degrees, what kind of degrees you have, and your major. Adding in the department and institution is also essential for this section. If you have honors or want to include your thesis and dissertation advisors, that's allowed, but it isn't a mandatory part of the academic resume.
Section #4: Professional Work Experience
For those who have had professional experience or any teaching experience, this is where you include details about that. This can either be placed in a single section for professional experience, or the teaching experience can be pulled out and placed in its own section. It's a matter of what works for you. The purpose of this section is to offer information on what institutions you've done work for in the past.
This is where you will include what you did, where you did it, and when you did it. After that, you want to include a description of what you did. This can be done in several ways depending on the formatting you find works best for you. Make sure the most important information is there to make you a better candidate.
Professional Work Experience Example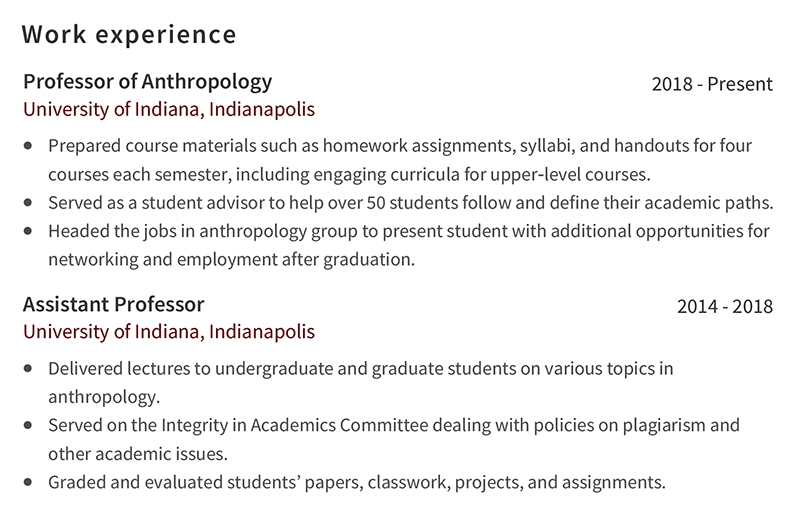 This sample gives you an idea of how to set up your work experience section when you are on the job search. Whether you've been a research assistant, a teacher's assistant, or a full-fledged professor, this section is essential. It falls below the education section only because you're looking for academic work with this resume. Note how things are set up above to ensure you include everything needed.
How to Format This Section
Research experience, research projects, and more can be expounded on in the work experience section. Anything that you're proud of or did on a regular basis at past positions should be included here. You want to start with headings that show the institution and when you worked there. Then you can use bullet points to include your responsibilities.
Reverse chronological order is recommended here, so start with the last job you held. You also have a choice. If you don't like the look of a bulleted list, it isn't required for an academic resume. The CV can instead have a short paragraph that goes into details about what you did at past jobs. This gives you a little more creative license than resumes for other jobs.
Section #5: Publications
With a professional resume for an academic position, you want to share more than how many years of experience you have. You'll also want to include things like publications. This is one of the sections you likely won't see on resumes for other industries. It's something that is specific to academic work.
For those who don't have publications, this section can be omitted or replaced. Adding grants and fellowships, honors and awards, and even conferences can be done for a great academic resume. It's a matter of what you want to highlight. Some choose to include all these things since this resume can be more comprehensive.
Publications Example

In this academic resume example, you can see a basic publication section. In this case, the person applying has only one publication, but it is a large work. You may have several publications, and they might run the gamut from contributions to edited volumes to books and peer-reviewed journal articles to book chapters. If you had a hand in writing something that was published, this is where you want to include it.
How to Format This Section
The formatting doesn't need to be fancy here. Simply make sure you stick to a single bibliography style. You can go with Chicago, APA, or MLA, depending on your industry and preferences. If the institution you are applying for has a specific citation style, it's often a good idea to go with that. Otherwise, make a list of your publications and use a legible font, so it's easy to get more information about your achievements.
Section #6: Skills
It's time to move on and look at skills. You may be wondering, "What are academic skills examples?" There are a variety of them, depending on where you are applying. For instance, classroom management, knowledge of new teaching technology, research abilities, experience with grading, and fluency with public speaking are just a few.
However, as you might guess, the keywords you pull from the job description will often be the best items to add to your list of skills. The skills that are noted as required or helpful are those that you want to include as you fill out this list. That's going to vary based on the specific position.
Skills Example

As you look at examples of academic resumes, you'll see how others set up their skills section. You may notice technical skills, soft skills, education skills, and more. This resume has four skills but don't be afraid to include additional on your own. Academic resumes are more robust than other resumes, so there's nothing wrong with a list of skills.
How to Format This Section
When you format the skills section, the layout can go several ways. However, the main purpose is to be clear and show what you are capable of doing. This is how you end up with an interview and move forward in the process. The idea is to list out your skills but also show how proficient you are at them. Both of those pieces need to be in place, and you'll be ready to move on.
Section #7: References
We recommend including a set of three to five references on any resume. This is even more important for an academic resume. Your references can make or break the document. The right person listed as a reference could be just what you need to be invited in for a visit and interview. Once that happens, you're that much closer to getting the job you desire.
References Example

You can see in the example above that there are three references included. This might be the last resume section you are creating, but it still has to be done right. In this case, all of the references are from past places of employment except one, which is from a past educational institution the job seeker attended.
Depending on your level of experience, you can go with this or choose to have more of the references made up of people from college or the community. You'll typically want to have no more than five references, but if the application calls for something else, make sure you follow the instructions.
How to Format This Section
After a lot of formatting work for the other sections, you may be glad to know that this one is simple. The best method to go with is including the reference's name, where they work, and then noting that their contact information can be provided upon request.
You can also choose to simply have a reference section that says all the information is available on request. This doesn't give a lot of information to the hiring manager, however. The third option is to include all information, including emails and phone numbers. However, this isn't recommended as it gives anyone who sees the resume private information about the references.
Related Resume Templates
While this guide offers a single academic resume template designed specifically for work in academia, this isn't your only choice. There are a variety of other options that can be used as an educational resume template. Simply make any needed changes, add in your own information, and download the resume for use.
· Beginning & New Teacher Resume
After you find and fill out a resume template, make sure to read over it for any misspellings, typos, or other problems. For an extra thorough job, consider using a program like Grammarly to catch the things you don't. While a single mistake may not put you out of the running, it can make it seem as if you didn't take enough time to shine your academic resume before turning it in.
Final Points on Academic Resumes
Now that you have the best resume you can turn in, you're almost ready to get that application turned in. However, you also want to consider the other application documents, like the cover letter. Creating a cover letter that matches your academic CV template will give you a better chance to stand out. Once all the documents you need are ready, send them in, and be at peace that you did the best you possibly could.