Preschool Teacher Resume Examples & How to Write Guide 2023
Every job search begins with a resume, and a well-crafted one can be the difference between making a good first impression or a bad one. As a preschool teacher, an excellent resume is essential to show that you can care for and teach for little ones. Classroom management, promoting child development and a positive learning environment are all areas that should shine through past experience of your resume.
Any resume should provide enough information for an employer to see that you're a good fit for their open position. However, an excellent preschool teacher resume can help you stand out from other candidates, even with the same experience.
This article covers all the information you need to write a preschool teacher resume that makes your unique perspective shine. Beginning with initial formatting considerations, we go through every section you may want to include in detail. You'll also find sample resumes to help you get started in writing your own.
Preschool Teacher Resume
When you're writing your resume, it's beneficial to begin with a sample resume for a preschool teacher rather than from scratch. Preschool teacher resume samples can help you with initial formatting considerations. You can also use other preschool teacher resumes to develop the right words to describe your own unique experience.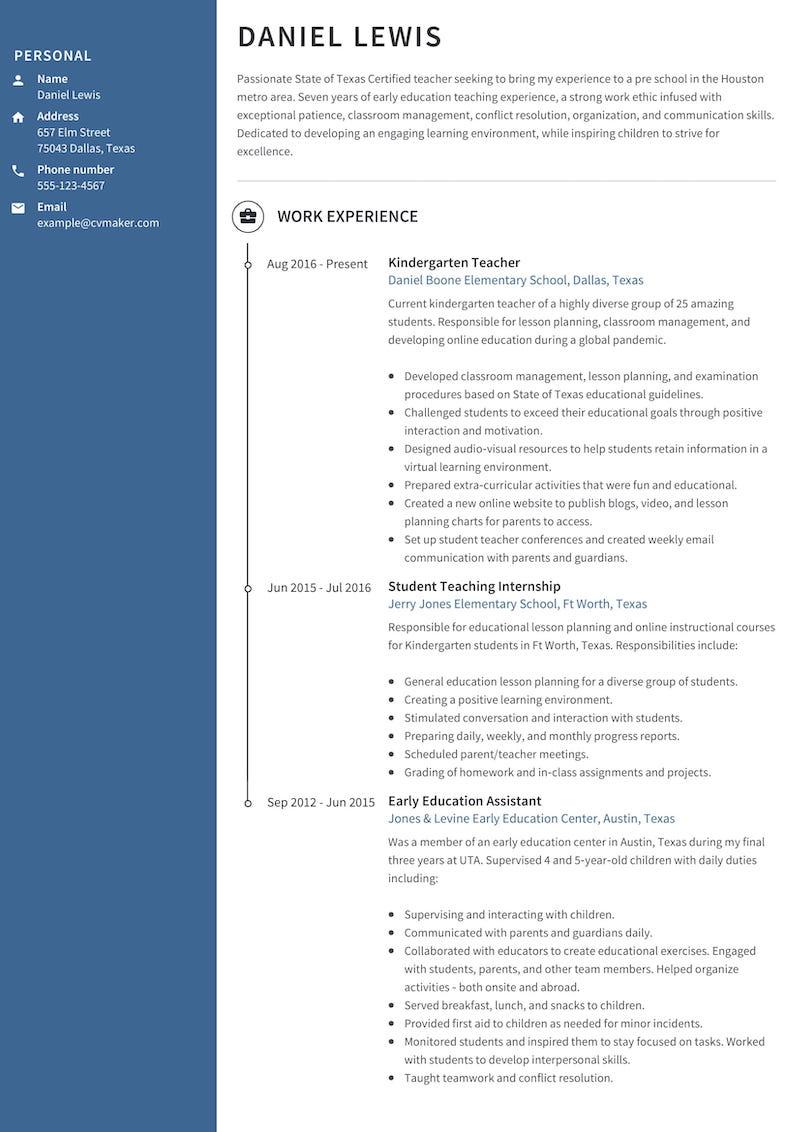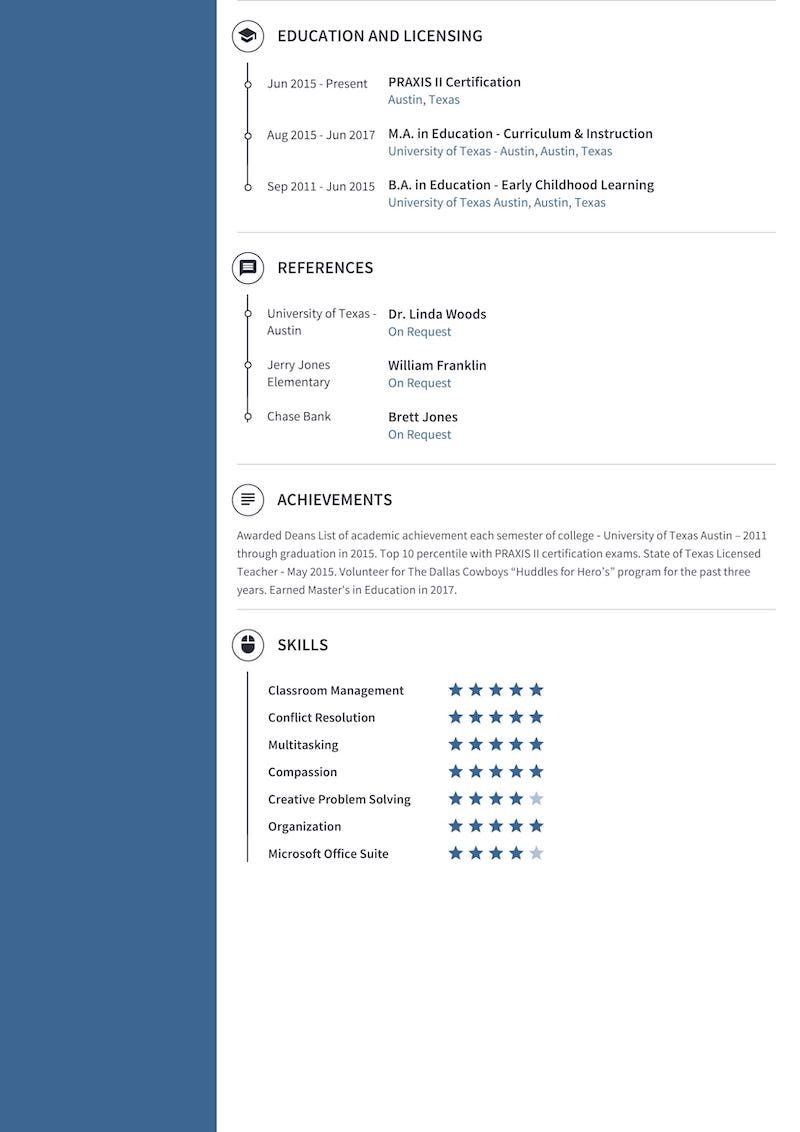 Download this resume example - Preschool teacher
Preschool Resume Guide 2023: How to Write a Good Resume for Preschool Teachers
Writing a good early childhood teacher resume begins with writing an excellent general resume. In this section, we'll cover the essential characteristics of a good resume. Then, we'll show you how to tailor your toddler teacher resume to show what a perfect candidate you are for a particular position.
Overall Resume Structure
Before you even decide whether to start with a premade preschool teacher resume template or build your own from scratch, consider the overall format of your resume. Depending on your education and work experience, you may want to use a chronological resume format, a functional resume format, or a hybrid format.
Chronological Format
The most traditional early childhood teacher resume format is the chronological format. If you've been working in childhood education for a while or a new graduate, this format will likely suit you best. A chronological resume for preschool teachers would feature their teaching experience chronologically, starting with the most recent position and working backward.
Under each position, you would then list your critical skills and responsibilities in that role. This format is great at showing a progression in job titles, skills, and responsibilities, so it works best for those who have held a couple of education titles in their career. If, on the other hand, your career path has been less traditional, the chronological format may feel limiting.
Functional Format
If your non-education career experience has provided you with skills relevant to a toddler teacher resume, you can use a functional resume format to emphasize these skills. Under this structure, you would begin with your relevant skills, followed by examples of roles and responsibilities that demonstrate those skills.
For example, while your previous secretarial experience may not have earned you many applicable skills, your volunteer youth volleyball coaching certainly has. This resume format lets you emphasize all of the hard and soft skills that make your pre-k teacher resume stand out from the others, even if your work experience doesn't.
Hybrid Format
If you can't decide between a chronological early childhood resume and a functional resume, you likely have many relevant skills and career experience that you want to demonstrate. In that case, you can combine both formats into a hybrid resume format that lets your big picture shine.
These preschool resumes are often lengthy, which can be controversial, so if you choose this format, make sure you have the skills and experience to back it up. If you have advanced degrees, published work, extensive experience, or awards, including both a functional and chronological resume will help you showcase your excellence.
No matter what resume format you choose, your pre-kindergarten teacher resume must include certain key elements to be truly effective. The following sections will go over these elements in detail to help you put your best professional foot forward.
Personal Information
This section should include everything an interested employer would need to contact you. Include your full name, telephone number, and email address, at a minimum. You should also include your home (or business) address unless you're posting your resume publicly.
Be sure to keep this information up to date if you move, change phone numbers, or start using a new email address. If you send a resume to an employer with out-of-date contact information, you'll have no way of knowing whether they ever try to get in touch with you. Make it a habit to review this section carefully every time you send a resume to correct it.
How to Format This Section
When it comes to the Personal Information section of your preschool teacher resume, it's best to keep it simple. You can get a bit creative with font size, justification, capitalization, and spacing, but don't go overboard. Many employers use a resume reading program to do the first scan of your resume, and excessive formatting may cause these programs to misread your information.
Begin with your name, preferably on a line by itself, in a larger font than the rest of your resume. Next, add your phone number and email address, with a separating mark in between. Finally, your address can be on a separate line as well if you choose to include it. The only way you can go wrong with this section's formatting is by doing too much.
Preschool Teacher Resume Objective
Many job seekers make the mistake of crafting a preschool teacher resume objective statement that simply describes the job or career they want for themselves. Don't fall into this trap. Your objective statement is essentially your elevator pitch to the person reading your resume, so you want it to grab their attention and show that you're the perfect candidate for the position.
Your early childhood education resume objective should clearly and concisely demonstrate what you intend to bring to your role as a preschool teacher. Remember, the person reading your resume wants to know what you can offer them, not what they can provide you with. A resume objective that only tells the employer what you want is likely to fall flat.
How to Format This Section
Think of this section as the personal ad for your resume, as in, "X seeking Y for Z." Begin with a brief description of your skills and experience, followed by what you hope to bring to the position. Finally, explain where this position fits on your long-term path of professional and personal development.
The first half of your first sentence should state who you are, generally by describing your experience, whether you're a new graduate or long-term educator. The second half should briefly name your essential skills. If possible, use language from the job duties of the job you're applying for. This will help you stand out from other candidates who use more generic language.
Finally, you can explain what you hope this role will do for you on your long-term career journey. Generally, employers aren't concerned about where you're going. But if you can show that you're motivated to perform well in this role, it may earn you some bonus points in the hiring process.
Professional Work Experience
If you have any kind of professional experience working with young children - as a babysitter, nanny, coach, or teacher, for example - this is your opportunity to highlight it. This section of your pre-k teacher resume skills shows that you can do the job by showing that you have done the job.
Your experience as a preschool teacher is one of the first things a potential employer is likely to look at on your resume. Professional experience isn't the only thing that indicates whether you're qualified for a given position, though.
If you're a new graduate or changing industries, don't worry if this section is a little thin. You can include unrelated jobs here, highlighting the related skills that you gained from those roles. Or you can use a functional resume that emphasizes your skills over your work experience.
How to Format This Section
If your preschool teacher resume sample is formatted chronologically, the Professional Experience section should be the focus. In that case, this section should follow immediately after your objective statement and take up the majority of your resume.
Begin by listing each job title and company name, followed by dates of employment, in reverse-chronological order. Start with your most recent (or current) position, and work your way back. If you have a long work history, it's okay to leave out old and/or irrelevant positions, but try to avoid the appearance of significant gaps in your history.
Under each position, add a bulleted list of applicable job duties, skills, accomplishments, awards, and other relevant information about your time in that position. Remember to keep it relevant, though. Unless you can apply a skill or prior job duty to your role as a preschool teacher, leave it off.
If, on the other hand, you're formatting your resume functionally because you're changing industries, for example, this section will be brief. All you need to include is the name of the company, your position, and your dates of employment. If you want to highlight skills, certifications, or other details of your work experience, add them to your Skills and Certifications sections instead.
Education
The Education section of your early childhood resume should clearly and concisely demonstrate that you meet the minimum education requirements for the job. This section will vary depending on the particular type of position you're applying for and whether your role requires special teaching or child care education background.
An entry-level childcare role, for example, may only require a high school diploma, while higher levels of early childhood education administration may demand advanced degrees. In any event, this section tends to be brief, formulaic, and clinical. You will have the opportunity later to elaborate on the skills, coursework, and specializations you may have.
How to Format This Section
Your education section should include:
Institution name
Institution city, state (and country, if applicable)
Graduation date (month and year - the exact date isn't necessary)
It's unnecessary to include your high school's information unless you did not attend school beyond high school. However, if this is the case, you can take this opportunity to go into more detail about your school extracurriculars, including sports, arts, and jobs. While this section is generally very brief, you can choose to highlight your education if it's one of your most significant advantages.
Similarly, you should leave out your GPA unless it was above 3.0/4.0. If, on the other hand,  you received any awards, honors, and accolades, such as Dean's List recognition, or participated in any significant student organizations or athletics, you can include that in this section as well.
Skills
While employment history and education are important indicators of your competency as a childhood educator, nothing demonstrates your abilities more than your skills. This section indicates that you know both the theory and practical aspects of childhood education. What you include here shows how you're different from other candidates with similar backgrounds.
Here, you'll want to include both hard skills and soft skills to create a well-rounded professional profile. Hard skills, specific, measurable, and often formally taught, include early childhood development, CPR, and other certifications and awards. For a preschool resume, however, soft skills, like problem-solving, empathy, playfulness, and eagerness to learn,  are arguably more important.
How to Format This Section
The specific organization of this section is going to depend on whether your preschool teacher skills resume is structured chronologically or functionally. In a chronological resume, you'll list some skills under the relevant piece of employment history, preferably using concrete examples, such as awards and projects involving those skills.
In both chronological and hybrid format resumes, however, you'll also want a separate skills section. Here, you'll provide a bulleted list of skills and how they make you the best candidate for the position. As always, be creative! "Plays drums and clarinet" doesn't carry the same weight as "Able to bring lessons to life through the use of musical instruments, including drums and clarinet."
In a functional resume, the skills section will be the primary organization scheme of your daycare teacher resume. Begin listing your relevant skills without fluff, then list bulleted examples that demonstrate those skills below. Make every skill relevant to the preschool teacher job description for your resume. For example:
Arts & Crafts
Skilled in paper crafting, including card making and collage
Studied therapeutic use of art in childcare settings in college
Encourages self-expression through hands-on, creative activities
Courses and Specializations
If you've taken a number of specialized courses, through your college curriculum or otherwise, highlight those here. Include any advanced degrees you've obtained, specialized coursework you've taken, or fellowships you've participated in. If you're a new graduate or changing careers, you should spend a little more time on this section.
You've already listed your education credentials. This is the place to explain why your degrees and other coursework apply to pre-k education. Include relevant courses you've taken and how the work you did for them will make you a better preschool teacher.
How to Format This Section
A bulleted list is typically most effective for this section of your resume. Under the header, list the courses, projects, and specializations that you want to highlight in your experience. If necessary, include a sentence or two about what makes that specialization relevant to the role of preschool educator.
Unless your professional experience is extremely thin, don't be tempted to include unnecessary filler here. It's better to leave this section out altogether and highlight relevant coursework under the Education section if you don't have many specializations or unique courses to put here. If, on the other hand, you've got several certifications, awards, and publications, this would be an excellent opportunity to shine a light on them.
References
Experts advise against including a References section in your resume for a couple of reasons. First, if you distribute your resume widely, you'll also be distributing your references' information, which they may not appreciate. Second, if you make it far enough in the hiring process and the hiring team wants contacts, you can provide them with a separate reference sheet. Odds are, they won't be calling references until they're very serious about hiring you, anyway.
Final Points on Preschool and Early Childhood Resumes
A well-written resume can do more than just show a prospective employer that you're qualified to teach preschool. If you take the time to tailor your resume for the position that you want, you can make yourself stand out from other candidates with your unique skills and experience.
Be descriptive, but be concise because you have a limited time to grab a potential employer's attention. You can overcome a lack of experience by using a format that emphasizes your skills and shows how you can apply your seemingly unrelated knowledge to teaching preschool. Don't be tempted to use fluff because employers see right through it.
Instead, take a moment to reflect on every element of your resume and how it shows who you are. This will help you land just the job you want.
FAQs Related to Preschool Resumes
When writing your preschool and early childhood educator resume, you may run into a few questions. Here are some of the most common questions preschool teachers ask about writing the perfect resume.
What Skills Are Needed to Become a Preschool Teacher?
Preschool teachers should enjoy working with kids and should be skilled at activities for young children. Creativity, patience, and good communication skills help teachers reach their young students in novel and unique ways. Arts and crafts, music, and basic interpersonal skills are also helpful.
How to Write a Preschool Teacher Cover Letter?
A good cover letter brings your professional resume to life, giving personality to all the facts and figures. This is your opportunity to tell a prospective employer who you are. Expand on your objective statement. Tell them what you can do for them and what the job will do for you.
How Do You Best Describe the Position of a Preschool Lead Teacher on a Resume?
A preschool teacher is an educator who specializes in the needs of young children and toddlers. They use music, art, and other creative activities to help prepare young minds for kindergarten and provide essential interpersonal skills. Lesson plans, curriculum development and organizational skills are all core parts of a preschool lead teacher's role.
What Should a Preschool Special Education Teacher Put on Their Resume?
A preschool teacher should put anything on their resume that demonstrates their ability to meet the essential duties of their role. In addition to contact information, a resume should include an educator's work experience, education, skills, and certifications. In particular, a preschool teacher resume skills section should consist of the things that make you great with children.