Product Manager Resume Sample, Example & Writing Guide 2023
As a great product manager, you can identify customer needs and blend them with larger business objectives.
You can clearly visualize product success and inspire a team to turn those visions into actuality.
The big question is, do you know what to do when the product on the line is your career?
Can you write a product manager resume that gets recruiters and hiring managers banging down doors to interview you?
If the answer to those questions has you doubting yourself – relax!
This article covers all bases.
It will have you crafting winning resumes, whether you're a new or senior product manager.
Product Manager Resume Sample
Of course, you can use your advanced Microsoft Word skills and design your own great product manager resumes.
But that's unlikely to be one of your best ideas.
Just as every sector has trends, so does hiring. The days of recruiters thumbing through vast piles of resumes are long gone.
The first look your product manager resume gets is by ATS parsing software. If it's too long or lacks critical info, you could be out in seconds.
How to get around it?
You're a team player who knows the value of cross-functional teams, right?
Follow the initiatives of successful job seekers and team up with a resume builder.
Current resume formats, various product manager resume examples, and pointers put you at the forefront of hiring practices.
You can learn a lot from looking through product management resume examples before doing your own.
Once you've got a good feel for what you want, you can choose from different resume templates.
And if you don't like the end result, you can swap the template with a single click.
We've got one of our product manager resume samples below to get you started.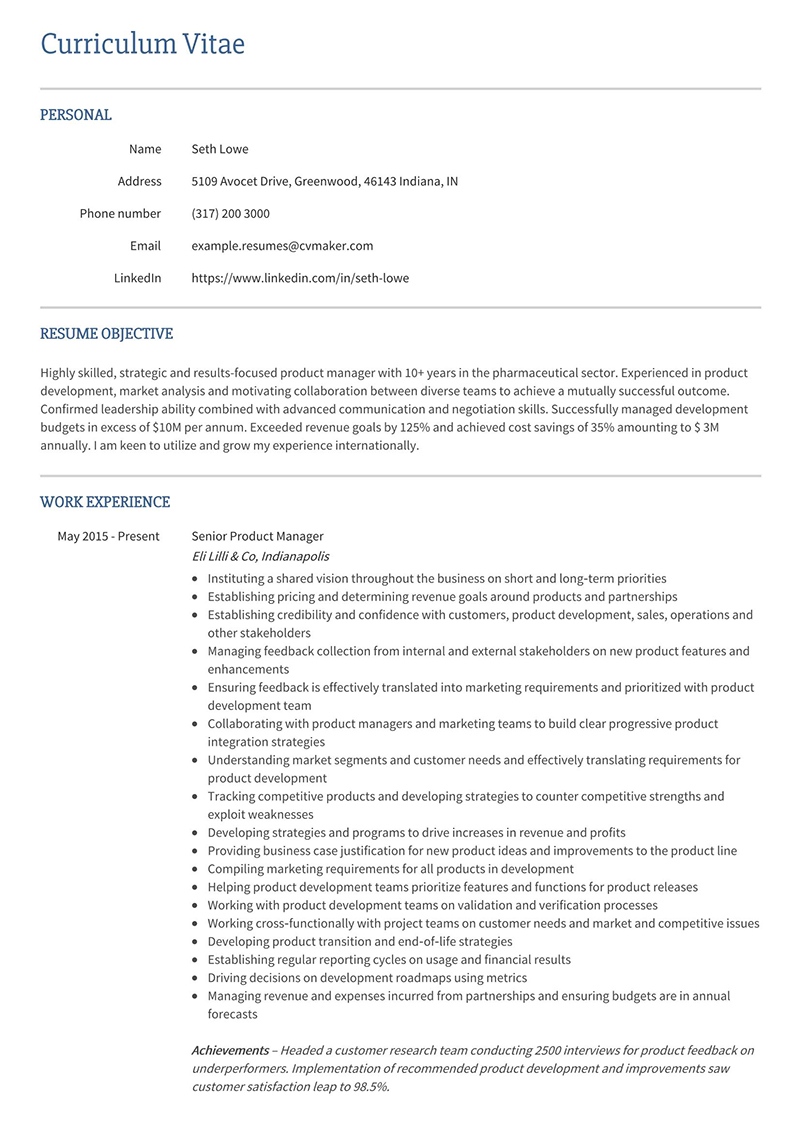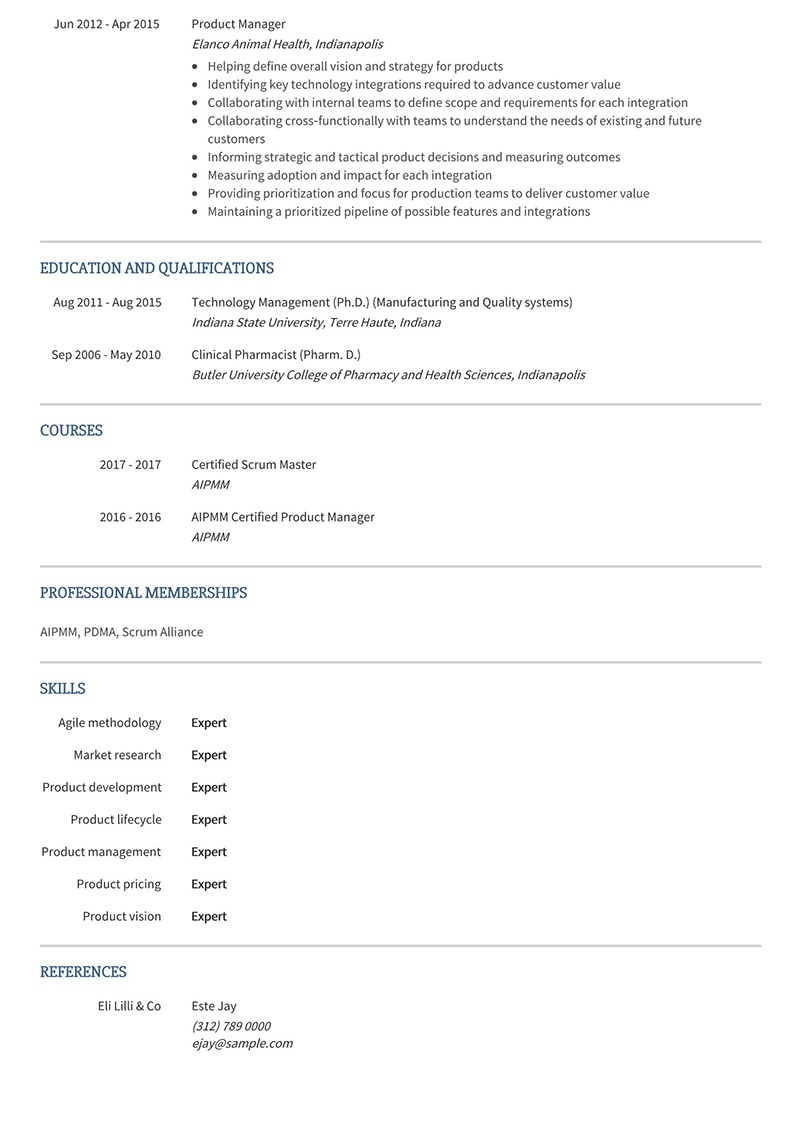 Seth chose our Princeton resume template in blue. Note how a detailed senior product manager resume is tailored to fit into two pages.
How to Write a Good Product Manager's Resume: Product Manager Resume Tips that Work in 2023
It's essential to write your product manager resume specifically for your skills, experience and industry.
Many think product management is the sole domain of the IT sector. Nothing could be further from the truth.
Did you know product managers have been around since the 1930s?
Way before the tech revolution!
The product manager job scope was first conceptualized by Neil H. McIlroy. He devised the concept for consumer goods manufacturers Proctor and Gamble.
Once the model of product managers was implemented, it revolutionized how Proctor and Gamble operated. Seeing the success, other businesses such as Hewlett-Packard soon followed suit.
Today, product managers can be found in organizations that distribute, manufacture or sell products – from tech to retail and even startups.
Product manager job posts have critical keywords specifically chosen by hiring managers and captured to ATS by recruiters.
Including the right product manager resume keywords is essential to get past ATS parsers. That's how you get on the interview shortlist.
Product management resumes can't be generic for every job application. You must prepare an individual resume for each time.
It's really not complicated.
Streamline the process by taking some time to write a master resume.
Take all your years of experience and compile a detailed resume from your first job to date. List all your product manager skills, hard skills, soft skills and work experience.
Update your master regularly and save it where you've got easy access during your job search.
Now, when you're applying, go through the job description in the post and extract keywords. Also, take keywords from the job title.
Each company and industry has their own jargon and lingo. Use these exact words as product manager resume keywords, mirroring the ad.
These are the keywords ATS and recruiters are looking out for.
Compare the keywords to your master product managers resume. Then create a two-pager of your professional experience and skills.
Even if your product manager experience is vast, hone in on what the employer is looking for. That way, you beat parsers, excite recruiters and impress hiring managers.
If a technical product manager resume post has a specific job title, copy it, such as –
IT product manager resume
Google product manager resume
Agile product manager resume
Digital product manager resume
Facebook product manager resume
Amazon product manager resume
Associate product manager resume
Software product manager resume
When selecting a product manager resume template, keep in mind that format and length are equally critical.
Choose a resume template that puts all your details and info on no more than two pages.
Tons of irrelevant info across pages will get binned.
Even if ATS let it through, recruiters and hiring managers give resumes a few seconds of attention. With so much talent vying for their consideration, they don't waste time.
As you're limited to a two-page resume, list only pertinent details. Furthermore, make it scannable and reader-friendly with bullet points and lots of white space.
You can expand on your working experience and skills during the hiring process.
Last but not least, product management is dynamic, ever-evolving and proactive.
Write your product manager resume using power verbs that reflect your initiative, innovation and enthusiasm.
Make your positive attitude heard in every section of your resume with an upbeat writing style.
Personal Information
Because personal info is so basic, it's a section where typos easily creep in.
There's little value in sending out your resume for a product manager role without accurate personal details.
Something as small as transposing letters or numbers can see you missing out on dream opportunities.
It's unlikely anyone's going to hunt you down. Plus, it indicates a lack of attention to detail, which can be off-putting.
Write your full names, address, email and contact numbers. Your address can be in full or just the city and state. All details can be provided if requested.
Check and recheck for accuracy before moving on.
An ideal way to expand on your professional experience is by adding a link to your LinkedIn profile in this section. Use LinkedIn to expand on your two-pager.
Personal Information Example
Refer to product management resume examples like this to get your personal information spot on.
How to Format this Section
Nothing more than necessary is required.
Keep it well-spaced and reader-friendly.
Include a link to your LinkedIn profile if you have one and it's up to date.
Resume Objective
Once your product manager resume gets onto the shortlist, your next aim is the interview list.
Sell your skills and experience with an attention-grabbing resume objective.
Resume objectives, also known as summaries, are the first thing readers see.
As your opener, make sure your product manager resume summary is short, sharp and dynamic.
Garb their attention right away, so they want to know more.
Call on all your creativity as you don't have much space.
In the screening phase, recruiters only want to know if you've got what hiring managers or startup owners need.
Weave your skills, experience and achievements using quantifiable numbers, highlighting what you bring. Also, prioritize requirements in the job post using keywords.
Although a resume objective consists of only 60 words or less, it's critical to your success. Use it to persuade readers to contact you.
Is an objective a cover letter?
No! A cover letter is way more detailed and specific.
So do you need a cover letter?
Only if the job post asks for one.
Cover letters can be tricky because they can confuse an ATS. Check the ad to see if it mentions a cover letter. If it doesn't ask for one, leaving it out is safer.
Resume Objective Example

From this product manager resume samples objective, you can see how it packs vital details in a few words.
How to Format this Section
First impressions can make or break your job application in a few seconds.
Your challenge is to convince the reader they must interview you in a few words.
Make the most of your few seconds of exposure. It's really all you've got to get your foot in the door.
Match your resume objective with the job description to show you've got the solution to their problems.
Focus on their requirements and highlight your skills, experience and achievements.
Keep the content short and to the point. Emphasize expertise and back up your professional experience in your detailed product manager resume.
Apart from hard skills, include crucial soft skills like innovation, collaboration, leadership and results-driven.
Naturally, each job application needs a unique resume objective.
Professional Work Experience
ATS parsers love the experience section. This is one of the places they hunt for keywords.
Feed their appetite with loads of the right keywords taken from job posts.
Well placed keywords are your secret to success.
From an entry level product manager resume to a director of product management resume, keywords matter.
Since product manager resumes come in various shapes and sizes, get your message across with quality content.
Keep your sentences short and sharp but packed with valuable details.
Exclude info unrelated to the job description. Even if you're an expert in the field, readers only want job-related facts.
Once you're in an interview, you can elaborate or refer to your LinkedIn profile link to demonstrate further.
The trick is the get the interview first, though.
Go to your master product manager resume skills list and compare what you've got to the job advertisement.
Pick out those that match and adapt the wording if necessary to mirror the post. Don't forget about the job title either.
Whatever lingo is used to describe them, soft skills and hard skills stay what they are.
These are some typical product manager resume keywords you can expect to find –
Agile
Apps
Computer science
Cross-functional teams
Demos
Development teams
Forecasting
Go-to-market
Initiatives
Jira
Market research
Microsoft
Methodologies
Metrics
New products
Pricing
Product development
Product launch
Product owner
Product roadmap
Product strategy
Product vision
Project management
Product design
Product discovery
Product lifecycle
Product marketing
SAAS
Scrum
Software engineering
Stakeholders
Startup
Successful product
User experience
Professional Work Experience Example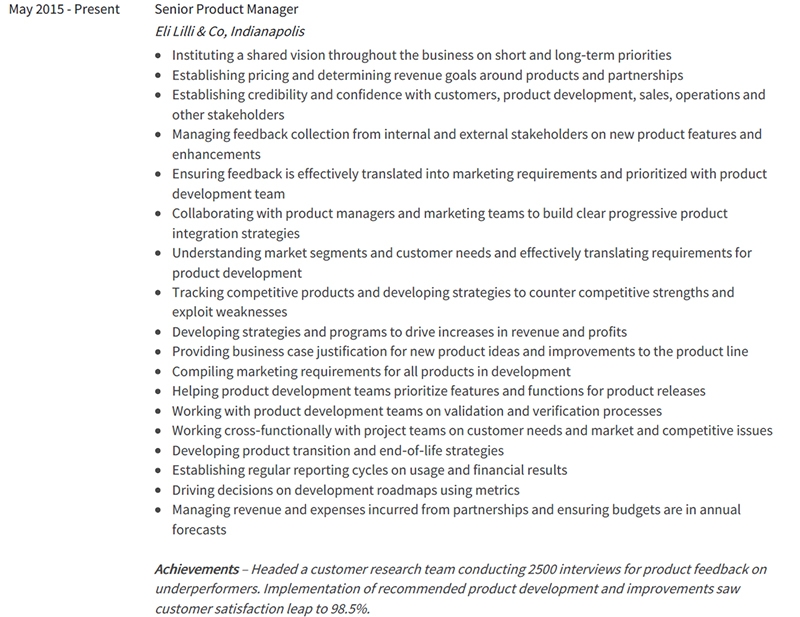 The best product manager resumes are easy to navigate and include all the vital info without becoming tedious.
How to Format this Section
You want the work experience section of your resume for product manager roles to be explanatory but concise.
Reader-friendly business fonts, bullet points and sufficient white space are essential. Your resume must be easy to follow and read.
Employers want to know what you've got to offer without steering through irrelevant information.
Making it quantifiable with numbers, stats, currency, and percentages will keep them glued to the page.
Each skill, responsibility and achievement must fit neatly into a bullet point. Also, list your skills and experience in the same arrangement as the job description.
Maybe you've had more than one role with the same employer? Just include a brief opening line stating your starting role and how you progressed.
For example – "I started as an entry level product manager and was promoted to senior product manager within five years."
Education
Typically, product managers will have a Bachelor's degree, but not necessarily in computer science or information technology.
Product managers make things happen across diverse business sectors. Therefore their degree must be relevant to their specialization and industry.
Examples include Bachelor's degree in business administration, management, medical or food sciences, engineering or product management.
Whatever your education, avoid going into lengthy detail. Education only holds a lot of weight when you've got limited working experience. The more years of experience you have, the less it matters.
Junior and entry level product managers can place more focus here. This makes up for the lack of working experience. Still stick only with relevant subjects, awards and achievements.
Only ever include GPA scores if it was over 3.5 and you graduated less than three years ago.
Education is listed in descending order, starting with the most recent. List only the degree, dates and educational institution.
Education Example

Accurate facts in descending order and nothing more like this product management resume example.
How to Format this Section
Keep the education section brief and factual.
The reader must be able to scan over it and get what they want to know about your education.
If your work experience is limited, you can include more detail. List qualifications with subjects, experiential training and awards in descending order, starting with the most recent.
Courses and Certifications
Further courses are essential to growing your career because systems, requirements and technology constantly evolve.
Furthering your skills and training also show you're serious about your career.
Likewise, membership of a professional association such as AIPMM or PDMA benefits both your career and resume.
Professional associations support their members with valuable material and offer ongoing training opportunities.
Product management is by no means an easy job. Product managers must be versatile and prioritize and recognize challenges and opportunities.
Boost your abilities with some of the many specialized courses that can build your skills.
Regularly refreshing your software development practices is another no-brainer, considering how fast tech evolves.
Avoid being overtaken and sidelined in projects with frequent refreshers in Agile, DevOps, Jira, Kanban, etc.
As you progress your career, more recent courses combined with skills and experience become more relevant than earlier degrees.
As with education, courses are listed in descending order, starting with the most recent. List only the course, completion date, and educational institution.
Courses and Specializations Example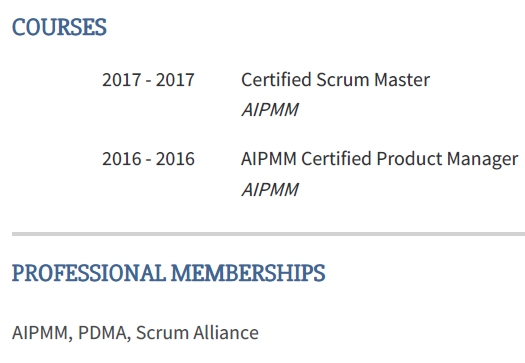 Factual and in descending order. That's all that's necessary.
How to Format this Section
Keep the courses and specializations section brief and accurate.
It's another section where readers merely breeze over to info they need about your qualifications.
Skills
Outside of professional experience, the skills section is critical to your job application.
It's the stomping ground of recruiters, hiring managers and parsers.
Product managers need a good skill set of soft skills and hard skills. You'll find which each product manager role needs in the job post.
Take time to compile your product manager skills resume by carefully comparing your master resume to the job description.
Hard skills include –
Agile methodologies
Jira software
Product development
Product launch
Product owner
Product roadmap
Product strategy
Product vision
Project management
Product design
Product discovery
Product lifecycle
Product marketing
Metrics
Microsoft
Software engineering
Scrum
Soft skills are interpersonal skills that include
Ability to prioritize
Communication skills
Managing cross-functional teams
Managing development teams
Identifying initiatives
Recognizing stakeholders needs
Managing the user experience
Skills Example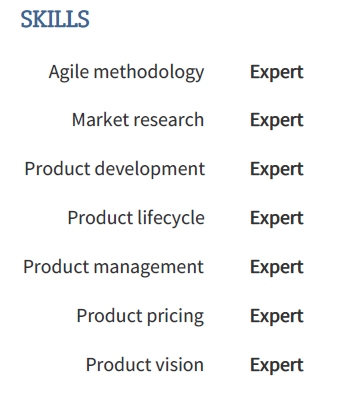 The skills layout of this product manager resume template is easy to read, with the level of expertise.
How to Format this Section
Your product manager skills resume isn't to show off how many skills you have. Instead, it shows you have the skills listed in the job ad. That's how you get noticed and stand out.
Keep each skill short and mirror the terminology of the job ad. Don't forget about parsing software. The most minor change to keywords can see your resume rejected by an ATS.
Rating your skills helps readers know your proficiencies before making contact. This is a boon to hiring teams when it comes to resume selection.
References
Finish your product manager off with references.
It's preferable to not provide full contact details unless the job post explicitly asks for them. Instead, list references as available on request and give details later in the hiring process
There's always a margin of risk when giving too many details. You don't want them being misused.
You only need one or two references. It's good to give your reference contacts a heads up in advance. That way, they're prepared and can you feel more confident.
References Example
This product managers resume references are clear, brief and easy to read. Ensure you've got all the details correct.
How to Format this Section
All you need here are the correct names, contact numbers and email addresses.
 "Available on request" is another option if the post doesn't ask for contactable references.
Related Resume Templates
Are product management resume examples not entirely up your alley? We've got a super portfolio of other business-related templates for you.
Final Points on Writing Successful Best Product Manager Resumes
Before we close, here's a quick recap of the essentials when writing your winning resume -
Take keywords from each job post
Select the same info off your master resume
Mirror the keywords in the job post
Copy the order of the job description
Keep the tone upbeat and positive
Use clear and concise wording
Include numbers and statistics
Check facts before including them
Pay attention to formatting
Focus on the value you bring
Offer solutions to employers' problems
Maintain your resume within two pages
Proofread your resume before sending it out
Submit your resume in pdf format