Data Analyst Resume Sample, Example & Writing Tips 2023
As someone creating a data analyst resume, you likely have a passion for both technology and data.
Whether you're new to the career or are looking into options that let you grow your career, a resume for a data analyst should show off your technical skills – but that's not all.
You also need to show that you are the right person for a specific position.
Your data analytics resume will be tailored to show your strengths. Resume writing might not be your idea of fun, but doing it right is the best way to pass by the competition.
This article will give you all the information you need to create an engaging resume that any hiring manager will want to read to the end.
Work through the guide to learn how to create a resume that is sure to bring in more interviews.
When you include precise information about your experience and education and pair that with an excellent resume objective, you might be onboarding to the perfect job more quickly than you ever expected.
Data Analyst Resume Sample
Data analyst resume samples will give you an idea of what to add to your own resume and what to avoid. The first thing you'll notice is that these resumes are clean, straightforward, and simple to read.
The best data analyst resumes samples will show you have the skills without being overly verbose and taking up too much space.
As you'll see below, our data analyst resume examples highlight the potential employee's skills, education, and knowledge of the field. The basic idea is to create a working document that you keep with you.
Then, as you gain experience and education, you can add it in and fire the resume off to additional positions that you might be interested in.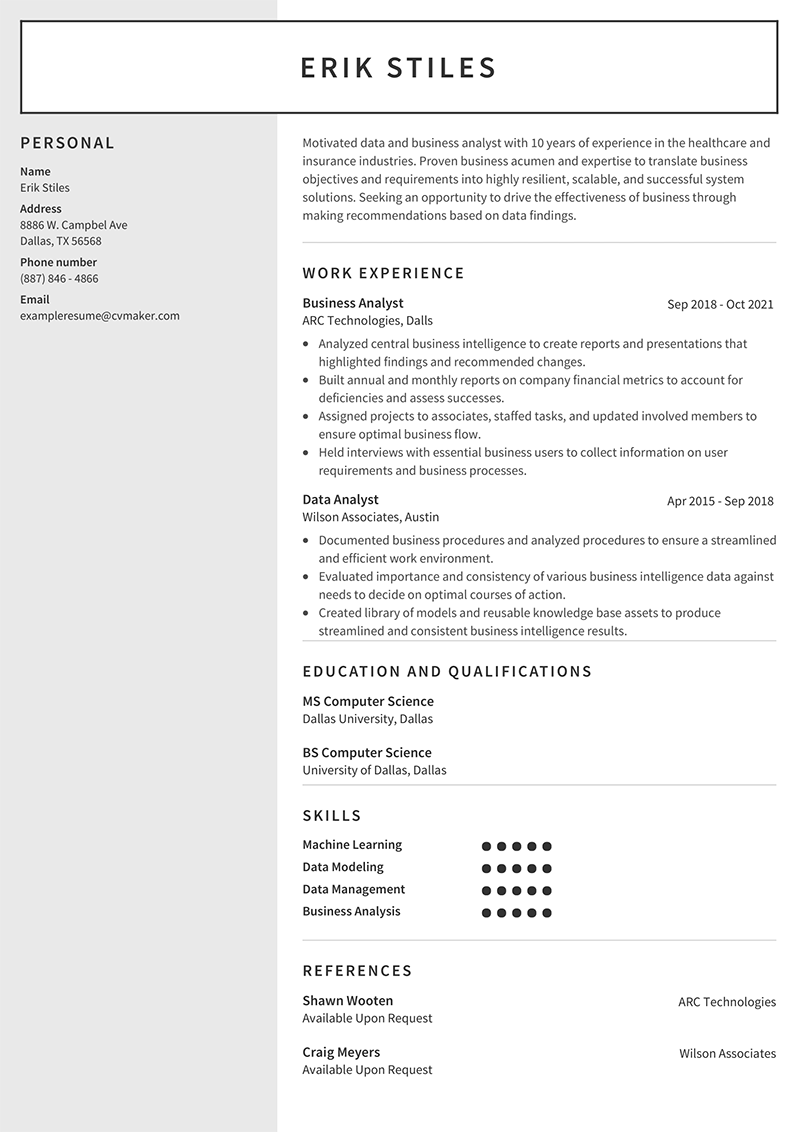 Download This Resume Example - Data Analyst
How to Write a Successful Data Analytics Resume: Tips That Work in 2023
As someone writing a database analyst resume, you have to show that you understand how to work with data. For instance, you might use data analyst resume keywords like "data mining," "storage structures," "data transportation," and "data cleansing." But it's also important to showcase the way you've used those skills to help companies succeed.
There are many parts to a resume, but one of the most important in your case will be the data analyst resume summary. We'll get into this in more depth later. However, the basic idea is that you need to be capable of showing why you're the best candidate in a short paragraph. If you can do that, you're already putting your best foot forward.
Throughout the rest of this guide, you'll learn about each section of a data analyst's resume and the best way to put it all together. We'll share example images to work off of as you build a resume that shows you as a star employee who anyone would be lucky to have you working for them.
Personal Information
When it comes to the personal information on your resume, there are three things that absolutely must be included. First, you should include your name, an updated phone number, and a professional email address. That's not to say that you should add nothing else, but those are the three key data points that a potential employer needs to see.
Personal Information Example
As an example, a professional resume would have your name at the top. That would be followed by your address, phone number, and email address. It's recommended that you include your full address in case the employer needs to contact you through the mail. However, you should at least have your city and state.
Some people might think that adding a LinkedIn profile is a good idea. However, while LinkedIn is a professional social media platform, we recommend only including a link to your profile if you are asked to do so. Otherwise, the information above is all you need.
How to Format This Section
When it comes to formatting your contact information, less is more. There's no need to be creative in this section or add information that an employer doesn't care about. All this is going to do is clutter things up, make the resume harder to read, and leave you with a more extended period going through the job search process.
Use a simple font that is easy to read. First, include your name, followed by your email, address, and phone number in whatever order looks best to you. Next, make sure you add the email address since this is the primary way employers will contact you in today's modern world.
Resume Objective
The next section to create on the resume for your job application is the resume objective.  This is one of the first things that a potential employer will see, and it can make the difference between getting an interview and having your resume passed over.
The objective should contain information about both your soft skills and hard skills. As a data analyst, hard skills are things like knowledge of big data and analytical skills. It also pertains to software and technology you know, such as Microsoft Excel and statistics software.
Soft skills relate to the interpersonal abilities that you have. These are skills that help you lead others, accomplish tasks, and be a stellar employee. Some examples include leadership skills, excellent communication, problem-solving, and attention to detail.
Resume Objective for Entry Level Data Analyst Resume

As someone looking for an entry-level position, you might not have a lot of work experience to add to your objective. However, you can still include items that could relate to the job. For example, perhaps you have taken certain courses and done specific projects that show your ability with data. Those are the items you want to focus on here.
Resume Objective for Mid-Career Data Analyst Resume

If you are in the middle of your career, your objective can focus more on the work you've done. You want to show that you have had an outstanding performance at other positions you have held. Consider adding your years of experience with things like problem-solving and data sets. Make sure to quantify the success you have had in the past.
Resume Objective for Senior Data Analyst Resume
When moving up as a senior data analyst, you will want to tailor the objective to the job you hope to get. As someone who has managed teams or worked on complicated projects, you want to share that. Talk about how you have made team members successful and what results you've had from projects you have headed. Use numbers when possible to show what you've done.
How to Format This Section
The resume objective needs to be short yet encompass all of your most important abilities. This should be no more than a few sentences long. You also want to be sure that you tailor this to the position you want. For instance, if they want someone who understands programming languages like Python, add that in. Finally, consider adding metrics that show you know your stuff and can bring something unique to the table.
Professional Work Experience
When you are creating a data analyst job description resume, you want to list the location and company where you have held positions in the past. Write down positions you've held, and then consider what you have done working in those roles that relate to the job you want to have.
For example, if the potential employer wants to see years of work in data science, focus on that. On the other hand, if you're going for a team leader or manager position, make sure you add those things to your work experience as applicable.
Try to be detailed when filling out this part of your resume. Quantify the abilities, so an employer knows what to expect from you. As an example, don't say you worked with data management. Instead, go into what responsibilities you had and how you excelled at the tasks assigned to you.
Professional Work Experience Example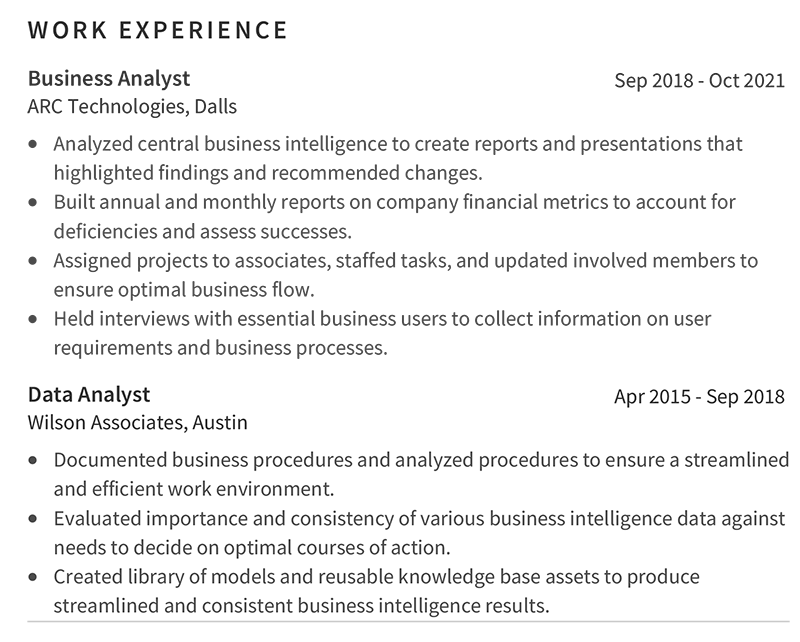 If you did an excellent job with your resume objective, a hiring manager would be looking at the experience section next. In most cases, you'll want to start the resume with the most recent position and then work through positions you have had in the past.
As a data analyst, an employer wants to see that you can use data to solve problems and answer questions. This means adding in big data skills that fit that goal. For example, if you are trying to get a position as a financial data analyst, show examples that match the job you want. Being too vague can backfire on you.
How to Format This Section
The formatting for this section focuses on showing off your skills while making the resume easy to read. One of the best ways to do that is through the use of bullet points. Head to the most recent job you held and make sure you have several points that show your achievements and responsibilities holding that position.
There are two different ways to format your work experience. The first is to use only bullet points that contain information about your abilities and successes in other jobs. However, you can also choose to start with a short description of your role. Either way, you should include bullet points underneath.
Education
If you are someone who has worked as a data analyst for years, the education section is less important than it is for an entry-level position. However, that doesn't mean you should ignore it or avoid adding it to your data analyst resume. And if you are new to the profession, it's even more important to include what you've learned in school.
This isn't a section that you can avoid adding if you hope to work in this position. You need to show that you have been thoroughly educated in data analysis and have all the essential skills an employer expects from you.
Education Example

In most cases, a position as a data analyst will require a bachelor's degree at minimum. However, it's even better if you have a master's degree or a doctorate degree. This is a position that can make a massive difference within a company and the hiring manager wants to see that you understand how data works in all sorts of situations.
As we mentioned earlier, tailor this to the job you want to qualify for. For example, if you happen to be applying for a position as a SAS data analyst, you should show conferences and workshops where you learned those skills. Anything specialized that sets you apart is an excellent option to add to your resume.
However, coursework in computer science, mathematics, and statistics also show that you understand the position you're applying for. For example, you might add in the coursework you did on database querying languages or SQL databases. Again, this is an excellent area for newcomers to the job to show they have a grasp of the subject.
How to Format This Section
When you write out the education section, start with the highest degree you have. So, if you have a bachelor's and a master's, the master's should be on top of the bachelor's degree. The items you should include here are the type of degree, your major, and the location and name of the university you attended.
If you have experience as a data analyst, there's typically no need to add additional information. However, those who are new to this kind of work can include other details. Your GPA is an excellent place to start but also includes awards, honors, and other academic achievements.
Skills
The job of a data analyst can be complicated and bring new challenges every day. A data analyst skills resume should show that you can handle whatever the day introduces to you. You need to show that you have the ability to analyze large amounts of data, but you also want to show that you can communicate with others.
While most of your daily work might be associated with data, you'll want to talk to other people on your team. You may need to speak with managers, stakeholders, and others. Having the proper communication skills can be nearly as important as being aware of the latest happenings in the world of data analysis.
Skills Example

Your resume should show that you have all the skills needed to handle the day-to-day job of a data analyst. This is what the skills section is all about. Once you've explained your experience, this part of the resume can give additional information about what you are capable of. So whether you want to focus on abilities at data warehousing or extreme business intelligence, you can add it to your list of skills.
Everything from machine learning to data modeling and data management to data collection can be included. Of course, putting the skills that you are the most proficient at is a good idea. However, also make certain skills that pertain to the specific job posting are included.
Some of the skills that an employer expects to see are communication skills, mathematics skills, analytical skills, and technical skills. However, you'll also find that attention to detail, creative thinking skills, and a love for solving problems will serve you well as a data analyst.
How to Format This Section
So how should you format your skillset? The best resume format for your skills is one that is easy to read and understand. There are a couple of choices that work well here. The first, and the simplest, is to list out your skills and then make an indication of how well-versed you are in that skill. This can be done using words, graphic indicators, or numbers. That much is up to you.
On the other hand, if you want to better explain the skills you have, that's also possible. Make a list of your hard and soft skills and follow up with a sentence or two about them. You might explain what you've done with the skills or how they've served you in past positions. This will put the hiring manager into the position of imagining you in the new role, which is something that can get you an interview.
References
The final section of your resume is the references. While some say you should always include resumes, others will say you never should. The actual truth is somewhere between those two trains of thought. However, if the job descriptions ask for resumes, you should always include them. Not providing everything the employer wants is an easy way to find yourself out of the running for a job.
References Example

Resumes are meant to be short. Even an advanced data analyst should work to ensure their resume is no more than two pages maximum. References can add bulk to your resume, which is why some recommend not including them. If there's no other information that can be sacrificed, you can leave them off your business analyst resume.
However, it's always better to include references if you can do so. But there is a trick we want to share with you. We recommend that you either make a note that references are available upon request or leave only the reference's name and state that their email and phone number are provided on request.
This is recommended because it prevents just anyone from getting personal information about people you know. Instead, if the hiring manager plans to contact your references, they first have to get that information from you. This also gives you the chance to speak with references to let them know to expect a call.
How to Format This Section
The format of a references section is relatively straightforward. Assuming you aren't leaving a line that says, "references available upon request," you have two similar options. You either include the reference's name, email address, and phone number, or you include their name and a request to contact you for further information.
Another thing to keep in mind is who you choose to use as a reference. Most jobs will expect your resume to have three resumes, although some may request more. In either case, most of the references should be professional. This might include old supervisors, team members, and managers. You can also add a personal reference so the hiring manager can contact someone about your integrity outside of work.
Other Data Analysis Resume Templates
The resume template above is a great place to start, but there are others out there. First, make sure you choose a data analyst resume template that fits your needs and works with the position you want. This guide offers several examples, and the templates can be customized to the colors, fonts, and other factors that you want to provide to a potential new employer.
Regardless of which resume template you choose, make sure that it is professional and concise. Take a look at our entire catalog of resume templates to decide which is the best for your situation.
Final Points on Writing a Resume for Data Analysts
At this point, you should have the information you need to create an excellent data analyst resume. But there are a few more tips we want to offer you. First, make sure you proofread the resume before you send it anywhere. Second, make sure the resume is one to two pages long. Third, make sure you quantify your impact at businesses you have worked at in the past.
The truth is that most hiring managers will only look at your resume for a few seconds before deciding to continue or move on to the next resume. Therefore, you want to be sure you're one of the resumes that get extra time spent on it. That's why you should create an aesthetically pleasing resume that has all the information a hiring manager wants to see.