Data Engineer Resume Sample, Example & Writing Tips 2022
Today, it doesn't matter what industry you're in. Data plays a huge part in the success of them all. Data is used to help build the right services and products, make the best possible decisions, and much more.
Data can be messy and contained in formats that make it hard to understand, but data engineers make sense of the madness. However, you still need an excellent resume to get the top jobs.
As technology becomes more essential and continues to grow, the business intelligence needed to manage it is a must for every company. As a result, many companies are paying more than ever to ensure the availability of the best possible data infrastructure. If you are searching for a data engineer job, this is excellent news for you.
Before you start speaking to a recruiter, however, make sure you have a resume that stands out. It should be organized, clean, and contain all the information needed to show you can do the job. You want to showcase your technical skills, like programming languages, while offering proof of soft skills like outstanding communication skills.
Data Engineer Resume Sample
When you want the best data engineer resume, one of the top options is looking at various data engineer resume examples. This will give you a lot of information about what you should do and let you visualize precisely what you want to avoid doing. Whether you are writing a big data engineer resume or tailoring an Azure data engineer resume, online samples give you a better chance at getting an interview.
The format of the resume matters. The information you share about yourself matters. Your past education and work experience matter. But in the end, what is most critical is pulling together all of these things to show a complete picture of who you are and what you are capable of. You want to draw interest fast so you don't end up in the rejected pile after no more than five seconds.
When you look at the sample data engineer resume below, you can get an idea of what you are going for. The resume consists of several sections that provide specific information. However, everything comes together to provide a document with all the information an employer needs to see.
It shares information about Augustus and follows that up with a compelling reason that he would be an excellent contender for the position he is applying for. The resume then moves into his professional experience, educational background, the skills he holds, and a list of people who vouch for him.
The best data engineer resume is tailored to the job description rather than a template resume that could be sent off to any company offering a data engineer position. As we'll get into later, the objective is the best way to show you're the perfect candidate for the job. The other sections go into more detail about why you should be brought in for an interview.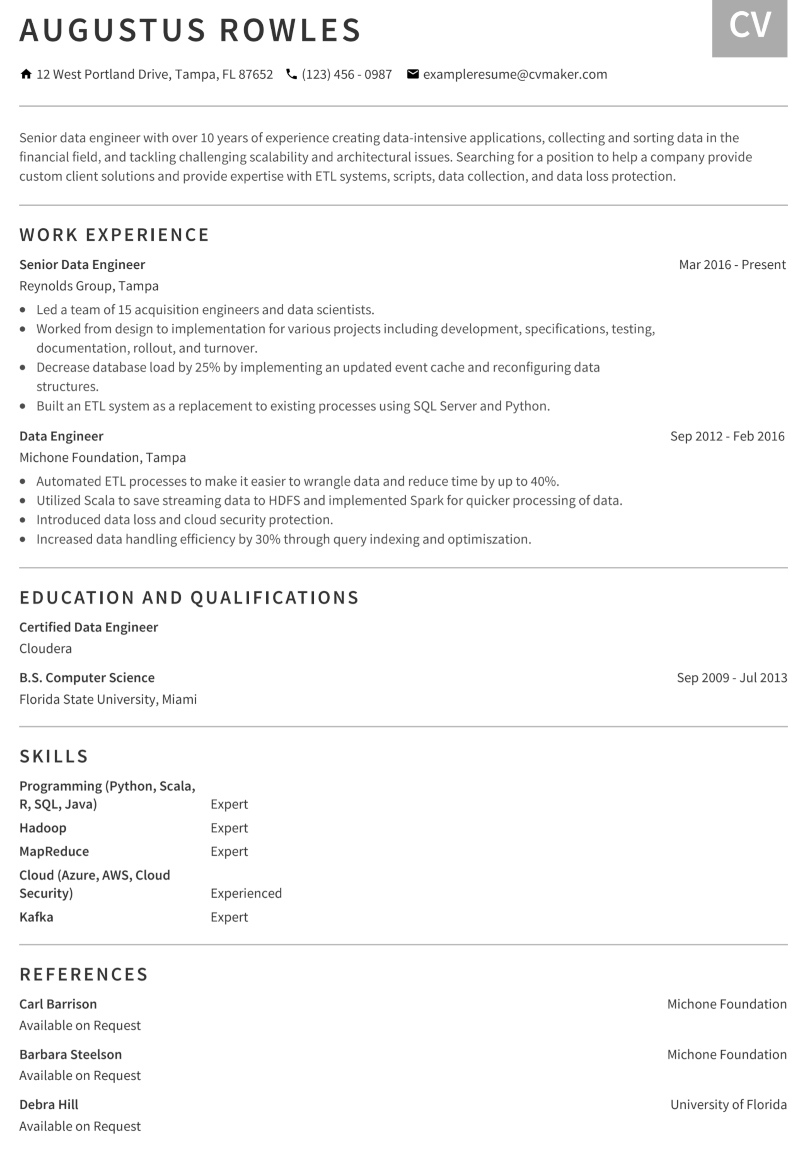 How to Write a Successful Data Engineering Resume: Tips That Work In 2022
Regardless of industry, many resumes are relatively similar. You want to be sure you provide your contact information, what education you have, and where you have worked in the past. Any additional skills and certifications should be included – and all of this information should be provided in a professional format.
For your database engineer resume, remember that the goal is to convey all the needed information concisely. It's also essential to use the right keywords and phrases since many companies use software to find the best candidate.
The basic information that should be included in any data engineering manager resume includes: personal information, a resume objective, professional experience, educational background information, skills, and references. However, it can be easier to focus on one section at a time while you build a resume.
Another tip that can help is to choose to make a master resume. The idea is that you build a word document that has all the vital information for each section. Then, every time you decide to apply for a job, you'll be able to update the information, add specific relevant information, and double-check the document before sending it to a potential employer.
Section #1 - Personal Information
Sure, you want to show off your MySQL and data optimization skills, but that isn't what an employer wants to see first. So instead, you need to share your personal contact information.
This is the simple and basic information that won't change as you send out job applications. Once you add it to your master resume, you'll only need to change it if you move or change phone numbers and email addresses.
Personal Information Example

This might be the only part of your resume that doesn't deal with software algorithms when contacting large companies. First, however, make sure you look over the information for typos and errors. That will make you stand out – but not in a good way.
As someone showing you are a data engineer, you need to prove you have attention to detail. That includes having relevant and error-free contact information. The recommended information to include is your full name, mailing address, professional email address, and mobile phone number.
As a tip, make sure you connect your email to your smartphone. This makes it more likely you'll see inquiries about your resume more quickly. You can easily get back to potential hiring managers or recruiters and gain access to additional opportunities in the process.
How to Format This Section
When using a data engineer resume sample, most of the formatting is already handled for your convenience. However, those who create an email in MS Office or another program will want to ensure the contact information is in an easy-to-see location. The most common choice is at the top of the resume or along one of the sides. This makes it effortless to see your information if an employer wishes to contact you.
Section #2 - Resume Objective
If you want to impress hiring managers, the resume objective gives you that chance. You have less than 10 seconds to impress someone as being the best addition to a team of data scientists. Most or all of that time is typically focused on what you write in the resume objective.
That's not said to frighten you but to make you understand how important it is for this section to be done right.
How you write the resume objective will also depend on the job description and how much experience you might have. Below, we offer two different examples of stellar resume objectives. One is designed for an entry-level individual and the other veers more toward someone with lots of experience.
Of course, many people will fall somewhere in the middle. In that case, you can take aspects of both choices and bridge them together to ensure you share the best information in a way that gets a second look at your data engineer resume.
Resume Objective Example for Entry Level Data Engineer Resume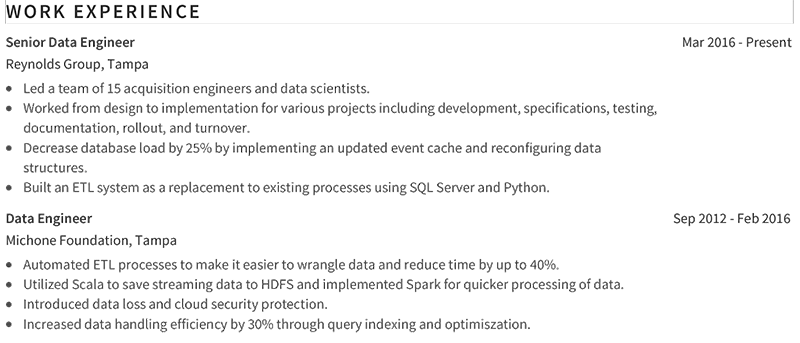 It's often more challenging to write an entry-level data engineer resume since you don't have experience in the field. However, you might have more to share than you think. Consider your experience and education and what skills you have that would transfer to the position.
Need some examples? MapReduce, Oracle, and SQL Server skills are excellent. An understanding of Excel, data processing, Microsoft, or Linux can also help you. Your exact skills will vary but make sure you include them. Just because you're new to the job doesn't mean you can't be a great member of the team.
Resume Objective Example for Senior Data Engineer Resume

As someone with years of experience, the challenge is different. You might have lots of things you do well and need to share that concisely. For instance, your skillset might include data quality management, Unix Shell automation, PL/SQL, NoSQL, and Hadoop Distributed File System (HDFS) knowledge. Choose the most relevant for the job you are applying for.
When you add these in, make sure they correspond to successes you've had throughout your career. Then, choose the ones that a hiring manager will be most impressed by. A list of skills isn't nearly as impressive as quantifying precisely what you can do with all of those skills.
How to Format This Section
Regardless of whether the objective is focused on knowledge of MongoDB, your work with Kafka, or years becoming proficient with API, this part of the resume is designed to be concise yet full of information. You don't want to go too long and lose the recruiter's interest, but you also want to avoid writing too little and not hyping yourself up.
A few sentences is best – write it as an elevator pitch and move on to the next section.
Section #3 - Professional Work Experience
Many people searching for a job as a data engineer have a lot of professional experience to back them up. If that's the case in your situation, remember that you need to show both hard and soft skills that meet business requirements and show stakeholders you're worth taking a chance on.
Sure, you should indicate you know data analytics, understand how to data warehouse, and know Cloudera. But you should also ensure you provide evidence that you're great at teamwork, offer excellent verbal and written communication skills, and work well with all the people around you when you're part of a company.
Professional Work Experience Example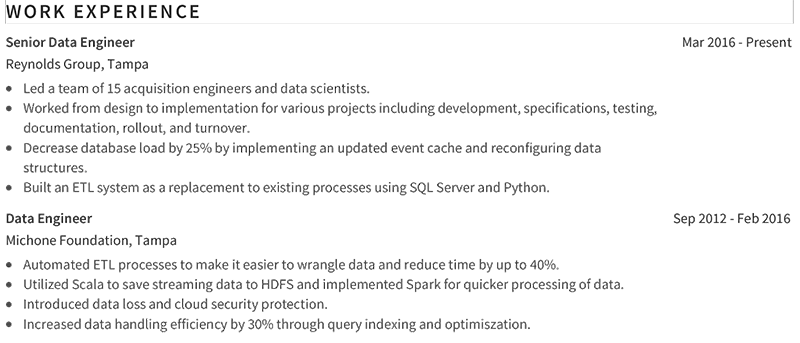 The Python data engineer resume above takes into account all sorts of essential things in the work history. Each of the past positions is broken down into parts relevant to a job description – which is something you can do for this section of your own data engineer resume.
Think about the ecosystem and workflow that might be present, and then share how you can make the environment more efficient.
Whether that means you should focus on ETL processes, HBase knowledge, or skill with web services will depend on both the job you want to get and what experience you have in the past.
Read the job description several times and consider what experience you have that matches the tasks that are part of the position. It doesn't hurt to show a bit of leadership ability, either.
How to Format This Section
If you Google resume formats, you'll find several options. However, for almost every data engineer job, you should choose a reverse-chronological order. It's the standard that a recruiter expects and will be easier for everyone to read and understand.
So, you want to write down your most recent employer, when you worked for them, and what you did on the job. Then move on to the next more recent position and so on.
Section #4 - Education
When it comes to showing your ability to handle data engineer skills, most jobs expect you to hold a bachelor's degree at the very minimum. Many people will also have a master's degree. However, others may have a bachelor's in software engineering or computer science and one to half a dozen certifications in technical skills like scripting, data modeling, and more.
Whatever level of education you have, it should be included in the data engineer resume.
Education Example

You'll get an easier visualization of what the education section might look like with the resume sample photo above. As you can see, there isn't a ton of information but what is there shows that the candidate is ideal for the job. He has the education needed for the position through a bachelor's degree and has increased his knowledge through certification.
Keep in mind that if you have several certifications to list, you may wish to create a special section for them. In addition, those who are just coming out of school for a degree might wish to list additional information, such as your GPA, the research you did that is relevant to the position, and classes you took that gave you essential skills that match the job description.
How to Format This Section
In the employment experience section, you used a reverse-chronological format. This should also be used with your education information. For example, if you got a master's three years ago but received a certificate in data analysis one year ago, the data analysis listing would be located on the top of the list of education. Otherwise, the format is straightforward.
Section #5 - Skills
While many positions as a data engineer will be unique, you should always include a list of your skills. The skills section is crucial for providing additional information about what you are capable of. For example, your machine learning engineer resume PDF might include AWS, Java, Apache, Spark, and Hive skills. Likewise, if the employer wants to see you know Teradata or Tableau, and it wasn't mentioned earlier, it should go here.
Skills Example

The example above gives you a picture of how your own skills section might look. Keep in mind that you have limited space to list skills, so focus on the most relevant ones. But there's one other thing to think about when creating a skills list on a resume. What skills are you highly proficient in? Then, if it's relevant and you're good at it, add it to your data engineer resume.
For instance, share your real-time experience with Scala or Amazon Redshift if those pertain to the job. If there's room and an opportunity, look beyond only hard skills. Soft skills like leadership, problem-solving, and teamwork and also help you stand out from other applicants.
Hard skills are the ability to use tools or technology to do the job quickly and with the best quality. On the other hand, soft skills pertain to the interpersonal abilities you have. If you and someone else both have similar resumes, but you note soft skills and they do not, it can be enough of an edge to get you an interview while they do not.
How to Format This Section
The way you choose to format this section should be easy-to-read and take up little room. However, you want to do more than just list a ton of skills like data management, datasets, data pipelines, and data warehousing.
You also need to indicate how experienced and skilled you are with each of these things. Add a star system, note you're "expert" or "experienced" at skills, or find another method to share this information. Place this section toward the bottom of the resume or place it in a side column for the best results.
Section #6 - References
For a data engineer, the listed references you choose could get you the job or prevent you from getting an interview. All of the people you choose to list on a resume need to be fully aware that they are there.
Talk to them in person, if possible, to make sure they are comfortable being listed. This is common courtesy and ensures you don't end up with a lousy reference simply based on not communicating your intent.
References Example

You can see that Augustus lists three references, which is pretty standard. You can choose to make all of your references professional or use one of the spaces for a personal reference. The reason you might choose the latter option is to show that you are a dependable and respected member of the community. Choose people that are sure to have good things to say about you.
How to Format This Section
The basic format for references will list their name and where they work. However, it's best not to include their contact information on the actual resume. This can cause privacy issues if someone chooses to use that information for a reason not related to the hiring process. Note that each of the individual's contact information is "available on request."
Other Data Related Resume Templates
While you work on perfecting your data engineer resume, remember that examples and templates are your best tools. Take a look at a GCP data engineer resume and contrast it with a data acquisition engineer resume to learn new information and make your resume the best it can possibly be. View our list of resume templates to see how others in the data world have created resumes that played a part in getting them their dream job.
Final Points on Writing Good Data Engineer Resumes
When you build a data engineer resume that is tailored to a specific audience, it immediately makes you stand out against generic resumes. This is a great way to start off on the right foot when you want to get in the office for an interview.
No matter what your specialty is, the objective should introduce and support the rest of the resume.
There are a few tips that we think will help with sprucing up any resume you write:
Read through the entire resume and make sure it flows from one section to the next and top to bottom.
Make sure your resume is professional with a black standard font and a plain white background.
Check to be sure the resume is organized, well-spaced, and simple to read.
Proofread and edit the document several times using visual skills and through tools like Grammarly.com.
Read the resume aloud to see how it sounds before you decide to send it out as your data engineer resume.
The more you can prove you have the skills for the job, the better received your resume will be. Showcase what you're capable of while using a traditional format and getting rid of errors.
Once you take the time to create an exceptional resume, a few edits will be all you need for future job postings you are interested in.