Data Scientist Resume Sample, Example & Writing Tips 2023
As someone who is in the data scientist field, your day might be filled with complicated problems. If you're currently searching for a new data scientist job, your challenge right now is creating an outstanding data scientist resume. Having a perfect resume makes it much more likely that you will be hired in a position you are excited about.

Knowing that data scientists are in huge demand right now might make you feel better about the process. Data is constant and growing, and companies in all sorts of industries need employees who can manipulate, organize, and make sense of all that information. But even when there are many job openings, you need a resume that stands out.
For a data scientist, that means having the proper resume format, the expected information, and proof that you can handle such a crucial position. If you want a position at a company with great benefits, an excellent culture, and an outstanding salary, every part of your resume should shine. Thankfully, we can offer some help in that regard.
Data Scientist Resume Example
You'll find a detailed sample job scientist resume below, which you can use to create your own. This is an essential document that shares your experiences and qualifications with a hiring manager or recruiter. Keep in mind that your resume will only be looked at for a minute by most hiring managers. That's why it has to be impressive from start to finish.
Job applicants can look at various data science resume examples to get an idea of the typical format and included information. However, there's something important to remember. Every resume that you send out should be customized for a specific job description. You need to show that you can add value to the company through your unique skills and abilities.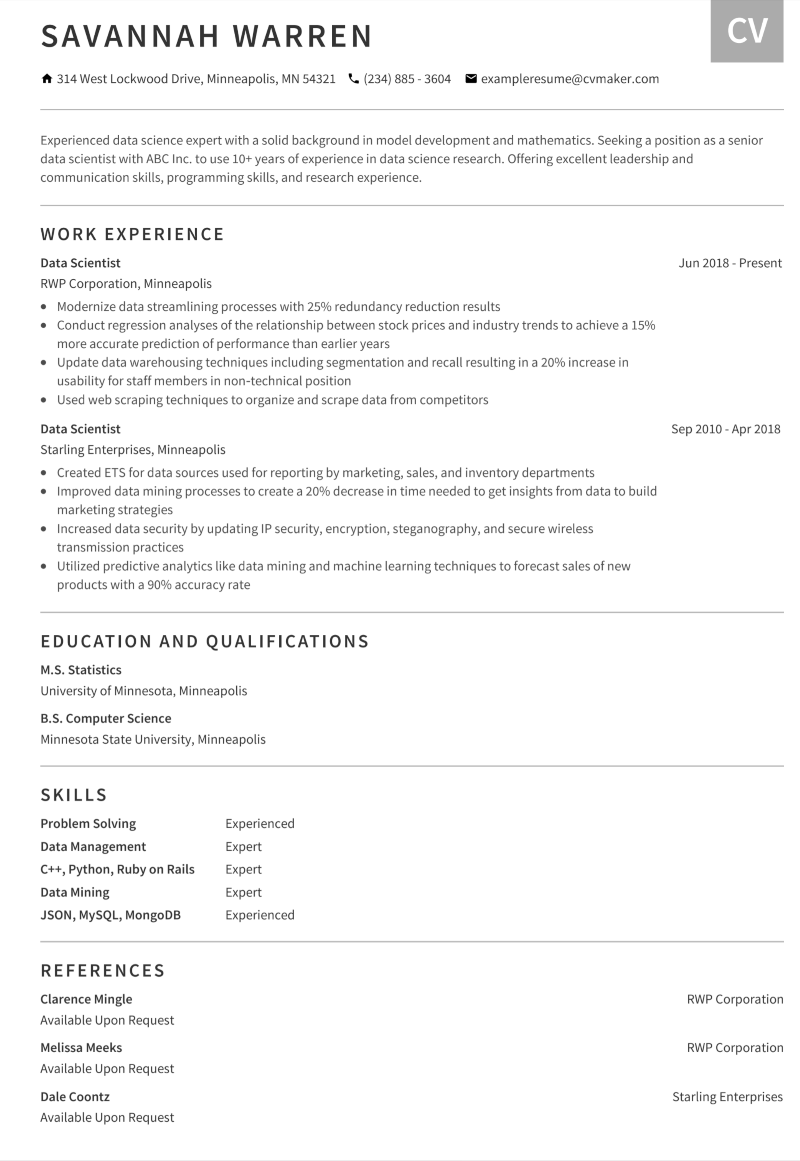 How to Write a Successful Resume for Data Scientists: Data Science Resume Tips for 2023
As you'll see above in the data scientist resume sample PDF, there is a specific structure to the document. One of the best tips you can take with you is that you should create a master resume that holds all your information. Fill in information about yourself, your experience, and your education. Then you can tweak it every time you send it to a potential employer.
When writing data science resumes, approach it like you would your job. Search for information about the company and then use that information in real-time to ensure you appeal as a candidate. Much of the same information will be included whether you're writing a data science intern resume or a CV for an experienced individual.
The best way to ensure you get everything you need in your resume is by starting each section with the most recent experiences you have and then moving to older ones. After you have a data scientist resume summary and some basic information, you can move on to proofreading and making the copy shine when someone reads it.
From here on out, we'll be sharing tips and tricks for how to write and format each section to give you the best chance of getting an interview.
Personal Information
Anyone who works as a data scientist should show great attention to detail since it's needed in the position. This starts with making sure your resume for a data scientist lists your personal information accurately. It might seem like a mistake would be hard to make with your contact information, but that isn't true. We all make typos on occasion.
While writing out your resume in Microsoft or another program, make sure to go back over everything you write before you submit the resume. For example, be sure it's easy for an employer to get in contact with you by providing necessary information that includes your name, address, phone number, and email address.
Personal Information Example

Looking above, you can see a resume for Savannah Warren, who is seeking a position as an experienced data scientist. It's clean, easy-to-read, and includes all the information needed for the potential employer. There isn't anything extra thrown in for the sake of filling space.
If the hiring manager is interested in Savannah after reading the rest of the resume, they have several easy ways to get in contact with her.
How to Format This Section
Most data scientist resumes will have the personal information section either on top of the resume or on the left-hand side. These are both locations that the eyes are drawn to when reading. Whether you're going for a data science job at a huge corporation or a startup, the resume has to be easily readable or it's unlikely to get you to the next stage.
We mentioned that you should include your name and contact information. We recommend keeping to the basics unless the employer requests something else. For example, if the job description asks for a LinkedIn or GitHub link, those resources can also be provided.
Resume Objective
If you have a clean personal information section, your resume objective is the next place a manager will be looking. While this section is concise and takes up only a tiny amount of the document, that doesn't mean it's not essential. In fact, it might be the most critical part of a resume for a data scientist. However, it's going to be different for those in different stages of their career.
Resume Objective for Entry Level Data Scientist Resume

If you're creating a junior data scientist resume, you might not have a lot of experience. That's okay. You can still create an excellent resume objective. When you tailor your entry-level data science resume to the job, explain the skillset that you do have. This doesn't have to be based on professional experience. It could be personal or related to your education.
Resume Objective for Mid-Career Data Scientist Resume

Someone who has worked in data science should write their objective based on the job description. If you have skills that fit the job, make sure to include those. This includes technical skills like data modeling and data mining, as well as other skills like communication, teamwork, and leadership. Add in numbers in the form of metrics to show what you have achieved in the past.
Resume Objective for Senior Data Scientist Resume

As someone who has many years of experience, your biggest issue may be making sure the resume objective is concise. Stick to the items that are relevant to the position. For example, if it mentions a need for skill in the Java programming language, explain that you have that.
The same applies to soft skills, which some people forget to mention. However, these skills are equally important, so don't be afraid to mention them.
How to Format This Section
As you can see from the attached resume examples, you want the objective to be short. However, that isn't the only thing to consider. You want to show that your data analyst skills are measurable rather than just saying that they exist.
When possible, use numbers to show what you are capable of. The more you hone in on the specifics, the more attention the resume will get.
Professional Work Experience
Whether you're sending out resumes yourself or working with recruiters, you want the hiring manager to make it past the objective. The next place the eye will go on a properly formatted resume is the professional experience section.
For all but the most entry-level candidates, this is where you elaborate on all the skills you have and what you have done with them.
Work Experience Example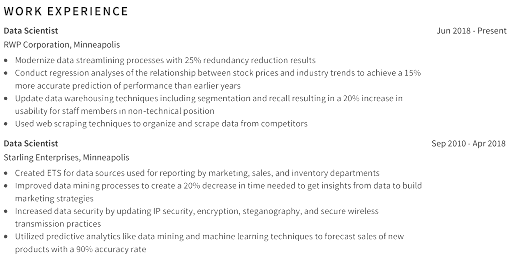 You can see in the example above that Savannah does more than just state the responsibilities she has had in other positions. This is something you should also do when creating a resume.
For example, there's nothing wrong with letting an employer know that you're proficient with Spark and Hadoop. But it's more important to show the results you get from what you know.
Reading the first line under the most recent job is an excellent example of how to do that. The data scientist resume explains that the applicant can streamline data processes, but it goes beyond that. It goes on to explain how this resulted in less redundancy, which is helpful for the company.
How to Format This Section
The most important thing to remember when formatting the work experience section is that you should use reverse-chronological order. There are other formats for resumes, but this is the standard resume format that most hiring managers expect to see. Start by listing the most recent job you held, followed by the one before that, and continue that way.
You want to be sure you optimize the work experience section to show how valuable you are without using too many words. This can be a problem when you want to highlight what you are capable of and aren't sure what to keep and what to cut. Using bullet points can keep you on track with shorter sentences and not go into too much detail.
The basic standard is to have a resume that is one to two pages long. It's better to learn toward shorter than longer. It gives the hiring manager or recruiter less to read. If you have several positions, not all of them have to be listed. The most relevant recent positions should be prioritized on your data science resume.
Education
Data scientists are expected to have an education section on their resumes. Most of the time, a master's degree is considered normal by hiring managers. The education section is essential for showing that you know the concepts and practices common in this role. Prove that you think like a data engineer by having the required education for the available position.
Education Example

The example above shows that Savannah has experience with both statistics and computer science. It lists what degrees she has and where she got each of them. For a data scientist who has the experience, there's no need to add information beyond this. While you are welcome to include specifics about your education, most managers simply want to know you have a degree that fits the role.
The exception comes for those who are seeking their first job in this type of position. If you are in this situation, you might want to pad your education section with additional information. As an example, you could add in your GPA if it is above average. In addition, list some of the classes you took or data science projects you took part in.
How to Format This Section
This section is relatively simple to format. You can see above that it's another area that is clean and easy to scan at a glance. You'll want to be sure that you include the type of degree, your major, and the school you went to. Adding a graduation date is up to you. Some people choose to do so while others do not. If the degree was achieved many years in the past, leaving the date off is becoming standard.
Unless you have room for an extra section, you can also list certifications under your education section of the resume. Your listings under education should be in reverse-chronological order, just like your work experience. This makes it simple to see what your most recent certifications and degrees are.
Skills
The importance of the skills section for a data scientist resume can't be understated. Whether you are new to data analytics and business problems or have been in the field for years, you need to show that you can handle the job. In addition, recruiters want to be sure that you have the skills needed to be a good fit for the company.
When you create a data science skills resume, focus on the abilities that directly relate to the job description. Both hard skills and soft skills should be highlighted, although you also don't want to list too many.
If you aren't sure what kind of skills are best for this kind of position, some of the most common include programming, data analysis, mathematics, data visualization, and machine learning.
Skills Example

You can see the example skills section above to get an idea of the format you should use. Of course, the skills you place on the resume will vary based on the job. For one job description, you might want to focus on machine learning models, data sets, Python, and SQL. Another might work better with relevant skills like algorithms, big data, problem-solving, and predictive models.
Even if you have the best technical skills on the earth, you also want to show that you're the right person to have around the office. This is where soft skills come in. Mentioning things like research, critical thinking, communication, and collaboration can go a long way toward showing you fit the company's culture.
How to Format This Section
There are several ways to format the skills section. However, the one that will give a clear view of your abilities can be seen above. In addition, Savannah's resume skills section has a list of her abilities that will be useful on the job. But it isn't only a list of skills. It also has information about her level of expertise with each skill.
Whether you write out the level of the skill, use a star system, or something else, this shows an employer that you are confident and skilled with different tasks you would run into at work. You want to be sure that it's possible to get an idea of what you can do in a short glance. As mentioned earlier, most managers look at a resume for only about 30 seconds.
References
You've made it through writing down your personal information, resume objective, work experience, education, and skills. At this point, the last part of your resume is a list of references. While it might seem like a meaningless section to a data scientist resume, you won't make it very far without its inclusion.
The rest of the resume is you saying you are competent. There's nothing wrong with that since it's the literal point of a resume. However, the references section takes some of that responsibility out of your hands. Instead, you share information about those who know you that will say positive things about your abilities.
References Example

In this data science resume example, you can see that Savannah listed three references. This is relatively common. Most people will want to include between three to five references. However, if the job description requires a different number, make sure you follow the instructions. Otherwise, three references is a solid number.
The people you include in your references should be capable of talking up your skills. For example, these people know you have data analysis, programming, and statistics skills. In most cases, you'll want the majority of the references to be supervisors or coworkers from other locations where you have done the same kind of work.
How to Format This Section
The way you format references can vary based on your preferences. However, in most cases, you'll want to list the individual's name and where they are employed. At that point, you have a decision to make. You can choose to include the email address and phone number of each reference on the resume or you can note that this information is available upon request.
This is typically the better option over a single note that you will provide references. You're still providing some information about your references, but you aren't providing their private contact information until it is needed. This ensures that the emails and phone numbers don't end up in the hands of someone who shouldn't have them.
There's a secondary reason that you may wish to provide references only upon request. This comes down to the fact that you can let these people know a specific employer may contact them. For instance, when you get a request for reference information, you can call those people up and let them know what is going on. This is a polite thing to do which will help you get more interviews in the data science field.
Other Data Related Resume Templates
The data scientist resume template here is an excellent option for filling out a resume of your own. However, there are also several other options. It's essential to choose a template that looks professional, but you can otherwise select the one that best fits your personality and style. Consider all your options and then customize a template to meet the needs of the role you want in the future.
Make sure the resume template is concise and has a layout that makes it simple to read. This will give you the chance to provide more information to a hiring manager in the limited moments when the resume is in front of their eyes.
Final Points on Writing Good Data Scientist Resumes
If you follow the information above in writing along with the data science resume template, you should have a much higher chance of getting that great role you want to land. The next step is creating an excellent cover letter to go with the resume that proves you are the best candidate for the job.
There are several things to remember when creating the best possible data scientist resume. First, it should have a standard format and use reverse-chronological dates for employment and education. It should start with a solid objective and follow up on that by explaining your achievements in the employment section.
Many different jobs are available for data scientists, and having a perfect resume makes it much more likely that you will get the position you want. There's nothing wrong with sitting down and taking time to assemble the document in the best way. Make an effort and you'll likely be rewarded for it when you move into your new role!