Police Officer Resume: Example, Template & Writing Guide for 2023
Gaining a position at a police department sets you apart as someone who helps society function at its best. When you create a police officer resume, it should be infused with your passion for helping and protecting citizens and their property in your local area. Many special skills should be included to indicate you would be a great addition to the force.
As you create a police officer resume, you'll share the knowledge you have about crime, as well as expertise with firearms and other weapons. It will have information about any work you have done in the past as a police officer, including where you served and what duties you fulfilled. Police certifications and legal qualifications are important to share.
However, there's more to a resume than putting down all the pertinent information. While that is crucial, the resume should also be formatted so it can easily be read by whoever picks it up. Some formatting choices tend to work better than others. As you work through this writing guide, we'll share information on that so you can be sure your resume is noticed.
Examples of Law Enforcement Resumes: Police Officer Resume Samples
To acquire a job protecting and serving the community, it helps to peruse resume examples for a police officer. You can see the kind of resumes being used today and how to put things together in a way that creates the perfect resume. In addition, police officer resume examples can show you different aesthetics to choose from to draw the eyes.
As you look through police resume examples, you can see what looks good to you and what doesn't. Take a look at different formats to see what works best with your experience. Not everyone will like the same sample resume for a police officer, which is why it's great that there are dozens of options out there. While reading through this guide, you'll gain access to samples for every part of a police officer resume.
Law enforcement jobs can vary by location, job title, and duties, so the job description will play a part in which examples fit the bill. Attention to detail is a must as an officer and you'll have the chance to show that skill (and many others) as you go through resume examples for law enforcement and then make your own professional document.
Our main example is just below and will give you something to work off of to build a resume you love. It's just the thing to get you into a squad car, behind a desk, or otherwise make a difference in terms of safety in your community. In addition to the example resume, you can also download a police officer resume PDF. Use this as a guide to create your own.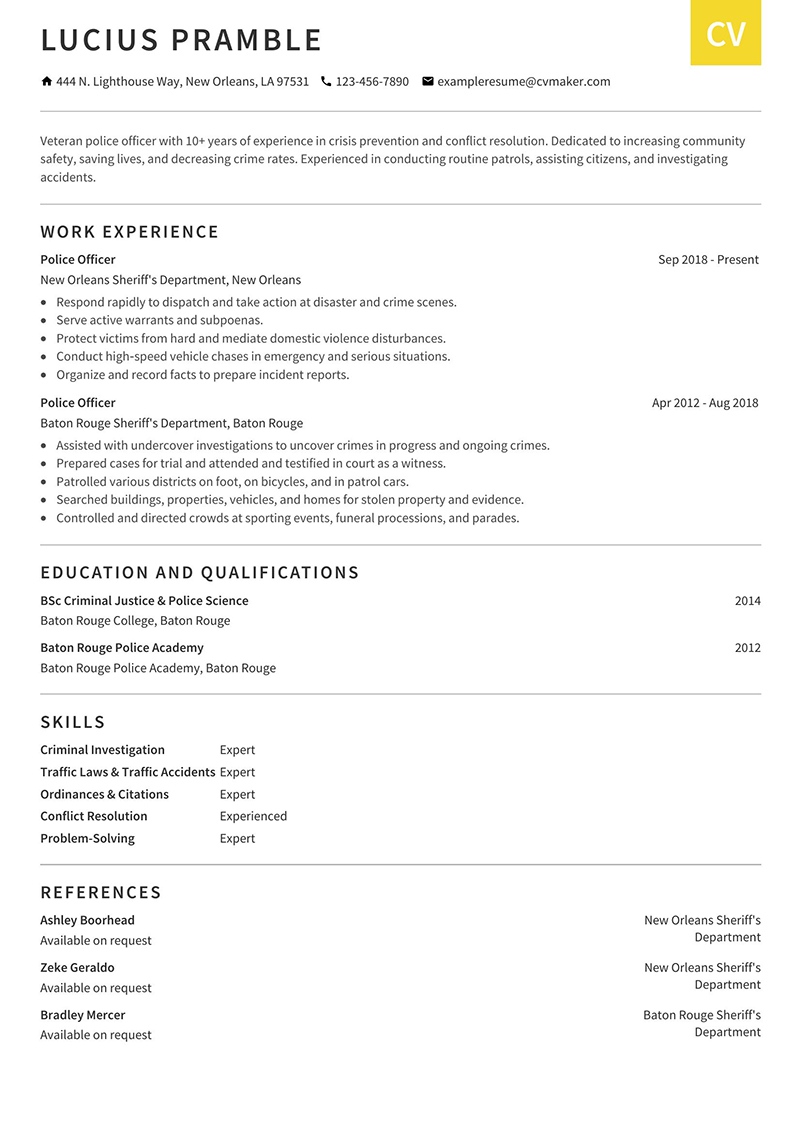 Download This Resume Example - Police Officer
How to Write a Resume for Law Enforcement in 2023: Full Guide to Successful Law Enforcement Resumes
Whether you're writing a police chief resume or an entry-level resume, there are many similarities. Look above to see what recruiters, hiring managers, and others expect to see from the best candidates. However, this isn't the only piece of help that you have to create a solid resume, no matter what police team you want to be a part of.
In addition, you want to have the police officer job description for the resume. As you start to weave in information about yourself, your education, your skills, and your work experience, make sure you refer to the job description. Why? Because you want to pull out important keywords and make sure you use them. This helps you get past the Applicant Tracking System (ATS) which often reads your resume first.
Having keywords that relate to the position is how you ensure a human ends up looking at your police officer resume summary (and all the sections beyond that). Not having enough of the words the ATS is looking for may result in the police officer resume never making it to a human. Be honest as you craft your resume but use keywords whenever possible.
As far as resume tips go, consider making a master resume in Microsoft Word, Google Docs, or a similar problem. The idea is to build an outline with your education, work, and skills included. Placing all the information in one location means you can make specific separate resumes for every job you apply to quickly.
You can either use a template and fill in all your information or start from scratch. With the latter, you'll create the sections on your own, add whatever formatting you like, and then include the supporting details. Supporting information is what you place inside sections, such as a few past jobs, five skills, and three references.
While you build a police officer resume, remember all the sections that should be included. In most cases, the sections will consist of the following:
· Contact Information
· Resume Objective
· Past Work Experience
· Education
· Skills
· References
That's all that is needed for a great police officer resume. If it sounds like a lot of work, don't worry. This guide will walk you through each section of the resume so you can be sure you're adding the most important information. We'll also share images of each section so you can see how yours stands up to the one you see on the page.
Section #1: Contact Information
The first section recruiters will be looking for is the contact information. This is a fairly simple section that you can fill out from memory. The idea here is to give the employer a simple way to get in contact with you.
For a police officer resume, this includes your name, address, and at least two ways to get in touch with you. Make sure the information matches any other documents that you are sending in with the job application.
Contact Information Example

In the public safety resume above, you can see how things look when all are added to the page. The biggest part of the section has the name in capital letters and bold font. Underneath is the rest of the contact information. This is then placed at the top of the resume so it's easy to find and use.
While you might wish to add other contact information, it isn't required. Some people add a LinkedIn page or other social media, but you do not have to do so. If the job description asks for it, that's the only time when you should make sure it's included.
How to Format This Section
Hiring managers want the formatting here to be easy to read. That's the main focus of the contact information. You should include your full name followed by an address. This can either be a full street address or a city and state or city and country. Beyond that, make sure you leave two ways to contact you.
This should be all the information someone needs to reach you if they like your resume. Make sure the font is easy to read and the colors work well together. Otherwise, check for typos and you can move on to the next section.
Section #2: Resume Objective
When creating a resume objective for law enforcement, you're going to want to start looking at the keywords we mentioned earlier. This section is where you get to talk about goals you have met, accomplishments you have had, and any other achievements you are proud of.
The resume objective is a space to give a member of leadership a reason to keep reading your police officer resume. This is where you put your best qualities and explain the most impressive things you have done. Think of it like an elevator pitch except in written rather than verbal form.
Resume Objective Example for an Entry-Level Police Officer Resume

A professional resume for an entry-level position might look the same as one for someone with more experience. However, what you write here will likely differ. Since you may have no police experience, you'll need to delve into other jobs (or education) you have had and how they have made you fit for the job.
Resume Objective Example for an Experienced Law Enforcement Resume

As an experienced police officer, you understand crime rate, criminal investigations, and traffic law. You've probably done some great things on the squad that you can weave into your resume objective. Think about the most impressive things and use those to build an objective that creates a narrative about your career and what you do best.
How to Format This Section
The best resume objective focuses less on the formatting and more on what you have to say. The main thing to be aware of is that this section should be fairly short. Just as typical police communications are professional and concise, the same holds true when creating a resume objective.
You want to avoid writing more than four sentences for the resume objective. Instead, pack in the most information you can within those confines. Think about what you are proud of that fits the job description's wants and needs. Use numbers as much as possible and work in action verbs whenever you can.
Section #3: Professional Work Experience
You'll want to include former police officer duties for the resume and the professional work experience section is there to do that. This has information about your years of experience and your work history. Those who are experienced in police work can detail what they've done in the past while others can give information about their work as a first responder, security guard, or something else.
If you happen to have no work experience, you can add in volunteering experiences, internships, or other information that shows you are the right person for the job. There are lots of options depending on the format and style you go with on your police officer resume.
Professional Work Experience Example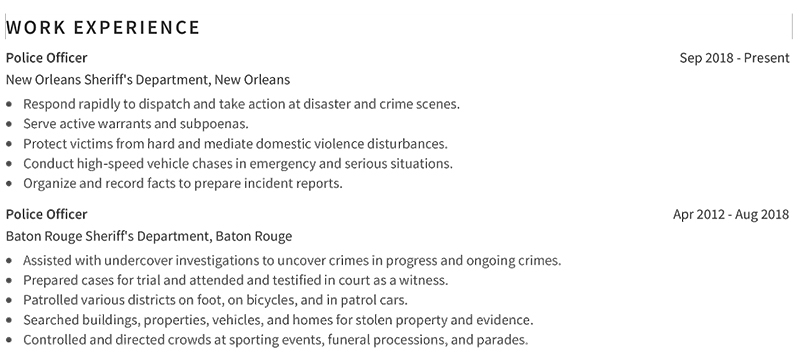 In the example above, the applicant has many years of experience with various police departments. While you might have done different work with other organizations, you can still get an idea of what things to focus on as you write your police officer resume. As you can see, both provided jobs include a list of tasks done regularly.
The job description will be useful for writing this section, too. Find things you have done and use the verbiage from the ad to make sure it makes it through the computerized system to reach a human. Include your achievements as well as things you do frequently so the manager knows what you're experienced with.
How to Format This Section
For the experience section, start with a header that includes what you did, what organization you did it for, and when you were employed there. Once you finish with that information, you can drop down and start to add more information about what you did. Use bullet points to describe your duties.
Using bullets lets you talk about all your job responsibilities succinctly. It's recommended over a paragraph of text, which can be more challenging to read for the person doing the hiring. Make sure to include achievements wherever possible. Start with the most recent job you had and work backward.
Section #4: Education
Once you've made it through the experience section, we move to your education. Whether you have a high school diploma and a certificate from the police academy or a degree in criminal justice, this is where you include that information. Make sure you view the job description to see if you have the level of education needed for the position.
If you have several degrees or certifications, make sure to add all of them. Start with the one you received most recently and then older degrees after that. While you can separate certifications into their own section, if you desire, it isn't required.
Education Example

The education section of a police officer resume will look something like the image above. In this example, you can see the certification as well as the degree that the applicant has acquired. There isn't a ton of information beyond the name of the degree/certification, where it was gained, and when it was bestowed to the person.
For those who might have less experience, you can add additional information. As an example, including the GPA for courses could be a good way to go. Otherwise, what you see in the image is all you need to add.
How to Format This Section
The format for this section is similar to the work experience section you just did. You typically want things in reverse-chronological order. If you want to create a functional resume, you can do things differently. This tends to be the best option for those who want to focus on skills and education instead of work experience.
The header has the info about the degree and you can add other details underneath if you wish. Otherwise, just make sure the manager can easily see what education you have so they can check up on it if desired.
Section #5: Skills
A police officer skills resume has a list of all the things the applicant does best. For instance, if you have experience handling criminal activity and investigating suspicious activity, this could be included here. The keywords from the job description are useful again here so take a look at them to see what to add.
A few skills you might want to consider for your own police officer resume include:
·       First Aid
·       Crime Scene Investigation
·       Handing Out Citations
·       Problem-Solving
·       Knowledge of Ordinances
·       Traffic Accidents
·       Conflict Resolution
·       Emergency Situations
·       Domestic Violence Assistance
Your skills will vary but it's a good idea to use both hard skills and soft skills. Soft skills are things like communication skills while hard skills are things like tech skills or other skills used on the job.
Skills Example

The skills section above is a good example of how yours might look. The skills may not be the same but the idea is to make the skills stand out for easy reading. The list above is a realistic set of skills that offer information about things the applicant can do that might not have been listed elsewhere.
Use the job description to narrow down the skills you want to include. The police officer resume doesn't need to list every skill you have. Just list a few of the important ones pertaining to the position you want.
How to Format This Section
Formatting resume skills can be done in several ways. The image above shows how to create a list with your best skills. Make sure you also add some way for the manager to glean information about how adept you are at each skill. In this case, there's a visual and written representation available. Stars or rankings work well to make it more than just a written list.
Section #6: References
Another thing you need as a law enforcement officer is a list of references. Being a police officer means you need to be a trustworthy and ethical person who wants to help the community. As such, your references are extremely important for this job. Make sure you choose excellent people who will speak to your competence and ability.
References Example

In the image above, coworkers like patrol officers and supervisors are used for the references. You can easily see who they are and where they work. This is a good example of how to set up your own references. It's best to include these on your resume since they'll be needed later if management decides to interview you.
Adding them at this time can save you stress later. However, not all the references need to come from past workplaces. Professors can be used, as can people in your neighborhood who know you. The main thing to avoid is adding family members or friends as references since they will be seen as biased.
How to Format This Section
The resume format for the references is simple. You can choose a template and add in the information or build your own. The general idea is to include at least three references but no more than five. It's best to leave names and workplaces but include "available on request" for the contact information. This creates a great resume with the privacy of your references intact.
Related Resume Templates
You can use the law enforcement resume template included in this guide or consider others. A police officer sample resume doesn't have to be originally designed for law enforcement. You can make changes so it works for you while having the aesthetic you want. Take a look at the options below. One could be the police officer resume template you have been looking for:
After you choose a template, all you have to do is plug in your information. Make changes as you wish and then select a color you like to highlight the police officer resume. From there, you can download the resume and send it to the employer. It's also a good idea to use a grammar assistant like Grammarly to catch typos and other issues.
Final Points
At this point, you have a fantastic police officer resume. The only thing left to do before turning in your job application is to craft a cover letter. Once you have that in hand, you should be ready to move forward. You can be sure your resume will look great and you have a good chance of moving forward.
If you want to make the resume process as easy as possible, use our resume maker to cut down on the time it takes. Choose from a variety of resume styles and colors, and customize the information. Good luck with your job hunt!