Business Development Resume Sample, Example & Writing Tips 2023
You've got a knack for pinpointing new business opportunities, and you love relationship building. Sales turnover climbs sharply and steadily when you start prospecting for new business.
But when it comes to selling your own skills on paper, you somehow lose the plot.
No worries! Job seekers don't know exactly what recruiters, hiring managers and parsers are looking for when they scan a business development resume.
So here's our guide for the best resume that stands out for all the right reasons with loads of info, examples and samples. Use it to craft an engaging and persuasive resume that gets you on the interview list every time.
Sample Business Development Resume
Reviewing business development resume samples before you get started is a great idea. It brings different concepts and offers inspiration.
Whether you're entry-level or have years of experience, go through several completed resumes. A range of diverse skills and experience can help you identify your key selling points.
The best way to find perfect resume samples is by checking out resume builder sites.
Remember that similar jobs often have varying job titles. Therefore, look through –
Business development resume examples
Business development representative resume examples
Business development manager resume samples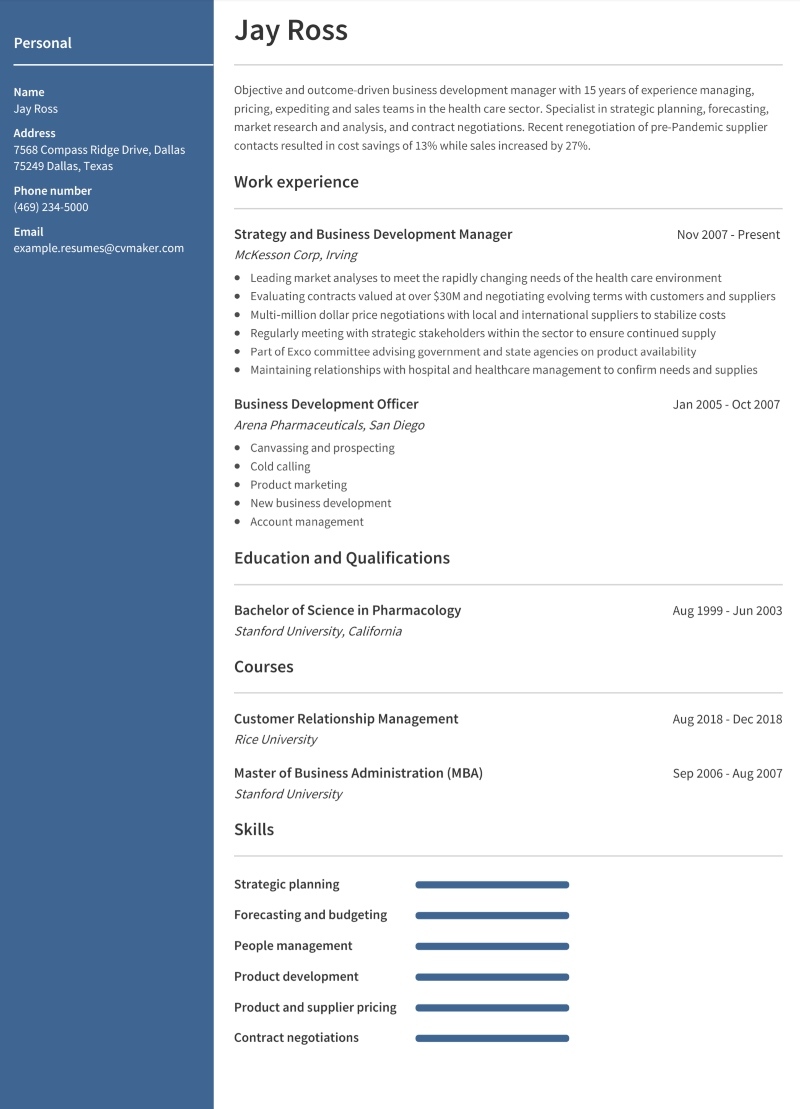 Jay's chosen the clean lines of the Stanford resume template for offers enough space to include details while remaining reader-friendly. 
How to write a Successful Resume for Business Development: Tips that work in 2023
Business developers work across industries and have an extensive range of skills.
However, each job post will have specific requirements. That's why it's crucial to be aware of and use business development resume keywords throughout your resume.
Let's expand a little on parsers. Parsing software comes with applicant tracking systems, or ATS, used by most corporations today.
Recruiters load business development job descriptions for resume comparison by parsing software. Hiring managers only want to view resumes that meet their minimum criteria from keywords written into job descriptions.
As each application is automatically uploaded to the ATS, parsers scan for essential keywords and reject resumes without them. The recruiter's shortlist only has applications with the correct business development resume keywords.
Getting your resume format right is also vital if you want to move from the shortlist to the interview list. No matter how many years of experience you have, you must keep your resume short and concise with around a two-page limit.
In other words, a business development director resume will still be the same length as an entry-level business development resume. The difference between the two will be in the content. Also, as a business development director, you'll likely want to include a cover letter. For entry-level applicants, cover letters are unnecessary.
All sounding a bit complicated?
Rope in the help of a resume builder; that way, you can't go wrong!
Personal Information
Every resume needs personal info, but it might shock you to know how many applicants get this wrong. As a result, they miss out on excellent opportunities because they're uncountable.
A link to your LinkedIn profile can be included here, particularly for senior applications like business development executive resumes. Your profile is a fantastic way to showcase your in-depth experience. It's not necessary, though.
Personal Information Example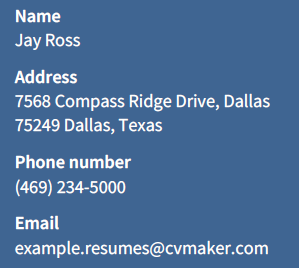 Begin with your full name, physical address, correct contact number, and email address. Whether you list your address in full or just the city and state is up to you. Details can be provided if requested.
How to Format this Section
Short, sharp and precise is the only way to write this section.
Keep to reader-friendly fonts and ensure there's enough spacing between your name, address, contact numbers and email.
The job market is super competitive, so you won't be the only applicant. Even the slightest mistake on your contact information can see your resume getting overlooked.
Resume Objective
If your resume makes it onto the shortlist, your objective or resume summary is your only opportunity to get onto the interview shortlist. This section is also known as a personal profile.
Perched at the top of the page, your business development resume objective is the first thing the reader sees.
A well-constructed resume objective is a powerful summary of what you bring to the table. It's your one and only opportunity to get the reader to take action and read on.
Ordinary and bland resume objectives get applications binned without a second thought.
You only include it to spark the reader's interest to read on and see what more you have to offer.
At this stage, employers only want to know how you can improve their sales turnover as soon as possible. Your business development resume objective must convey that with confidence.
Don't, however, forget the job description keywords. And as each job post has unique keywords, write a new resume objective for each vacancy you apply for.
Take a look through these three business development resume summary samples –
Resume Objective for Entry Level Business Development Resume
Keen and enthusiastic entry-level business development pro with 6 months experience in retail. Strong customer needs and service skills and cold calling and prospecting. Eager to join a busy salesforce and contribute to sales growth.
Resume Summary for Mid-Career Business Development Associate Resume
Determined and goal-driven business development associate experienced in relationship management and process coordination. Collaboration with manufacturing, business, marketing and sales teams to ensure seamless flow and increased turnover. Over 5 years implementing improved sales processes has resulted in a 35% increase in sales and a 58% reduction in administration.
Resume Objective for Senior Business Developer Resume
Objective and outcome-driven business development manager with 15 years of experience managing, pricing, expediting and sales teams in the health care sector. Specialist in strategic planning, forecasting, market research and contract negotiations. Recent renegotiation of pre-Pandemic supplier contacts resulted in cost savings of 13% while sales increased by 27%.
How to Format this Section
Keep it short and to the point, matching job requirements with facts from your professional resume.
Use only 50 to 60 words to highlight your relevant work experience, strongest interpersonal skills, hard skills, and achievements. Include numbers, dollars and statistics for better impact and indicate your experience level.
For instance, a resume objective that lists 10+ years of experience immediately tells the reader that this is not an entry-level applicant. Likewise, when readers see millions of dollars in sales turnover, they know this candidate comes from a multi-million corporate background.
Before you submit a job application, re-read your resume summary again carefully. Ensure it describes your worth to an employer and highlights your major selling points.
Professional Work Experience
The professional work experience section is where ATS parses, recruiters and hiring managers spend a lot of time. So take your time here to make sure your business development resume delivers.
Business development professionals work in every industry, from start-ups to multinationals. It's no surprise that job requirements vary as vastly as skills and experience do.
Tailoring your business development resume is essential, particularly if you've worked in various roles with varying responsibilities.
The best way to do this is to list all your roles and responsibilities in detail first. Next, read through the job description and extract matching details from your skills and experience. This is the work experience you must use on your resume.
Mirror the wording of the job post to capture the keywords. In most instances, you'll find core keywords already appearing in the job title and opening summary.
For example, one employer might list finding new business as "prospecting for new customers" and another as "sourcing potential clients". Both mean the same thing but use their lingo; it's their keywords.
There's no set standard in wording business development roles, and each organization uses their own language and keywords.
Here are a few words and phrases to look out for in job ads –
Cold calling
Customer needs
Customer retention
Contract negotiation
Forecasting
Market research
New business development
New clients
New product development
Pricing
Prospecting
Relationship management
Salesforce
Sales growth
Sales team
Sales management
Strategic planning
Professional Work Experience Example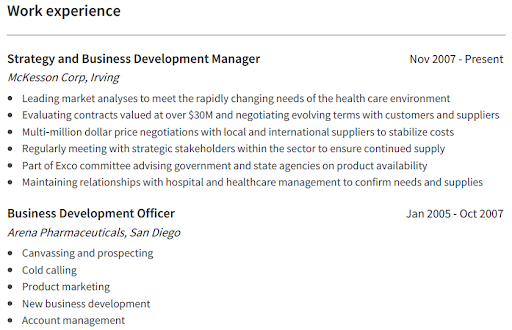 Most business development resumes are presented in reverse-chronological format. This lists your most recent job and work experience first and continues in descending order.
A director of business development resume or an entry-level business development resume might present better in a skills-based resume format.
How to Format this Section
It's crucial to use bullet points in the professional work experience section. This not only makes it reader-friendly, it makes it easy for the hiring team to follow as well.
While you want your experience to be to the point, it mustn't lack details. Too little info can make your resume look weak. Prospective employers want details, so they know what you're capable of. Include numbers, stats, financial values and percentages.
Craft each responsibility to fit neatly into a bullet point. While it takes some creativity with words, you'll reap the rewards in the long term.
Furthermore, keep your list in the same order of importance as the job post.
When it comes to an opening statement for each job you've held, it depends on the situation. Mention it briefly as an opener if you started in a different or more junior role and got promoted.
Such as – "I was initially appointed to internal sales and over 10 years worked my way up to the role of director of business development."
Education
There's no specific qualification for a career in business development. Many successful business development executives have qualifications relevant to a particular industry and discover their flair for sales afterwards.
Likewise, certain industries such as mining and pharma opt to train qualified professionals in sales and marketing because in-depth product knowledge is vital to success.
That said, not anyone makes a great business development pro. Personality traits and existing soft skills play an essential role.
Irrespective of industry or education, people naturally inclined to business development have a track record and traits that make them –
Easy to get along with
Cooperative and conscientious
Naturally curious
Relationship builders
Results-driven
Service orientated
Willing to venture into unchartered territory
Willing to approach people they don't know
If you're an entry-level or junior business development professional include as much detail as possible that matches the job requirements.
Let's say you're applying for a role in consumer retail sales, but your education and limited work history are in technology. There's no real connection!
You did, however, work in various roles at your local Walmart for three years while you were at college. List your highest level of education only and expand more on your retail job in your professional work experience section.
Education Example

If your education isn't relevant to the education section, don't include it. Instead, focus on your skills and experience and include practical short courses and certifications.
Where your education is beneficial, include only your highest level.
How to Format this Section
This section must be brief, exact and easy to read.
Where you have several relevant educational qualifications, list them in descending order, starting with the most recent.
List the qualification followed by the name of the educational institution and dates.
Details such as a list of subjects need only be included if you have no prior working experience.
Skills
The skills section is another favorite hangout of parsers, recruiters and hiring managers.
While different business development roles may need specific hard skills, soft skills are equally crucial. Getting all your business development skills on your resume can become tricky if you over-explain.
Technical and hard skills will relate to product knowledge and contribute to –
New product marketing
Product development
Defining and understanding metrics
CRM software
Business administration
Social media management
Microsoft applications, such as PowerPoint
Soft skills, on the other hand, are effectively people or interpersonal skills vital to -
Winning new accounts
Account management
Making new sales
Building partnerships
Successful contract negotiations
Devising collaborative initiatives
Devising marketing strategies
Team cooperation and management
Sales management
Skills Example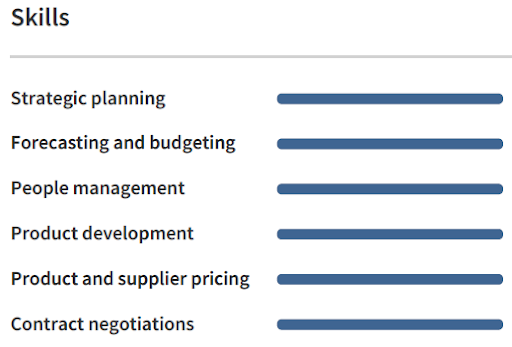 The best way to list your business development resume skills is to put them in the same order as the job post and exclude those not mentioned.
How to Format this Section
Only list hard and soft skills required for the job. Other skills can be discussed during interviews.
You want parsing software to recognize and move your business development resume skills to the shortlist. Bullet points are preferable, keep the wording short and mirror the phrases from the job post. Even swapping words around could see your best resume being overlooked by parsers.
Include a rating for each skill to help the reader assess your skills upfront before contacting you.
Courses and Specializations
Short courses and ongoing learning platforms can be beneficial for business developers. These certifications keep you at the cutting edge of sales and marketing and show you're continually updating your skills.
Don't omit registrations and courses with professional industry bodies, such as the National Association of Sales Professionals.
Entry-level and junior business developers also benefit from courses because they help you develop a network of skilled mentors and build your skills and experience.
Courses and Specializations Example

Include only courses relevant to the job post.
How to Format this Section
Use a similar resume format to the education section.
It must be brief, easy to read and clear.
If you want to list various courses, certifications and specializations, keep them in descending order, starting with the most recent.
References
References are the final section of your business development associate resume.
Providing too much detail comes with risk, especially when you're just applying for a job. You don't know the company yet, and they don't know you. Sharing names, contact numbers and email addresses could end up being misused.
Two references are enough but confirm beforehand that they're still available willing to provide a reference for you. People change jobs, contact details and move on in other ways.
In that way, you're confident about your references, and they know to expect contact from recruiters or hiring managers.
An uncontactable reference or one who doesn't remember you creates a wrong impression which could cost you your dream job.
References Example

You don't have to provide full contact details unless the job post specifically states contactable references are necessary. Rather say they're available on request and give details later in the hiring process.
How to Format this Section
Clear and straightforward is how you do the reference section.
You need only the reference name and text below reading "available on request".
Other Business Related Resume Templates
While all this info to write your best resume is really critical to getting onto the interview list and hired, layout and format can become a real-time waster.
Resume builders create your professional resume online. They're quick and easy and take care of resume formats for you with virtually no effort on your side.
All you need to do is browse through the resume template options and choose a business development resume example that works best for you.
According to research, professionally created resumes using a resume builder are 65% more likely to make it onto the interview shortlist.
Whether you're an aspiring entry-level business development professional or looking for a management role, you'll find a template to suit you.
Choose from business development resume samples, business development manager resume examples or director of business development resume templates.
Final Points on Writing a Winning Business Development Resume
Here are a few vital tips to remember about writing your business development resume.
Fact first: if you make it past the ATS, you only have a few seconds to hold the reader's attention, so remember to –
Extract keywords for each job post
Take your time selecting info for your resume
Limit your resume to no more than two pages
Use clear and concise wording
Include numbers and statistics
Focus on your abilities and what value you can add
Check facts before including them
Use positive language and power words
Proofread your resume before sending it out
Pay attention to formatting
Submit your resume in pdf format