Technical Resume Example, Template & Writing Tips 2023
Applying for a technical position can be overwhelming. Whether you're searching for an internship, a first job, or are looking to move into a more challenging position, the proper technical resume is a must to get a foot in the door.
However, many people find it challenging to write an impressive resume. Even if you have worked in the same role for several years, putting your experience down on paper might seem hard to do. Thankfully, you have options that make the process a lot easier.
Showing you have the qualities that an employee wants is only the start of the process. This is true, especially when you wish to land a competitive role with an excellent organization. The best way to stand out is by having a better resume than others applying for the job.
This article will delve into how to create the best resume by sharing tech resume examples and templates for your use. We'll also share some tips for being engaging and making sure your resume gets someone's attention.
Take time to review the technical resume samples below to get an idea of what you should be sending in with job applications. Then, we'll break the process down into sections so you can follow along at your own pace.
Best Technical Resume Example
You can see one of many technical resumes examples below. As with technical projects you might do on the job, this resume is thought out, structured well, and articulates what the job seeker brings to the table. In addition, the tech resume examples will give you an idea of how to lay out your own resume.
The benefit of technical resume samples is that you can visualize how your own resume should look. With the use of our tech resume templates, you can choose a design you like and plug in your information for quick resume building.
The below image is one of the top tech resume samples and lays out the format that hiring managers expect to see. In addition, you can see all of Blaine's professional work experience, education, and certifications in an easy-to-read chronological order.
You can start creating your own resume with our technical resume templates.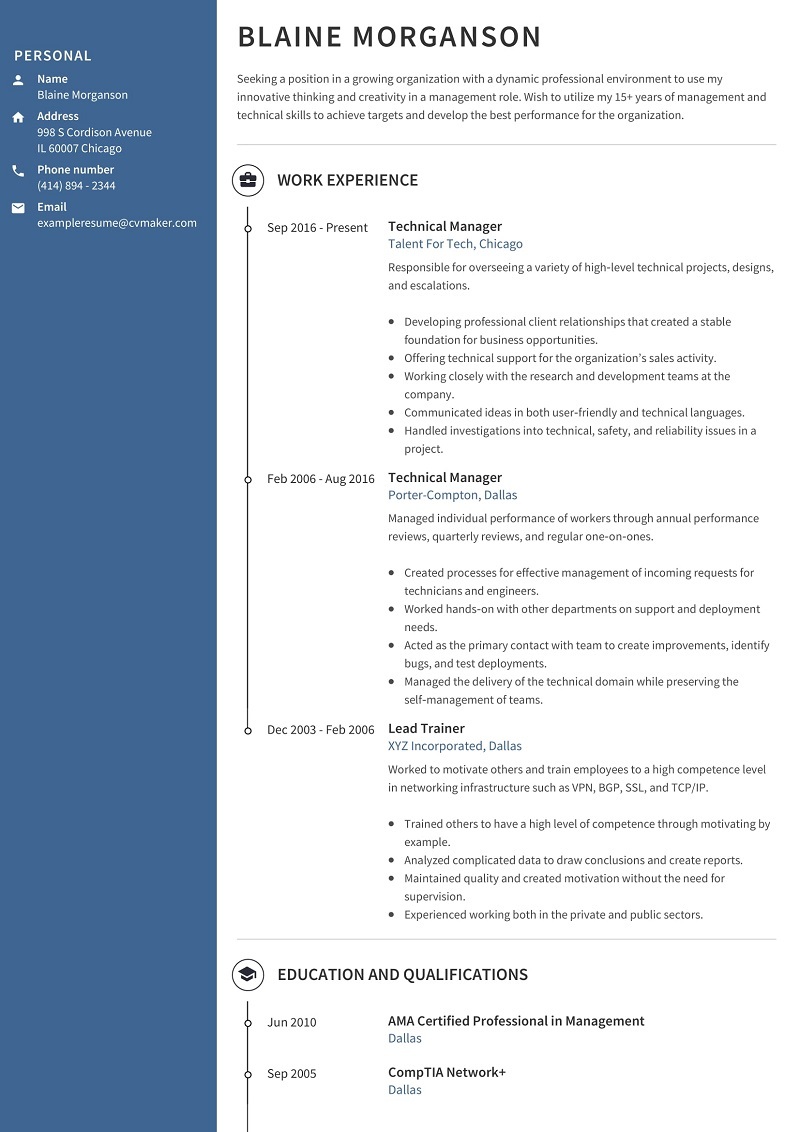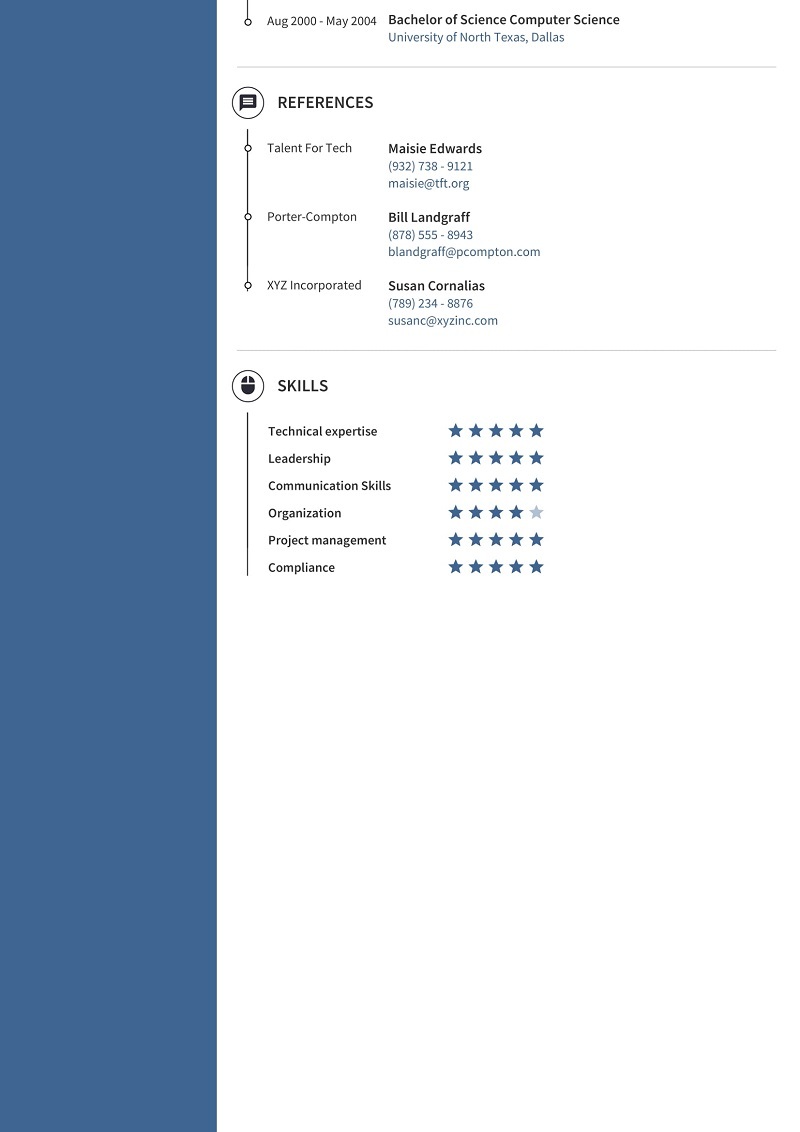 Download this resume example - Technical Manager
Technical Resume Tips and Guidelines 2023: How To Write a Technical Resume
Writing a technical resume starts with properly organizing your thoughts. If you have a lot of experience, you may find it easy to create a robust resume for tech jobs. Even those looking at entry-level positions can make a good tech resume by using some tech resume tips.
Most of the best tech resumes will include several pieces of information, such as personal information, an objective statement, a list of work history in the tech industry, education information, and licenses or certifications. Including all of these items will ensure you have an excellent resume for technical jobs.
If you do not already have a master resume, this document can be helpful going forward. Instead of focusing on the tech resume format, it simply lists all the relevant information about past jobs. This makes it easy to update when you are job searching so you can quickly send it out to companies.
When you are using a technical resume format, a few of the significant sections to spend time on include the following:
Personal Contact Information
A Resume Objective
Work Experience
Education
References
Skills and Abilities
In most instances, a chronological resume is the best choice. This is the case with technical resumes. It lets you show the past jobs you've had and how you have progressed throughout your career. If you aren't sure which type of format to use, chronological is the best bet.
The other option is a functional technical resume. This focuses less on what you've done in the past and more on what you can provide now. It may have less information about past job responsibilities and more about your ambitions and skills. This type of resume is typically used after a career shift or gaps in employment.
Now that you understand the basic format of a tech resume, you need to think about what information to include and how you can write your resume so you stand out from the competition.
Section #1 – Tech Resume Personal Information
You can take a look at Blaine's resume to understand better what personal information should be included. The idea here is to be simple while providing a potential employer with useful information. For example, a physical address should be included for mail purposes.
It's also best to choose an email that is hosted on a professional server to avoid issues. You can also go into the settings for the email address to ensure they are set up to prevent important emails from going to the spam folder.
Finally, the phone number chosen should be mobile and offer Internet connectivity as you may receive texts or SMS messages. Avoid listing social media accounts like LinkedIn unless you have been asked to include them.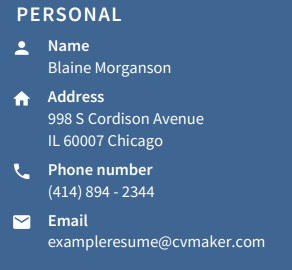 How To Format This Section
As you see in the technical resume sample above, it includes all required information while having a clean and simple design. Technical resumes should show that you can articulate information in an easy-to-read manner. Use the same text size, color, and font size throughout the resume.
This sample technical resume shows the formatting you should use. All you need to do is plug in your own information. You will do this when you work with a tech resume template to include your personal information.
Section #2 – The Technical Resume Objective
Unfortunately, a large number of technical resumes are never seen or are only glanced at for a few seconds. Hiring managers have a lot to do and many technical resumes to go through on a regular basis. The resume objective is where you get a hiring manager's attention.
Every time you apply to a position, the technical resume objective should be altered to fit the role. As you can see in the sample tech resume below, you should personalize the information for the job you want to land. Consider this an elevator pitch that details your hard skills while showing you fit the needs for a specific position.
When creating the resume objective, you should detail that you have the education, experience, and skills to do great things for the company. For example, Blaine's resume mentions his 15+ years in management and lists several skills the job description asked for.

How To Format This Section
The resume objective should be relatively short and sum up why you are the right person for a positive. Use less than five sentences and professional wording while creating a conversational tone. Use action verbs and soft skills in the description and make sure to do some editing when it is complete.
A few tips that are useful for technical resumes include:
Highlight who you are – Hiring managers are interested in knowing your personality and how well you will fit within an organization. When you show who you are, it can give them an idea of whether you fit the company culture.
Mention your technical skills – Make sure you indicate you have the skills needed for the position you are applying for. For instance, Blaine's example tech resume focuses on management experience and skills related to that.
Run spellcheck – Once the objective has been created, run spellcheck on the document to ensure it has no errors. There are also online platforms like Grammarly.com and HemingwayApp.com that can help with grammar.
You can get a better idea of how the tone is by reading the resume objective out loud. If it sounds conversational, that's what you are looking for to create the best tech resume.
Section #3 – Work Experience for a Technical Resume
When you're writing out your work experience as a technical worker, you have a single goal. First, you want to show how your previous experience makes you the right choice for the position you want. For example, Blaine's technical summary resume indicates his technical skills and management experience.
If you worked in the industry while in university as an internship or student learning, this should typically be included in the work experience rather than with your educational information.
While writing out the work experience section, make sure to use action verbs that create a better level of precision. Some examples include:
Addressed
Administered
Analyzed
Developed
Implemented
Interpreted
Led
Maintained
Managed
Prepared
Resolved
Responded
Restored
Reviewed
Try to avoid missing details. If you have a special certification or experience, you need to make sure the manager is aware of that. If you forget to add things in, it could make your chances of an interview drop. Don't bury important information or fail to include it.
In addition, make sure you only add skills that you currently have. If you cannot do the things needed in the role, it will be frustrating for everyone. Include how experienced you are with various skills so an employee has an idea of what to expect if they choose to hire you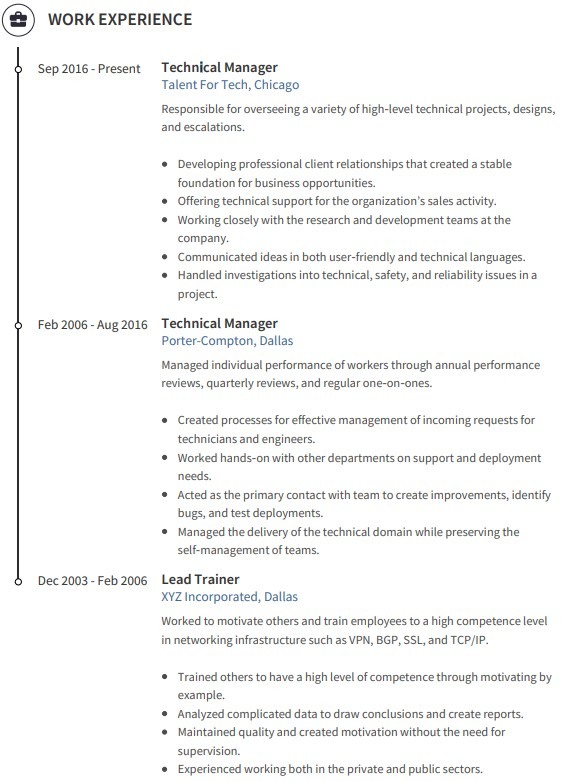 How To Format This Section
One way you should format your work experience is by organizing the positions from the most recent to the least recent. Focus on the positions that show skills relevant to the job you want. For example, if you happen to have less than three technical positions, use another job that is relevant to the position.
Those who want to use a functional layout can do so, but it isn't typical for the technological world. Look at resume samples to get an idea of how to put things together. In many cases, your skills and education will be listed before your job experience.
IT professionals should show their practical experience but should also focus on soft skills and interpersonal abilities. These are essential for many jobs, especially when someone is interested in management or training in a technical environment.
Some people may not have a lot of experience in technical roles, but there are options for that, too. List various positions where you have had to complete essential projects, build technological solutions to problems, or resolve conflicts. For example, if you have worked in project management, that's an important thing to include.
Section #4 – Education for a Technical Resume
When you apply for a technical position, the job posting will typically list how much education is required. Having the education listed on your resume is important, but managers will only glance at the information in most cases. The most important things to include here are where you went to college, what kind of degree you acquired, and when you graduated.
In most cases, there's no need to include your GPA or other information. This would only be relevant if you have minimal work experience to bring to the company. Otherwise, keep it simple and just give the hiring manager the details that matter most.
In the technical world, education is valuable. However, it often doesn't matter too much when you compare it to work history with relevant duties.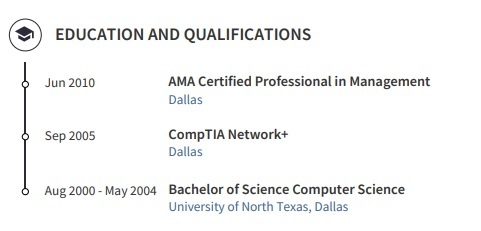 How To Format This Section
Looking at the example technical resume, you'll see that there isn't any superfluous information. It includes dates, names, and locations but not much else. The format should be clean and straightforward, with only the most essential information that relates to the position you are applying for. If you have a Master's degree, make sure that you list that first in your education section.
Section #5 – Certifications on Tech Resumes
Positions in professional information technology companies often require certifications. These are in addition to a college education and may be provided by hardware creators and manufacturers. By listing your credentials, you show what expertise you have to find solutions in a technical environment.
Certifications can be a replacement to or an addition to your skills section, which we'll discuss later in this article. It's essential to note skills that aren't certifications, such as leadership skills, troubleshooting skills, and other technical competencies.
Emphasize any certifications that are new and relevant to the potential employer. You can review our technical resume examples (and others online) to get an idea of the presentation options available to you.
How To Format This Section
There are two ways to list the certifications, one of which you can see above with the education section. You can choose to list certifications in the education section or make a new section that focuses only on this extra learning you have done.
The certifications you list should be related to the position you are applying for. For instance, you might list the programming languages you know. If you choose to create your own certifications section, make it easily readable by using bullet points that list your certifications.
Section #6 – Technical Resume References
It might seem as if references are a pointless add-on to a resume, but that isn't true, especially with a technical resume. Instead, references act as a reference point to support the rest of the information on a technical resume. That's why the references you choose should be considered carefully. You want to include people who can attest to your education and work skills.
Before you get a final offer, most employers will want a list of resumes. This often occurs before you go in for an interview. References can also be added to the resume so it's easy to find them if the hiring manager wants them immediately. When you choose the people to add as references, make sure they are aware of it.
Three references are considered the right amount. You can add more if you prefer but try not to go below this number. At least two of these people should be professionals who have experience with you in the technological world. The last can be personal or professional but should offer information about your character.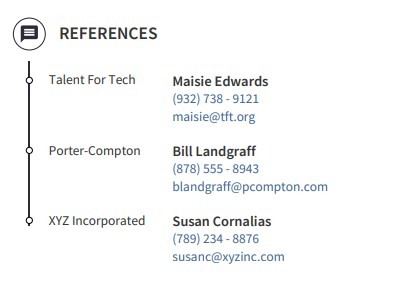 How To Format This Section
When formatting your references, make sure to list each person's name, the company they are associated with, and add contact information. If you have both a phone number and an email address to use, include both. This makes the process easier for the hiring manager to communicate in whatever way works best for them.
Keep in mind that in most cases, it's best to leave off the personal contact information for your references. This helps ensure privacy for the people you are using as references. It also gives you time to let your references know that they may be getting a call before an employer contacts them.
Section #7 – Skills for a Technical Resume
Some individuals will want a skills section on technical resumes, but you can also use it for certifications. This is where you list all the technical skills and other abilities you have that pertain to the job you are applying for. In addition to tech skills, adding interpersonal and communication skills is recommended.
Some of the skills to add, if appropriate, include computer skills, troubleshooting and logic skills, web skills, project management skills, programming skills, collaboration skills, engineering skills, and IT skills.
If you have experience that wasn't listed in your work experience section, it can be placed here. Next, list the skill and rate how good at it you are. If you'd like, you can also add additional information for the hiring manager to be aware of.
Finally, tailor the skills to the job you want. It will take time to apply to several positions, but it shows that you are interested in the job.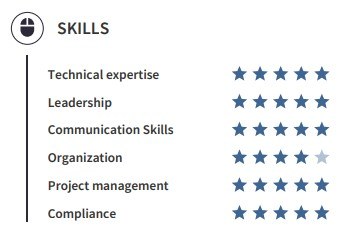 How To Format This Section
A list of skills is the way to go with formatting. Elaborate by showing how skilled you are at each thing so the hiring manager has the information they need. If you choose to add additional details, note how you have used the skills you mention. This shows that you can use the skill in a position like the one you are applying for.
If you have an interest or a skill that you aren't sure whether you should add, think like a hiring manager. Is this a skill that you would want to know about from an applicant? If it could set you apart, there's no reason not to include it. It might be a final way to stand out and get an interview.
More Tech Resume Templates
There are all sorts of ways to format IT technical resumes and you will find a variety of options to choose from on our website. Keep in mind that even if you have all the required skills, a resume with misspelled words and a hard-to-read format will likely be passed over. Whether you need a technical resume template for Word or another software of choice, there are many options to choose from.
Final Points On Technical Resume Writing
The average hiring manager is going to look at your resume for no more than a few seconds. That's why it's essential to grab their attention fast so all your skills and qualifications are noticed. The examples of technical resumes here will give you an idea of what to tailor your own resume after.
When you have attention, you get to prove you're the best candidate for a position through descriptions of the work you have done and the skills you have that can help in a technical atmosphere. Again, our sample technical resumes can be used for inspiration if you aren't sure where to start.
Since many people are applying for several positions at once, be sure you know what each job entails and make sure your resume shows you provide it. A resume might only be one to two pages long, but it can ultimately impact whether you get a job or not. Using a tech resume builder simply makes that process a bit quicker and easier.
A technical resume will stand out if you include your job skills, a bit of your personality, and a professional format. When you select a tech resume template, you can choose the format that looks best and ensure you start on the right foot. Then, all you need to do is personalize the information and send in that application.