Associate Attorney Resume Example, Templates & Writing Tips 2023
The legal profession depends on multiple individuals working together as a team to serve their clients. One of the most overlooked jobs is the Associate Attorney – or legal clerk, who seeks to gain valuable real-world experience while they are waiting to pass the BAR exam. However, to jump-start a legal career, the candidate must first draft an engaging associate attorney resume.
The question many candidates ponder is how to structure their resume? Do I include a customized cover letter, or should I write my resume to match the specific job description? If this situation applies to you, the associate attorney resume sample and the corresponding article will significantly help.
In the information below, we will provide you with an exceptional first year associate attorney resume. We'll follow that up by breaking down each section within the sample associate attorney resume – filled with practical tips that will help you in this journey.
Let's get started.
Associate Attorney Resume Sample
Candidates for these type of positions should be well-versed on legal issues, and how the US criminal and civil justice system works. They should have a general understanding of personal injury, advocacy, civil rights, building case strategy, intellectual property, and local, state, or federal courts. They should have already submitted their bar admissions application, or in the process of finishing law school.
The Associate Attorney position is awarded to a candidate who displays the right experience, has the right attitude, and dedication to the legal profession. They should understand criminal and civil litigation, have experience drafting memoranda and legal documents, and should be on their way to earning their Juris Doctor degree.
The most difficult part of the job search of becoming an associate attorney is receiving that critical in-person interview. Many modern HR firms – which are retained by many legal offices to find qualified candidates, use AI software solutions to review resumes.
They match the job titles with the associated skills that law students seeking to become a legal assistant should possess. As such, it's critical to include some action verbs or hard skills that an attorney associate should possess.
However, beyond the keywords, formatting and using the correct tone with perfect grammar and structure is just as vital. Any potential employer - whether they are in San Diego or New York, is going to review your resume as a complete file. The first-year associate attorney resume posted below combines all these elements into an exceptional practical example of how your resume should look.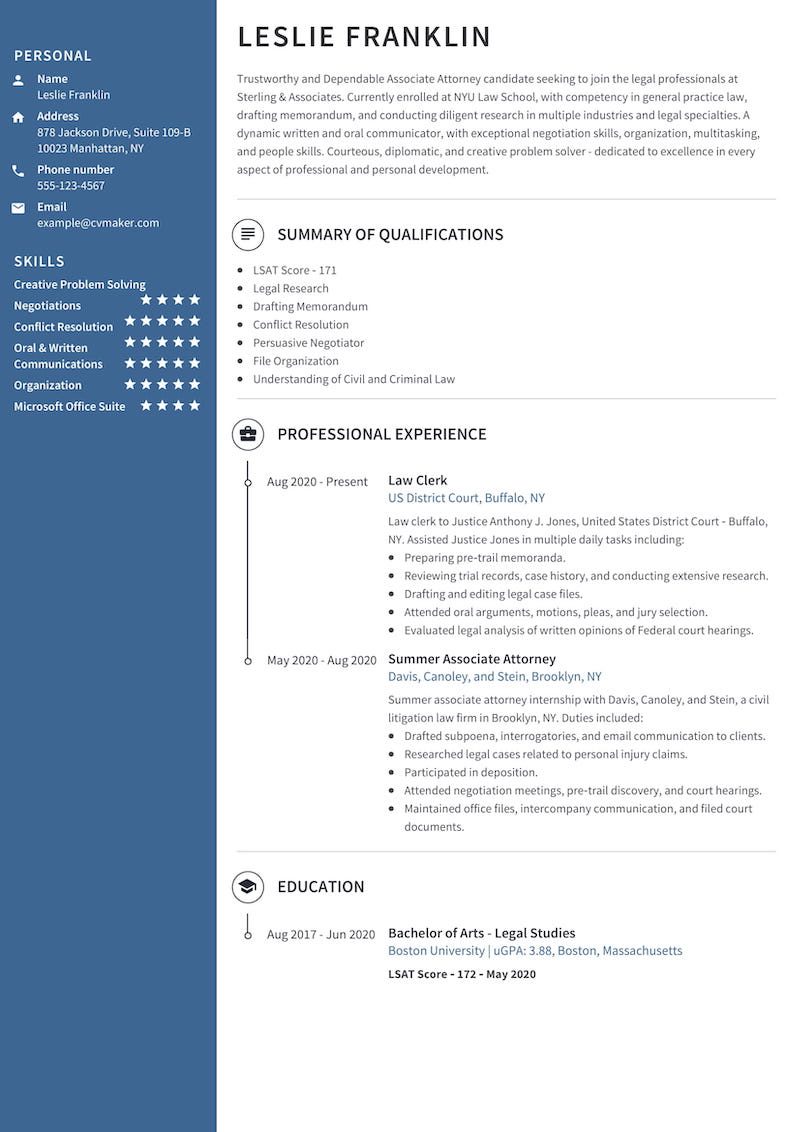 Download this resume example - Associate Attorney

Leslie's sample resume for attorney associate applications is well-structured, simple to read, and tells a story as to why she is the best candidate for the job. It begins with a strong opening statement – or professional summary of her qualifications, then flows into the practical experience, education, and finally industry-specific references.
She focuses on the details by drafting the opening statement for the law firm she is applying for the associate lawyer position. She mentions her political science bachelor degree, along with practical experience working with a previous firm - where she helped with trial preparation, commercial litigation, real estate, motion practice, arbitration, and workers' compensation claims.
This type of attention to detail can make a huge difference between receiving an interview vs having the resume end up in the trash. Now that you have a practical lawyer associate resume to review – let's get granular with each subsection below.
Attorney Associate Resume Guide 2023: How to Write a Professional Resume for an Associate Attorney
Dedication to perfection, a solid work ethic, and exceptional research skills are just a few of the qualities law firms seek in their associate attorney candidates. These 'action verbs' are those that must be included in any senior associate attorney resume – or one for a first-time applicant.
However, inserting the right buzz-terms alone is not going to dazzle a hiring manager or law firm partner. Setting the right tone from the outset, building a case, and supporting your application with evidence throughout the resume is a great way to stand ahead of the competition.
A resume for a law clerk or associate attorney should be concise, well-organized, and easy to follow. Although different law firms might request different information to be included on your resume, most should include the following sections.
Personal contact information
Professional Summary
Summary of Qualifications
Work History
Education
References
Skills
One way to organize this project is to create a master resume – or a working document that permits you to write down every detail in all sections, fine-tune the content, and make appropriate edits. Plus, you can optimize the content for grammatical errors by using a program called Grammarly.com.
Section #1 – List Your Contact Information
Any lawyer must showcase an amazing ability to pay attention to details. It's crucial to start your resume with the most up-to-date contact information. For an associate attorney resume, you'll want to include your full legal name, email address, mailing address, and mobile phone.
Make sure your phone is connected to your email – so you can reply quickly to inquiries from a law firm you applied to. Having your mobile number is crucial – as many recruiters send SMS text notifications to applicants to update them on application status.
How to Format this Section
When you use a resume template, the formatting is streamlined and handled for you. However, if you choose to free-hand create an associate attorney resume, we recommend placing all contact information at the top of your resume. This will make it easier for HR professionals to contact you - if the resume stands out in their eyes.
Section #2 – Professional Summary 
If you are planning to become an attorney – you'll have to perfect the ability to build a case to support an argument. The professional summary is the section of the associate attorney lawyer resume. This is a four to five-sentence paragraph that introduces you to the hiring managers or law firm partners.
You'll want to include the relevant skills and attributes that a law clerk or associate attorney should possess. Some of these skills include an understanding of legal statutes, oral and written communication skills, possessing a persuasive nature, and discretion of sensitive and private information. In the sample resume above, you can see that Leslie has included these skills in the professional summary.
How to Format this Section
Always keep your professional summary short, sweet, and to the point. It should be simple to read paragraph, about 150 to 200 words, with a professional – yet conversational tone. Consider the professional summary as your elevator pitch. Make sure to read it aloud before you paste it into a resume template.
Section #3 – Summary of Qualifications
Your ability to articulate why you're qualified for this position on the resume can help your resume stand out ahead of others. The summary of qualifications section is essentially a bullet-point pile of evidence that helps to start building your case as the best candidate for their associate attorney position.
Since an associate attorney is typically currently enrolled in law school, you want to focus on the skills you've learned in the past few years. You can also add some key accomplishments that are relevant to the position of an associate attorney.
You can see in Lindsay's sample resume that she has one year of experience serving as a law clerk at a previous firm. This section is filled with some of her critical accomplishments completed during that position. However, if you're applying for a first-time associate attorney, you should focus on the core skills and attributes that an attorney assistant must possess.
Some of these skills would include:
Legal research
Legal writing
Extensive research
Your LSAT score
File organization
How to Format this Section
If you review the best-experienced attorney resume samples, you'll notice that they typically include a bullet-point driven section near the top that showcases their specialties – or a specific summary of qualifications. If your goal is to become one of these experienced attorneys, it's a good idea to start replicating these best practices.
The format for this section is simple – list your qualifications in bullet points. This makes it easy to read and permits you to take advantage of some of those keywords we mentioned above. One bonus tip, take time to review the job posting, to find out what qualifications they are seeking in a candidate.
We're not suggesting for you to copy and paste those keywords verbatim but find those that apply to your specific skills and highlight them.
Section #4 – Employment History
It's quite possible that you may not have a lot of relevant job history in the legal profession when applying for an associate attorney position. That said, the employment history section needs to showcase the hard and soft skills you possess that will be on full display at the law firm.
If you have previous law experience, make sure to list your job responsibilities that are relevant to the application. For example, if they are searching for an associate attorney with experience in research, filing motions, and you have done that in previous jobs, make sure to document those achievements.
It is also highly recommended to use previous job experience where you've displayed leadership qualities. At its core, an attorney needs to be a leader of people – from those working in the office, to jurists they've never met.
How to Format this Section
Employment history should always start with your recent or current position. Each corresponding entry should be listed in chronological order. Always make sure to list the name of your employer, the dates of employment, and key areas of responsibility or accomplishments – that will help support your argument for becoming an assistant attorney.
Section #5 – Education
Most assistant attorney candidates apply for these positions after they've completed undergraduate education – and after they've taken their LSAT exam. If this applies to your application, keep the education section simple – list your undergraduate school, degree earned, date of graduation, and LSAT exam scores.
*Bonus Tip – If you attended undergraduate school at the same location as one of the partners at the firm you are applying to – make sure to document this in the education section. Many experienced attorneys prefer to work with like-minded individuals. This applies to any professional position.
How to Format this Section
The education section should be written in a chronological format - with your current or most-recent education listed first. For added value, document a few bullet points of key accomplishments in school – such as being a member of the debate team, or honors graduate status. For those who are currently enrolled in law school, list this first – or like every other section, in a chronological format.
Section #6 – References
For an associate attorney, the references you list could make or break your application. Each reference you include should be fully aware that you are listing them as a referral source. Speak with them and ask them for a letter of recommendation – that is specific to the associate attorney position you're actively applying to receive.
How to Format This Section
Best practices for references on any legal resume are to include the individual name and their place of employment. For privacy reasons, you don't want to document their contact information on a resume. Simply write "available on request" so that the HR firm or hiring agency can contact them directly.
Section #7 - Skills
The skills of an associate attorney are typically developed and fine-tuned during their legal internship. However, in order to gain that important job, the candidate needs to possess the right hard and soft skills.
A hard skill is typically the understanding of using a tool that helps the individual accomplish their job with improved efficiency and quality. For an associate attorney, this would include using software solutions, such as Microsoft Office, Powerpoint, and cloud-based platforms.
The soft skills would be the interpersonal or abilities they have - that help them elevate over others in the same capacity. This might include a few of the following for an associate attorney.
Strong oral and written communication skills
Persuasive Nature
Negotiation Skills
Legal Ettique
Courtroom Experience
Organization Skills
Creative Thinking
How to Format this Section
We always recommend posting skills in a bullet point format. Using a resume builder or template is a great way to structure and customize your skills section. There are two places you can post the skills - either at the bottom of your resume - or your last section, or in one of the side column.
Other Law Firm Resume Templates
They say that imitation is the sincerest form of flattery. One of the best tips we can offer to soon-to-be attorneys is to review how other law firm applicants phrase and format their resumes. We've compiled a list of several law firm resume templates ranging from first-time lawyer applicants to law clerks, paralegal, and experienced attorneys in specific specialties.
Final Points on Best Attorney Resumes
Any resume intends to provide a blueprint or road map that guides a hiring manager through your story. As an associate attorney, your primary task is to build an argument with your resume – from start to finish – as to why you're the best candidate for this competitive job.
Always remember – a final resume should always be written and customized for the specific job you're applying to. It is for this reason that we recommend using a master resume to edit and personalize your content.
Here are some specific tips.
Make sure the resume has a smooth flow – from start to finish. Each section should lead to the next.
Always write your resume on a plain white background with black font.
Edit the document SEVERAL TIMES – through Grammarly.com and visual inspection.
Ensure its well-spaced, organized, and professional.
Finally, read it out loud a few times before you're ready to paste the content into an attorney resume template.
By following these tips above, you can write an associate attorney resume that is clean, organized, and attention-grabbing. Make sure to take your time, sprinkle those action verbs throughout your resume (for software optimization), and feel free to have a few peers (or experienced attorneys you know) review the content before you finish.