Law School Resume Example & How to Write Tips 2023
The journey to becoming an attorney at law is a long, tedious, and strenuous one. It involves years of secondary education, being near the top of your class, and extreme attention to detail. However, if a candidate wishes to practice law in the United States, they'll have to create a law school resume which will help them gain entry to this specialty university.
Like any other resume, the quality of your law student resume can make the difference between being denied or gaining entry. While there are several similarities between a resume for law school and any other higher-level university, sometimes it's a good idea to review legal resume examples before you get started.
If you are wondering how to write a resume for law school, this article is for you.
In the information below, we'll show you a law student resume that was written by using a law school resume template. We will show you which sections you should include in this resume, how to format any resume for law school and some best practices for creating the content that will help you shine over the competition.
Example Law School Resume
Today's top-tier law schools will only admit the cream of the crop. Candidates need to showcase exceptional educational credentials, a dedication to learning the US legal code, and the ability to multitask. These skills and attributes should be articulated on your entrance resume. You can review a great sample law school resume directly below to see how our candidate Candace accomplishes these objectives.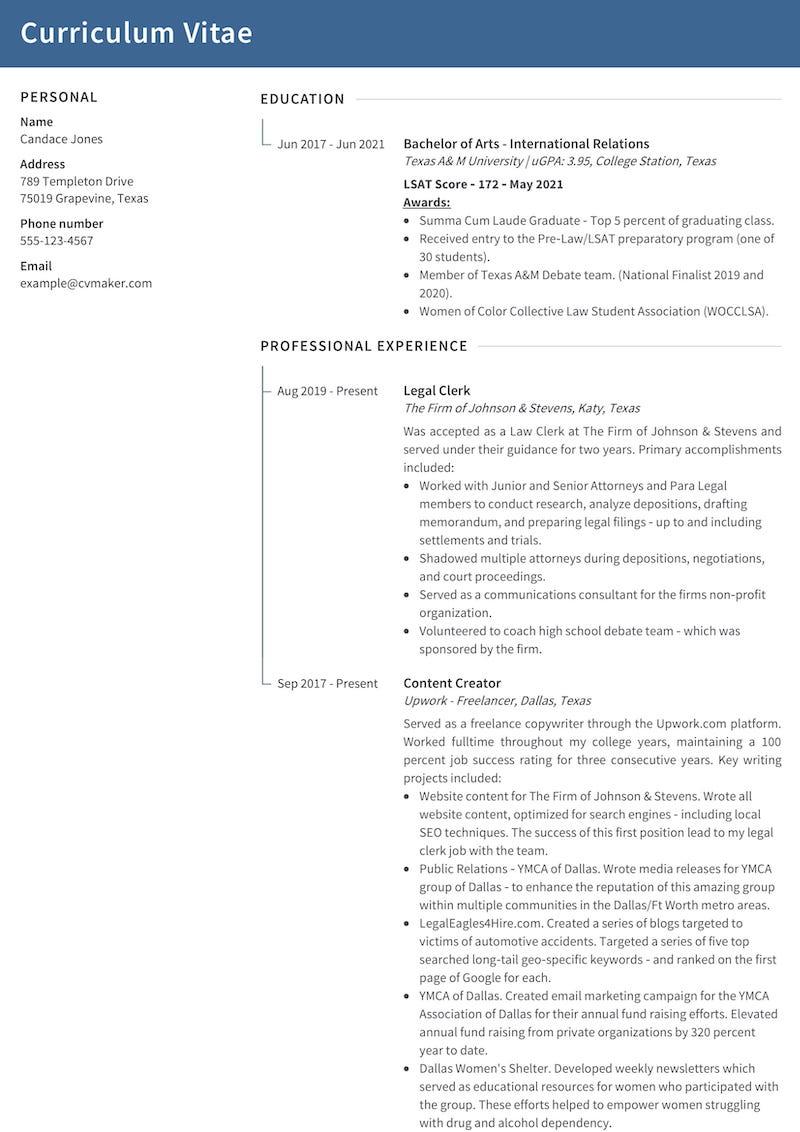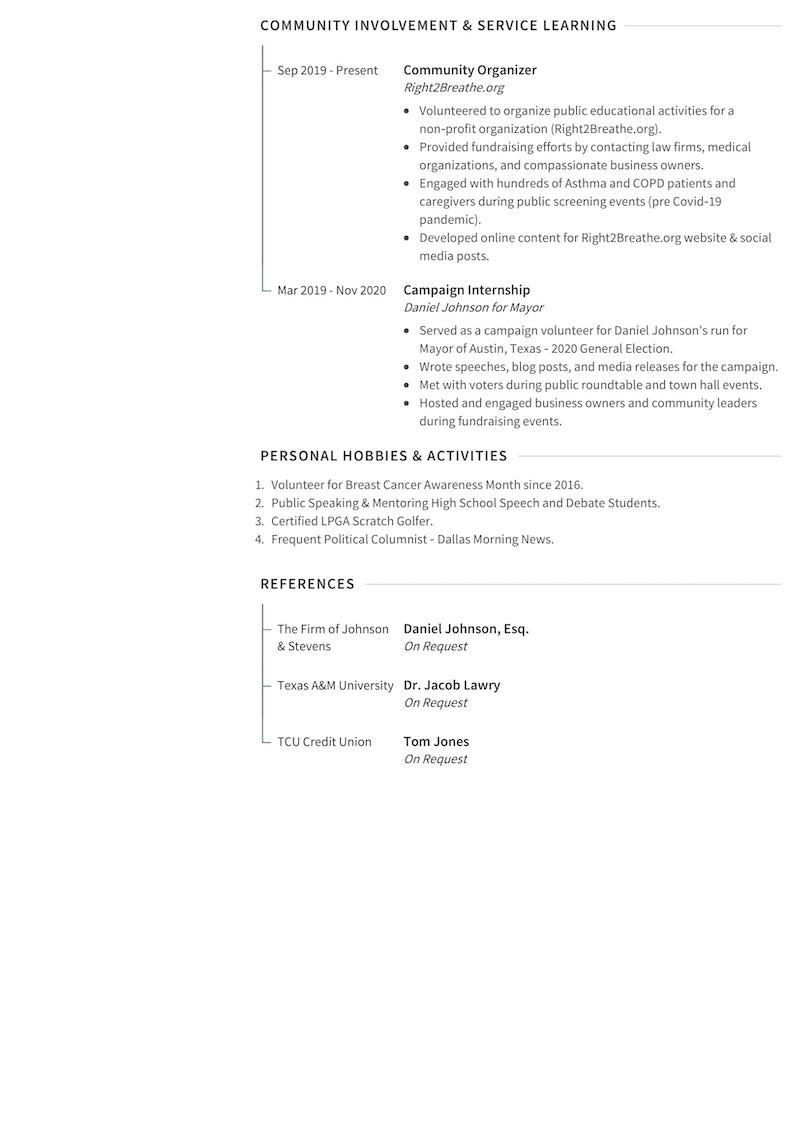 Download this resume example - Law school
Candace's law school application resume is clean, neat, well-structured, and easy to read. You can see that each section is formatted using the same font, is listed in reverse chronological order (newest to oldest format) and is grammatically accurate. She used a law school resume builder to format every section in a clean and easy-to-review manner. 
She has written an opening statement in the sample law student resume specifically to the school she is applying for, versus writing one, generic objective. The law graduate resume tells a story from start to finish, showing the admissions team why she is an exceptional candidate for their prestigious law school.
Let's break down each section included in this resume for law school application in the information below.
Law School Resume Tips: How to Make a Resume for Law School in 2023
Most law school resume examples are written quite well. However, they lack practical tips that are specific to the type of resume - or give you structure on how to write that law school graduate resume. Like any other endeavor, writing a law school admissions resume is easier when you start with a plan of attack.
The organization is the key, which is possible when you start by creating a master resume. Essentially, a master resume is a working word document, that permits you to write details about each relevant section, edit the content, organize the layout and structure, and fine-tune the content.
So – let's start writing your law school resume.
The first item for law school resumes writing checklists is to create one. While most law schools will communicate with you about their admission requirements, there are some important sections you'll want to include in your resume.
Contact Information
College Education
Professional Experience / Internships
Community Involvement
Personal Hobbies & Activities
References
Skills
1. List Your Contact Information
Consistency in writing a legal school resume starts by listing accurate and updated contact information. This will include your full legal name (that matches your application exactly), mailing address, email address, and a good contact phone number. We recommend listing your mobile phone, as several college admissions members will send text alerts to students to inform them of their application status.
When you utilize a law school resume template, inserting your contact information will be seamless and organized professionally.
You'll notice that we don't recommend inserting a resume objective. There is a reason for this. When you're applying to a specialty, higher-level educational facility, candidates invited for an interview will be selected on their qualifications. Your opportunity to sell yourself to the school will be in person. So, don't worry about writing a resume objective or personal statement for a law school admissions resume.
2. College Education for Law School Resume
For a law school application resume, the college education section is extremely important. In most job application resumes, listing the basics about your education is good enough – simply write the location, degree earned, GPA, and date of graduation. It's also advised to include your LSAT results when submitting a resume and application to the admissions committee.
When you're applying to admissions officers from your law school, remember this key point - they're looking for relevant information. They've likely supplied you with the requirements, so make sure you follow their lead in the education section.
The legal school admissions staff needs to verify that you've taken the required courses that will prepare you for the specialty education of law school. As such, your law school resume format for this section should follow our sample resume to the "T". There is no need to include your high school – just insert the relevant information required by your law school.
How to Format this Section
When it comes to your law school application resume format, here are some specifics.
Start with your highest degree earned. (Bonus Tip* - If you've graduated with great distinction or at least the top 10 to 15 percent – and have earned Magna Cum Laude or Summa Cum Laude designation – a list that next to your degree, as we did in the sample resume above).
List the location and date of graduation.
List the awards earned.
Showcase your affiliations. This would include honors society, Greek houses, or others.
3. Professional Experience for Law School Resume
Contrary to popular belief, the professional experience section within a law school resume template does not need to be filled with multiple law firm positions. Most law school admissions experts suggest that showcasing previous experience that focused on the candidate's ability to articulate – both oral and written communication are just as crucial.
If you are creating a law student resume with no legal experience, focus on those jobs where you've showcased positive legal skills – such as written and oral communication. Work experience is important - but a law school wants to see relevant professional experience. While listing applicable legal experience is crucial – it's not the end of the world if you don't have that professional experience.
How to Format this Section
When you review Candace's law student resume to Harvard Law School, you'll notice that she focuses on two jobs – one was her law clerk position, the other is as a professional writer of online content. Within each job listing, she provides the name of the employer, dates of employment, and then bullet points of her key tasks.
The bullet points in law school application resumes will extrapolate on critical skills that are vital for an attorney at law. Some of these skills include persuasive communication, attention to detail, organizational skills, research abilities, and analytical thinking.  Formatting for this section is crucial, as you want them to review your ability to organize content.
4. Community Involvement & Extracurricular Learning
If there is one section in Candace's law school resume example that truly stands out – it's her community involvement and extracurricular learning. The best law schools pay a lot of attention to the extracurricular activities – or community involvement of their candidates.
Social responsibility is a crucial component of serving as an attorney in the United States – and should be a natural objective of anyone who wishes to practice law. However, those candidates who spend their time improving their understanding of the legal process, becoming advocates for others, or supporting non-profit organizations will stand above those who do not.
How to Format this Section
Your community or social involvement section should be formatted similarly to your professional experience. List the name of the organization, dates of involvement, and bullet points of your responsibilities – or tasks completed.
As you're applying to a law school, it's a solid idea to include several key power words or buzz terms that will showcase your soft skills (or interpersonal skills).
5. Personal Hobbies & Activities
Consider this section as an optional one – or the cherry on top of the resume for law school application sundae. Today's attorney is personable and needs to showcase charisma, and the ability to engage in social situations. Nothing better showcases these attributes than adding some personal flair to your law school resume.
In this section, feel free to share some of the personal hobbies or activities you are passionate about participating. Keep it simple with the format, such as listing the activity, the dates, and some key bullet points of accomplishments.
6. References
The reference section is essentially an opportunity for you to share personal or professional peers that can vouch for your work ethic and personal integrity. You should select references that may have legal or professional experience. If not, make sure to gather references from undergraduate or graduate college professors, previous employers, or one listed in your professional experience section.
Like any section of your resume, consistency is crucial in the reference section of a law school resume. Always verify their contact information and ensure it's up to date. More importantly, make sure you have their permission to be contacted if needed.
How to Format This Section
The reference section should only list the name and place of employment of your reference. You don't want to list their private contact information on a resume – as that would be a violation of their privacy. Simply write "available upon request" and provide that information if the hiring manager requests. You can indicate on your cover letter that you have references available on request as well.
Final Points on Writing a Law School Application Resume
One of the most difficult professional schools to receive admission to is a law school. Whether you're applying to Harvard Law, Yale, or a local law school, writing a powerful and organized law school resume is a vital component to becoming accepted.
We've provided a roadmap – not only with Candace's law school resume example but also each section in the content above. The key is to use perfect grammar, the correct language, and take advantage of a law school application resume template. When you edit all your content in a master resume document, paste it in a text file, then paste in the template, you'll save time, and ensure the resume appears clean, neat, and organized.
Beyond documenting the relevant experience and customizing your resume for the specific job you're applying for, make sure to follow these crucial tips.
Make sure your law school resume is reader-friendly and flows from beginning to end.
Always write your resume on a plain white background with black font.
Edit the document SEVERAL TIMES – through Grammarly.com and visual inspection.
Ensure its well-spaced, organized, and professional.
List all education, professional experience, and community involvement in chronological order.
Verify your reference's contact information and use ones that support your resume.
Finally, read it out loud a few times before you're ready to paste the content into a law school resume template.
Starting the job search for an attorney at law position begins once you graduate from law school and pass your bar exam. However, you need to gain entry to the law school. Mainly - your academic achievements are going to do most of the work for you. But academic performance is not the only entrance criteria.
When you take time to review every word your write, choose the right tone, select action verbs that make sense, and ensure the document flows from start to finish, you'll provide the admissions team with a clean and organized resume that will support your application to law school.