Attorney Resume Example & Lawyer Resume Writing Tips 2023
Practicing law in the United States is the dream of many passionate individuals. The dedication required to complete years of primary education, succeed in law school, and pass the BAR exam tends to separate the cream of the crop. However, once your educational journey is complete, finding that perfect legal position is where many experienced attorneys struggle. To receive that all-important interview, you'll have to draft an attorney resume that stands out amongst a sea of applicants.
So – where do you start?
The best way to learn how to write engaging lawyer resumes is to review a professional-written sample attorney resume. In the information below, we'll provide you with a roadmap on how to create a litigation attorney resume. We'll also showcase the attributes you'll find in most lawyer resume examples.
Sample Attorney Resume
Whether you're writing an entry-level attorney resume or an experienced corporate attorney resume, one thing is certain – it's becoming extremely difficult to gain that first interview. Most experienced attorney resume samples you read online look the same – filled with action verbs that capture the attention of hiring managers and HR professionals.
However, the key to standing out amongst the pile of experienced attorney resume samples is telling a clear and engaging story. It's like building a case, you need a strong opening statement, provide the right evidence to support the argument, and draft conversational content that engages with your audience.
The sample attorney resume below gives you a real-world example of how this document should look. Take some time to review this litigation attorney resume, which was created using high-quality lawyer resume templates. Once you're finished, scroll down below to review how we structured each section of John's sample lawyer resume.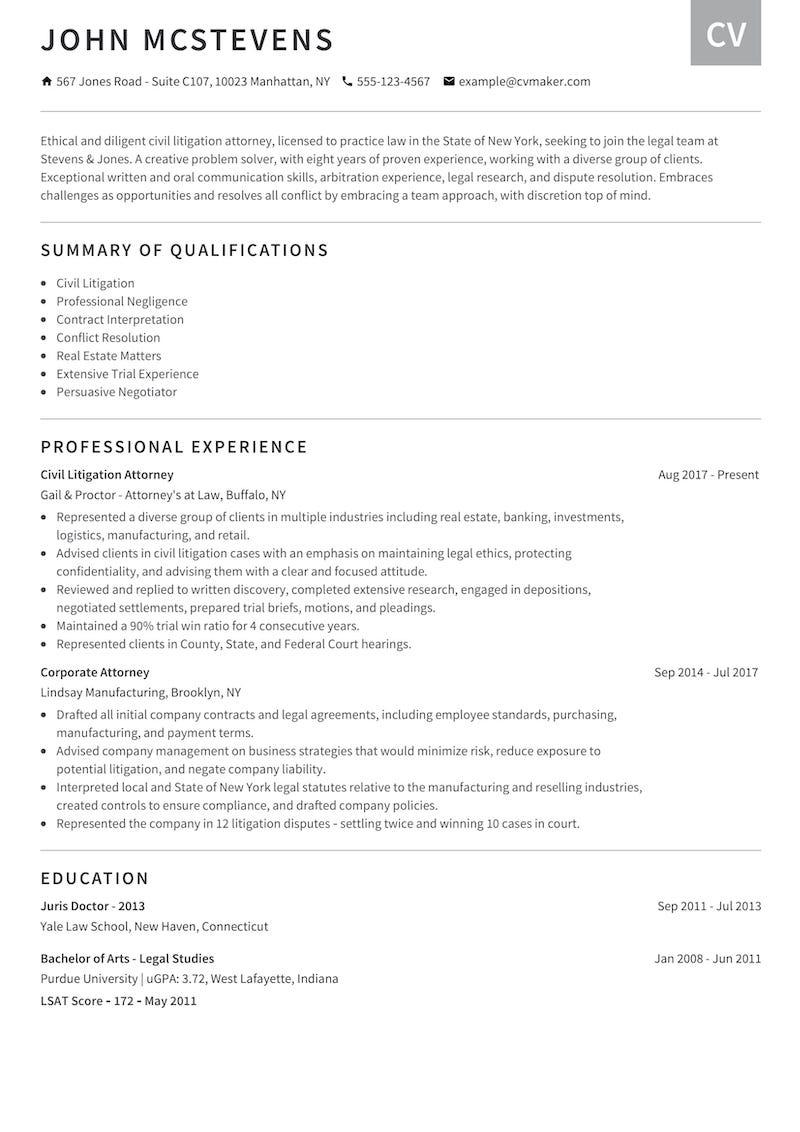 Download this resume example - Attorney

As you can see, John's civil litigation attorney resume is organized, simple to read, and well-structured. It starts with an engaging professional summary, followed by a structured qualifications and skills section, continues with his professional experience, and finally – his law students education and certifications to practice law in the State of New York.
It's written specifically to the position he is applying – vs the standard one-size-fits-all layout that most attorney resume examples showcase. Your objective is to showcase your dedication to joining that organization and explain why you are the only candidate they should consider.
Let's break down each section included in this attorney resume sample.
Attorney Resume Tips 2023: How to Write Successful Lawyer Resumes
A lawyer resume is similar to any professional career resume. It must include your relevant education, certification, and licensing, and display applicable professional experience. It should be written clear, concise, and with a professional tone that clearly articulates your qualifications – yet showcases personality.
In many ways, the legal profession is similar to those who practice medicine. Some are general practitioners and specialists. As such, it's important to remember this when you're creating a resume for lawyers.
Generally, resumes for attorneys should be short, clear, and concise. Since many legal firms use hiring firms and software solutions to find the right candidates, using the correct language and 'keywords' is crucial. But it's just as important to establish the correct resume format for lawyers.
While each legal specialty is unique, you should utilize the following primary sections in any resume for a lawyer position.
Personal contact information
Professional Summary
Summary of Qualifications
Work History
Education
References
Skills
Like any project, starting with an organized plan of attack significantly streamline the resume writing process. We strongly suggest creating a master resume – or a working word document that allows you to list all your relevant information – per section. This will permit you to fine-tune the content, optimize the resume with action verbs, and ensure it's 100 percent grammatically accurate.
Section #1 – List Your Contact Information
Accuracy and attention to detail are a requirement of any successful attorney at law. However, it's even more critical when drafting your resume. It must tell a story, from start to finish. This begins by listing your direct contact information. When you review our sample resume for attorneys - it provides a good example of how it should look.
One question that many lawyers ask is whether it's acceptable to include their Esquire title in the resume. While it's something you've earned, it's truly up to you. If you're going to list this on your resume, but the designation after your last name, written as Esq. You can see that John has written his name as John P. Daniels, Esq.
How to Format this Section
We recommend including your full legal name, mailing address, email, and mobile phone. Many recruiting companies use automated software that will send SMS text messages to applicants – to provide them with a link to their application. As such, you'll want to ensure to use a mobile phone number in this case.
Section #2 – Professional Summary 
This is your opportunity to build the case for you to become the perfect applicant to fill an attorney position. Since the professional summary is the primary item on the resume that will be reviewed, it must be written correctly.
A professional summary should be written specifically to the position and firm/company you are applying for an attorney position. You must include your relevant skills for this position, key success stories or accomplishments, and a closing statement that showcases your passion for the legal profession.
The summary should also include a few crucial action verbs that many automated software platforms search for when used by HR firms. Some of these key skills for attorney positions include legal research, dispute resolution, legal compliance, arbitration experience, written and oral communication, persuasive nature, and discretion.
When you review John's professional summary, you'll notice he included each of these terms in the paragraph. It's also important to note that you are licensed to practice law in the state in which you are applying.
How to Format this Section
The professional summary is an easy-to-read paragraph, no more than 200 words, that is essentially your elevator pitch. It should be written in a professional – yet conversational tone, and drive home your experience and qualifications. Whether you're creating a real estate attorney resume or new attorney resume, the professional summary should be formatted the same.
Section #3 – Summary of Qualifications
Once you've created an engaging opening statement, it's time to support your argument with evidence. This is your summary of the qualifications section. Whether you're writing a corporate attorney resume or patent attorney resume, this is the section that will backup your case – and arguably gain you that interview.
The summary of qualifications will include a few important details, such as your current State Bar stature and years of experience practicing law. However, this section should also include some key accomplishments and the vital skills that are unique to your area of specialty.
How to Format this Section
Our candidate John used a lawyer resume template to format his qualifications section. He started with an opening paragraph, then listed the qualifications in bullet points. He reviewed the job description and customized his resume to support his application. This makes the resume easy to follow and again – drives home the message to the HR or hiring manager.
Section #4 – Employment History
The employment experience section will vary based on the attorney position applicant. Ideally, you'll want to only showcase previous positions that are directly applicable to the position you are applying for. For example – if you're writing a transactional attorney resume, the previous employment listed should include experience in this practice of law. Such is the case if you're looking to become an in-house attorney for a corporation.
For those candidates with limited work history, it's best to provide at least two previous legal-specific positions. For example, if you've served as a law clerk, paralegal or legal assistant, this will help build your relevant legal experience. When explaining your duties or accomplishments, showcase those that support the legal skills you used in your opening statement.
How to Format this Section
Employment history should always start with your recent or current position. Each corresponding entry should be listed in chronological order. Each entry should be documented as showcased in our attorney resume sample posted above. List the name of the law firm or company, followed by the dates of employment, and finally – bullet points of key accomplishments.
Section #5 – Education
To become an attorney, each candidate needs to eventually pass the US Bar Exam. The pathway to get to that point begins and ends with relevant education. This section is often considered to be 'assumed', but it's important to showcase your education. For an experienced attorney, this section should be straightforward – the Juris Doctor degree earned, location, and date of graduation.
Remember, you're going to document your current State Bar certifications in the summary of qualifications section, so there is no need to repeat the information here. This is required for any lawyer - including personal injury, tax attorney, or intellectual property lawyer. Also, don't worry about writing your GPA.
Tip – If you attended undergraduate school at the same location as one of the partners at the firm you are applying to – make sure to document this in the education section. Many experienced attorneys prefer to work with like-minded individuals. This applies to any professional position.
How to Format this Section
The education section of a resume should be formatted in a chronological order of relevance. For an attorney resume, the main inclusion should be your law school - where you earned the Juris Doctor. Simply list the name of your school, date of graduation, and the location of your law school. If you prefer, you can add your undergraduate college - with the similar inclusions. This type of format is applicable for any type of application - from family law attorney resume to general practitioner. .
Section #6 – References
The references you list on your legal resume can make or break your application. Any professional law firm or organization is going to contact references to gain their input about your skills, work ethic, and personality.
This leads us to who you should select as professional references. Anyone you list should be a peer – or someone who is an influencer within the legal profession. It's also a great idea to create a long list of references on your master resume – and select those who might have an existing relationship with the firm or company within your job search.
How to Format This Section
The reference section should only list the name and place of employment of your reference. You don't want to list their private contact information on a resume – as that would be a violation of their privacy. Simply write "available upon request" and provide that information if the hiring manager requests. You can indicate on your cover letter that you have references available on request as well.
Section #7 - Skills
The path of becoming an attorney is a long and challenging one. It involves a tremendous amount of education, but it also requires the candidate to possess the right hard and soft skills. Hard skills are the tools utilized to accomplish your job with improved quality and efficiency. For an attorney, this would include Microsoft Office Suite or Apple solutions, cloud-based technology, and calendar scheduling.
A soft skill is an interpersonal skill or ability that helps the lawyer achieve superior results. Some examples of soft skills may include:
Strong oral and written communication skills
Persuasive Nature
Negotiation Skills
Legal Ettique
Courtroom Experience
Organization Skills
Creative Thinking
How to Format this Section
If you're going to list your skills on the resume, it's best to place them in a bullet point format. If you're going to use an attorney resume template, which we strongly recommend, the formatting is often customized. We'd recommend adding your skills underneath your personal contact information - on the left or right column, or at the bottom of your resume.
Other Attorney and Lawyer Resume Templates
The legal profession is vast, with several specialties – ranging from family law to real estate and tax attorneys. If you're looking for a specific lawyer resume template that applies to the position you are seeking, please review our lawyer resume samples below.
Final Points on Best Attorney Resumes
A resume that is written specifically to the intended audience is the one that will stand out amongst the sea of generic resumes. This is a statement of fact applies to the best attorney resumes. Regardless of your area of practice, your objective should always be to build a case to support your application.
Here are some specific tips.
Make sure your attorney resume flows from beginning to end.
Always write your resume on a plain white background with black font.
Edit the document SEVERAL TIMES – through Grammarly.com and visual inspection.
Ensure its well-spaced, organized, and professional.
Finally, read it out loud a few times before you're ready to paste the content into an attorney resume template.
Attention to detail is a crucial skill that any lawyer must possess. If you're able to showcase this in your attorney resume, you'll provide a practical example of this vital skill. Select the right action verbs and sprinkle them throughout the resume. Most importantly, take time to perfect your master resume, and always customize it to the specific job you are applying to.