Dental Assistant Resume Example & How to Write Tips 2023
Are you worried that you don't have the chops to create a great dental assistant resume? Later in this article, we'll be showing you a perfect resume for a dental assistant. Not only that, but we'll also share how you can create one just as good by yourself. It's the perfect way to land that esteemed job in dentistry.
When you read through this guide, you'll get to feast your eyes on a dental assistant resume that is better than 90% of the rest you'll find on the Internet. We'll also give you tips and tricks to use to ensure you pull in more interviews than your competitors. You'll learn what achievements and skills to list, as well as how to describe your experience to get the job you want.
The job search can be rough sometimes, but it's much easier with a good dental assistant resume. And it doesn't take long hours to build one. All you need is a bit of time and some excellent guidance. We'll provide you with the latter so you can focus on the process of getting a job that you love going to every single day.
Dental assistants have an important job. They spend every shift supporting dentists and offering a positive experience for patients. Whether you're creating a new dental assistant resume or updating the one you have, you'll find tons of writing tips, a resume sample, and more to get you going on your journey.
Dental Assistant Resume Sample
A dental assistant does technical work, customer service work, and so much more. It isn't a position where you spend the entire day doing the same thing hour after hour. You need to be able to work both supervised and unsupervised while having strong computer skills and excellent organization. Your resume needs to convey all of those things.
One of the things to consider is the structure of your professional document. That's where dental assistant resume examples come in. Below you'll find an example of a dental assistant resume that you can use throughout this guide to make sure yours is sure to turn heads when it lands in the office. Take a look at it and get an idea of what you're going for.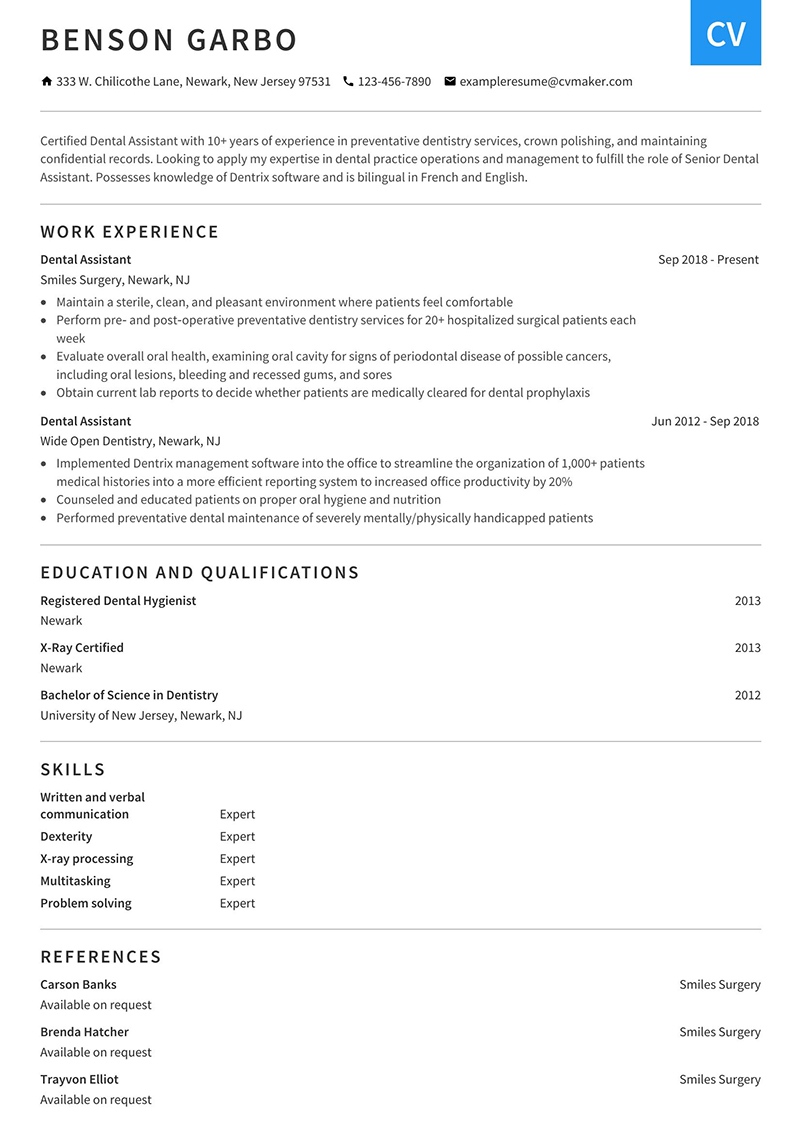 When you look at different dental assistant resume examples, you'll see that many of them have things in common. However, you don't want to just copy and paste what you see. You can use sample dental assistant resumes as a guide, but you shouldn't lean on them for all the information.
It doesn't matter if you're applying as a senior or junior dental assistant, you need to customize things on every level possible. For instance, in the resume above, you'd change the contact information, make the resume objective match your accomplishments, put your own experience, education, and skills in, and swap out the references.
You can see in the sample dental assistant resume PDF that the applicant has an opening statement that fits his job desires. This is followed by information about his experience, degrees, certificates, and skills. The resume ends with a set of references who are sure to say good things about the applicant.
You'll notice that you can easily read this dental assistant resume from top to bottom. It has a professional tone, but it still feels conversational. This is the type of format that lets you tell your story and prove you'd do great in a specific role.
The resume shows dedication to dentistry, boosts confidence and is grammatically correct. Now let's look into how to structure, write, edit, and build a full dental assistant resume.
How to Write a Good Resume for a Dental Assistant in 2022: Full Guide to Registered Dental Assistant Resumes
The dental assistant duties resume you just looked at is a great example of what you want to create. However, it could be intimidating to look at and think about building it on your own. While a professional resume writer handled the sample, that doesn't mean you can't do it on your own. We'll give you the details you need to create a resume just as good as the one above.
We recommend using the dental assistant job description for the resume. There are a couple of good reasons for this. The first is that when you read over the job description several times, you'll see keywords that are important to the employer. When you incorporate this into your resume, it will show you're a good choice for the position.
The second reason to keep the job description close is because of applicant tracking systems. This is a kind of software that is often used to look over the resume format and contents. They know what an employer wants and look for those things throughout various dental assistant resumes. If yours hits the mark, it moves on to a hiring manager.
While you build a dental assistant resume, there are a few sections you shouldn't forget to add. These generally include:
·       Your contact information
·       A dental assistant resume summary
·       Your work history
·       Education
·       Skills
·       And a set of references
Start by making these six major sections and the titles you find for them. Once you have a basic resume ready to fill out, we'll share details about each of the sections. Keep reading to get even more tips for an excellent dental assistant resume.
Section #1: Contact Information
The first thing a certified dental assistant needs to add to a resume is their contact information. No matter where you're applying, you'll have a variety of duties. You want the employer to know you can handle them all – but first, you need to introduce yourself. This section is where you shake the hand of the hiring manager (virtually) before you show off your skills.
Contact Information Example

You can see above that the contact information section is a simple one. It doesn't have any information about your chairside skills, but there will be time for that in later sections. For now, the applicant makes their details clear from name to email address.
If your resume is an impressive one (which it will be with the tips in this guide), this section ensures the employer can reach out to you for an interview or other steps in the hiring process. The example above offers that, and in a few lines, you can do the same thing.
How to Format This Section
Recruiters looking for a dental assistant want to see a simple contact section. There's no need to add a ton of extras, such as your LinkedIn profile link, unless the application asks for it. Instead, make sure you have your name, mailing address, and two ways to contact you.
The most common methods of contact will be email and phone. Use those or select something that works better for you. Formatting is minimal here. Simply make sure you use bold as needed, so things stand out. You can place the contact information on the sidebar or at the top of the resume.
Section #2: Resume Objective
Whether you're making an entry-level dental assistant resume or a pediatric dental assistant resume for years of experience, you need a resume objective. This is essential and has to be written to the specific employer. It's a short paragraph that acts as an elevator pitch. It should give them a reason to reach out to you.
Resume Objective Example for a Beginner Dental Assistant Resume

Maybe you don't have years of experience but instead passion and excitement for dental assisting. Your resume objective should focus on the skills you do have but don't be afraid to convey how excited you are about moving into the field. Add any accomplishments you have to round off the section.
Resume Objective Example for an Experienced Dental Assistant Resume

For someone experienced, a professional resume objective is even easier to create. Think back to the achievement you are the proudest of. These should make up the bulk of your resume as long as they fit the job description. Add numbers and other quantifying information whenever possible to show the impact you have had.
How to Format This Section
One of the things that hiring managers will focus on with your dental assistant resume is the resume objective. It's an easy way to distinguish you from the other candidates. The formatting is simple here since it's a block of text. What you want to do is make your writing the star of the show in this case.
A short paragraph is what you want to create here. Use no more than four sentences. Make sure you dig deep and give this your best. Think about the biggest things you've accomplished and convey them with authority. You can look at the image above to get an idea of how you might do this.
Section #3: Professional Work Experience
Experience as a dental assistant on a resume can go a long way. After all, you want to show an employer what you're skilled with. However, this section is crucial even for a dental assistant resume with no experience. Focus on showing the positions you've had in the past that are similar to the one you want.
Professional Work Experience Example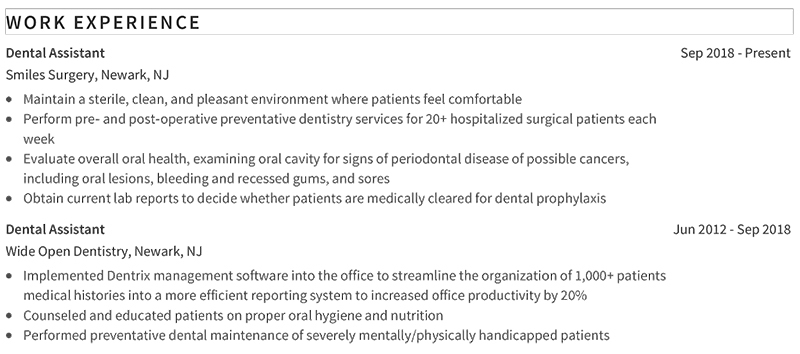 Maybe you're a Certified Dental Assistant (CDA) from the Dental Assisting National Board (DANB). You understand how to work with patient information, dental tools, and other things related to the job. This is where you put that in perspective by showing the jobs you've held in the past.
For those with less experience in the industry, don't let that stop you. Other jobs can be added as needed. Simply add in the skills you used that match the ones for the job you want. You'll find that getting creative and thinking hard will give you connections you might not have immediately considered.
How to Format This Section
This is the first section where you're going to focus on formatting beyond the simplest aspects. You want this to look good since it will be the bulk of your dental assistant resume. The first thing to consider is the style. Most will go with reverse-chronological, which means you start with your most recent position and go backward.
The header for the job will tell your role, where you worked, and when you were there. Underneath is where you dig into the role a bit deeper. Use a set of bullet points to add the responsibilities you had at the job. This is a good spot to incorporate keywords from the job description.
Section #4: Educational Background
In addition to experience, hiring managers want to learn more about your educational background. This applies to a resume for a dental assistant with no experience or someone with decades of experience. Here you'll share where you've gone to school and what degrees or certifications you might have.
Educational Background Example

Whether you're creating a dental assistant student resume or want to show off your certs from the Dental Assisting National Board, this is where you'll do it. The example above gives you an idea of what this looks like for someone who has a degree and two certifications.
In some cases, a high school diploma may be listed on the dental assistant's resume. However, this is only required if you have no university degree. Otherwise, make sure all of your education relevant to the position is included to complement the information about your experience. This gives a fuller picture of who you are as a candidate for a dentistry position.
How to Format This Section
As a dental hygienist or another dental assistant, the formatting here is similar to the experience section. However, it's generally a bit simpler. The basic information to include for degrees include the name of the school, the degree earned, and the date the degree was acquired.
If you have a limited employment history, feel free to add extra details about your degrees. You can add in your GPA, special projects, honors, awards, or other things that show your skills and abilities. Otherwise, put things in reverse-chronological order. You can also add any degrees you are currently pursuing at the top.
Section #5: Skills
There are a ton of dental assistant resume skills you can add. There are soft skills and hard skills, interpersonal skills, communication skills, technical skills, and more. It might lead you to wonder what you should focus on for your dental assistant resume. The answer is a mix of all of these things. Both customer-oriented skills and skills related to dentistry are good choices.
Skills Example

Above, you can see an example of the skills section. Of course, not everyone is going to have experience with the same things. One person might be focused on oral health, while another is great at dental procedures, and a third might be excellent at things like scheduling appointments.
Think about the skills you are best at and then use those. A list of some of the most common choices includes:
·       Dental x-rays
·       Sterilization
·       Patient care
·       Dental practices
·       Orthodontic skills
·       Healthcare
·       Dental equipment
·       Fluoride treatment
·       Patient records
·       Oral hygiene
·       Dental care
·       Dental instruments
·       Infection control
·       Dexterity
·       Fillings
Choose a set of skills that best represent what you can do, and that is useful for the job you want. That's all there is to this section in the end.
How to Format This Section
For the skills section, the format will be a bit different from others. You don't want a paragraph of information since that's hard to read and leads to skimming. Instead, this is usually set up as a list. You can choose the way it looks, but the example above is a good start for this section.
You also need to be sure that you don't list too many skills. Five to 10 is pretty much the maximum amount. Don't add so many that the resume ends up longer than a page long. Also, be sure you clarify your proficiency with each of the skills you add.
Section #6: References
A dental office is going to want to see some references. This supports your application and makes it easier to gain an interview. Most references will be precious managers and bosses who know your abilities. You can also choose to add a personal reference but avoid friends and family members.
References Example

This applicant has chosen three references aware of their skills in office management. You can add more, but it's best to stay at five as a maximum. The example shows you what sort of information is recommended to add for each of the three to five people you choose to include in your dental assistant resume.
How to Format This Section
Once you format this section, you'll be close to the best resume you could make. This is another easy area to format. You want to include a few basic points for each reference. Their name and place of employment should be included. Then it's best to add "available on request" in place of personal contact information. Only send that out when requested to avoid any issues with privacy.
Other Dental Resume Templates
One of the easiest ways to streamline creating the resume of your dream is through the use of dental-assisting resume templates. Instead of going through the process of creating a resume format, it's all done for you. Pick one you like, add in your professional information, and you're good to go. It's honestly that easy.
Choose the dental assistant resume template we've showcased in this guide, or select something else if you prefer. The resume templates below are for various professions but can easily be altered to fit the needs of someone going out for a dental assisting position.
· Entry-Level Administrative Assistant Resume
When you sign up to use our resume builder, you can also totally customize your resume to meet your needs. Select a format, colors, and whatever information you'd like to share. From there, download it as a PDF for a professional look, and you're ready to move on to the next step.
Final Points on Writing a Dental Assisting Resume
No matter where you've worked in the past or how much experience you have, getting an interview is all about the perfect resume for a dental assistant, along with an eye-catching application and cover letter. Being consistent is an important part of the process. It makes it more likely you'll be considered for a position.
Above, you have a step-by-step guide for creating an amazing dental assistant resume. This is a great template to use, but it's important to customize it for the exact position you want. Even adding the company name to the resume objective and adding in some keywords can go a long way.
Now that you have a great resume and you feel close to the finish line, make sure you follow the tips below:
· Check that the resume flows down the page and is simple to read.
· Be sure the background of the resume doesn't clash with the text. Simple is best.
· Read the document multiple times to make changes. Visually inspect for errors and then use Grammarly to check for anything you might have missed.
· Ensure the dental assistant's resume is professional, well-spaced, and organized.
· Consider reading the resume out loud to get a feel for any rough areas. If everything sounds good, you're ready to move forward.
If you've followed the general tips above, the guide for each section, and the above recommendations, you'll have the best chance of getting that interview that you hope for. For the easiest method, use a resume template like the one in this guide to make sure your resume has all the relevant information while being organized and neat. Good luck!