Acting Resume Template, Example & How to Write Guide 2023
Experienced actors don't need an acting resume, right?
Wrong! In fact, very wrong.
You won't get noticed by casting directors or agencies without an actor's resume.
The same goes for experienced and new actors.
If you want to be seen as a professional actor, you must look like a pro in person and in print.
The world of acting has moved on from walk-ins.
Auditions are won by applying to casting notices on websites, social media, publications, or an agent.
Your professional acting resume represents you when you're not there in person. And mostly precedes you, meaning it's the first impression you make.
In other words, your actor resume shows all you are and have to offer. That's why you need an awe-inspiring resume if you're serious about getting acting gigs.
What you don't need, though, is a standard resume that works for other professions.
An acting resume is radically different, but we'll get into that later.
This article is crammed with writing tips, a complete acting resume sample and section resume examples.
Let's get started…
Professional Acting Resume Example
Just as there are many different types of acting roles, there are various resumes for actors.
The industry has very set ideas, and specific expectations regarding actors resume format and content. It differs totally from any other resume format and presentation.
Your acting resume must fit on a single page.
Yes, that's right; one page and no more.
We'll drill down on the specifics further on in the article.
Therefore, unless you have limited acting experience, you'll need a separate resume for each category of acting you've done.
For example, film, television, theater or commercials. Commercials should always be on a separate resume because the acting differs vastly from other roles.
Do some research to see what works best for you. Look through theater resume examples and compare them to actor resume examples.
Then decide what sample actor resumes suit your acting experience best?
Here's one of our sample acting resumes. Taurus has chosen the clean lines of our Berkeley resume template in pale red.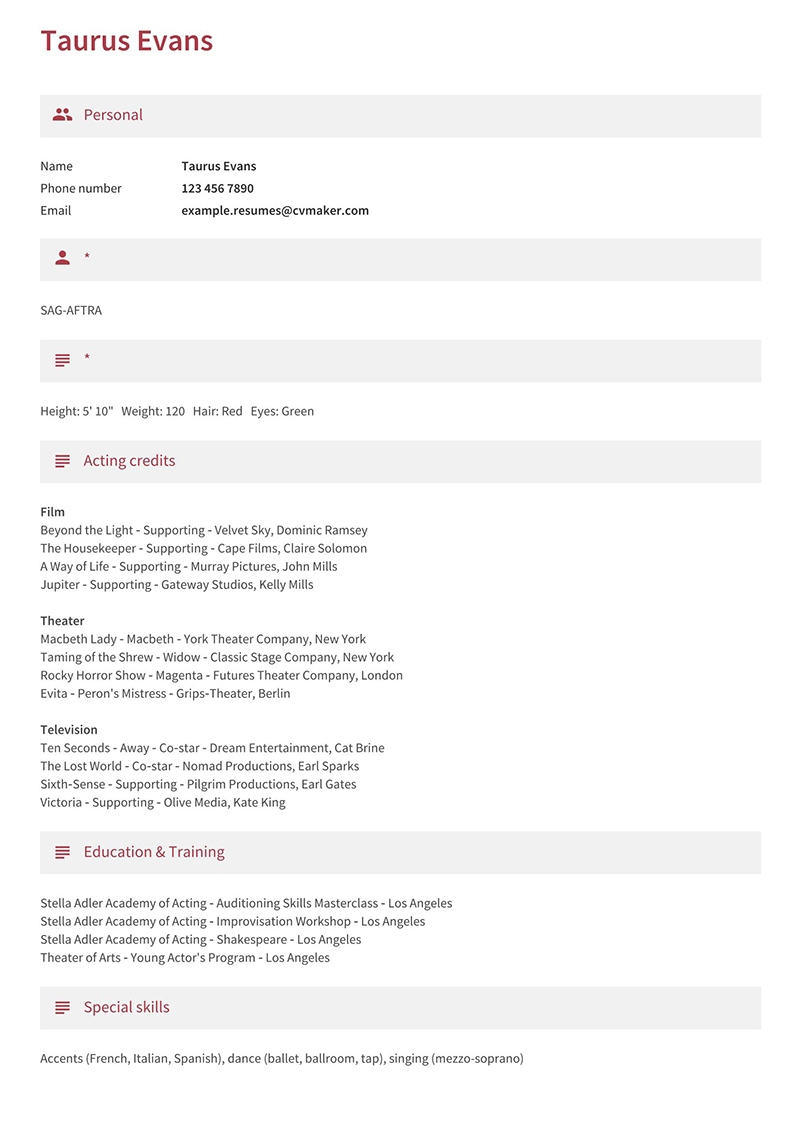 How to Make an Actor Resume: A Full Guide to Writing a Successful Actor Resume in 2023
So back to the issue of a one-page acting resume.
That's what's expected in the acting industry, and that's what you must provide.
Compared to how resumes are usually done, this may sound complicated.
But it's not! Actually, an actor resume is easier than most others.
Here's how to make an acting resume a one-page affair.
If you've got a long list of experience and played various types of roles, you must either –
Make your actor's resume category specific to the type of role you're applying for
List your most successful acting roles only if they relate to the specific role
There's no detailed job description necessary. All that's required is the show's name, your role and the production company and director's details.
There's a bit more formatting to be done depending on the category. However, that's all you include because that's all that's expected.
As mentioned, each acting category has a specific format for presenting your acting history. All must be done in three columns, though.
Using an acting resume template Google Docs, or Word makes getting it right plain sailing.
Go to "insert", select "table", and choose a 3-columned table in the document.
Then, copy/paste the table to the work experience section of the resume builder acting resume template you've chosen.
For category-specific resumes for actors, you can list a dozen or so roles. Stick to each portfolio's top three or four roles for multiple categories.
There must still be enough space on the page for your contact info, training and special skills.
Remember, this all goes on one page. No matter how tempted you are to add a bit more detail to show you're right for the role – don't!
How come?
There's another reason why resumes for acting are single pagers.
The resume gets attached to the back of your headshot.
Casting directors want to see the whole caboodle representing you back to back on one page.
Yip, that's how it works.
Your contact details, acting history, special skills and training on one side and how you look on the other.
Next up, how you achieve this…
Contact Information, Union and Personal Description
All that's needed on an acting resume is your name and contact information.
Even your real name isn't necessary; go ahead and use your stage name if it works.
Your phone number and email address will suffice for contacts. No address or current location is required.
If you have an agent, use their contact information instead.
Now add your union affiliations, such as SAG-AFTRA, AEA or AGVA. List the unions under your name if you're affiliated. Otherwise, leave it out.
Most important is your personal information, or rather, your look.
This is your eye color, hair color, height and weight. Obviously, these details must match your photo.
Accordingly, your headshot must be a really high-quality image of how you look at your best right now.
Contact Information, Union and Personal Description Example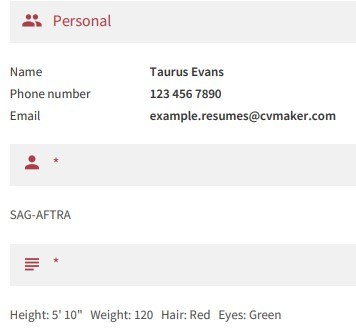 This actor resume template uses only the basics expected within the acting industry.
How to Format this Section
Only your name or stage name, phone number and email or agent's, union affiliation and personal details belong in this section.
Avoid including anything else.
If the casting director wants to arrange an audition, your details must be at the top of your resume page.
Make your entire actor resume scannable and easy to read. No one's going to hunt for info when there's a pile of other acting resumes screaming to be seen.
You want your actor's resume to stand out for all the right reasons.
Acting Credits
This is your professional or amateur acting history.
Whether you're a professional actor or a newbie, here's where you list your past roles and gigs.
Chronological order doesn't matter much on an actor resume template.
Where you're out of high school with only roles in student film or plays, descending chronological order makes better formatting. Otherwise, it has no purpose.
Instead, group your acting credits into categories and choose the most suitable one for each application.
What if all categories are suitable?
Then select only your top one or two roles in each for your resume. Alternatively, only one category, or two, like film and television, might work better.
All information on your acting resume must be relevant to the type of role you're chasing. Surplus details can see the curtains close on your resume before the show begins.
Here are typical category and subcategory examples –
Film

Feature film
Short film
Action
Drama
Thriller
Horror
Romance

Television

Documentary
Gameshow
TV series
Soap
Sci-Fi

Commercials

Television
Film
Radio
Online

Theater

Comedy
Musical
Broadway
Off-Broadway
Regional theater
Solo theater
Shakespeare
Now, define your acting credits further to fully explain your role, but in as few words as possible. No paragraphs on an actors resume.
Describe roles in your acting career this way –
Improv
Extra
Lead
Principle
Day player
Guest star
Stand-in
Body double
Stunt double
Stunt performer
Voice-over
You can use the name of the character you played in certain well-known theater roles, such as -
Hamlet
Lady Macbeth
Frank N Furter
Eva Perón
Finally, you need the details of the theater, network, production company, director, etc., for each acting credit.
Acting Credits Example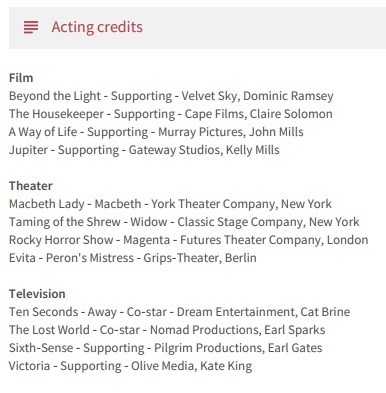 See how clearly acting credits are defined in this acting resume example.
How to Format this Section
Create an actors resume template in Google Docs or Word first.
Insert a 3-columned table with the number of rows necessary.
The first column has the name of the film, play, documentary or production you were in. in the middle, you put the role you played. Theater, network or other production details fill the last column.
Simply copy/paste the table to the work experience section of your acting resume template.
Professional Headshot
Time to take a closer look at the back of your acting resume.
Your professional headshot matters as much as the info on the flipside.
Casting directors want to see how you look right now. They want to see you at your best today. Nobody wants to see you in past roles or in costume.
Don't worry about covering up things you think are quirky or even unattractive. It might be just what the casting crew's looking for. They usually have a particular look in mind when auditioning.
The quality of the headshot is not negotiable.
Avoid trying to save a few dollars by taking selfies or going to a photographer who doesn't know the acting industry standards.
You're looking for an acting-savvy photographer who knows what's necessary to stand out. Get your photos done in New York or Los Angeles, or find a local photographer who's worked there.
An 8" x 10" borderless headshot is generally the norm, but do some research on trends in your category. If you're unsure, go 8" x 10".
Each actor's resume you write must be securely attached to the back of your headshot.
Secure means using staples or glue that won't spoil either the photo or the resume paper.
Whatever you use, stay away from paperclips. Yours won't be the only acting resume casting team will be passing around.
Paperclips are your worst enemy; they fall off, separating resume and headshot. No headshot, no chance.
Another no is reverse printing your headshot on the back of your resume, especially in bulk. Firstly, casting directors don't like it. Secondly, everything must be fresh and updated, including your photo.
How to Format this Section
By now, you've likely realized hardcopy sample actor resumes are expected. This means it must be printed and delivered to be considered.
A4 is slightly bigger than 8" x 10". Get around that by neatly trimming your resume to fit your professional headshot.
Education and Training
You don't need more than a high school education to become a professional actor. If you've got talent, you might prefer acting classes and workshops.
Many famous actors couldn't afford college. They opted for coaching and masterclasses to improve scene study while doing extra work on the side.
Detailing the education and training section is more important for new actors. Experienced actors can touch on it, mentioning only vital info.
If you do well in auditions, there will be plenty of time to expand on your education and training.
Education and Training Example

Note how only the basics are mentioned in this sample actor resume.
How to Format this Section
Whatever your formal education and training, list it briefly.
No dates are necessary, but the name of the institution, academy or coach matters.
Special Skills
Most actors have at least a few special skills, and many have multiple.
By its nature, acting is a skill that requires a multifaceted approach to fit into each type of role.
Given the diversity of roles, actors can also have many special skills.
Devoting attention to the skills section of your resume is essential. The combo of your look and special skills might be precisely what the casting director wants.
Where the casting notice mentions skills you've got, definitely include them. However, you can also add others in your special skills for acting resume.
Anything that you're an ace at is relevant. Being first-rate, though, means it's something you can do on the spot if asked. If your special skills don't meet those criteria, leave them out.
Special skills include -
Accents
Being multilingual
Combat training
Dancing
Martial arts
Musical instruments
Singing
Skills Example

Only the facts to get special skills across.
How to Format this Section
List special skills in a single sentence to save space.
Other Artistic Resume Templates
Maybe our acting resume template doesn't suit you just yet?
No problem! We've got other samples that might work better.
While not performance resume templates, how about these three resume examples?
Teaching the next generation of actors as extra work while waiting for your big break is perfect. Sharing your knowledge and watching them bloom earns as many accolades as a curtain call and applause.
Final Points on Writing Actors' Resumes
A quick recap on the basics and essentials of an acting resume –
Make it one page only
Use tables to save space
Job descriptions aren't necessary
Your resume goes on the back of your headshot
Specialized resumes work best if you've got a lot of experience
Hardcopy actors resumes are the norm in the industry
Some other pointers –
Don't include a cover letter
Use business fonts like times new roman or arial
Ensure there's plenty of white space on your resume
Make it professional; in your absence, you're as good as your resume
FAQs Related to Acting Resumes
How to list roles on an acting resume?
Do it in a 3-column table format. Start with the name of the film or play, followed by your role and finally, production/director details.
How to list commercials on an acting resume?
Commercials are best done on a separate specialized resume. That's simply because skills differ from stage and film. A commercials actor has about a minute to convey a message. However, use the same 3-columned table formatting. Include the product/client, your role and the agency.
How to make a resume for acting auditions?
A resume for acting auditions is exactly the same as any other acting resume. Include your acting experience and special skills relevant to your auditioning role. Keep it to one page with a professional headshot at the back of your resume.
What should never go on an acting resume?
Your physical address
Your social security number
Your age (unless you're a child actor)
School roles when you have professional experience
Parts where you said nothing and went unnoticed
What should a beginners acting resume look like?
New actors can find making a beginners acting resume challenges. That's not necessary, though. Focus on your training. Include workshops, masterclasses and coaching, and don't forget your special skills. As you win more roles and your acting credits grow, you can replace education and training with acting credits.