Construction Worker Resume Example & Writing Tips 2023
Construction workers built The United States of America. Sure, the framers of our constitution came up with our structure of government, but the laborers, plumbers, masons, framers, pipe workers, and general contractors are the individuals who provided them with every building they occupied. Our world needs quality construction workers. And those who are hardworking, pay attention to details, and aren't afraid to sweat can find exceptional paying jobs when they have a construction worker resume ready for interviews.
In years past, most laborer jobs that work on a construction site were handed out to candidates who took trade-based skills courses in high school, trained as apprentices and eventually became skilled journeymen. Today's HR-policy-heavy employers require extensive background checks, and in many cases, a resume for construction worker is submitted along with the application.
If you've never written a resume before, spending hours trying to find the right words to include in your construction laborer resume might seem intimidating. However, just like building a home or commercial property, starting with a proven plan, and using the right tools will simplify the job. This is what we plan on providing to you in the article below.
In the information within this article, we'll provide you with a structured plan for writing resumes for construction workers. We'll explain what sections you need to include in construction worker resumes, along with some important keywords and skills that will capture readers' attention. Plus, we'll provide a construction worker resume example that you can use as a guide for creating your resume.
So, if you're ready to learn how to write a resume for a construction laborer, let's get started.
Construction Worker Resume Example
Writing a construction worker skills resume is easy when you start with a solid plan of attack. But let's be honest – writing a construction laborer skills resume is challenging even for the most skilled wordsmiths. We strongly believe that it's best to review a practical example resume for construction worker to help them understand the layout, format, and overall look that employers want to see.
The construction worker job description resume sample below was created by our in-house team of expert resume writers. It's a practical example of a finished resume that checks all the boxes of details that hiring managers and recruiting firms seek from potential construction workers. Take some time to review the sample resume of this mythical candidate John, who is applying for a commercial construction laborer position for a developer in Dallas, Texas.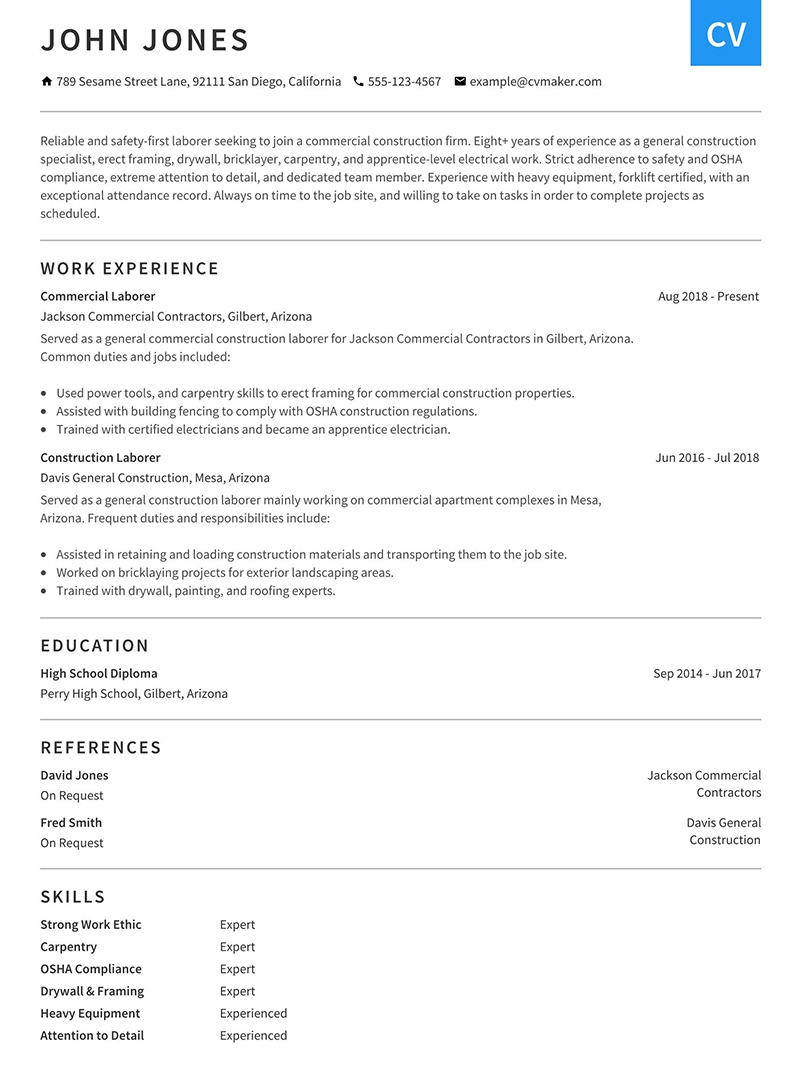 Most general construction positions are posted on job search engines or hiring websites. They ask candidates to create a user profile and upload a resume that they will match to employers based on the information in the resume. To accomplish this, they use automated software solutions that search for keywords or action verbs relevant to specific industries.
When you read the entire sample resume from start to finish, you'll notice that it tells a story – outlining John's desire to join a construction company that specializes in residential home building. The resume shows that he's listed his two previous laborer jobs; both were for homebuilders in his previous hometown of Gilbert, Arizona.
He uses several action verbs such as "measure, erect, power tools, collaborate, build, trim, fit, carpentry, and calculate," or all tasks that most construction workers will utilize in their daily jobs.
He also lists several specific skills on the sidebar of the resume, including attention to detail, heavy equipment operation, mechanical knowledge, problem-solving skills, and adherence to safety regulations. These are all keywords that recruiting firm software programs search for with general construction positions.
You'll notice that the complete resume is a single page, and that's all you need to clearly explain who you are, where you've worked, and the skills you possess to be a solid and reliable team member.
How to Write a Good Resume for a Construction Worker in 2023: Full Construction Laborer Resume Guide
We said this above, but driving the message home is crucial. You'll find it much easier to write a resume when you have a proven plan of attack to follow. We always use a working word document or a "master resume" to layout, format, and add content to each content section.
Here is how you can do this yourself while creating the content for your resume for construction laborer.
Step 1: Open a new Microsoft Word document (or your Apple equivalent) to begin the resume writing process. This document will be the worksheet where you'll insert all significant sections in each category, organize the inclusions, edit everything, and read each section before being ready to paste into a resume template.
Step 2: Here are a few recommended sections that we think should be included in any office assistant resume. Write the headings listed in BOLD TYPE below – then provide multiple spaces between them.
Personal Contact Information: If you're going to apply for a job, the recruiter needs to have your correct contact information.
Professional Summary: The construction worker resume summary is your elevator pitch or chance to explain to a recruiter or construction company hiring foreman why you're a reliable and trustworthy employee.
Employment History: When planning this section, consider listing relevant work experience. For example – if you're looking for work in commercial real estate construction, use jobs in that sector.
Education: This is more of a technicality vs. an employment requirement. Simply list the highest level of education in this section. The information below will show you how to list this in your resume.
Skills: The skills section is essentially a list of bullet points. You'll want to pick five to seven skills:
A solid work ethic
Attention to detail
Great attendance
Adherence to Safety
Heavy equipment experience (if applicable)
OSHA Compliance
References: The references section is meant to provide people like previous foreman, supervisor, or personal mentors to vouch for your character and previous work history.
Step 3: Add supporting information under each primary section. Use our resume template as a guide on what you should include under each primary section.
Step 4: Use an online editing tool like Grammarly.com to check everything.
Once everything is spelled and grammatically correct on your resume, you can use a free online resume template – like the ones we offer here to create your sections and add the content.
Now that you've got a good foundation for writing your resume, let's break down each primary section to explain what and why's for adding content.
Section #1 – Contact Information
Consistency is an essential quality of a great construction worker. The key to writing a resume in the first place is to showcase your abilities, skills, and experience. So, it makes sense that you should prove that with the information listed on the resume. This will begin with your contact information.

When you enter your personal contact information, you must match what you added to your application with the content on the resume. For example, in the sample resume above, you can see that John has listed his full name, mailing address, email address, and mobile phone number. And that's it. While we can't see his application, we'll assume that the information listed on the resume matches.
It's also vital to add the contact information you'll have access to at any time. Some recruiting companies utilize an automated software solution to contact potential job candidates for interviews. They'll send a combination of email and SMS text notifications.
But as you likely know, a construction company or hiring firm isn't going to wait for your reply. The first people to contact them typically get the job interviews. By making sure that your email is connected to your mobile device, you'll be able to respond quickly to inquiries.
How to Format this Section
The sample resume above is completed with a resume template. This will simplify the process of creating a good resume format. However, if you're free to write your resume on a regular word document, try to follow the format like the sample shows, list your name, mailing address (including city, state, and zip code), email, and mobile phone number.
Section #2 – Resume Summary 
A resume summary is your opportunity to pitch your skills and work ethic to a hiring manager or recruiter. The important items in this section are the skills you have as a construction laborer. We call these hard and soft skills.
The best way to structure this section is to write down a series of hard and soft skills that are crucial for being good at the construction jobs you complete. You possess a hard skill that helps you accomplish your responsibilities efficiently and/or with reduced mistakes. A few hard skills that hiring managers look for in-office assistants include:
Punctuality
A strong work ethic
Multitasking
Problem Solving
Strong communication skills
Soft skill is an ability you possess to help you with your daily responsibilities. These are typically technology or equipment-driven skills, including:
Forklift certified
Knowledgeable of Building Codes
Job Site Safety
OSHA Compliance
Any specialties (such as being an apprentice electrician, plumber, drywaller, painter, framer, etc.
Once you've gathered your list of skills that you possess and are relevant to this job, it's time to put everything together. For a practical example, let's look at John's construction worker resume description.

In his first sentence, you'll notice that John starts by explaining that he wants to join a commercial construction firm. This vital attention to detail can make a huge difference, especially when other candidates hand in generic written resumes. It also allows the automated software to search for commercial construction jobs and alert companies in that space of your candidacy.
He then explains that he has five years of experience as a commercial and residential construction laborer. Finally, the rest of his resume summary explains what skills he has that will help him be a great hire.
How to Format this Section
The best resume summaries are written with a professional yet relaxed tone. Please keep it to 150 words and make sure to read it aloud multiple times. The critical item to remember is that this resume summary should read naturally (or as if you're speaking to the hiring manager).
Section #3 – Employment History
Having the right job experience is more important than having a lot of work history – especially in the construction industry. Today's contractors and developers want to hire laborers who have worked on similar projects like the one they are currently involved in.
Like the contact section, the employment history must match what you've included in an application. The main reason for this is to ensure consistency – which leads to honesty and transparency. Suppose you over-enhance a previous position on one document. In that case, it might cause a future employer to second guess your application.
For a construction laborer resume, we suggest listing your two most-recent jobs – in reverse chronological order (or current to oldest). You'll want to add the company's name, the dates of employment, its location, and a few key bullet points of job duties – or areas where you accomplished success.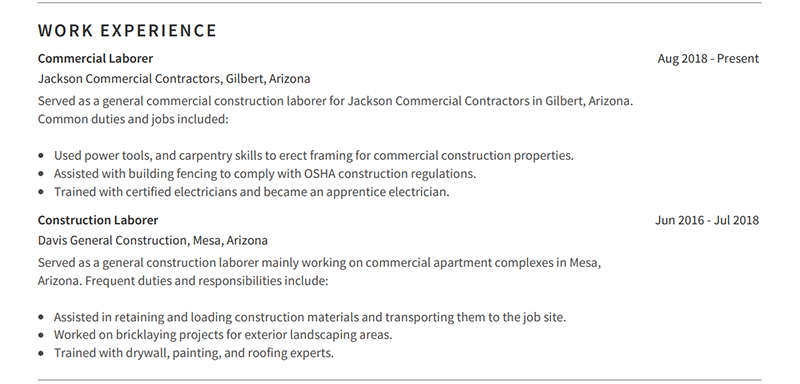 From John's sample work history section above, you'll notice that he has listed two previous commercial construction jobs. The first was working for a general contractor, the second for a construction development company. In both jobs, he has listed three bullet points of specific jobs he completed during his time with the company.
These bullets also give you a great chance to introduce some additional action verbs like general labor or construction work, drywall, hand tools, heavy machinery, team player, bricklaying, building materials, reading and comprehending blueprints, forklift operation, roofing, or entry-level electrical and plumbing. But, make sure to only list relevant and practical skills.
This will give the company an idea of your practical work experience – especially if they are looking for someone with your experience. However, the diversity of his two previous positions makes him a desirable candidate – as he has a lot of potential to take on multiple jobs.
How to Format this Section
In the work history section, you should list the business's name, location, dates of employment, and a few bullet points of your responsibilities. Keep it to a few words with the bullet points – don't write paragraphs. Review the sample resume for a real-world example of how this section should appear.
Section #4 – Education
A construction laborer position does not typically require secondary education to be hired. However, with any resume, you want to list your highest level of education completed. The best advice is to list your highest level of education completed.

If you have a high school diploma – and are currently enrolled in college (but have not graduated yet) – don't add the college to your resume. You can add that information to a cover letter or include it in your resume summary.
How to Format This Section
The information you need to post in your education section is simple. Just list the name of the school, its location, dates, and the degree, diploma, or certificate earned.
Section #5– References
There are two types of references that you'll list on any resume – a professional or personal one. The professional reference is typically a former employer, supervisor, foreman, or construction manager – or someone you've worked for in the past who can testify to your employment ability, skills, and ethic. A personal reference is someone you know or look up to, such as a family friend, former teacher, or mentor.

While listing three references for a resume is recommended, it's not imperative (unless the job posting asks for it). If you look at John's sample posted above, he has chosen to list two of his previous employer's supervisors. He left both positions in good standing and made a solid impression on those foremen.
Ultimately, that's who you want to choose for your references, someone with a positive impression of your workability. If you can't find someone like that, select someone you know who has a good reputation in the community or holds a professional position (like a doctor, business owner, or law enforcement.)
How to Format This Section
For the reference section, you document your reference's first and last name, their place of employment, and the phrase "available upon request." This will keep their contact information private unless the law firm you are applying to join is requested.
Section #6 – Skills
In this article, we talked about the skills required to be a great construction laborer quite a bit. The reason why it's crucial is that these 'skills' translate into searchable terms for recruiting office software. Since most construction laborer positions are posted online, this is likely the best way for future employers to find you.

With this section, you're simply choosing the top skills you would use to succeed at this job – and the ones you are most potent. When you review John's construction worker sample resume, you'll notice that he listed them at the bottom of the resume.
He mainly focuses on his soft skills or his construction-specific talents – but also includes some hard skills – or interpersonal skills that make him reliable, trustworthy, and a hard worker who isn't afraid to sweat.
How to Format This Section
In bullet-point format, list your construction worker resume skills in your master resume. From that point, you can add them to a template – making them easy to read and seamlessly into your resume builder.
Other Construction Resume Templates 
We strongly believe that the best way to write a resume is to review samples that work for other candidates in your industry. Therefore, we've assembled several related construction resume templates for you to review. Take some time to review the sample resumes posted below. Feel free to incorporate some ideas into your resume if it fits.
Construction Project Manager Resume (link to article once it's published)
Construction Superintendent Resume (link to article once it's published)
Construction Foreman Resume (link to article once it's published)
Final Points on Writing Successful Resumes for Construction Workers
When you review several of our previous articles on writing resumes, one message we drive home is the importance of consistency throughout the application process. A well-written resume that is engaging, convincing, and inspired action amongst hiring managers is useless if the information doesn't match your application or cover letter.
That's the critical point we want you to remember while writing a construction worker's resume. Make sure that your contact information, previous employment history, and education match precisely what you've listed on your application or cover letter. Also, take time to carefully edit the resume using Grammarly.com or a similar online editor.
This attention to detail will significantly help elevate your application over other candidates who simply won't put in the time to strive for perfection. Using the tips above and the CVMaker.com online resume builder, you can have a polished and solid resume like John's – which will give you better opportunities for those premium-paying construction jobs.
Here are some final tips to consider.
Always write your resume on a plain white background with black font.
Edit the document SEVERAL TIMES – through Grammarly.com and then share it with a few peers to gain their perspective.
Ensure its well-spaced, organized, and professional.
Finally, read it aloud a few times before you're ready to paste the content into a template for office assistants.
When you follow these tips and use a professional resume template, your construction worker resume will look great, read well, and hopefully gain you that all-important interview.
Meta: If you're looking for tips on how to write a construction worker resume, this article will provide step-by-step instructions that are easy to follow.