Construction Superintendent Resume Example & Writing Guide for 2023
According to the U.S. Bureau of Labor Statistics, being a construction superintendent is a great career move.
Otherwise known as a construction manager, the projected 8% growth in job opportunities to 2031 outstrips all other management roles.
However, that doesn't imply you can expect to stroll into construction superintendent jobs willy-nilly. Recruitment tech and processes today allow hiring managers to see only top-notch resumes.
Your construction superintendent resume must be targeted and focused on showcasing why you're the best candidate. If not, it could slip through the cracks.
Don't worry if that sounds a bit confusing.
This article is packed with resume-writing tips, resume samples and section examples. It will have you crafting your superintendent construction resume like a pro in no time.
Construction Superintendent Resume Sample
We've used our resume builder to make these three construction superintendent resume examples.
You can do it too!
You can have the perfect construction superintendent resume pdf in a few minutes.
Use these building superintendent resume samples as a guide to see what works for you.
Each sample construction superintendent resume highlights a different career stage.
Assistant Construction Superintendent Resume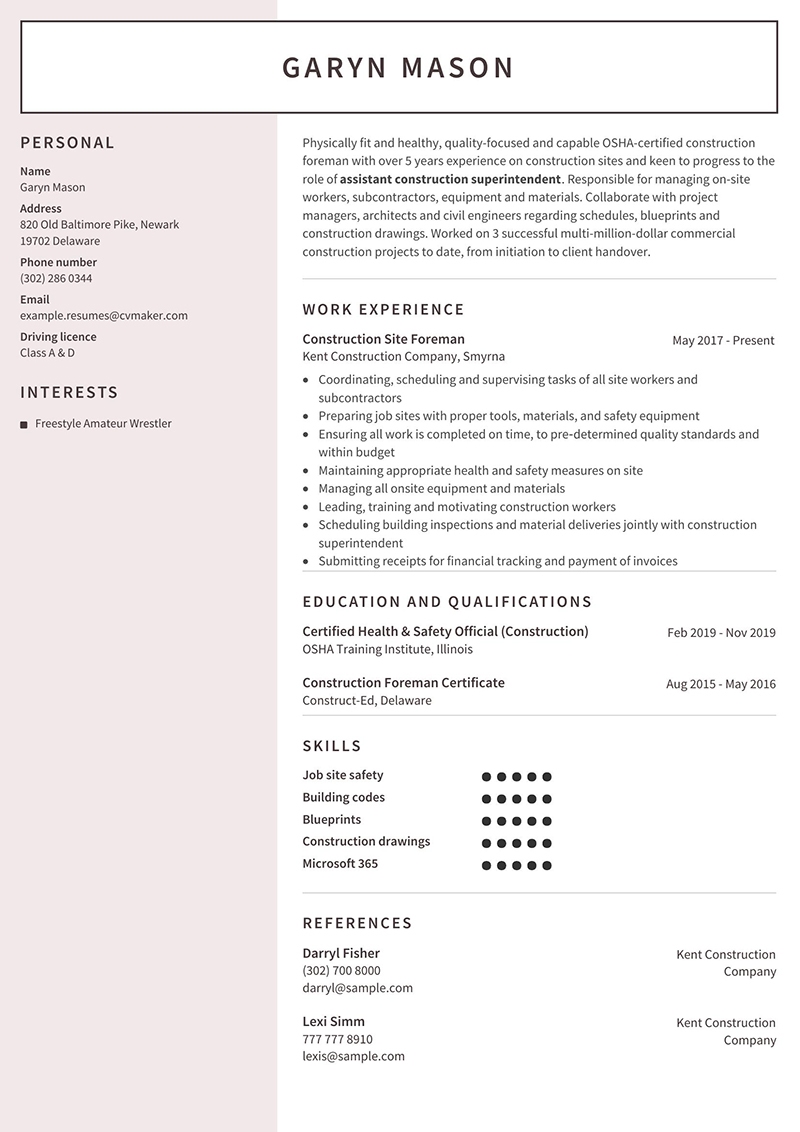 Download this resume example - Assistant Construction Superintendent
Garyn has construction experience and wants to progress his career. He's chosen our Auckland resume template.
Mid-Career Resume for Superintendent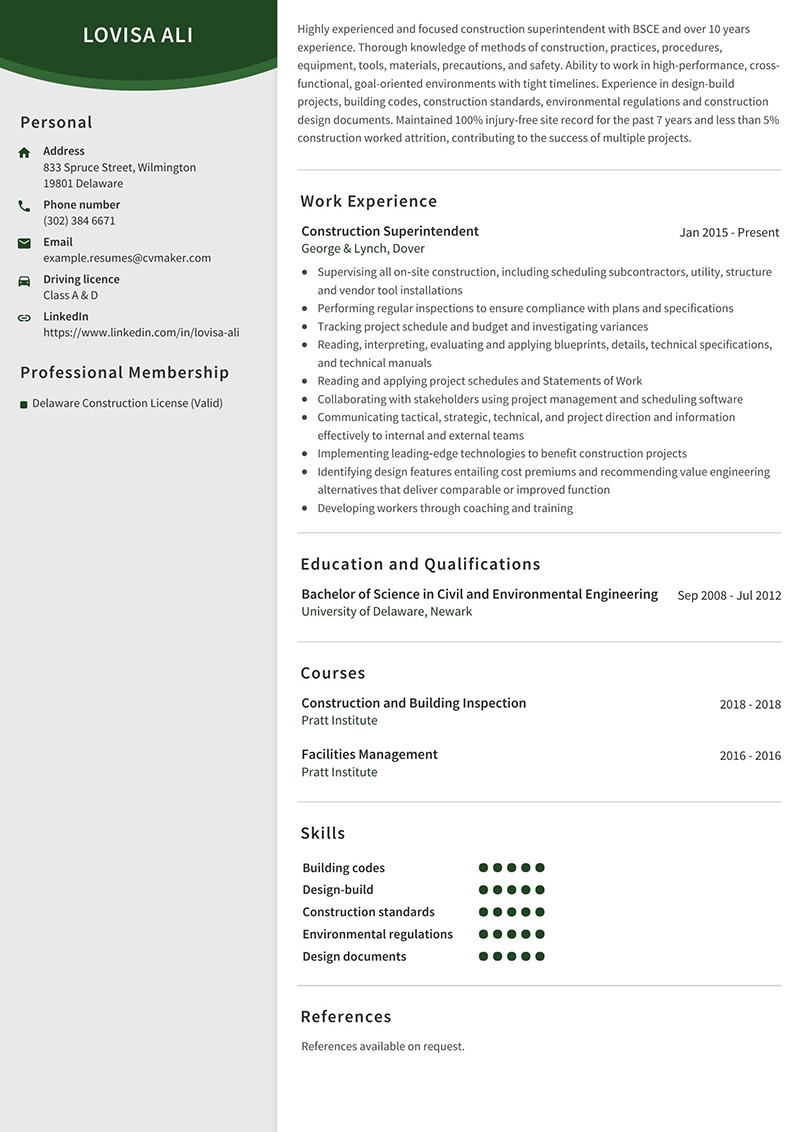 Download this resume example - Construction Superintendent
Lovisa opted for our Edinburgh resume template in green.
Senior Building Superintendent Resume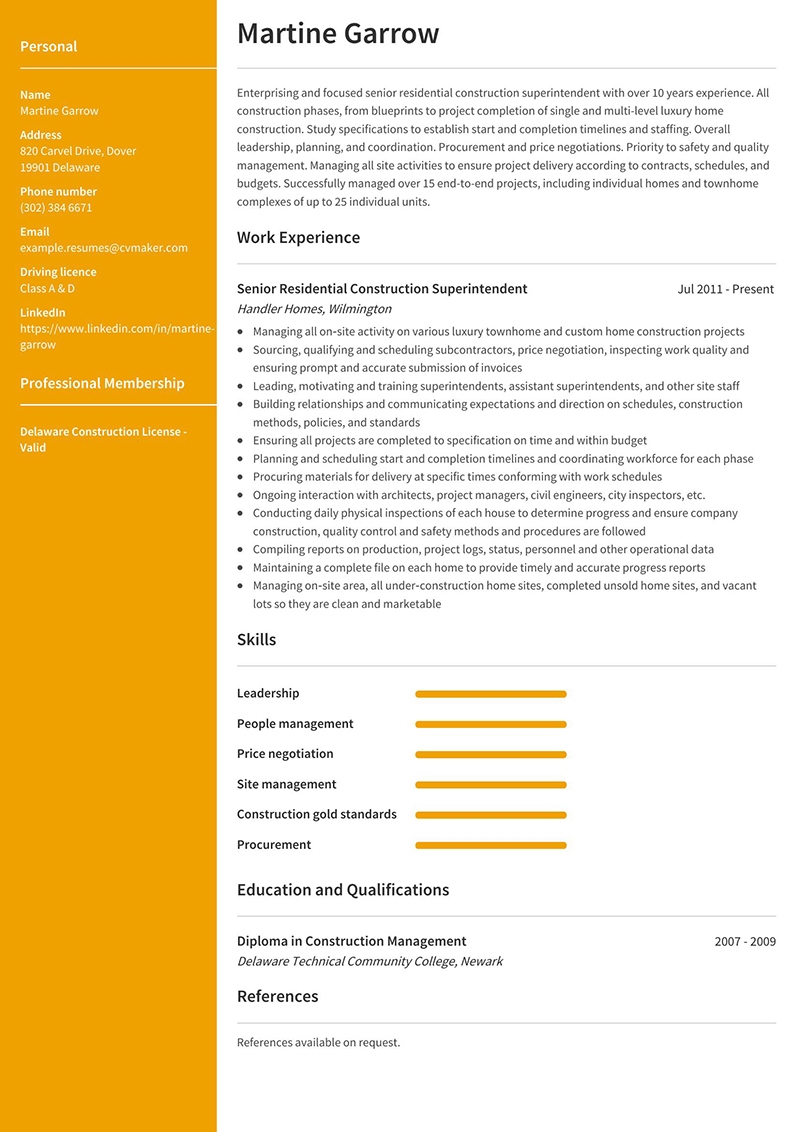 Download this resume example - Senior Construction Superintendent
Senior construction superintendent Martine selected our yellow Stanford resume template.
Writing a Winning Resume for Superintendent in 2023: Full Guide to Building Superintendent Resumes
Construction superintendents oversee construction projects from planning to completion.
They assume full responsibility for their construction sites, from appointing workers and subcontractors to materials, construction management, and scheduling.
Some construction superintendents specialize in specific types of construction, such as commercial, industrial or residential. Or different construction management phases like electrical work or structural foundations.
A construction superintendent must know construction activities, project management, OSHA safety standards, quality control and construction industry regulations.
All of this information matters when applying for a construction superintendent job. So does font and resume format.
A Master Construction Superintendent Resume Makes It Easy
It allows you to have all your work experience ready for your next assistant superintendent construction resume.
Go back to your first job and list each job in detail, including employment dates and employer details.
Upload it all to a folder and update it regularly to make it a living document.
ATS 101
Recruiters spend no more than a few seconds scanning resumes for vital information.
But before recruiters even get a look in, ATS can toss out your resume for building superintendent opportunities.
HR and recruitment use applicant tracking systems or ATS to manage the hiring process.
New jobs are loaded to ATS and posted to websites, social media and job boards.
Hiring managers include keywords in each job description.
Each new project superintendent resume is immediately scanned by parsing software in ATS for these keywords.
They're either there, or they're not.
Resumes with a high ratio of keywords get moved to recruiters' folders. The rest move to the recycle bin.
No need to fear ATS, though.
Understand how they work and get them to work in your favor.
Do this by identifying keywords in job posts. If your experience ticks the box, mirror the keyword in your construction superintendent job description for resume.
Don't include other skills and experience that aren't mentioned in the job ad.
This is how you write a one-page targeted professional resume that ATS will love.
Here are some typical keywords –
Blueprints
Building codes
Commercial construction
Communication skills
Construction company
Construction management
Construction process
Construction schedule
Construction site
Construction activities
Excel
General contractor
Job site
Leadership skills
Management skills
Microsoft
New construction
Phases of construction
Problem-solving
Project completion
Project management
Project plans
Project schedules
Quality control
Quality standards
Residential construction
Safety meetings
Subcontractors
Time management
Timely completion
Personal Information
A resume for superintendent position needs a name and contact details.
Make sure your personal info is correct.
Your full name, email and telephone number are all that's required.
If you have an up-to-date LinkedIn profile, include it in this section.
Personal Information Example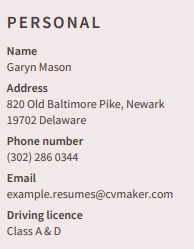 Well-spaced and easy to read.
How to Format this Section
Use a clear business font and good spacing.
You can include your full address or city and state only – both are acceptable.
Professional Resume Objective or a Summary Statement
A resume objective or summary outlines your construction qualifications, work experience, skill set and achievements.
Sitting at the top of your resume for construction superintendent, it's your first opportunity to impress recruiters and hiring managers.
Write a separate resume summary or objective for each job application.
A resume objective is for entry-level superintendents or those with less than three years of experience. A construction superintendent resume summary suits more experienced applicants.
Include vital keywords and align it with your construction site superintendent resume.
Is a Cover Letter Necessary?
It depends on whether the job advertisement specifies a cover letter.
A cover letter differs from a resume summary because it's more detailed and comprehensive.
Where a resume objective averages around 80 words maximum, a cover letter can fill one page.
A cover letter motivates your application for construction superintendent jobs and is addressed to someone specific.
Including a generic cover letter in your resume for superintendent jobs can confuse ATS. Your best resume could be excluded.
Resume Objective for an Entry-Level Residential Construction Superintendent Resume

This entry-level candidate is looking for a change and promotion.
Resume Summary for Experienced Resumes for Construction Superintendent
Experienced resumes for construction superintendent focus on relative work experience, skills, and achievements.
How to Format this Section
Whether a summary or an objective, it shouldn't exceed 80 words.
Reduce word count by using quantifiable numbers and statistics, and don't forget keywords.
Professional Work Experience
Your construction superintendent job description for resume must match the job post and include critical keywords.
Why?
Because this section is where ATS search for keywords.
Use your master superintendent construction resume to match your work experience with keywords and adapt them if necessary.
Targeting your resume this way means ATS will rank you highly.
A professional resume tells potential employers what you bring and why they should hire you. Make sure your work experience meets their needs.
Professional Work Experience Example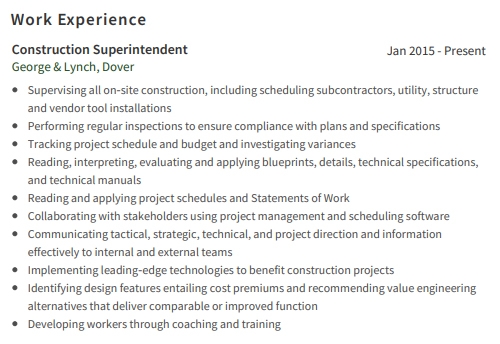 Note the positive action verbs and bullet points in this construction superintendent resume sample.
How to Format this Section
This section must be clear and easy to navigate.
Use lots of white space, business fonts and bullet points.
Each individual job role must be tailored to the job post and include keywords.
Lastly, use the same job title and follow the post's sequence.
Education and Courses
Most construction superintendent jobs require a Bachelor of Science degree. Some employers will, however, accept a high school diploma with years of experience.
There are various areas of specialization which can be followed post-graduation with short courses.
The majority of states require construction professionals to have a valid contractor's license.
Importantly, the more work experience you have, the less your education matters.
Education and Courses Example
Separate tertiary education from courses.
How to Format this Section
The education section must be scannable and accurate.
Begin with your most recent qualification and continue in descending order.
Separate education from courses on your commercial construction superintendent resume.
List the institution, qualification, and dates where applicable.
Construction Superintendent Skills
Your construction superintendent skills resume must include hard and soft skills.
Keywords are king because ATS also spend time here.
Hard and soft skills will be listed in the job ad; only use these skills.
Construction Superintendent Skills Example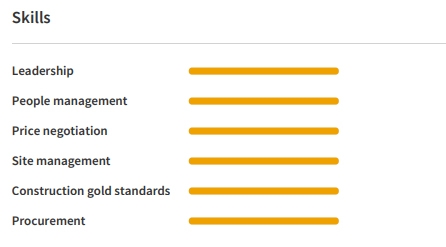 Only list required skills with a rating.
How to Format this Section
Only mention the required skill, irrespective of how many other skills you excel in.
ATS read exact keywords; the rest don't count.
Including a rating makes for easy assessment by hiring managers.
References
Close your construction superintendent resume with references.
One or two will do, or you can opt for "available on request".
Forewarn referees, so they know to expect a call, and you know they're still available.
References Example

Accurate and to the point.
How to Format this Section
Referee and company names, phone numbers, and email addresses are all you need in this section.
Related Resume Templates
If construction superintendent resume templates aren't what you're looking for, how about these?
Final Points on Writing a Successful Resume for Construction Superintendent
This is how you write a perfect resume for a construction superintendent!
Let's review the fundamental points -
Write a master resume to keep as a living document
Target each job individually
Extract individual keywords from the job post
Carefully select info from your master
The correct font and resume format matters
Choose the best construction superintendent resume template for the job
Don't let your building superintendent resume exceed one to two-pages
Include action verbs and positive language to keep it engaging
Always submit your resume in pdf format