Construction Project Manager Resume Example & Writing Tips 2023
The U.S. Bureau of Labor and Statistics estimates that 7.5 million Americans are employed in construction. That represents nearly 5 percent of the entire labor force. While each construction project is unique, project managers are tasked to keep everything running smooth, on time, and within budget. However, before an experienced candidate begins their career, they'll have to create a construction project manager resume that is engaging, articulate, and explains why they are the ideal candidate.
The U.S. construction industry is highly robust and diverse. There are commercial, residential, industrial, civil engineering, and infrastructure construction projects, each involving specific contractors, specialists, and dedicated project managers. Construction project manager resumes should always be written to address the candidate's specialty.
While it's scarce for a construction project manager to have experience in each specialty, most of today's construction developers seek candidates with specific project experience, certifications, and robust job history. With that said, writing a resume for construction manager involves planning, organization, and strong communication skills – or the similar qualities that most project managers possess.
If you've been thinking about updating your existing resume to help with your new job search or completed your American Institution of Constructors (AIC) certification program and looking to get that first important entry-level job – you've arrived at the right website.
In the information below, we'll provide you with a blueprint for writing a construction project management resume. We'll post a few construction project manager resume examples, break down each section included, and provide valuable action verbs or keywords that will help automated software solutions pick your resume from competitors. We will also explain why the job description of the posting can guide your resume format.
So, if you're ready to learn how to write a resume for a construction project manager, let's get started.
Construction Project Manager Resume Sample
Construction sites involve several moving parts. Whether they are large-scale projects or small jobs completed by a few contractors, a construction project manager job can be tasked with focusing on specific elements – such as plumbing, structural, foundation, electrical, and others – or responsible for the entire project. Due to this diversity, writing a resume for a construction project manager can be tricky for many candidates to figure out.
However, to be honest, the size of the project is irrelevant – when it comes to creating the structure of your resume. The sample resume for the construction project manager posted below is an excellent example of the same primary sections you'll include with any specialty.
Please take some time to review this construction manager resume examples – paying careful attention to the layout, format, and some of the creative language we've inserted to articulate skills, experience, and technical jargon. This sample is a mythical resume for a candidate named Steve Jones – who is applying for a residential construction project management position for a home builder in Dallas, Texas.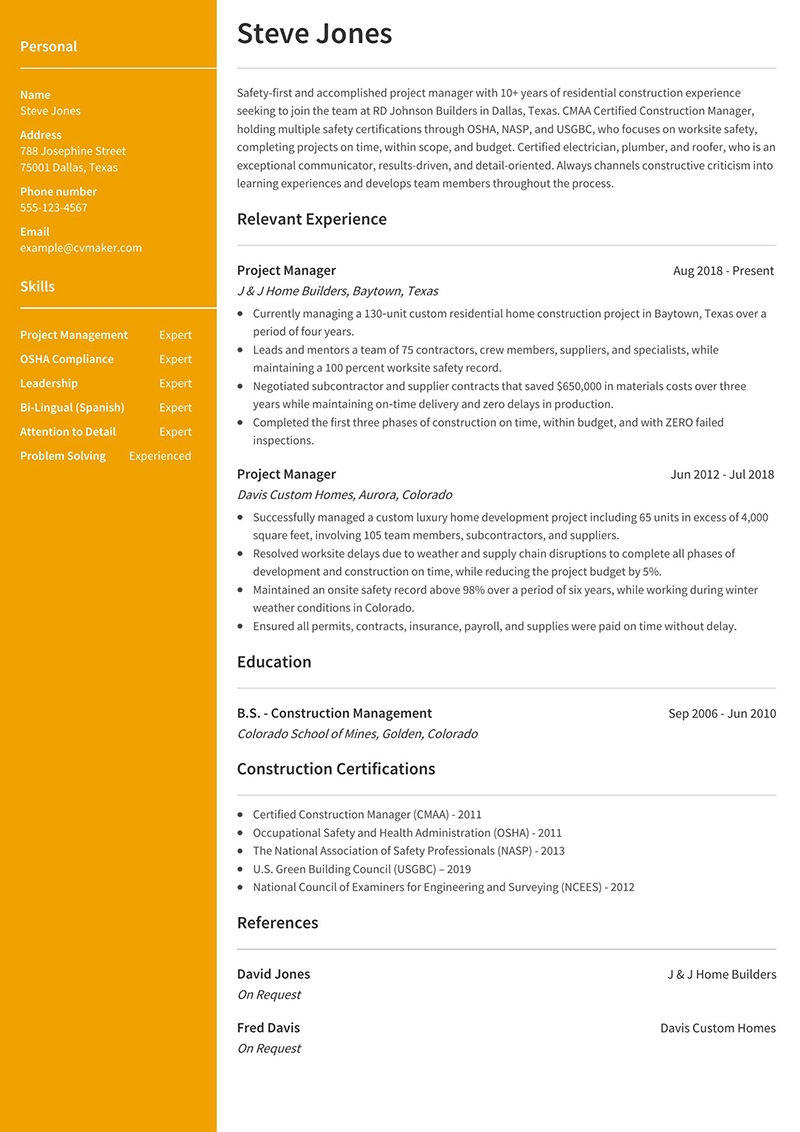 Download this resume example - Construction Project Manager
Unlike general laborer positions, most project manager positions in the construction industry are not published by recruiters on search engine sites. In most cases, if a job opens, people within the industry will inform qualified candidates locally to fill the vacancy.
However, this isn't always the case. And whether the position is posted online or you're applying with a limited group of candidates, you'll need a well-written resume to attach to your resume and likely a cover letter.
When you read the entire sample resume from start to finish, you'll notice that it tells a story – outlining Steve's desire to join the developer in Texas that focuses on residential home building. The resume starts with a professionally written resume summary, followed by his two previous project management jobs, all for builders in the same industry he is applying for.
The resume also includes his credentials as a Certified Construction Manager, experience working with subcontractors, his highest level of education, three professional references related to construction activities, certifications, and a series of skills specific to being an exceptional project manager in the residential construction industry.
How to Write a Good Construction Management Resume in 2022: Full Project Manager Construction Resume Guide
Regardless of the type of project management career you seek, the structure of the resume should be the same for the construction industry. The meat and potatoes or specifics included in the article need to be customized to fit the exact requirements. Nevertheless, writing a resume is all about following a structure and a plan that will help you organize the content.
We recommend using a Word document as your foundation. This will be your Master Resume or a working document that allows you to list every section, add content in each, edit the sentences and bullet points, and finally, format it if you don't use a construction project manager resume template.
Once you have your document ready, we recommend creating a few primary sections – in bold type and a larger font if you wish. Here are the primary sections that all construction project management position resumes should include. We'll break down each section in the content below.
Personal Contact Information
Resume Summary or Resume Objective
Relevant Experience
Education
Certifications
Skills
References
Now that you've got a good foundation for writing your resume, let's break down each primary section to explain what and why's for adding content.
Section #1 – Contact Information
A great project manager needs to be consistent. You'll get the first chance to prove this when submitting your application, resume, and project manager cover letter. When you list your contact information, it's essential that it matches on all three documents.
While this seems logical, you'd be surprised how many job candidates list two different email addresses or phone numbers on an application vs. their resume. The main reason is that most candidates write a resume once and use the same document for future jobs. They've likely moved during that time, which introduces a potential conflict in data.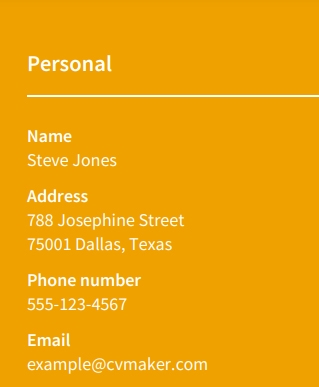 For example, in the sample resume above, you can see that Steve has listed his full name, mailing address, email address, and mobile phone number. While we can't see his application, we'll assume that the information listed on the resume matches. This simple contact data is all you need to list – unless directly asked for additional information – such as social media accounts - specifically LinkedIn.
How to Format this Section
We created this sample resume using our construction project manager template. Using the template allows you to edit all the content to ensure it's grammatically accurate and paste it into each section. This makes formatting simple, structured, clean, and professional appearing.
Section #2 – Resume Summary 
A resume objective for construction project manager or resume summary is a written elevator pitch where you provide an overview of the information included in your application and resume below. However, this is a great chance to add extra information that can help capture the reader's interest, automated software solutions, and hopefully – the hiring manager.
The best way to structure this section is to write down those hard and soft skills crucial for being an exceptional construction project manager within your master resume document. A few hard skills that hiring managers look for in every project manager for a construction project include:
Leadership
Organization
Bi-Lingual (Spanish)
Multitasking
Problem Solving
Strong communication skills
Soft skill is an ability you possess to help you with your daily responsibilities. These are typically a technology or equipment-driven skills, including:
Forklift certified
Knowledgeable of Building Codes
Job Site Safety
Competency of the construction process
OSHA Compliance
Reading construction drawings and construction plans
Any specialty certification – including those from OSHA Forklift Certified, National Commission for the Certification of Crane Operators, Commercial Driver License (CDL), and of course, construction project management certifications (specifically for plumbing, electrical, foundation, and other construction tasks.)
Once you've gathered your list of skills that you possess and are relevant to this job, it's time to write the resumes for construction project managers summary.

Let's review Steve's example above. You'll notice that in the first sentence, Steve has expressed his interest in applying for the specific job he is being interviewed. This introduces another practical example of being detail oriented. Going the extra effort to show that type of personalization is the first item that can separate your resume from the stack of other candidates.
As you continue in the resume summary, you'll notice he lists his years of experience, current certifications, and those hard and soft skills relevant to this project management job. Finally, the rest of his resume summary explains those interpersonal skills that make him a great leader of others. The perfect resume will always kick off with a well written opening statement. So, take time with this section.
How to Format this Section
While trying to represent a professional image, it's always best to write this section with a relaxed – yet professional tone. Please refer to the sample posted above if you need a practical example of this writing style. Please keep it to 150 words and make sure to read it aloud multiple times. The critical item to remember is that this resume summary should read naturally (or as if you're speaking to the hiring manager).
Section #3 – Relevant Experience
Project managers are often the highest link in the chain of command during an on-site construction project. They'll be responsible for multiple specialists, raw materials, permits, contractors, and so much more. As such, having the proper job history and experience is typically more important than a lot of work history. Therefore, we call this section Relevant Experience vs. Work History.
Like the contact section, the employment history must match what you've included in an application. The main reason for this is to ensure consistency – which leads to honesty and transparency. For a construction project manager, we suggest listing your most recent projects that are relevant to this construction specialty.
In Steve's sample resume above, you'll notice that he has documented two previous jobs – all serving as residential home construction project managers. They are listed in reverse chronological order (or current to oldest). You'll want to add the company's name, the dates of employment, its location, and a few key bullet points of job duties – or areas where you accomplished success.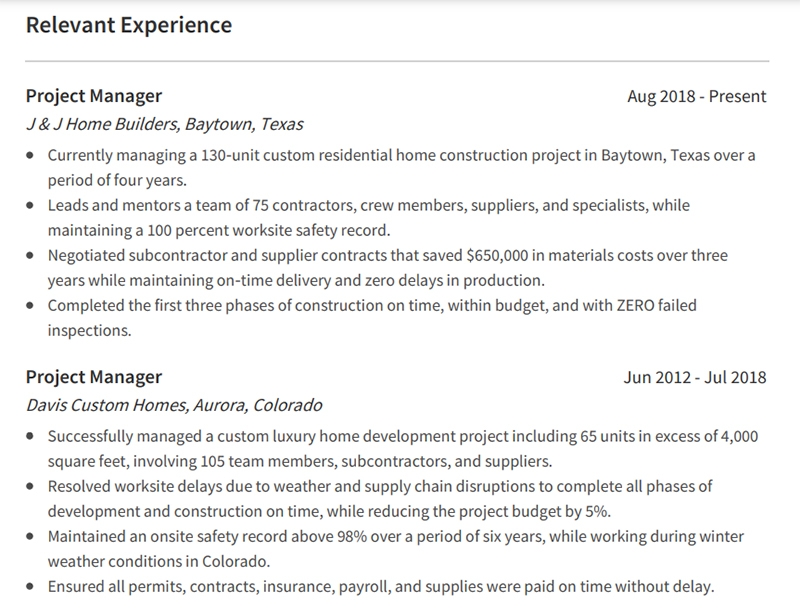 He also lists four bullet points of fundamental job duties that showcase his ability to step into any project management job and ensure safety, maintain quality control, risk management compliance, project schedule, and budgeting.
This will give the company an idea of your practical work experience – especially if they are looking for someone with your experience. However, the diversity of his two previous positions makes him a desirable candidate – as he has a lot of potential to take on multiple jobs.
How to Format this Section
In the relevant experience section, you should list the business's name, location, dates of employment, and a few bullet points of your responsibilities. Don't write paragraphs in your bullet points; keep it to a few words. You'll have a great chance to expand on your relevant experience during an interview – which is the point of writing a great resume.
Section #4 – Education
The importance of the education section can't be underestimated. While many job candidates believe that they should list their education from Jr High to master's program, the truth is that employers only care about the highest level of education completed.

Our mythical candidate Steve has listed his highest level of education – a bachelor's degree in construction project management earned from The Colorado School of Mines in Golden, Colorado. There is no need to add specific courses or awards earned on your resume. You want your practical work experience, certifications, or relevant skills to tell your story.
How to Format This Section
The information you need to post in your education section is simple. Just list the name of the school, its location, dates, and the degree, diploma, or certificate earned.
Section #5– Certifications
This section will vary based on the type of construction project manager position you're hoping to retain. Based on the type of construction project, the manager may require specific certifications or licenses. This is especially true on larger scope projects, where the manager is often required to be licensed in specific specialties, including electrical, plumbing, roofing, and more.
So – how do you create this section? It's simple. List the certifications you currently hold – that's it. The key is to list those relevant to the position you hope to retain. For example, Steve is applying for a residential construction project manager position.

The first requirement (and we'll assume this based on not seeing the job posting) would be his Certified Construction Manager (CCM) through the Construction Management Association of America (CMAA). You'll notice this is the first he has listed. The additional certifications help support his candidacy, including:
Occupational Safety and Health Administration (OSHA)
The National Association of Safety Professionals (NASP)
U.S. Green Building Council (USGBC)
National Council of Examiners for Engineering and Surveying (NCEES)
How to Format This Section
As the Certification section can be expansive, it's a good idea to format this in a simple manner. We recommend following the format in Steve's sample – listing the certification's name, the certification's date, and any applicable expiration dates.
Section #6 - References
Picking your references for project management positions in the construction industry should follow the advice in the relevant experience section. Select those that are relative to the job you seek. We strongly recommend providing three professional references for those you've worked for in the past.

You'll notice that this is what Steve did in his resume above. He has selected two previous owners of residential developers he worked for – listed on his resume. While some jobs should include a personal reference, we firmly believe it's better to list professional references for this job.
How to Format This Section
For the reference section, you document your reference's first and last name, their place of employment, and the phrase "available upon request." This will keep their contact information private unless the law firm you are applying to join is requested.
Section #6 – Skills
With the skills section, your primary goal is to select action verbs relevant to the project management position you're hoping to retain. When you review Steve's sample resume, you'll notice that he has listed six relevant skills. He mainly focuses on his soft skills or his construction-specific talents, including some hard skills or interpersonal skills that make him reliable, trustworthy, and a proven leader.
How to Format This Section
In bullet-point format, list your construction project manager resume skills in your master resume. From that point, you can add them to a template – making them easy to read and seamlessly into your resume builder.
Final Points on Writing a Successful Construction Project Management Resume
The main point we hope you've retained throughout this article is the importance of consistency and attention to detail. You can write the most eloquent resume to make the most formidable man cry. Still, if the actual content doesn't add up – or is different from what you've included on your application or cover letter, that will create doubt.
Make sure that your contact information, previous employment history, and education match precisely what you've listed on your application or cover letter. Also, take time to carefully edit the resume using Grammarly.com or a similar online editor.
Here are some final tips to consider.
Always write your resume on a plain white background with black font.
Edit the document SEVERAL TIMES – through Grammarly.com and then share it with a few peers to gain their perspective.
Ensure it's well-spaced, organized, and professional.
Finally, read it aloud a few times before you're ready to paste the content into a template for office assistants.
When you follow these tips and use a professional resume template, your construction project manager resume will look great, read well, and hopefully gain you that all-important interview.