Technical Project Manager Resume Samples & Writing Tips 2023
Are you struggling to create the perfect technical project manager resume for a job you are excited about? Whether you've done this work in the past or are looking for a way to move up in the industry, a great resume can be a huge help. You can get involved in a rewarding career that combines organization with technical skills.
Working as a technical project manager means having one foot in the information technology sector and the other in project management. You might need a technical project manager resume for job listings at information technology firms and departments, start-ups, and tech corporations.
Whenever an organization needs a project manager who has knowledge of specific technical fields, you can expect a technical project manager to be hired.
When pursuing a career like this one, you will find yourself managing an array of business projects and corporate activities, motivating a group of employees, and making sure the technical aspects are working the way they should. In some cases, you may be tasked with information technology (IT) work, too.
We'll provide all the information you need to create a technical project manager resume that gets you noticed. Whether you are looking for a corporate position, want to work at an innovative new company, or something different, we'll share everything you need to include in your resume.
Technical Project Manager Resume Sample
You can take a look at an outstanding technical project manager sample resume below. As with other resumes in the technology field, it's well-structured, to the point, and provides an understanding of what the applicant brings to the table. In addition, it shares information about all the hard and soft skills that a technical project manager should have.
The best technical project manager resume examples will share the applicant's education, work experience, certifications, and top skills. In the example below, Carter's resume tells his story from graduating with a computer information degree in college to moving up the ranks at various companies.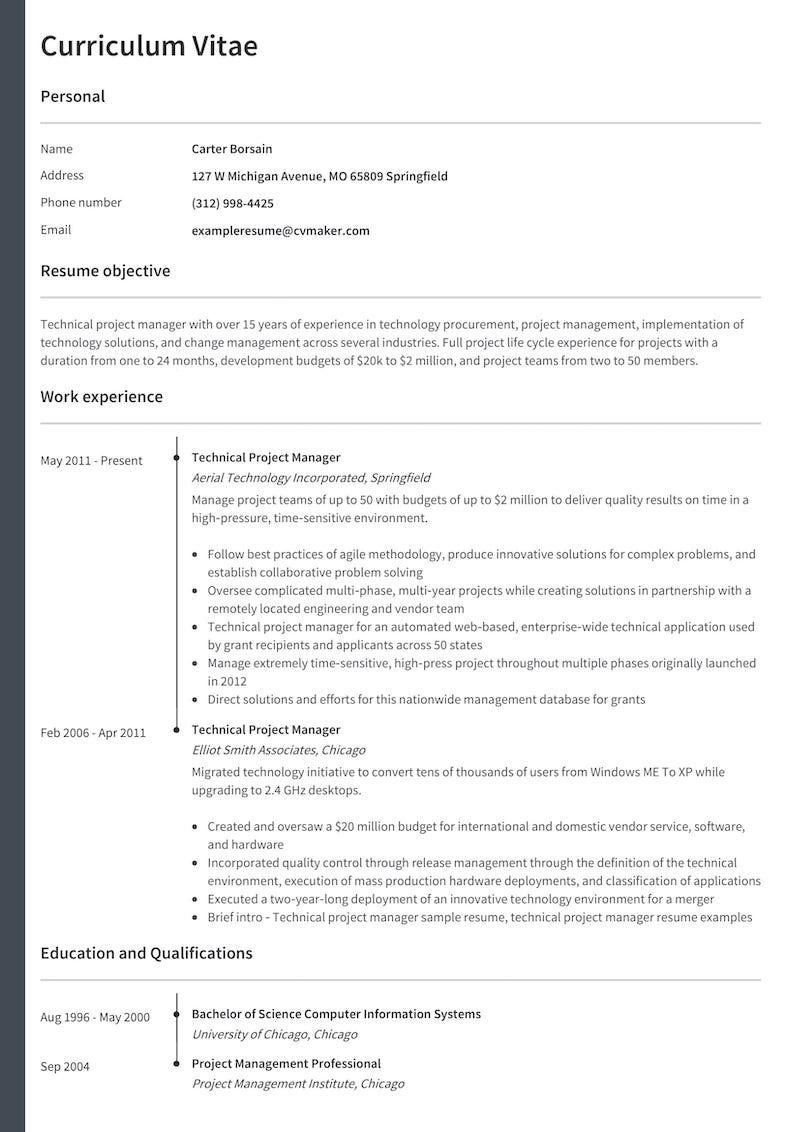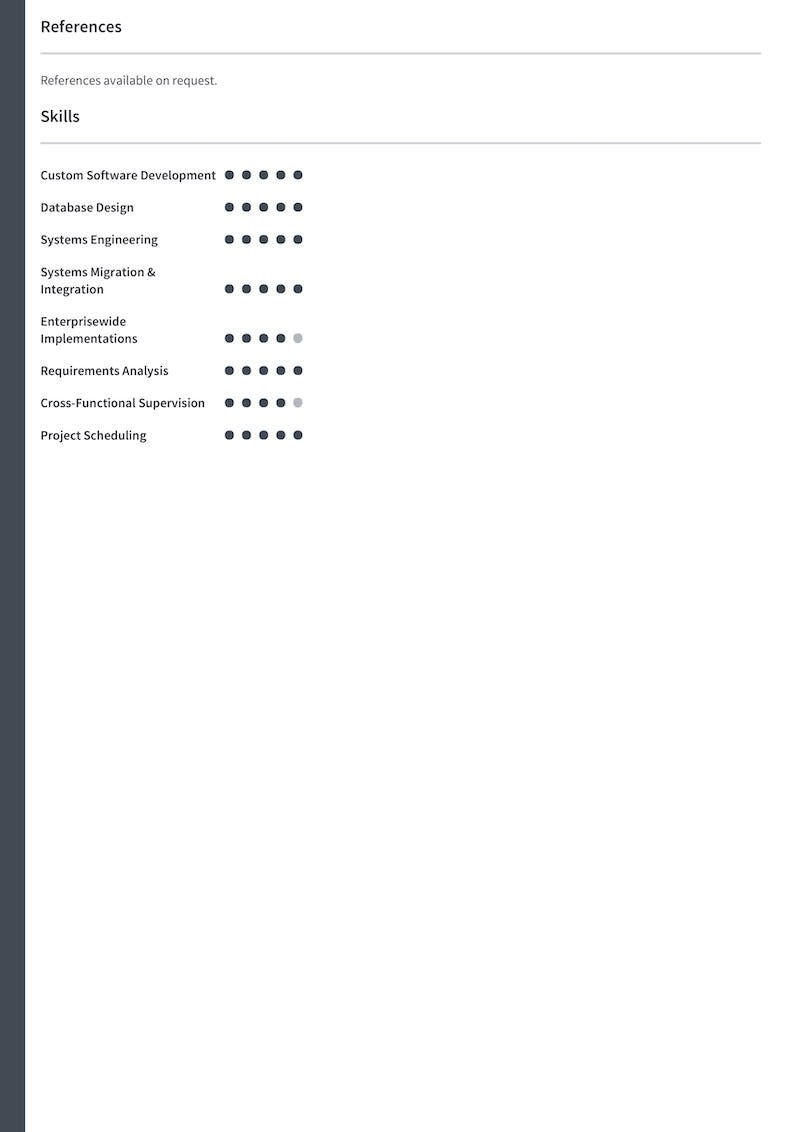 Download this resume example - Technical Project Manager
Tips for Technical Project Manager Resumes in 2023: How To Write a Good Tech PM Resume
There are several ways to boost your chances of an interview using a technology project manager resume. Using resume templates and examples can help you find inspiration when you start creating your own resume. Below are a few things to consider when crafting a technical PM resume of your own:
Wording and Vocabulary – Having a professionally written resume will go a long way toward persuading the hiring manager that you could be a good fit for a company. Active wording is essential. The people doing the hiring want to know exactly what experience you have and how you have helped other employers find success.
Proper Formatting – We'll share the way you should format each part of your resume below. However, keep in mind that the idea is to highlight the most essential qualifications using the correct resume format. For example, Carter's technical project manager resume sample emphasizes his work history and specific skills.
Resume Design – Another way to stand out and be noticed with your technical project manager resume is by choosing a design that fits with the organization you are applying to. Carter's resume has a simplistic design that gets to the vital information quickly. If the resume were going to another company, something flashier might be in order.
Most of the best resumes will be built off of a master resume. This is an electronic file, such as a word document, where you keep all the relevant information you need for applications. You'll want to set up the documents with sections like personal information, a resume objective, professional work experience, education and qualifications, skills, and references.
As you work through the various parts of the resume, we'll share tips on getting each of them right.
Personal Information
Looking at Carter's technical project manager resume, you'll see that it starts right out with providing his personal information. You can easily see his name, address, phone number, and email address. This is important. In this section of the resume, you want all the practical information in an easy-to-access format.
Your name should be the first item listed on your resume. Follow up by adding in your contact information. It's best to include both an email address and a phone number, as well as a mailing address. There is no reason to include a LinkedIn profile or other social media link unless the listing for the job requires it.
Nowadays, most people will reach out to you through email. It doesn't have to be included right below the name but don't make the mistake of forgetting to add it. The email address you choose to use should be professional. If needed, create a new email address that shows your maturity.
As you can see, Carter's resume has his name, a mailing address, a phone number, and an email so the company has several ways to get in contact with him. If you feel uncomfortable sharing your full address, just adding your city and state is typically enough.
How To Format This Section
When you format your personal information, it must be legible and easy to read. A standard font is best. Especially with a technical project manager resume, you don't want to be overly creative and risk making your information hard to read. It could result in being passed over even if you are a great candidate for the job.
You can choose to make your name larger than the rest of your information or have everything the same font size. It's really a matter of preference. As long as it's large enough to read, the hiring manager will glance at it before moving on to other sections of your resume.
If you choose a format like the one on these technical project manager resume samples, be sure that everything is aligned in the same way. For example, as you can see, all of the prefixes on Carter's resume end at the same location, which makes it much easier to read for a hiring manager.
Resume Objective
The resume objective is an essential part of your document, which means you should spend plenty of time and effort getting it right. While it is typically located toward the top of your resume, that doesn't mean you have to write it first. Many individuals find it easier to craft after the other sections of the resume.
So why is an objective so essential? Recruiters and hiring managers often get many resumes, and most of them are barely looked at. The objective serves two different purposes.
First, it shows that you understand the technical project manager roles and responsibilities. Second, it immediately puts your information upfront to show that you have the skills needed to handle the job. This is a great way to put yourself on the shortlist for someone to contact you for an interview.
The general idea here is to compose a short summary of your experience as a technical project manager. If this is the first time you're applying for that sort of role, the objective can also be used to explain what skills you have that make moving into this position beneficial for the company that is hiring someone.
The basic idea is to share a few highlights from your career and drop in a few skills that tell a hiring manager that you have a suitable application for the position. While some believe that an objective should only be added for those with experience, this isn't true. You likely have skills that pertain to the job that you want the hiring manager to be aware of.
The resume objective offers a way to hook in the person reading it, so they continue. You should share the skills that make you a good fit for the position while making sure whoever is reading the resume can see the position will be an excellent fit for you.
It might seem as if showing off your enjoyment of the job is unnecessary, but as a technical project manager, you'll be working with others in the company. Therefore, being excited and ready to jump in with both feet will make you stand out from other applicants.
Landing a job is more likely if you have a reason to apply beyond needing the money. Get specific about what experience you have and what you have been tasked with in the past. Note the parts of past positions where you excelled and don't be afraid to show why you are unique. The point is to prove that you should be hired instead of the next person.
How To Format This Section
Writing a technical project manager resume objective can feel challenging. You may have a lot to say and not know how to pare it down into a few sentences. In addition, there may be concerns about the tone you should take or how you should word this part of your resume since it is one of the most important sections.
The best way to create a winning resume objective is by including one or two strong traits, two or three skills, and what position you are applying for. You do not want to use first-person pronouns here so avoid saying things like "I want to apply for this job because…"
The best way to stand out with your resume objective is by using action verbs. That means taking a bland statement and pumping it up. A few examples of hard-hitting words include "diversified," "energized," assimilated," "partnered," and "harmonized."
It's also helpful to add real numbers to your technical project manager resume. For instance, Carter's resume notes his 15 years of experience and work on projects lasting from one month to two years.
Professional Work Experience
Now we come to the professional work experience section of the technical project manager resume. The idea here is to make sure whoever is reading the resume sees that you fit the requirements for the job descriptions. Depending on the company and industry, you might want to focus on experience in specific skills.
Most individuals trying to get a job as a technical project manager will be applying to several places. If you don't want to tailor the entire resume to each job posting, the best thing you can do is incorporate universal skills without being overly vague.
For example, provide a detailed description of the experiences you have had. Whenever possible, quantify the abilities so a hiring manager can see what they can expect from you if you are hired. Rather than saying you "managed a team," make sure you explain what responsibilities you had and how you excelled in the position.
In the experience section, describe how you have led a team and created participation among diverse people. It can be a great idea to add bullet points that focus on working as part of a team, being the person who is overseeing projects, and working on training members of a team.
Depending on the level of IT emphasis required at a job, you also want to show your knowledge of software. You can often show off your skills with programs and technology both in a skills section and in the bullet points you use under your work experience.
Keep in mind that if any programs are mentioned by name in the job descriptions, you should make sure to include that you have used them on your resume. It can also be helpful to do the same with software that is typical for a specific industry.
How To Format This Section
As you list out your work experience, include the years you have worked in a position and your job title. Unless you can't help it, avoid leaving gaps. Showing that you have consistently been working indicates to the hiring manager that you are a reliable employee.
In almost every case, the work experience should be listed in reverse chronological order. This means that your current or last job should be at the top, followed by the next most recent position, and so on. This makes it simple to determine what you did at your last position.
Education
When you submit a technical project manager resume, you should know about information technology and project management. This might mean having a computer degree along with specializing in project management, a business degree, certifications, a management degree with a minor in information technology, or something similar.
Having the proper education is a great way to get an interview so pay attention to this section when creating your master resume. When an employer looks at the resume, they want to see that you have business and technical skills. However, some degrees combine both and are great options for your technical project manager resume
How To Format This Section
The education you have can give a glimpse of your professional abilities. Be sure that you provide all education and certifications that you hold for the best chances of nailing down an interview with your company of choice. There are a few things you should include in this section.
First, make sure that you list where you attended university or took a certification course. The course or major should also be included. Next, have the location of the institution where you got the degree. Finally, it's up to you to include both the start and end dates of education or only the end date.
If you graduated more than 15 years in the past, you could choose to remove the graduation date as you may experience less age discrimination.
There are other optional things you can add, but most of them are not required. For example, academic awards, projects like a dissertation or thesis, and GPA can be added to your education but often isn't going to make a lot of difference unless you are a new graduate.
Skills
While a skills section might be something you can take or leave in many professions, that is not the case for a technical project manager resume. Highlighting the right skills can show that you understand what the position is all about and bring you closer to getting an interview.
Look at all of your professional experience and pick out the relevant skills for the job you are applying for. Once you have a few selected, those can be added to a separate skills section.
Not only will this show your expertise for the position, but it can also be helpful for applicant tracking systems (ATSs). It's an excellent place to add valuable keywords to make your resume even more relevant to the position. Since an ATS can be the bridge to being seen by a hiring manager, tailoring your resume for it is an excellent idea.
This is also a great place to include any experience you have that wasn't listed in your work experience section. Skills can apply to a variety of positions. But make sure you detail the skill descriptions and use quantitative language to create in-depth information about what you are capable of.
Some of the skills that you might want to include on your technical project manager resume have things like strategic planning, project management, project optimization, cost-benefit analysis, budgeting and costing, and database management.
Depending on the position, you might want to include the programming languages you know (such as PHP, HTML, Python, Java, and others), frameworks you've worked with (including Bootstrap, CodeIgniter, Drupal, and more), as well as the operating systems you know, such as Ubuntu, Linux, and Windows.
How To Format This Section
One of the best ways to format your skills is in a list form. It's easy to read through and get a grasp on what you have experience with. Having information about your level of experience with each skill can also be helpful. However, if you choose that method, only select skills that you are highly proficient in.
References
Having information about your skills and experience is essential but hiring managers will also want to speak with others to ensure you have the skills that you claim you have. Adding references can make you more credible in terms of the items you include on your resume.
References can be either personal or professional. Personal references are people who can give insight into your character away from the job. This can be friends, neighbours, and others who are in your community. These references show that you are professional and have a good character at all times.
Professional references are former or current co-workers, supervisors, and team members who can attest to what you are capable of on the job. These are people who have first-hand knowledge of what it's like to work with you. Talking to these people gives an employer a chance to learn more about the sort of employee you will be.
How To Format This Section
In most cases, you want to either leave this section listed as "references available on request" or state the names of references and ask the employer to contact you to get their information. This is important because it means you aren't giving anyone's information out when it isn't needed. In fact, this can be a breach of privacy that most people will not take kindly to.
In addition, this gives you time to speak with the references to let them know that they may be getting a call from a potential employer. When listing references, avoid adding family members since these are often considered to be biased individuals.
More Technical Resume Templates
Formatting a technical project manager resume can be done in several ways and this guide provides examples to select from. Keep in mind that even if your resume has all the required information, a hiring manager might not read it if it has a strange format or inconsistencies.
Resumes should be professional, short, and sophisticated. We have several resume formats that you can use to get started. Choose the one that works best for your needs, input your information, and take the first step toward getting your desired position.
Final Points About Technical Project Manager Resumes
When a hiring manager or recruiter accesses your resume, it's usually only looked at for less than a minute. That's why you should make sure you include a resume objective at the top of your technical project manager resume. It gives insight into yourself, your experience, and why you want the position.
After you show that you have the skills needed, it's more likely that the rest of your resume will be read. This gives you the chance to show your work experience and elaborate on your skills. In addition, it provides a way to show you could be the best technical project manager they bring in.