Internship Resume Examples, Template & Writing Guide for 2023
Before you embark on a professional career, such as an accountant, attorney, doctor, or engineer, you'll likely have to complete an internship resume. An internship might open new ways to learn outside of the classroom.
It may provide you with new responsibilities and teach you goal-specific skills to help you complete them. Internships also offer you experience with technology, people, and projects that could be relevant to your professional aspirations. However, you'll have to create a strong internship resume to be accepted as an intern.
An internship resume can be a little different than a regular resume since internship positions are usually for students or recent graduates. Some internships are paid, while others are specifically for courses or education credits. Nevertheless, each intern resume should follow a proven structure - that will help the candidate articulate their qualifications, even with little practical experience.
So, if you're looking for a great article on writing an internship or entry-level position resume, you've found one here. In the information below, we'll provide a few internship resume examples for two common intern positions, teaching and attorneys. We'll also give you a practical example of a general internship resume.
Internship Resume Examples
The perfect internship candidate will be the one that fits the company's individual needs. While it's hard to predict what every business seeks in their interns, believe it or not – they make it relatively easy for you. When you take the time to read the entire job posting, you'll find that the company gives you all the details you need to highlight on your resume.
They'll tell you what skills are required, the tasks you'll be assigned to complete, the required education needed, and what relevant experience you might have. The trick is to write a stunning internship resume when you don't have any practical work history.
That's what these three sample resumes for interns accomplish. The first is a general internship resume from a candidate named Jessica, applying for an internship with a manufacturing company in San Diego. The second is a teaching internship resume, and the third is for a legal intern position.
Please take a few minutes to review the first resume, and we will explain some key features.
General Internship Resume Sample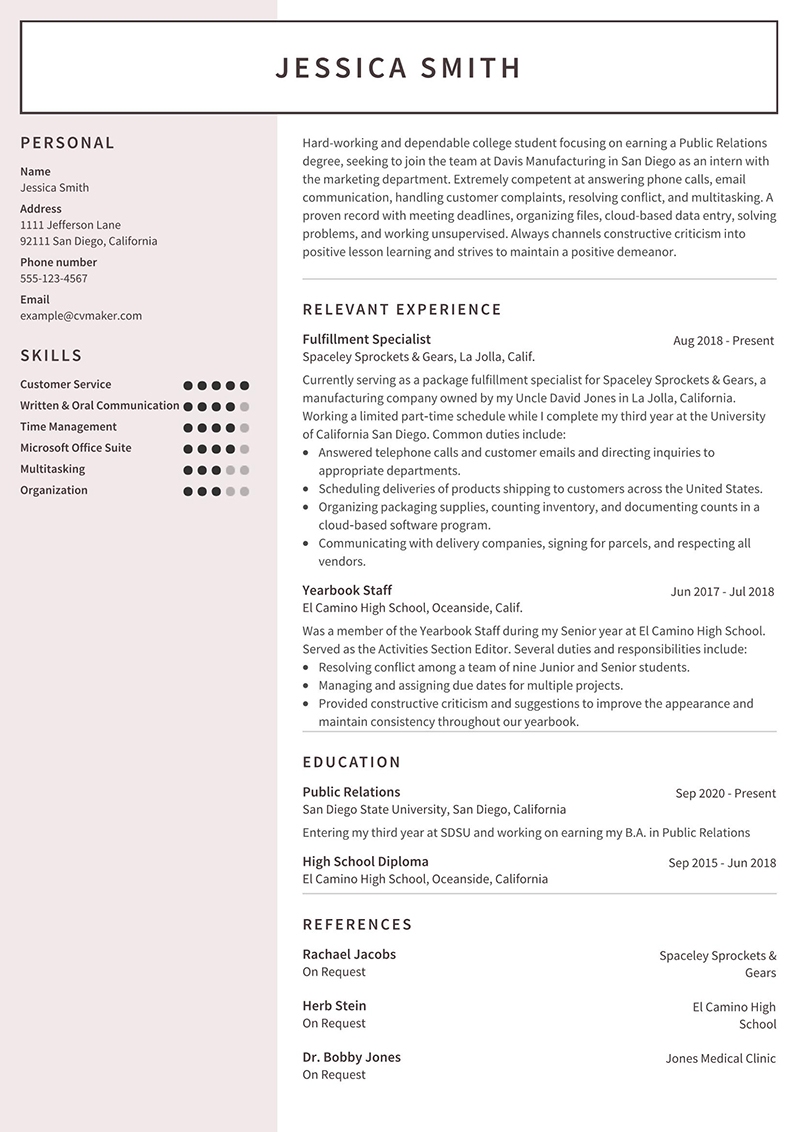 You'll compete with several other like-minded candidates when applying for a first-time internship position. While the content in your application is a significant factor – submitting a well-written resume can help nudge your candidacy forward.
The best resumes for internships will be short, sweet, and to the point. They will tell a story from start to finish, explaining why the candidate is the best to assume the position.
That's exactly what Jessica's resume accomplishes.
She begins with a powerful and well-written resume summary after listing her personal contact information cleanly at the top of the resume. Looking at the first sentence, you'll see that she has customized the resume specifically for the manufacturing company she applied to.
Further in the resume, you'll note that she has created a Relevant Experience section since she has never worked for a manufacturing facility. She's listed two examples: the first serving as a fulfillment specialist, and the second, as an editor of her High School yearbook staff.
The yearbook position is to showcase some previous experience with journalism, a key attribute for marketing and advertising executives who focus on public relations. This is the field that Jessica is hoping to enter.
She has also included her current enrollment at San Diego State University. While it's always a good idea to highlight critical courses relevant to your career, in her case, as a Junior, she's just beginning to focus on career-specific education. Her first two years at SDSU focused on general education.
Further, she has provided a list of her hard and soft skills, time management experience, and communication skills. An applicant tracking system will recognize these keywords, and HR managers will also search for them in resumes and applications.
Finally, she's added three practical references from previous employment, her high school, and a personal mentor.
Legal Internship Resume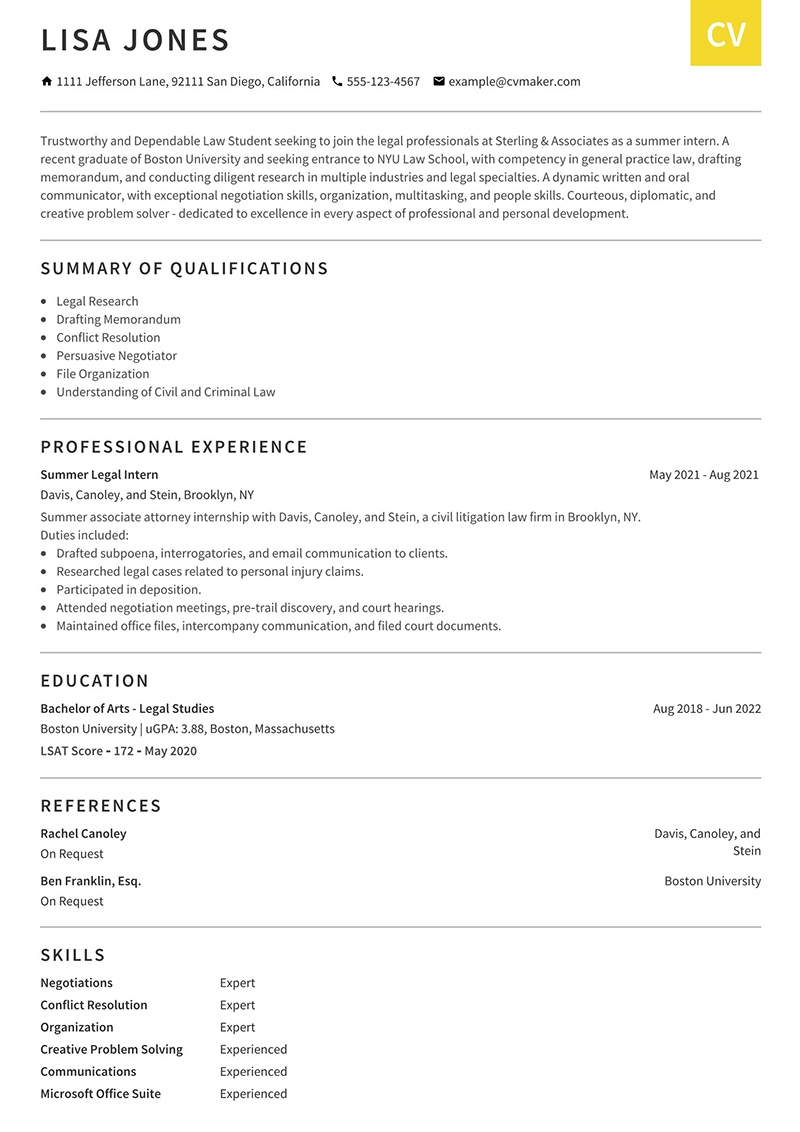 The following college internship resume is from our hypothetical law student Lisa Jones. Ms. Jones has previously served as a summer intern at another law office. She is entering her first year of law school at NYU. To advance to an associate attorney, she must first graduate from Law School – where the internship program fits nicely.
Here are a few key differences between this sample internship and Jessica's PR resume.
Lisa has earned her bachelor's degree and passed her LSAT exams – which are required for entrance into law school. As such, she's notated this on her resume.
She has previous experience as a summer associate or a legal intern and provided some key accomplishments and tasks to highlight her abilities.
Her resume includes a section called Summary of Qualifications. As she continues her career path as a practicing attorney, this will be a focal point of her resume section. By including this section, she already shows that she understands how to write a professional legal resume and holds further credibility.
Her skills are listed at the bottom of the resume. They are targeted specifically to the legal profession vs. general interpersonal skills.
Teaching Internship Resume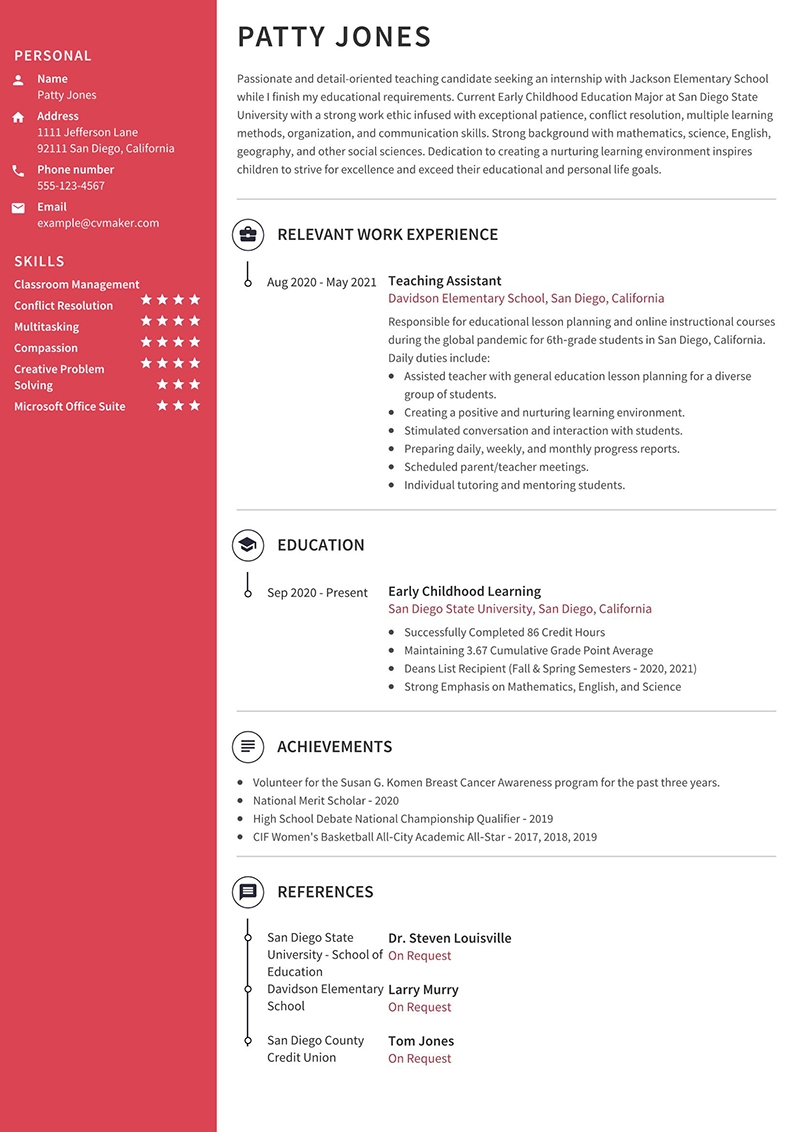 The final resume for internships focuses on the teaching profession. This sample resume for interns is for our teaching internship candidate Patty Jones. She is also a currently enrolled college student entering the final phase of her Early Childhood Education degree program.
With this sample resume, we've taken a slightly different approach. In her case, we highlighted her core educational training in college, displayed a relevant job serving as a teaching assistant last year, and provided the references that can vouch for her experience, passion, and dedication to the profession.
However, one section that we've inserted is an achievements section. This is an optional inclusion, but as you can see, it provides her with additional experience and an opportunity to highlight her key achievements over the past few years.
The main takeaway from all three samples we've published above is that you can attack your internship resumes in several ways. This is especially true if you're writing a resume for an internship with no experience.
How to Write a Resume for an Internship in 2023: Full Guide to a Successful Intern Resume
If you're not a professional writer and worry that your internship resume will be indistinguishable from the one above, don't worry. The secret to producing an excellent resume is to figure out how to arrange it and what terms are necessary for the position.
The first step is to create an outline. A master's resume is the best place to start. You may insert the significant sections, add the information or content, and make adjustments to ensure everything is grammatically correct in this editable Microsoft Word or Apple document.
Here are a few recommended sections that we think should be included in any internship resume.
Personal Contact Information: This section should include your current contact information so they may quickly get in touch with you for an interview.
Resume Summary: The internship resume objective is an opportunity to pitch your application to the hiring manager in a single paragraph. It needs to explain why you're the right person for the job.
Relevant Experience: You'll add the relevant work experience section after this. If you're new to this field, choose a handful of your previous employment where you've demonstrated good work attitudes and strong work ethics.
Education: The education section in a professional resume is most straightforward for interns to fill out. For the resume style, list your most recent level of education - including any degrees you've earned. Consider adding this to your internship cover letter if you're currently enrolled in school.
Skills: Pick your top six talents to help you do the job more effectively. Being organized, attentive to detail, a good communicator (written and oral), phone etiquette, and superior customer service are all important skills.
References: A reference is a person that can vouch for your experience, work ethic, and skills. They're usually included in your application and resume, not your cover letter. You'll need the contact information for three references; unless the company specifically asks you for it, you should keep their private information to yourself.
So, now that you've gotten the major sections you'll need to include in a resume, it's time to arrange them on your master resume document. Type each vital area in chronological order on your word document and emphasize them.
Let's start working on your resume.
Section #1 – List Your Contact Information
It's always best to start any project with a win. The good news is that this section is the easiest to complete. Contrary to popular belief, most interns don't solve significant company problems upon arrival. As an intern, you'll be responsible for many remedial daily tasks.
Many of the tasks listed below are typical for a variety of internships. Some examples include taking incoming calls, using Microsoft Office programs like Outlook, Excel, or other data entry software, PowerPoint presentations, scheduling meetings, responding to emails from vendors and customers, organizing documents and office memorandums, and assisting with administrative duties and basic human resources activities.

When you do any of these tasks, paying attention to the details is critical — and your contact information in the resume is the most effective method to display these important abilities. The greatest advice we can offer is for you to include your complete legal name, complete mailing address, email address, and mobile phone number.
The most important item to remember is to match – 100 percent – what you listed on your application. These are the 'details' that any office assistant must complete daily.
How to Format this Section
When using the master resume, write each item listed above separately. This will make it easier for you to copy and paste into a resume builder or template – such as the one we used to create the sample resume above.
Section #2 – Resume Summary 
In English and Journalism courses, we are taught that the opening paragraph of an essay or article is crucial for conveying the rest of the tale. This should be your goal when writing the internship resume objective section. The internship resume objective section will introduce you and your abilities to a potential employer.

Look at Patty's teaching internship application resume summary above. You can see how she has tailored this part to the institution for which she is seeking an internship. This section may be edited simply using a resume builder or template, and each organization may have its own unique PDF file. This type of attention to detail shows the company that you really want the job and displays passion, work ethic, and creativity.
When you review the opening statement, it's easy to see how she's articulated her current qualifications, enrollment in a teaching education program, and interpersonal skills that make her compassionate and a great teaching intern.
How to Format this Section
This section will be the most challenging for your resume but don't worry; it's not that difficult. The key is to write it in a way you'd say it during an interview - using a professional yet conversational tone. We recommend the word document master resume since you may hear how it sounds by having the program dictate it to you.
Remember, keep it to five short sentences. When you format it, ensure this part is placed right below your contact information or at the top of the page.
Section #3 – Relevant Experience
If you haven't done an internship in the past, putting up work experience may be difficult. As a result, we propose calling this category relevant experience. You might have been given responsibilities like those of an office assistant no matter what jobs you've held, whether in the service sector, building construction, or other industries.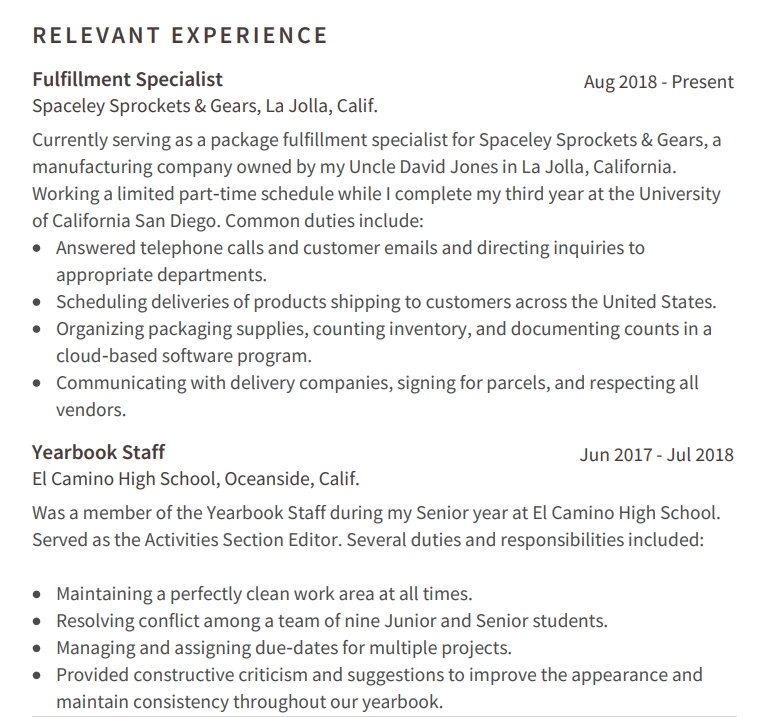 For example, you may note that Jessica previously worked for her uncle's recycling firm in the packaging department on her resume. While this isn't technically an internship, you'll notice that she had to multitask by answering client emails, processing contracts with third-party shippers and carriers, and finishing various activities simultaneously (multitasking).
These are tasks that - once again, many interns will be assigned initially. Companies do this for several reasons. Mainly to test the work ethic of an intern as they start their positions. If they complete those remedial tasks well, assigning more important jobs becomes easier.
Now, suppose you're writing an internship resume with no work experience. In that case, this is a section where you'll include volunteer work or projects you've completed in school. Jessica has also shown this as she's listed her high school yearbook staff position.
These are similar tasks that you'll complete as an entry-level intern. As such, it's a relevant experience.
How to Format this Section
Experience should be mentioned in the Experience section. (2) samples of prior employment or locations you've worked are recommended. They don't have to be paying jobs; if you were on the yearbook staff at your high school, this would count as relevant experience.
For the layout, including the company's name, location, start and end dates of employment, and a few key points about your responsibilities. You'll want to list these positions in chronologically reverse order - that is, the most recent jobs at the top and then work your way down the list of days you left your previous job.
Section #4 – Education
The education is another easy section to complete for the entry-level internship resume. Most internships will have educational requirements – mainly based on the type of program or job. However, suppose you review the job posting and require a college education. In that case, you must factor this into your resume and application.
While most resumes should only include your highest level of education, an internship resume is slightly different. For example, suppose you're currently enrolled in college but have not received your degree yet. In that case, it is preferred for you to list this in the education section.
Don't list that you've earned a degree if you haven't. However, you can list your current GPA or other coursework, achievements and awards if you'd like. Let's review Patty's resume for a great example of how to complete this section.

You'll notice that Patty has mentioned that she is currently enrolled in an Early Childhood Education program at SDSU. She is in her third year and currently mentions some of her key accomplishments. This will give prospective employers a good understanding of your status.
How to Format This Section
Formatting the education section is very easy. Just list the name of the school, its location, dates, and the degree earned. Remember – only use the school you've graduated from or completed your education.
Section #5– References
We briefly mentioned what a reference is in the first section of this article. So – how do you pick the proper reference for an internship position – primarily if you haven't held many previous jobs?
This indeed introduces a challenge for many new job candidates. But it's not as hard as you might think. The critical item about any reference is speaking with confidence, credibility, and knowing you very well. You want any reference to tell a hiring manager about why they'd hire you if the role were reversed.

In a perfect world, you'd select (2) references that you've worked with – either in school, a previous job, or a volunteer position. The final reference should be a personal one – or a family friend or mentor who can speak to your personality and credibility. This is what Jessica has done in her sample resume.
How to Format This Section
You should provide your reference's first and last name and the location of their work (or where you know them from). Unless requested by the law firm you want to join, this will keep their contact information private.
Always keep your reference's personal contact information – including email, shipping address, and phone number - safe. Only provide it to an employer if they request it.
Section #6 – Skills
The skills section is another one that is easier to complete than you'd think. We mentioned earlier that the required skills for an internship position would likely be listed in the job description or posting. You'll want to review that list for your resume and choose the top five that you are experienced or possess.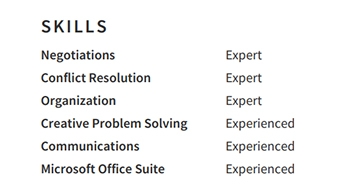 If there is no job posting that you're submitting your application to, consider your industry, research the top skills of candidates in that field, and select five or six that you possess. You can then use an internship resume template to assign a skill level. You can see how Lisa, our attorney intern, has done on her resume.
How to Format This Section
In your master resume, list the abilities requested by the prospective employer in a bullet point style. You may then include them in a template, making them simple to discover for future employers and recruiters.
Related Resume Templates 
We offer a wide range of excellent resumes for many sectors. When you're just getting started, it's only natural to look at a few excellent samples. That is what we have presented in the content below.
Take some time to read the sample resumes of students, volunteers, and others who would be considered for entry-level or internship positions. Feel free to incorporate some of the ideas in these resumes into yours.
Student Resume (Link to the article when it's published)
Volunteer Resume (Link to the article when it's published)
Final Points on Writing an Entry Level Internship Resume with No Experience
Our goal was to demonstrate how simple it is to create a resume for an internship position without prior experience. When you know the proper way to structure a resume, which sections to include, and what keywords or competencies to incorporate in each relevant section. We feel we've accomplished this goal - and trust that you will use these pointers and produce something fantastic out of them.
The sample resumes we've posted above give you three patterns to follow. We strongly recommend using this document as your template – but personalize it for each admin position you apply for.
For a quick recap, here are some specific tips to remember.
Make sure the resume reads and flows easily.
Always write your resume on a plain white background with black font.
Edit the document SEVERAL TIMES – through Grammarly and visual inspection.
Ensure it's well-spaced, organized, and professional.
Finally, read it aloud a few times before you're ready to paste the content into a template for internships.
The most crucial advice in this section is to use a high-quality editor, such as Grammarly, to edit your material. Don't be scared to utilize an internship resume template like the one outlined above to verify that it's clean, neat, and well-organized.