Caregiver Resume Example, Template & Writing Tips for 2023
Caregivers are unsung heroes dedicated to helping the frail, sick or otherwise impaired with their daily living requirements.
They can work for a healthcare facility or as a private caregiver. Either way, they play a critical role in the lives of millions of Americans daily.
The demand for caregiver jobs is set to skyrocket. According to the Population Reference Bureau, the number of American adults over 65 will almost double by 2060.
You'll have to know how to write a terrific caregiver resume to land the best-paid jobs.
Feeling a bit overwhelmed?
Don't! It's really not complicated if you follow our resume tips.
We've included caregiver resume templates and examples to take your resume writing to the next level.
Caregiver Resume Sample
You'll find plenty of caregiver resume examples online.
While there's nothing wrong with copying random resumes, you risk missing out on amazing job opportunities.
Whether from a healthcare facility or family members, recruiters expect to see specific content and formats. You can get it wrong when you're blindly following caregiver resume samples.
A resume builder sorts everything out for you. You get to select the perfect resume format in minutes, leaving time to focus on honing content.
What's more, you'll find various caregiver sample templates, such as –
 Family caregiver resume sample
 Child caregiver resume sample
Caregiver resume sample for elderly
We want you to get your dream caregiver job. Therefore this article has samples and examples for every step of your caregiver resume.
Julia has chosen our Auckland resume template in this caregiver resume example in pale green.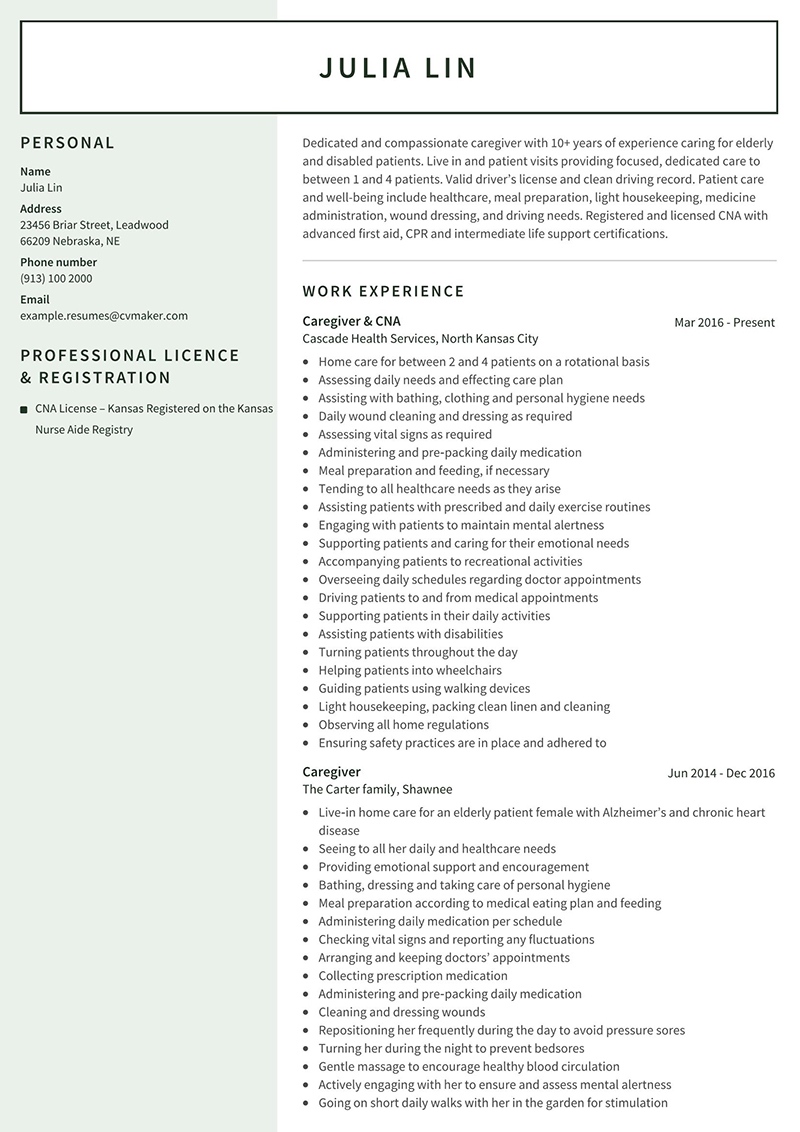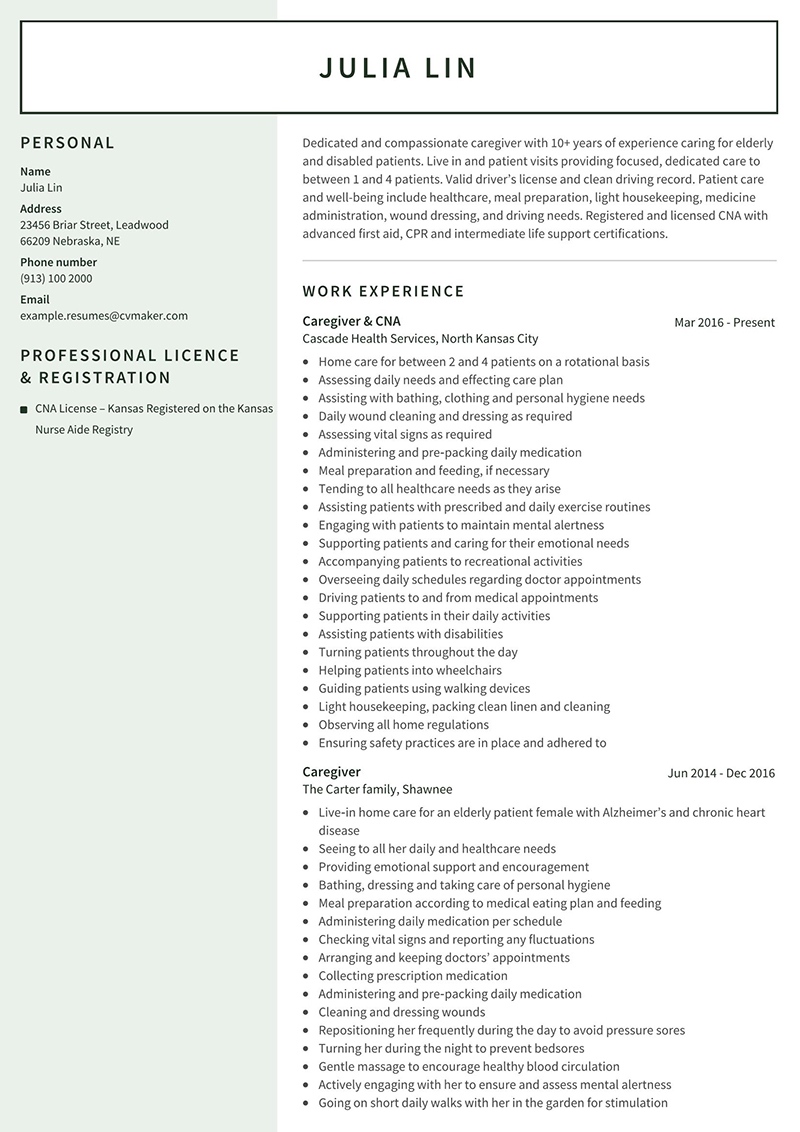 How to Write a Good Caregiver Resume in 2023: Guide & Caregiver Description for Resume
Upfront preparation is as essential in resume writing as it is in caregiving. You've got to go in prepared.
Spend time writing down all your caregiver skills and hard and soft skills from when your career began. Save it as your master caregiver duties and responsibilities resume.
If you're an entry-level caregiver without work experience, list your education, courses, and certificates.
What about unpaid caregivers who've cared for a family member?
An in home caregiver resume can apply for paid jobs. Home care for family is caregiving, so craft a family caregiver job description resume master.
You're now ready for your job search.
Compare job descriptions in job posts to your master resume's work history. Look for keywords in ads that align with your caregiver skills and work experience.
Next, rewrite your caregiver description for resume applications to mirror the job post.
There are two significant benefits to doing this –
If the advert is posted by family members, your caregiver responsibilities resume gives them what they're looking for
Where healthcare facility hiring managers are involved, they use keywords to identify the caregiver skills they need
When applying through agencies or to institutions, keywords mean a lot. Hiring managers typically give recruiters a caregiver job description with critical keywords.
Recruiters post the spec to job boards, social media and other media via an applicant tracking system or ATS. Parsing software in ATS retain the keywords to scan incoming caregiver resumes.
Your caregiver duties resume is immediately scanned by the ATS when you submit your application. If the essential keywords are there, it's moved to the hiring manager's interview shortlist. If not, your caregiver resume gets binned.
Formatting is just as important. Reverse-chronological is best for a caregiver job description for resume writing. Your experience section starts with your most recent job and continues in descending order.
Professional resume structuring also involves correctly using bullet points, headings, length, and fonts.
Obviously, getting the right resume layout can become stressful when you're not privy to recruitment trends.
That's why using a resume builder is a no brainer. Honestly - you get the perfect two-page resume. So all you need do is focus on your caregiver skills and years of experience.
Finally, language matters a lot in a caregiver responsibilities resume too. Keep it positive, upbeat and confident, but still caring and empathetic.
Personal Information
Without the correct personal information, your job search will amount to nothing.
Incorrect contact details mean no one can reach out to you. Transposing even one number or letter could sink your application.
With so much competition in the market, hiring managers aren't going to hunt you down either. For them, it's on to the next one.
This section needs your full names, physical address, correct contact numbers, and email address, and that's it.
Many people get it wrong because they assume it's so quick and easy. Always double check your personal info before you submit an application.
Personal Information Example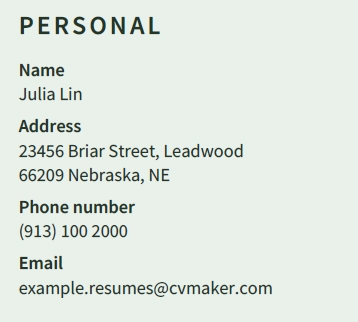 Reader-friendly and clear, as in this sample resume for caregivers.
How to Format this Section
Accuracy is of prime importance, particularly your contact numbers and email address.
Ensure details are well spaced and use a business font.
Check and recheck before you hit the submit button.
Resume Objective
A caregiver resume objective can be a game-changer or a wet blanket on your application.
The great thing is you get to choose the content.
Don't dismiss it as something insignificant.
Also called a resume summary, your objective is the first thing readers see.
You don't get a second chance to make a great first impression, so use you're the opportunity well.
Draw hiring managers in with creative words that convey your caring nature, years of experience and caregiver skills.
The catch is you have only a few words at your disposal. Take your time and think your caregiver resume objective through well.
An objective or summary isn't a cover letter. Where a cover letter allows plenty of detail, a resume objective limits you to around 50 to 60 words.
Use keywords from the vacancy post combined with numbers and stats for the utmost effect.
Take a look at these two caregiver resume summary examples -
Resume Objective Example for an Entry Level Caregiver Resume

This entry-level caregiver resume objective uses past unpaid family caregiving experience as a motivator.
Resume Objective Example for an Experienced Caregiving Resume

With 10+ years of experience, this experienced caregiver resume objective focuses on certifications and skills.
How to Format this Section
You've got around 60 words to convince hiring managers to pick up the phone and dial your number.
Make the most of your hard and soft skills, experience and achievements.
Don't forget to match critical requirements from the job ad by including keywords.
For instance, listing your working history as 10+ tells readers you're very experienced. Or, you're specialized in mentioning children, the elderly, or, say, Alzheimer's.
Write a new caregiver resume objective for each job. Re-read it and ask yourself – "would I want to know more based on this resume summary?"
Professional Work Experience
A caregiver duties and responsibilities resume isn't one-size-fits-all.
Tailor your caregiver resume skills and experience to reflect your unique work history while mirroring job post requirements.
Keep in mind that keywords are king, and without them, your caregiver duties resume will go unnoticed.
Every vacancy will have its own phrases and keywords, but technical skills usually remain the same.
These are some typical caregiver experience examples to watch out for in job adverts –
Assisted living
Alzheimer's
Care plans
Certified Nursing Assistant
Child caregiver
CNA
Communication skills
Daily activities
Disabilities
Doctor appointments
Emotional support
First aid
Healthcare
Home care
Home caregiver
Home health aide
ILS
Independent living service
Linens
Meal preparation
Nursing homes
Patient care
Personal care
Personal hygiene
Professional caregiver
Vital signs
Professional Work Experience Example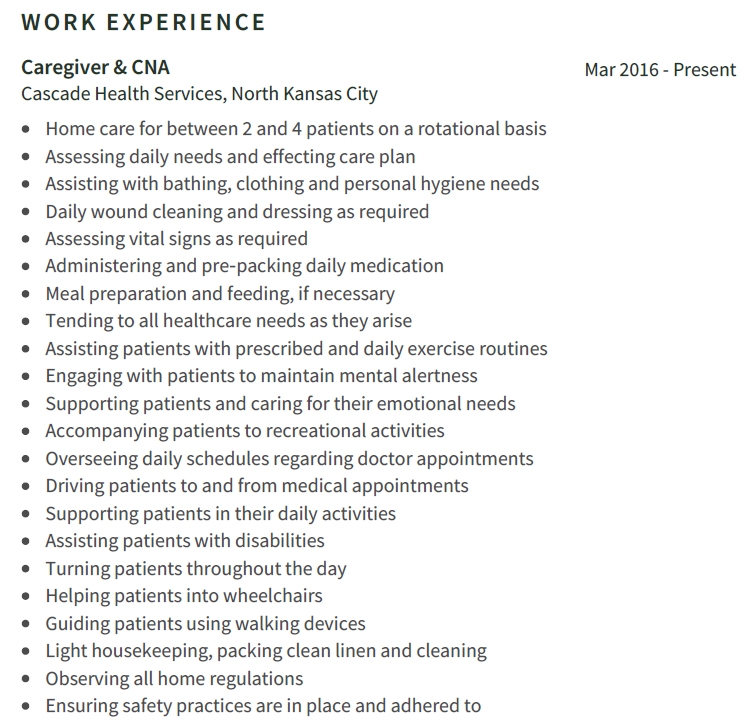 See how reader-friendly this caregiver job description for resume is. Packed with vital and relevant keywords, it reflects the employer's requirements.
How to Format this Section
Your work experience section must be clear and to the point but still informative. Use a reader-friendly business font, bullet points and plenty of white space.
Readers should be able to glance through it and still find what they're looking for.
While you want employers to know what you offer, avoid adding irrelevant details.
Fit each responsibility, skill and achievement into a bullet point using creativity to keep it engaging.
Always list your skills and experience in the same order of importance as in the job post.
Education and Certifications
Caregivers mostly need a high school diploma.
The more relevant certifications you have dictates your career path and earning potential.
Professional caregivers are frequently CNA with certified nursing aide, advanced first aid and other healthcare accreditations.
These qualifications are primarily prerequisites to land jobs in nursing homes.
Child caregiver and elderly caregiver resumes will need additional certifications relating to their choice of specialization.
Education Example

 List certifications in descending order, starting with the most recent like on this caregiver resume example.
How to Format this Section
The education section must be factual and to the point.
When looking for education and certifications, nursing home hiring managers and other employers scan through caregiver resumes.
Start with your most recent certification, listing the training institution, then the qualification and continue in descending order.
Skills
If you're applying to a nursing home or other big company, their ATS will head straight to the skills section. The patient's family members will hover here, too, searching for essential skills.
You get the caregiver resume skills from job descriptions in ads.
Apart from trainable skills, keep a close eye for soft skills as well, such as –
Calm
Caring
Compassion
Communication
Dedication
Friendliness
Observant
Openness
Organized
Patience
Problem-solving
Reliability
Well-being
Find required skills in job posts and list them in your skills section.
List both your hard and soft skills as they're equally important.
Don't rush writing your barista resume skills. You're bound to reap the rewards for your extra effort.
Skills Example
 Rating your skills level as in resume examples for caregiver skills like this gives readers immediate insight into what you bring.
How to Format this Section
Include only skills listed in job posts. Other caregiver skills you have can be discussed in the interview process.
Keep descriptions short and rate each skill according to your expertise level.
References
End your caregiver resume with references.
For understandable security reasons, avoid giving too much detail on past employers. References can get listed as available on request unless the job post asks explicitly for contactable references.
It's always best to let referees know upfront that you're back in the job market. That way, they know to expect a reference call. It's an excellent opportunity to confirm they recall all your duties at the time as well.
References Example

All caregiver resume examples follow the same reference format. Company or family name, referee, and the correct contact details. You need nothing more.
How to Format this Section
Keep it precise, as in this caregiver resume sample.
Other Related Resume Templates
Just realized caregiver resume samples or elderly caregiver resume templates are wrong for you?
Not a problem!
Apart from resume examples for caregivers, we've got loads of other resumes that might suit you better.
Take a look -
Final Points on Writing Caretaker Resumes
Keep these resume tips in mind when crafting your perfect resume –
Use the correct resume format
Extract keywords from each job post
Take time selecting resume info
Use clear and concise wording
Include numbers and statistics
Use action verbs and positive language
Use bullet points and business fonts
Get your resume format right
Ensure there's plenty of white space
Stick to a two-page resume
Apply with a caregiver resume pdf (not in Word format)