Big Data Resume Sample, Example & How to Write Tips 2023
Whether you work as an engineer or a developer, having the perfect big data resume is essential to get a great job. That means showing that you understand big data technologies and can meet the business requirements of a specific company. You want to show off your skills with Hadoop, Python, Hive, Java, MapReduce, ETL, and whatever else might hit your desk during a workday.

Having skills, education, and work experience is a good way to build a resume. However, it takes more than putting down that you have a grasp of big data analytics. You need to think about how to layout the page, what formats will look best, and how to word your accomplishments to be a top contender for that job with a great salary and top benefits.
The responsibilities for big data can vary depending on the industry the job is in. However, you can show off your best in any field with the rest of the information in this guide. It doesn't matter if you're completely new to the big data world or someone who has a decade or more of experience. Most of the same tactics can be used for your big data resume.
Big Data Resume Sample
One of the best ways to get an idea of how your own resume should look is by checking out several big data resume samples. Creating a great modern resume is only possible when you know what you're going for. Throughout this guide, we'll share some of the best big data resume samples to get you started. Then you can tweak things and add your information to ensure your success.
For example, when you look at a big data engineer resume sample, you'll see certain sections and information that are on all of them. These are things that a hiring manager or recruiter expects to see. Not including one of these sections could leave the employer with questions. It's better to provide what is expected to have a chance of being contacted.
While there are samples on Google and other websites, we'll be sharing a big data sample resume below. It lays out the entire resume and gives you insight into how yours might look when you're finished. In addition, you'll see smaller samples for each section so you can drill down and get an idea of how to handle each part one at a time.
The reality is that it can be challenging to build a beautiful and comprehensive big data resume that makes someone stop and read it. In a competitive field, you need to stand out. Use the details below to make the process easier and ensure you have a resume worth taking a chance on. To start, all you need to do is look below at the full big data resume sample available for you.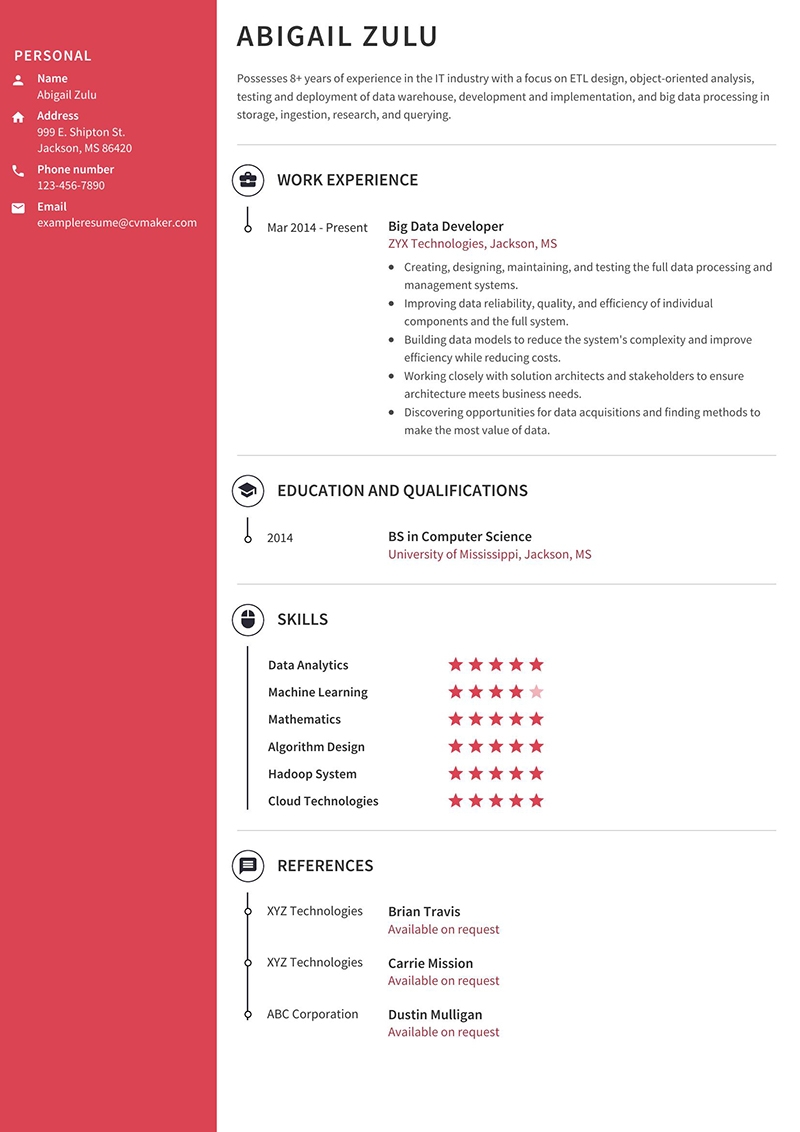 Download this resume example - Big Data
How to Write a Good Resume for Big Data Developer/Engineer: Tips That Work in 2022
Perhaps you're making a big data developer resume. Maybe you're more focused on a big data architect resume sample. Regardless of what job you're going for, you need to show that you can handle a job in big data. The good news is that the job description for the position will help in that journey. It provides insight into what skills and achievements are valued by the company for the job.
As you work through this guide, you'll see various tips to help you show that you deserve a specific job. We'll go through each section one at a time so you can focus on a specific area and make sure it shines before moving forward. Once you finish, you'll have all the information you need to show you're great at big data and would be a good addition to the workplace.
Curious about which sections are useful for a big data resume? The following tend to be included on almost all of these types of resumes:
·       Contact information
·       Resume objective
·       Professional work experience
·       Educational background
·       Skills
·       References
Before moving into the section details, there are a few tips that will help across the entire resume. A professional font is recommended for any big data resume. Make sure the font is legible and doesn't switch up multiple times. When you are choosing a font size, 12 pt. is common for body information, while headers can be a little larger at up to 16 pt.
For sections like work experience, make use of bullet points whenever possible. This makes things more concise. Blocks of text are not recommended in most sections since that tends to make the resume dense and most people won't read it all the way through. Also, think about the length of a resume. Most people are fine with a single page but two pages for a big data resume is the maximum to use.
When it's time to send off that big data resume to the employer, it's usually best to save it as a PDF file. This gives you total control over the way the final resume looks. No matter what device or program is used to read the resume, it will always appear the exact way that you made it.
You might be wondering if making a big data resume is going to be a long process. It definitely does not have to be. Using the guide below can help you create the best big data testing resume possible. Just like big data, optimization matters for your resume. So check out the first section and get started.
Section #1: Contact Information
When starting to work on a big data resume, you don't need to describe your Oozie skills or how you've used Kafka for ages. You aren't even going to get into your years of experience with data science to start things off. Section one is totally focused on your contact information.
The point of this section is to offer a way for managers to get in contact with you. It might be a simple section to create but it's a mandatory one. After all, if there's no way to reach you, you aren't going to get the job even if you happen to be the best candidate.
Contact Information Example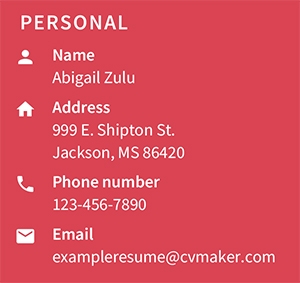 Above you can see what a big data resume contact section looks like. You'll notice it's a simple section. All you need to do is choose a font and add in your name, address, and how to reach you. A phone number and email are commonly added, but some people also add other links, such as to a professional LinkedIn account.
How to Format This Section
Whether you focus your work on knowledge of an RDBMS or pipelines and data solutions, that needs to wait to be added to future sections. This one is all about information regarding you as a person. The formatting doesn't have to be anything special but it does need to look professional and be easy to read.
The most common choice is to create a bold header and leave the subheadings in normal text. The placement for the contact information section can vary. In this case, you may notice that it's located on the sidebar. However, some big data resumes will have contact information at the top of the page. It's up to you to choose which you prefer.
Section #2: Resume Objective
Now we're going to dig into the resume objective. The recruiter is going to look at this first so it needs to be great. If you aren't sure what a resume objective is, it's similar to a verbal elevator pitch. The only real difference is that it's in writing this time. As such, you should use this section to show off your accomplishments.
It's best to include details that relate to big data here, but those without that experience can be creative. You've likely done something that pertains to the skills wanted by the job description. Hype those up so you get someone to keep reading the resume.
Entry-Level Resume Objective Example

For someone without much experience, you might want to focus on your education or positions in other types of companies. Above you can get an idea of what this might look like. Make sure to show you bring a lot to the table to do this right.
Experienced Resume Objective Example

Now is the time to go into your skills in Agile, Impala, or both. You want to show the most impressive things you have done throughout your career. Quantify those experiences when possible and use action verbs to make your objective more impressive.
How to Format This Section
You might know all the Amazon and Microsoft tools for data management and data warehousing, but do you know how to convey that in an exciting way? That's the main goal of the resume objective. Focus on the most important achievements you have had.
As far as the specific format for this section, it's an easy one. The resume objective doesn't need to be colorful or creative. Instead, the words you write are intended to evoke a response. As such, a professional font is best. You want to write the objective in about one to four sentences. Don't go over four as it may mean your message isn't read to completion.
Section #3: Professional Work Experience
You've probably been waiting to add your big data experience for a resume, and now is when you get to do that. You can talk about your expertise with Tableau, real-time experience with software development, and experience with Apache Spark initiatives.
The main purpose of this section is to show what you've already done in big data positions. You can bring in your experiences as a Hadoop developer or whatever else fits the job description well. For those without experience, consider adding internships, volunteer opportunities, and employment outside of big data.
Professional Work Experience Example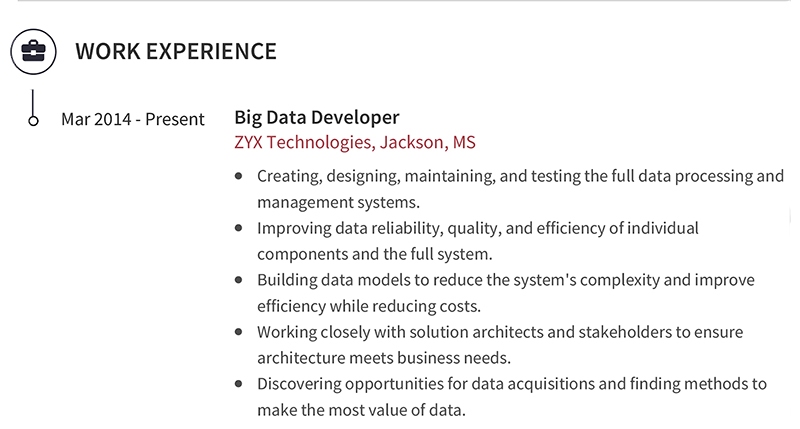 You can get an idea of how the work experience looks on this kind of resume above. It's a more robust section than the two we've looked at previously. That's because you want to provide detailed information about past work in big data. This is where you really sell yourself as someone who would fit well into the existing team at a company.
For instance, you want to add all the details about where you worked, when you worked there, and what job title you had. It's also essential to add in the most impressive things you did in every position. That's how you get a call to move forward in the job search process.
How to Format This Section
The format for this section is more detailed in tandem with the information you include. You can see above that each job you list has a header. Within that area, you want to include job roles, dates, and companies. This can be in a colorful area that stands out from the rest of the job description. Underneath, use bullet lists to describe the things you did at each position.
Section #4: Educational Background
Now we move into the big data resume section for educational background. This is where you insert your bachelor's degree in computer science, certifications, or other education you've completed in your life. Most people going into these positions will have a bachelor's, but some may have a master's. If that's the case, list them in order starting with the last one you acquired.
If you happen to be new to big data, this is a good place to bulk up your resume. Instead of a simple list of your education, you can add additional information, such as GPA or special projects.
Educational Background Example

As with our other resume examples, this one shows the basic look for an educational background section. In this case, it shows that the applicant has a bachelor's degree, where it was obtained, and when. Some creativity can be used here, as with the work experience section, but don't go overboard on it.
If you have special certifications for things like project management, those will also go in this area. Those who have several certifications might even choose to create a new section for them. However, they are fine in the education area. Just make sure to keep things in order.
How to Format This Section
Whether you've learned about big data methodologies in school or focused on JavaScript, the format is largely the same for your big data resume education section. The main things to include are the name of the degree, where you got it, and when you completed it.
This can be a simple line of information or you can dig deeper if you're new to big data. In that case, you might add a bulleted list like in the experience section. You can include any awards or special achievements you have from the time you were pursuing your degree.
Section #5: Skills
Technical skills, communication skills, and problem-solving skills are all things that are useful for someone in big data. A focus on Unix or machine learning can also do you well depending on the position. This section is all about the things you do well. But it should also take into consideration the skills the employer mentions in the job ad.
Even entry-level big data resumes need a skills section. You'll need to look into your past and think about what you've done that fits the role. This is where you add things you might not have focused on throughout the rest of the big data resume.
Skills Example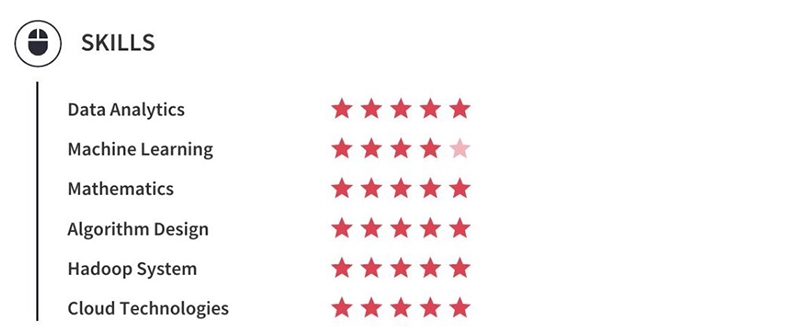 Above is an example of big data resume skills and how they might be laid out on the page. Of course, not everyone will have the same skillset. To make it easier on you, here are an assortment of skills that you might have and want to include:
·       Oracle
·       Scripting
·       NoSQL
·       MySQL
·       Linux
·       Apache Pig
·       HDFS
·       Flume
·       HBase
·       Programming languages
·       MongoDB
·       Sqoop
·       Data processing
·       Data modeling
·       AWS
·       Cassandra
·       Scala
·       API
·       SAS
·       Teradata
Browse the skills above or think about others that might make you stand out. Remember to scour the job advertisement to see what they want. This shows you put in the effort to show you are qualified.
How to Format This Section
Algorithms, web services, and implementing a large-scale Hadoop ecosystem might be things you are good at. But you also need to think about how you format skills like visualization in a data warehouse. The best method is through a list. It's easier to skim over it. Using sentences can make the resume too hard to read. Go with around five to 10 skills to keep the amount down.
Section #6: References
The last section for a data analyst big data resume is the reference section. This has less to do with your skills in Cloudera and more to do with showing you can work with other people. You want to show that other people trust you and appreciate you as a worker and a member of the community.
When choosing references, make sure to stay away from family members or friends. An employer will assume they are biased and going to say good things about you, whether correct or not. Instead, choose professionals from work, school, or around your neighborhood to fill out the references section.
References Example

The references section sample above gives you insight into how this typically looks. It's similar to the contact information section except it focuses on other people rather than yourself. You'll want to include their name, place of employment, and contact information.
How to Format This Section
There are three major formats to choose from when building your references for a big data resume. The first is to leave no information and simply indicate that the information is available on request. The second is to add the names and job titles but only hand out the contact info when needed. The last is to include all information.
We recommend the second option but the first can also be used if needed. The problem with including the contact information on the resume is that it may not be private. Anyone who sees the resume has that info and can do with it what they like. Your references would probably prefer that not happen.
Other Data-Related Resume Templates
Large data sets might be something you work with every day, but you also want to make sure your resume is aesthetically pleasing. You have all the information ready to go but you still need a template to make your big data resume pop on the page. You can choose the resume throughout this article or choose something in the data realm that you can edit to meet your needs:
·       Data Center Technician Resume
Select the template you like best and include your own information. You can also browse other styles and colors of templates so you can put your personality into the big data resume. At this point, proofreading is the only thing standing between you and turning in a fantastic resume.
Final Points on Writing Successful Big Data Resumes
Now that you've made it this far, you should be at the finish line toward turning in your resume to a potential employer. If you haven't already created a cover letter, get that done before you turn everything in together. This is a good place to professionally convey why you'd be a good fit at a specific company.
Look over your resume once more and make sure everything from skills and education looks as good as the work experience and references. After you've finished that, there's nothing more to do than to send in the big data resume. If you've followed the steps above, you could be closer to an interview than you think. Good luck!