Art Teacher Resume Examples & Writing Guide 2023
Creativity and an ability to articulate theory, practice, and history of Art are just a few of the qualities educators are seeking today. While teaching Art is a specialty position, trying to land that perfect job can be challenging. To stand above the competition, you must create an art teacher resume that is engaging and displays the creativity you aim to pass on to students.
If you've been looking for sample art resumes, you've come to the right website. Whether you're looking to teach in high school, college, or elementary school, your ability to create solid lesson plans, and connect with students must be articulated in the resume.
In the information below, we will provide you with a practical art teacher resume sample. We will also explain why it's important to start with an engaging art teacher resume objective, list your practical work experience, education, and skills.
We will also offer a few different tips for creating an art teacher resume with no teaching experience, or how to develop one if you've gathers decades of experience. Before we get too deep into these art instructor resume tips, please take time to review the art teacher resume template below – so you can follow along with each section we break down.
Art Teacher Resume Sample
You can review a great sample free resume for an art teacher directly below. Like all art projects, you can tell it is well-structured, thought out, and articulates the creativity and passion successful candidates display. It begins with a well-written creative art teacher resume objective that includes multiple hard and soft skills that today's art teachers must possess.
The resume continues to list Skylar's previous work experience, education, and licensing in chronological order. Ultimately, this art education resume tells the candidate's story – from her beginning education through her most recent job. Her cover letter will amplify and support the resume.
Resume example - Art teacher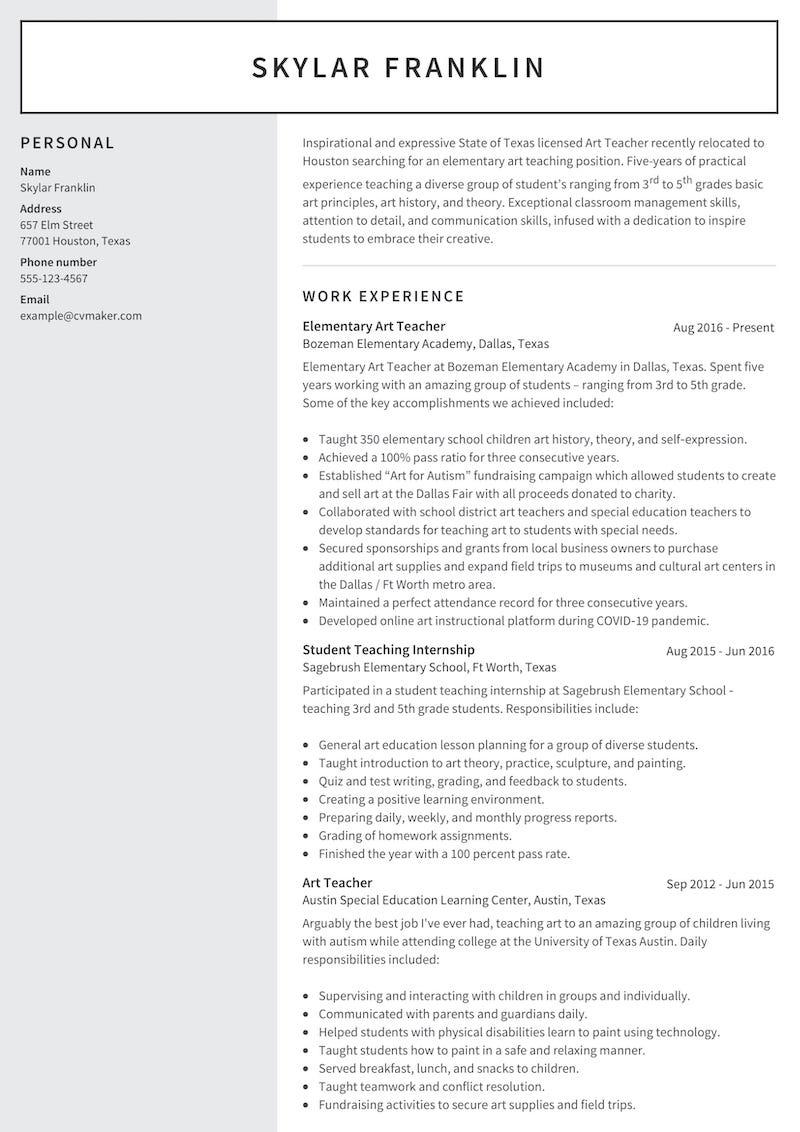 Download this resume example - Art teacher

Art Teacher Resume Guide: How to Write a Successful Resume
Most art teachers prescribe to a fundamental belief, that prep work and organization help a creative mind turn concept to canvas. The same thought process should be implemented in any art teacher resumes you plan to create.
The best resumes begin with an outline or what we call a master resume. It's basically a word document or other editable electronic file that permits you the ability to document all relevant information that were posted in the job description. To create your master document, begin by setting up a few major sections:
Personal Information
Skills – Hard and Soft
Resume Objective
Work Experience
Education & Practical Licensing
Achievements
References
Here are some specific tips for building out each section of your special education teaching resume.
1. List Your Personal Information
When you review Skylar's elementary art teacher resume, you'll notice she starts with a very clean and simple personal information section. The objective of this section is to keep it simple – yet practical. You should ensure the address listed is a physical location where it's easy for you to receive mail.
Your email needs to be hosted on a major server – to reduce the potential of bounce back. It's also crucial for you to verify the settings in your email to reduce the potential of correspondence ending up in your spam folder. The phone number you select should be a mobile phone with full internet connectivity. It's possible you'll be sent SMS / Text alerts when applying to a specific job.
How to Format Personal Information Section
Keep it simple, clean, and accurate. Specifically for art teachers, you need to showcase your ability to maintain consistency and articulate information in an easy-to-follow manner. The sample resume shows you how to best format this section, but for the master resume, don't worry too much about those details yet. That will come when you utilize an art teacher resume template and you draft your art teacher cover letter.
2. Creating Your Resume Objective
One of the hardest sections to create for an art teacher is the resume objective. However, in many ways, it's the most important section of the resume. This is a four or five-sentence overview of what makes you the ideal candidate for a visual arts or fine arts teaching position. It should be specific to the job you are applying for, outline your interpersonal skills, and provide a brief sample of your experience.
What are Hard Skills for an Art Teacher?
Hard skills for an art teacher include the tools utilized to showcase your creativity. Many art teaching positions require a full-grasp of artistic platforms ranging from painting, sculpture, videography, art history, and photography.
As such, you'll want to list those hard skills you possess and accel to capture the attention of hiring managers.
What are the Soft Skills for Art Teaching Resume?
Consider a soft skill to be the interpersonal abilities you possess that helps you become an effective art teacher. This would include a multicultural curriculum, communication, and leadership abilities. A good art teacher is also an exceptional listener and can embrace the creativity of students. They should also deliver constructive criticism in an effective and non-personal manner.
When you're listing all your hard and soft skills on the master resume, make sure to include those that are practical to the job you are applying for. For example, if you're applying for an elementary art teaching position – such as our sample candidate Skylar, having strong classroom management, patience, and problem-solving skills are crucial to become a good elementary teacher.
How to Create the Resume Format for the Objective or Opening Statement Section
Your opening statement must be short, sweet, and to the point – yet written in a professional – yet conversational tone. Using a resume builder after you've fine-tuned and edited content, will ensure it displays clean, neat, and straight on the final resume.
Specifically, here are four tips:
No more than five sentences or a short paragraph. This is your written elevator pitch, so make it dazzle quickly.
Keep the tone conversational – yet focused. Art teachers are usually those loved by students because of their personal connection with student's creative minds.
Include some hard and soft skill keywords in the opening statement. See the section explaining hard and soft skills for creating a positive art learning environment for tips.
Read it aloud. When you're finished editing the content, read it aloud. Does it sound like a sales pitch or is it something that would inspire a conversation – specifically an interview?
When you've finalized the personal statement, run it through an online platform called Grammarly.com. This will ensure your spelling, punctuation, and tone are on par with grammatical best practices.
3. Work Experience for Becoming an Art Education Teacher
This is arguably the easiest section for a prospective art teacher. This is a specialist teaching position, and as such, you'll want to apply to positions where you have relevant past work experience. For example, in the sample resume posted above, you'll see that Skylar is applying for an art teaching position in a new city.
She spent most of her previous teaching career in the Dallas metro area and has recently relocated to Houston. She is applying for an elementary art program teaching position, where she will be teaching basic art principles students ranging from 3rd to 5th grades.
Her previous work history showcases an exact match for this curriculum development. If you're in a situation where you don't have exact work history experience for the job you're applying for, you'll want to highlight positions where you've displayed the skills needed. This is crucial for new art teachers, as they likely don't have a practical work history.
How to Format the Work Experience Section
It's imperative to list jobs from your current or most recent position to those in the past. It is a good idea to list up to three previous jobs – but make sure they are relevant to the position you are applying for. If you are applying for your first full-time art teaching position and don't have three previous jobs, use a former job where you've worked with children or special needs people – along with your student teaching internship.
The important item that many art teachers forget to include on their resumes is job specifics.
A few important items to document with bullet points in this section would include:
The type of art students you worked with previously – grade level or demographic specifics.
The amount of students you taught.
Ability to work with parents, faculty, and peers to develop strong lesson planning.
4. Education & Qualifications for Art Teacher Resume
To become an art teacher in the United States, applicants must possess a minimum of a B.A. in Art Education. They must also become certified in the state they wish to work, which includes passing licensing exams, background checks, and other state-specific guidelines.
How to Format the Education Section
This information should be documented in your education section – listed in the order mentioned below:
Most Relevant Certification: Each US State requires a teacher to be licensed and certified to teach in that specific state. This is the most important item for a prospective candidate, so make sure to list the dates and locations of your PRAXIS-II testing and state certifications.
Highest Level of Education: If you have a master's degree or doctorate in art education, you should list it as your highest education. A general rule of most hiring managers or educators is to hire a candidate with the most practical experience or education – especially when two candidates appear equally qualified with work history.
Bachelor's Degree: This is an optional inclusion if you have a graduate degree. But, if you are listing a reference – such as a college instructor – make sure to include the undergraduate location in the resume.
5. Showcasing Achievements
Achievements for an art teaching resume should focus on the candidate's professional and educational successes. This will include memberships in professional organizations, specialty training, education abroad, or awards.
This section can significantly help you accelerate past other applicants – so make sure to list your achievements that amplify the interpersonal skills you mentioned in your opening statement.
6. References for Art Teaching Resumes
Any reference listed on a resume must be one that you have a strong connection with currently. You'll want to ensure they can support the information you documented on the resume with practical examples.
You should select a total of three professional references. It should include one from your education, and two from previous work positions. If you have a single work history inclusion on your resume, select another professional reference. A great tip for any art teacher would be to include a peer or someone within the art education community that holds you in high regard.
Final Points on Writing a Resume for an Art Teacher's Position
The information above is robust and might seem to be a bit overwhelming. However, this is the reason we recommend using the master resume to fine-tune the content, edit for spelling and grammar, and ensure it's written in the correct tone.
Here are some specific tips to consider.
Follow the template structure as listed above – including spacing, using a black font on a clean white background document. Take advantage of the master resume.
Take time with your opening statement. Remember, you get one shot to make a great impression, and that resume objective is a prime opportunity.
List your work experience in chronological order – from current to your first job.
List at least 2 professional and 1 personal reference. Make sure their contact information is accurate, and always gain their approval before listing them as a point of contact. A letter of recommendation from them will significantly help.
When you've listed everything as mentioned above, copy, and paste the content and place it in a Word doc or run it through a spelling/grammar checking website like Grammerly.com. This will help you save time and ensure all content is clean, neat, and ready for your professional resume.
Have a peer review of the resume. It never hurts to have a second set of eyes review your resume. Ask a peer – especially someone who you respect review your resume notes first.
The best artists are those who understand how critical it is to use the right tools for the task. This applies to writing a resume that dazzles. An easy-to-use online resume template is a great tool that can help you land that perfect art teaching position. This will allow you to edit your content first, copy, and paste it into an online template. Once you're finished, you can select which template style best fits your resume content.
By infusing the free tips mentioned above, you'll have a better chance of landing an interview – so you can dazzle them in person.
FAQs Related to Resumes for Art Teachers
How to put a long-term substitute teacher experience on an art teacher's resume?
It's quite common for long-time substitute teachers to seek full-time employment opportunities. If you're looking to become an art teacher, or have found a position you are amply qualified, follow the same tips listed above in this article. Your resume is going to compete against other qualified candidates. It's possible to make your resume stand out by focusing on your skills and relevant experience.
I already am a teacher and I want to become an art teacher: what should my resume look like?
A teacher who is already certified to teach in their state can apply for positions if they choose. However, an art teaching position is one that is typically awarded to a candidate with the right education or experience in this field. If you are going to apply for this type of position, make sure to document your qualifications specific to the art industry. Your teaching experience is a plus but to get an interview, you'll likely have to highlight practical art experience.
How to list art skills on a resume for an art teacher job?
The skills of an art teacher are different than most other general education positions. You should verify your project management skills, understanding of art theory, techniques, and materials, lesson planning, and ability to use advanced technology tools if needed. You should also showcase your adaptability, time management skills, collaboration, and classroom management skills.