Entry Level Administrative Assistant Resume
An administrative assistant job is extremely attractive for young employment seekers entering the workforce. These jobs are typically posted on recruiting websites – or local job search social media platforms, making them easy to apply for those with limited experience. However, several candidates may apply for these positions. So – to get that interview, you'll need a well-written entry-level administrative assistant resume.
As more companies explore hiring agencies or job posting websites, newer applicants will have to embrace writing a resume for administrative assistant with no experience. While this might seem intimidating for some, the truth is that creating an administrative assistant resume with no experience is easier when you start with a plan, can review entry level administrative assistant resume samples, and know-how to build out each section.
This is what we're going to do with the content in this article. We will provide you with a professionally written beginner entry-level administrative assistant resume to review. This will provide you with a functional finished resume that you can use as a visual guide to build yours. More than that – we'll also give you a plan of attack – using what we call a master resume to insert all primary sections and supporting content.
Finally – we'll break down each significant section and offer some tips and keywords that recruiting agencies and employers are searching for with their applicants. If you're ready to learn how to write a resume for an entry-level administrative assistant with no experience – let's get started.
Entry Level Administrative Assistant Resume Sample
The perfect administrative assistant candidate will be the one that fits the individual needs of the company. While it's hard to predict what every business is seeking in their admin assistants, believe it or not – they make it relatively easy for you. When you take the time to read the entire job posting, you'll find that the company gives you all the details you need to highlight on your resume.
They'll tell you what skills are required, the tasks you'll be assigned to complete, the required education needed, and what relevant experience you might have. The trick is to write a stunning entry-level administrative assistant resume when you don't have any practical work history.
That's what this sample resume accomplishes. This is one of our entry level administrative assistant resume examples. The candidate is mythical – their contact details and other relevant data are included in the resume sample. Her name is Jessica, and she is applying for her first administrative assistant position. She is currently enrolled in college and has worked at two previous jobs.
Please take a few minutes to review the resume for our candidate Jessica, applying for a job with a manufacturing company in her hometown of San Diego, California.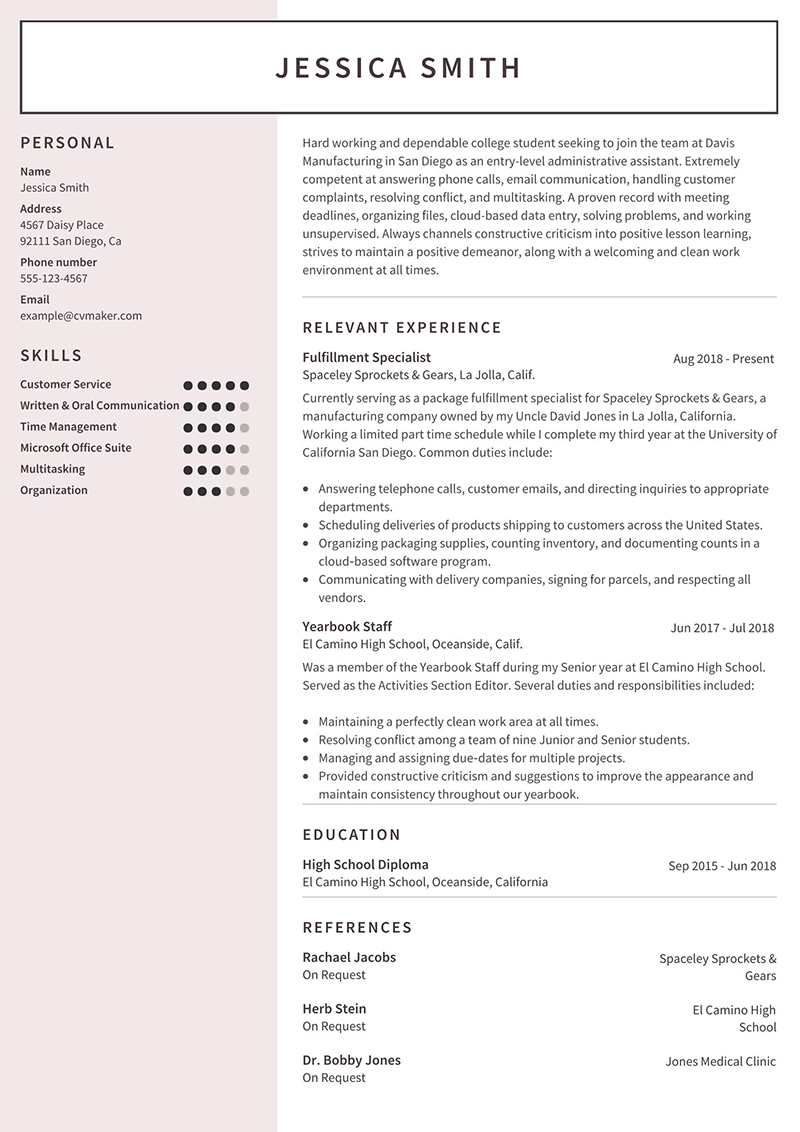 When you're applying for a first-time administrative assistant position, you'll be competing with several other like-minded candidates. While the content in your application is a significant factor – submitting a well-written resume can help nudge your candidacy forward. The best resumes for administrative assistants will be short, sweet, and to the point. They will tell a story from start to finish, explaining why the candidate is the best to assume the position.
That's exactly what Jessica's resume accomplishes. She continues with a powerful and well-written resume summary after listing her personal contact information cleanly at the top of the resume. If you look at the first sentence, you'll see that she has customized the resume specifically for the manufacturing company she has applied to.
Further in the resume, you'll note that she has created a Relevant Experience section since she has never had an office assistant position. She's listed two previous jobs – in reverse chronological order and lists a few bullet points of tasks completed. These individual tasks are similar to those required and listed in the job posting.
She has also included a list of her hard and soft skills, time management experience, and communication skills. Not only will an applicant tracking system recognize these keywords, but HR managers also search for them in resumes and applications. The resume is grammatically perfect; it displays her dedication to her job and flows from top to bottom.
How to Write a Resume for Administrative Assistant with No Experience in 2022: Full Guide to Beginner Entry Level Administrative Assistant Resumes
If you're not a professional writer and are concerned about duplicating the sample resume quality above, don't stress. The key to writing a great resume is knowing how to structure it, what terms are essential for that specific job, and ensuring that everything on your resume matches the application.
The best way to begin is to create an outline. We recommend starting with a resume for an entry-level assistant with a master's resume. This editable Word or Apple document allows you to insert the primary sections, add the information or content, and make edits to ensure everything is grammatically accurate.
Here are a few recommended sections that we think should be included in any administrative assistant resume.
Personal Contact Information: This section should include your accurate contact details to make it easy for them to contact you for an interview.
Resume Summary: The admin assistant resume summary is an opportunity to pitch your application to the hiring manager in a single paragraph. It needs to explain why you're the right person for the job.
Relevant Experience: This is where you'll add the relevant work experience section. If you're new to this industry, pick a few last jobs where you've shown good work habits and complex work ethics.
Education: The education section in a professional resume is easiest for future or new employees to fill out. For the resume format, list your highest level of completed education – documenting any degrees you've earned. If you're currently enrolled in college, consider adding this in your administrative assistant cover letter.
Skills: We recommend picking your top six skills that will enhance your administrative assistant role. Some essential skills to consider include being organized, paying attention to detail, being a solid communicator (written and oral), phone etiquette, and excellent customer service.
References: A reference is a personal or professional contact that can vouch for your experience, work ethic, and skills. They are often added to your application and resume but not your cover letter. You'll want to collect the contact information for three references – however, you'll keep their private information to yourself unless the company asks for it directly.
So – now that we've provided you with the major sections you'll need to create for a resume, it's time to list those on your master resume document. Type in each significant section above in order on your word document – and bold type them.
Let's start working on your resume.
Section #1 – List Your Contact Information
It's always best to start any project with a win. The good news is that this section is the easiest to complete. As an office assistant, you'll be responsible for many daily tasks, including some of the following – answering incoming phone calls, working with Microsoft Office, Outlook, Excel or other data entry software, Powerpoint, scheduling appointments, replying to emails from vendors, customers, or other employees, organizing files, drafting office memos, additional administrative support or light human resources tasks.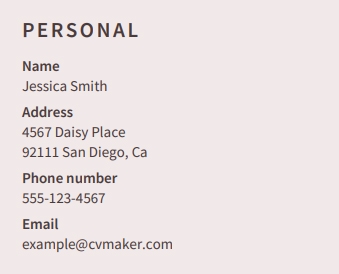 Paying attention to the details is essential when you complete any of these tasks – and your contact information in the entry level resume is the best way to showcase these relevant skills.
The best advice we can offer is to list your full legal name, complete mailing address, email address, and mobile phone number. The most important item to remember is to match – 100 percent – what you listed on your application. These are the 'details' that any office assistant must complete daily.
How to Format this Section
When using the master resume, write each item listed above separately. This will make it easier for you to copy and paste into a resume builder or template – such as the one we used to create the sample resume above.
Section #2 – Resume Summary 
In high school English and Journalism courses, we are taught that the opening paragraph of an essay or article is critical for telling the rest of the story. Such is the case with the resume summary within your office assistant resume. This administrative assistant resume objective section will introduce you and your skills or talents to the future employer.

Let's take a glance at Jessica's Resume Summary posted above. You can see how she has personalized this section to the precise employer she is hoping to join. When you use a resume builder or template, it's easy to edit this section and save a specific PDF file for each company. This type of attention to detail not only shows the company that you really want the job – but it also displays passion, work ethic, and creativity.
When you continue to review the opening statement, it's easy to see how she's listed the hard and soft skills that will make her a great administrative assistant. Finally – she wraps up the paragraph by talking about her interpersonal skills – including teamwork, compassion for others, and maintaining a clean workspace.
How to Format this Section
This section will be the most difficult for your resume – but don't worry, it's not that difficult. The key is to write it as you'd speak it during an interview – using a professional yet conversational tone. We recommend using the word document master resume because you can have the program dictate it to you to hear how it sounds.
Please keep it to five sentences, around 200 to 250 words. When you format it – this section needs to be listed directly under your contact information or at the top of the page (if your contact info is listed on the side like Jessica's sample resume.
Section #3 – Relevant Experience
If you have not been an administrative assistant in previous jobs, listing relevant work history can be challenging. It's due to this fact that we recommend calling this section relevant experience. Regardless of the jobs you've held, whether in the service industry, construction, or others – you may have been assigned tasks that are similar to an office assistant.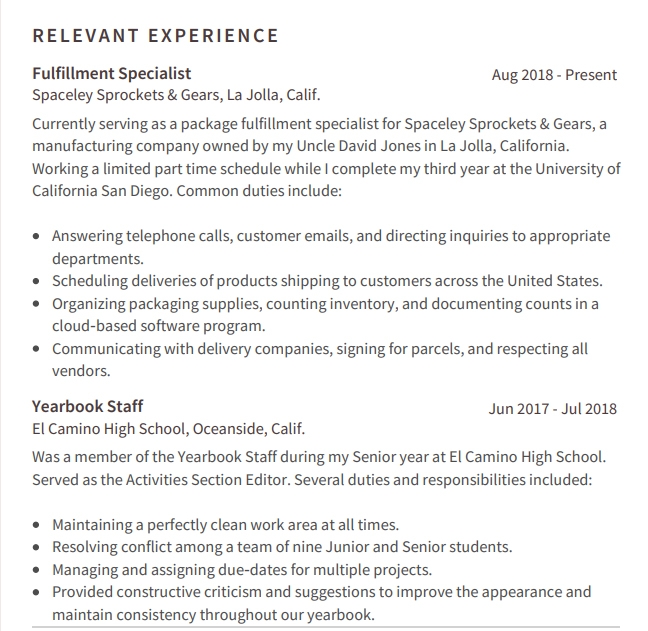 For example – in Jessica's resume, you can see that she once worked for her uncle's recycling company in the packaging department. While technically, this is not an administrative assistant, you'll notice that she answered customer emails, processed orders for contracted shippers and carriers, and had to complete multiple tasks at the same time (multitasking).
These are similar tasks that you'll complete as an entry-level administrative assistant. As such, it's a relevant experience.
How to Format this Section
The relevant experience section should include (2) examples of jobs or places you've worked before. They don't have to be paying jobs – so if you worked on the yearbook staff at your high school, this would qualify as relevant experience. For the formatting, list the business's name, location, dates of employment, and a few bullet points of your responsibilities. You'll want to record these jobs in reverse chronological order – or list the recent positions on top and follow in order of the day you left the previous employment.
Section #4 – Education
The education is another easy section to complete for the entry-level administrative assistant resume. Most jobs of this type will only require a high school diploma or GED certificate. However, if you review the job posting and require a college education, you must factor this into your resume and application.
The critical item to remember – is that you'll only list your highest completed education in this section. For example, if you're currently enrolled in college but have not received your degree yet – then your highest completed education would be the high school diploma or GED certificate.

You'll notice that Jessica's highest education is her diploma from El Camino High School near her hometown. She mentions being a college student in her resume summary – and will include that in her cover letter. However, it does not belong in this section.
How to Format this Section
Formatting the education section is very easy. Just list the name of the school, its location, dates, and the degree earned. Remember – only use the school you've graduated from or completed your education.
Section #5– References
We briefly mentioned what a reference is in the first section of this article. So – how do you pick the proper reference for an entry-level administrative assistant position – primarily if you haven't held a lot of previous jobs?
This indeed introduces a challenge for many new job candidates. But it's not as hard as you might think. The critical item about any reference is speaking with confidence, credibility, and knowing you very well. You want any reference to tell a hiring manager about why they'd hire you if the role were reversed.

In a perfect world, you'd select (2) references that you've worked with – either in school, a previous job, or a volunteer position. The final reference should be a personal one – or a family friend or mentor who can speak to your personality and credibility. This is what Jessica has done in her sample resume.
How to Format this Section
Write down the first and last name of your reference, place of employment (or where you know them from), and the phrase "available upon request." This will keep their contact information private unless requested by the law firm you are applying to join. Always keep your reference's personal contact information – including their email, mailing address, and phone number. Provide that information to a potential employer only when asked.
Section #6 – Skills
The administrative skills section is another one that is easier to complete than you'd think. We mentioned earlier that the required skills for an entry level administrative assistant position would likely be listed in the assistant job description or posting. You'll want to review that list for your resume and choose the top five that you are experienced or possess.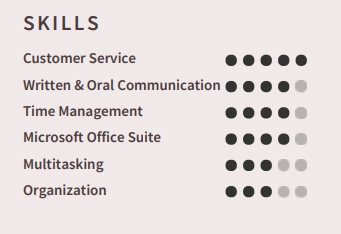 Let's take another look at Jessica's sample resume. She has listed five of them on the sidebar of her resume. She has also used a resume builder or template, which allows her to assign an experience level for each skill. Further, the resume template allows her to list them in order of importance for the job.
Bonus tip: Most online job postings will list the required skills in order of importance for their position. So, when you list your strengths, compare them to the job posting, and post the similar skills you have with those desired by the company. Some of the key hard skills to list including computer skills, working with an online filing system, Quickbooks, and Excel Spreadsheets.
How to Format this Section
List the skills you possess requested by the future employer in a bullet point format in your master resume. From that point, you can add them to a template – making them easy to access for future employers and hiring agencies.
Other Related Resume Templates 
There are several great resumes for multiple industries in our inventory. When you're new to resume writing, reviewing a few great samples makes perfect sense. That's what we have assembled in the content below. Take some time to read the sample resumes in the office assistant industries and others in office-type positions – and feel free to incorporate some of the ideas in these resumes into yours.
Administrative Resume (link when published)
Administrative Assistant Resume
Executive Assistant Resume (link when published)
Final Points on Writing an Entry Level Administrative Assistant Resume with No Experience
Our primary objective was to show you how easy it can be to write a resume for an admin assistant position with no experience. When you know how a resume should be formatted, which sections to include, and the key phrases or skills to include in each relative section. We believe we've accomplished this goal – and are confident in you to take these tips and turn them into a great resume.
The sample resume that supports Jessica's application is an excellent example for you to follow. We strongly recommend using this document as your template – but personalize it for each admin position you apply for.
For a quick recap, here are some specific tips to remember.
Make sure the resume reads and flows easily.
Always write your resume on a plain white background with black font.
Edit the document SEVERAL TIMES – through Grammarly.com and visual inspection.
Ensure it's well-spaced, organized, and professional.
Finally, read it aloud a few times before you're ready to paste the content into a template for administrative assistants.
Of all the bullet point tips listed above, the most important is editing your content in Grammarly.com or another high-quality editor. Don't be afraid to use an administrative assistant resume template like the one in this article to make sure it's clean, neat, and organized.