Technical Writer Resume Example & How to Write Guide 2023
The best technical writer resume is one that causes an employer to take a second glance. Since most resumes are only looked at for a few seconds, being noteworthy is incredibly important if you hope to get interviews. Therefore, you need to get the employer's attention early and then manage to keep it.
It might sound like an impossible task, but it isn't. When you know exactly how to format your technical writer resume and what technical information to include, you stand out. You give the employer all the information they need and show that you bring the most necessary technical writer skills to the office. You show that you offer high-quality work and are one of few subject matter experts.
This guide exists to give you all the information you need tobuild a perfect resume that ensures interviews. With a chronology of your work, an education experience, and an excellent resume objective, you'll be writing for a dream company in no time.
Best Technical Writer Resume Sample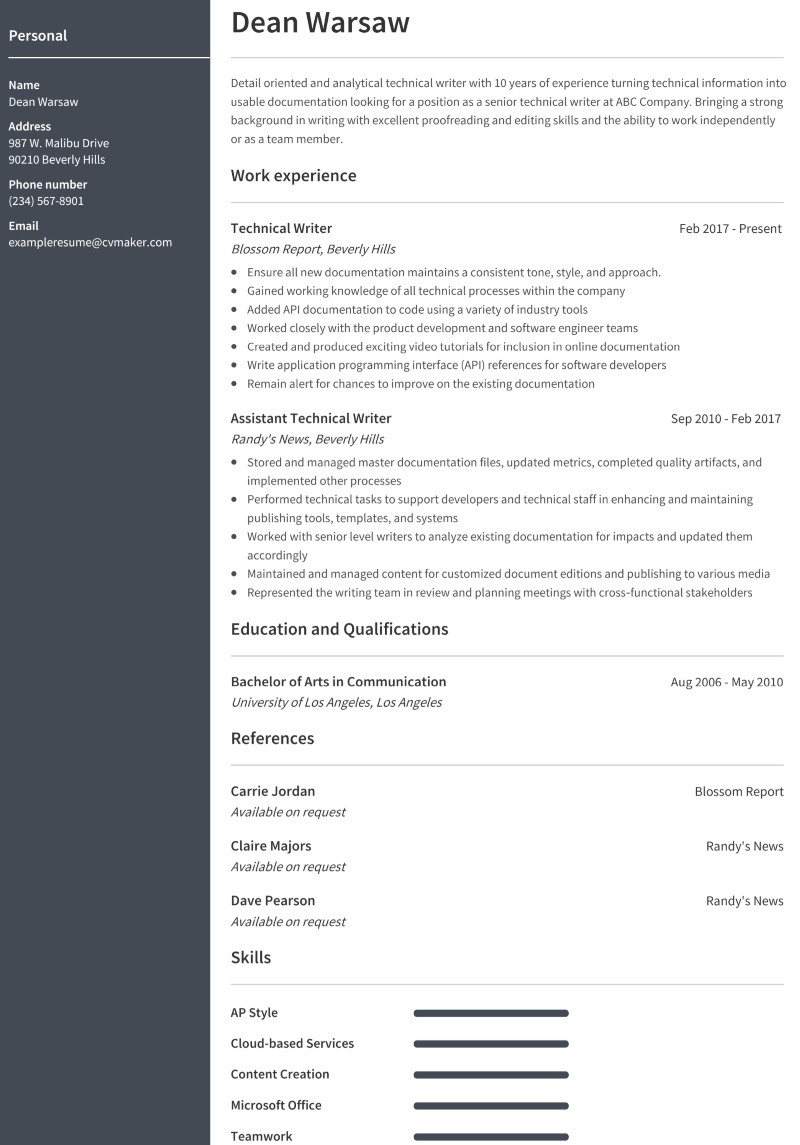 Businesses of all kinds need technical writers. Based on the US Bureau of Labor Statistics for 2020, technical writers held about 52,000 positions with a faster than average job outlook. That's good since it means there are going to be more jobs in the future. However, that doesn't mean that you can slack on creating the best possible resume.
The most prominent sources of employment are found within professional, technical, and scientific services, manufacturing, administrative and support services, and publishing industries. Thankfully, you can find technical writing resume examples for each of these sectors to guide you while you create your own.
There are a ton of options for a technical writer, but it also goes the other way. Any company looking for a new worker will have tons of technical writer resumes to go through. This is one of the reasons that it's so integral to have technical writer resume examples to go through while making your resume. It's not the same as writing technical documentation, but your skills can help.
If you've never worked in this field before, that shouldn't stop you from applying. An entry-level technical writer resume sample can help you ensure you get down the right information in a style that employers are familiar with. Getting hired doesn't require having experience as long as you have the necessary skills and training to do well.
This guide will go through each element that should be included in your technical writer resume. We'll also explain how to organize and format the information so employers are more likely to slow down and read what you have to say. Finally, each part of the resume is broken down to make it easier for you to build a resume you can be proud of.
Just below, you'll find a technical writer sample resume. It can be used as a guide to determine what your resume might look like when you are done. You can fire up Office suite to start your own using the guidelines. You'll create a professional resume with the right technical information to get you the job.
Tech Writer Resume Guide 2023: How to Write a Great Technical Writing Resume
Writing a technical writer's resume isn't as easy as you might expect, even if you have years of experience in the writing world. The technical writer job is to explain complex technical concepts in a simple manner. For example, many technical writers work with medical studies, repair manuals, and end-user documentation for consumer electronics and products.
Because of the nature of this position, a resume for a technical writer must show that you have a high level of technical knowledge and top-notch communication skills. The reality is that any employer hiring a technical writer will expect you to show off those skills—starting with your resume.
Whether you're turning in a senior technical writer resume or something for a lower-level position, you need it to be perfect. That includes everything from choosing an easy-to-read format to adding the appropriate personal information and making sure you have headers for various parts of your resume for a technical writer.
Personal Information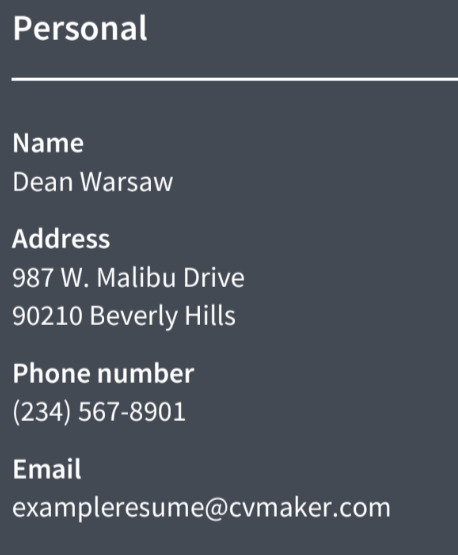 The very first piece of information you want accessible on your resume is information about yourself. This might be obvious, but it can't be overstated. You could have an excellent education, the ideal work history, and all the skills needed for a position, but if the employer cannot contact you, you won't be the one who gets the job.
Below, you can get an idea of how this looks on Dean's resume. The top has the header reading "Personal," although you can be more verbose with the wording if you prefer. Our technical writer's resume example then goes through all the other information you should provide.
First up is your name, which should be followed up by contact information. There's no need to write the word "resume" over the information, but it's up to you whether you want to include that. The hiring manager will be fully aware of the format of a resume and know that's what they are looking at. If your name is first, it's what gets noticed.
Below the name, you can add your address. Provide the complete street address or just the city and state if you prefer. Most of the time, there's no need for the full address to be shown, but it's a matter of personal preference. Next, add a phone number. You want to make sure this is a number you have constant access to.
Additionally, your email address should be included. In today's world, most people will choose email to get in contact with you so you don't want to forget to add it. Make sure this address is professional. If you don't have a professional email address, now is the time to make one. Even a simple address on Gmail composed of your name or initials will do the job. This is a simple thing and one that shows you can follow standard operating procedures.
On some technical writer resume samples, you'll see that the potential employee adds links to LinkedIn or other social media profiles. While you can include these things, it's recommended that you only do so if the job listing asks for it.
How to Format This Section
This section should be in a format that makes it simple to read for the manager. You can use interesting colors and fonts but don't go overboard. You want your resume to stand out because you are the person for the job, not because you used a hot pink color for the font or put all your information in wingdings.
Looking up at the technical writer sample above, you can see it's short and straightforward. It has a larger heading, bold subheadings, and all the required information about the applicant. You can place the information on the left side of the resume or in the center above your objective and other information. This comes down to what you prefer.
Resume Objective

The next thing that should be included on a technical writer resume is your resume objective. This section, also known as a personal statement, will be the most essential part of the resume. Most hiring managers will look here first to determine whether you are the person they envision hiring.
When you create a resume objective, think of it like it was an elevator pitch. Close your eyes and imagine what you would say if you had about 30 seconds to impress a hiring manager. Of course, as a technical writer, you should add details that show you have skills that make you exceptional at the job. Add technical content but make sure it's easy to read.
As you craft the resume objective, make sure you keep it professional. A resume for a technical writer is a professional document, and the entire page should be tailored that way. However, you also want to pull things together in a conversational way. This is a chance to be a bit more creative than you might otherwise be able to be with a typical assignment as a technical writer.
Another tip here is to make sure the resume objective isn't very long. This is another situation where you want to use very little space but play up your skills as much as possible. In most cases, it's recommended to make your objective no more than two to four sentences. If you go beyond that, you risk losing the interest of your potential employer.
Once you've completed the resume objective, make sure it's as perfect as possible. Tools at Grammarly.com or HemingwayApp.com can help you ensure your punctuation, tone, and spelling are meeting current standards. These websites can also help on the job once you manage to get a new technical writer position.
How to Format This Section
As mentioned earlier, you want this to be comprehensive but concise. The technical writer resume example above gives you an idea of what to shoot for. Take time to think through each word that you include on the resume objective. Using action words is always better to show what you can handle in the position.
Make sure you include positive traits, a few skills, and mention the position you want at the company. While writing this section, avoid first-person pronouns such as, "I'm applying for a job as a technical writer because…" The traits should focus on the job description and what recruiters want to see.
Whenever possible, add a few real numbers to this section. As you can see above, Dean notes that he has 10 years of experience. You can choose something like that or add numbers to an accomplishment. Numbers show what you have done and are capable of. The correct numbers and wording will ensure that a hiring manager keeps reading beyond your objective.
Professional Work Experience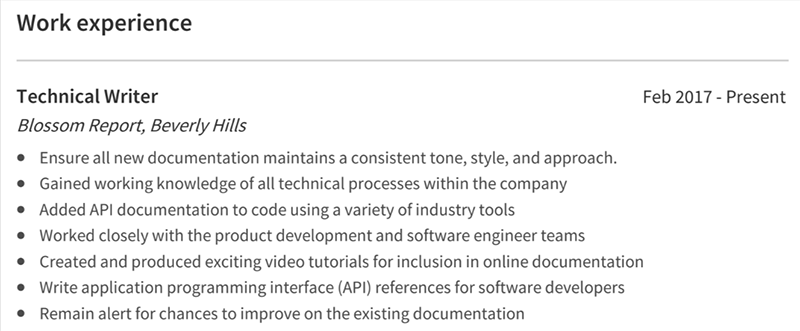 It's relatively clear that in this technical writer resume section, you have a single goal. First, you want to show a potential employer that you have experience relevant to the job you are applying for. That means you should tailor the information for the job you are hoping to land. Then, based on the industry and company you are applying for, weave in experience in relevant skills.
If you are like many people who want a job as a technical writer, you may not want to change your resume for each job listing. There's no reason you have to make a new resume each time, but even changing up a few things to better fit the application will aid you well in your job search. If you choose not to do this, add in universal skills that aren't vague. Focus on things like project management, computer science, copywriting, and workflow management with technical documents.
The experience section of a technical writer resume should provide information about your technical skills, writing skills, and skills with people. While writers do much work on their own, many are on teams. Others will need to work with other departments, communicate with clients, or have contact with stakeholders. Therefore, besides having the expected skills, the best resumes will show that you are a team player.
Those who have experience with specialized software or programs related to technical writing should be sure to note that, especially if the knowledge is industry-specific. Adding bullet points under your work experience that explains the knowledge you have is valuable. Some of this information can also be placed under the skills section. Knowledge of things like quality assurance, content management systems, and InDesign can stand out.
If the job listing you are applying for mentions a need to have experience in particular programs, make sure you add those to your resume if you have the needed knowledge. You should do the same with any software specific to the industry the company is involved in. It shows that you know everything required to start on the job quickly.
How to Format This Section
The best way to format the work experience section is in reverse chronological order for most people. With this format, you list the job you last had (or are currently at), followed by the one you were at before that, and so on. If there are gaps in your employment, make sure you explain why they are there.
When you list out work experience, include the years you worked, where you worked, and your job title. However, you can tailor the job title to the job you want. That doesn't mean you should lie about your previous positions, but make it clear what you were doing and how it ties into the work you may be doing in the future.
Education & Qualifications

When you apply for a job as a technical writer, the expectation is that you have exceptional skills in writing and technical concepts. Therefore, you should have an educational background that shows you have been trained in these things. This could come in several forms. For example, it might be a technical writing degree, an English degree, a communications degree, or even a computer degree of some sort. You could have software development education, classes in PowerPoint presentations, and experience writing for educational purposes.
Showing that you have the expected education helps get you an interview. So keep that in mind when you fill out this part of the technical writer's resume. The employer wants to see your technical and writing skills, whether that's through a single degree, a degree and certifications, or something similar.
How to Format This Section
Unless you are an entry-level technical writer, there's no need to add much information to this section. As you see above, Dean's resume shows his degree, when he was in school, and what college he went to. If he had certifications, those would also be included here. Alternatively, certifications can be in their own section. However, that's not common with technical writer resumes.
Looking at the resume section above, you want to make sure you note the name of the university and where it is located. You'll also want to show your major and whether it's a bachelor's degree or a terminal degree. If you have several degrees, use the reverse-chronological format here as you did for your work experience.
In addition, add the dates you were at university unless you worry that it will make you seem older than the typical applicant. For those new to the position without much relevant experience, you can go more in-depth with your education. For example, an entry level technical writer resume sample might show GPA, organizations, awards, and more.
References

Also, every job position for a technical writer will expect you to have references. Knowing you have experience and education is essential, but a hiring manager also wants to hear that you are competent from someone other than yourself. References make you more credible and can be the difference between getting an interview or not.
While references can be professional or personal, it's best to make the bulk of them professional. These are the people who have seen you work and know how well you do. However, the inclusion of at least one personal reference can also be helpful. This person should be someone who can speak to your character away from work.
Personal references include neighbors, friends, and community members, while professional references are past or current team members, supervisors, and managers who know what you can do at work. When a potential employer can speak to these people, it lets them know what they can expect from you.
How to Format This Section
There are two different ways we recommend formatting your references. The first is to state that you have references available upon request. The second is to put down the names and companies of the references but note that their information is provided on request. This prevents you from sharing personal information when it isn't required.
In addition, you will have a chance to speak to your references before you send their phone numbers and emails. This is a good practice and is considered polite. One thing to avoid is putting down family members as references. Employers are going to assume that the information they provide isn't free of bias.
Skills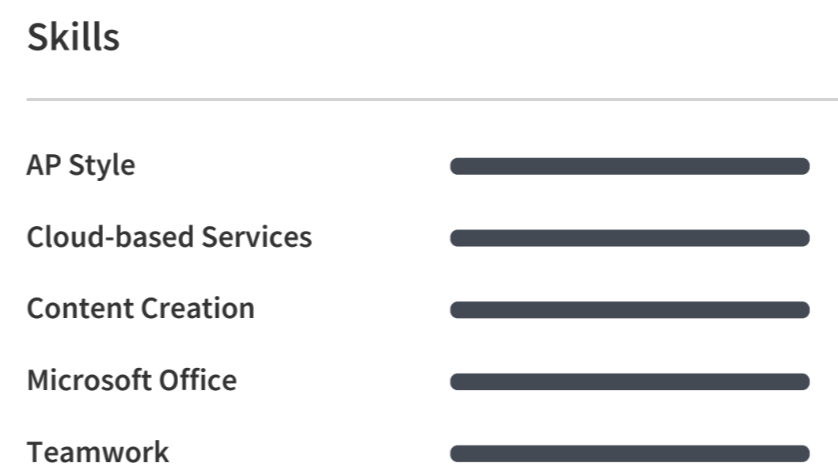 The last significant section that should be included on your resume should be related to your technical writer skills. A technical writing skills resume is your best bet since employers want to know what you are good at. This isn't only for their benefit, however. When you list the right skills, it shows that you understand the position and bring something to the table.
You can go through the professional experience section and pick out the skills needed for the new job. After you know which are the most relevant and vital, you can add them to this section. Be choosy when selecting what to include. You don't want to list every skill you have. You also want to avoid putting down skills for things you aren't excellent at.
If you have experience that wasn't listed on the resume, this is also an excellent spot to include what you did. Break it down into skills and add them to your list. Consider showcasing technical communication skills, writing skills, technical skills, research skills, editing skills, and other things that fit the job listing. Some options to include are Excel, XML, HTML, white papers, Visio, Photoshop, Illustrator, Sharepoint, and Microsoft Office. But don't be afraid to do other things that relate to the position.
How to Format This Section
A list form is typically the best way to format your skills. It's simple to look at and get all the information to understand what you offer. In addition to the actual skill, make sure you include your proficiency with it. But remember, keep only skills that you are very experienced with. Your resume isn't the place to list skills you've just started to explore.
Final Points on Technical Writer Resumes
Technical writing jobs are in demand, which means your resume needs to be as good as it gets. Show off your experience, education, and skills to have a good shot at an interview. Include a resume objective to catch a hiring manager's attention and keep them reading from top to bottom.
Once you've proven you have both communication and technical skills needed as a technical writer, it's more likely that the company will keep you as a candidate for the position. Use one of our technical writer resume examples to tailor a resume that will look great on any company's desk.