Scrum Master Resume Example & How to Write Tips 2023
It may not always be easy to handle a Scrum Master job. It can take a lot of work to lead a Scrum team and ensure everything works exactly the way it should. The position can be challenging, but it can also be rewarding.
Many people enjoy the experience and need the perfect Scrum Master resume to get a well-paying job with excellent benefits and perks. It might sound complicated to build one – but it doesn't have to be.
On the other hand, you also have to be careful and ensure your resume is flawless. Why? Because hiring managers are looking for mistakes and typos.
As a Scrum Master, you will have a ton of responsibility, so managers want to look at your resume and see you can create a professional document without any issues.
There's no reason to worry, though. This guide will give you insight into what hiring managers want to see, how to write an excellent resume objective, and the best way to showcase your Scrum skills.
We'll also give you examples to guide you as you start making a Scrum Master resume.
Sample Scrum Master Resume
The first tip we want to share with you is this: Scrum Master resume samples will take you far.
Seeing how other potential hires have laid out their resumes, described their skills, and noted their employment history gives you an understanding of what makes specific resumes stand out. This gives you the needed insight to make your Scrum Master resume better than ever.
Throughout this guide, we'll offer a Scrum Master resume example from time to time. This will ensure you know what the entire resume should look like and how different sections come together and flow well together.
In addition, by viewing other resumes, you can get an idea of what most people do and whether it's a good idea to be more creative.
You can look at the image below and download the Scrum Master resume PDF to get started. Then you can move forward with creating your own resume for the job you find yourself hoping to land for yourself.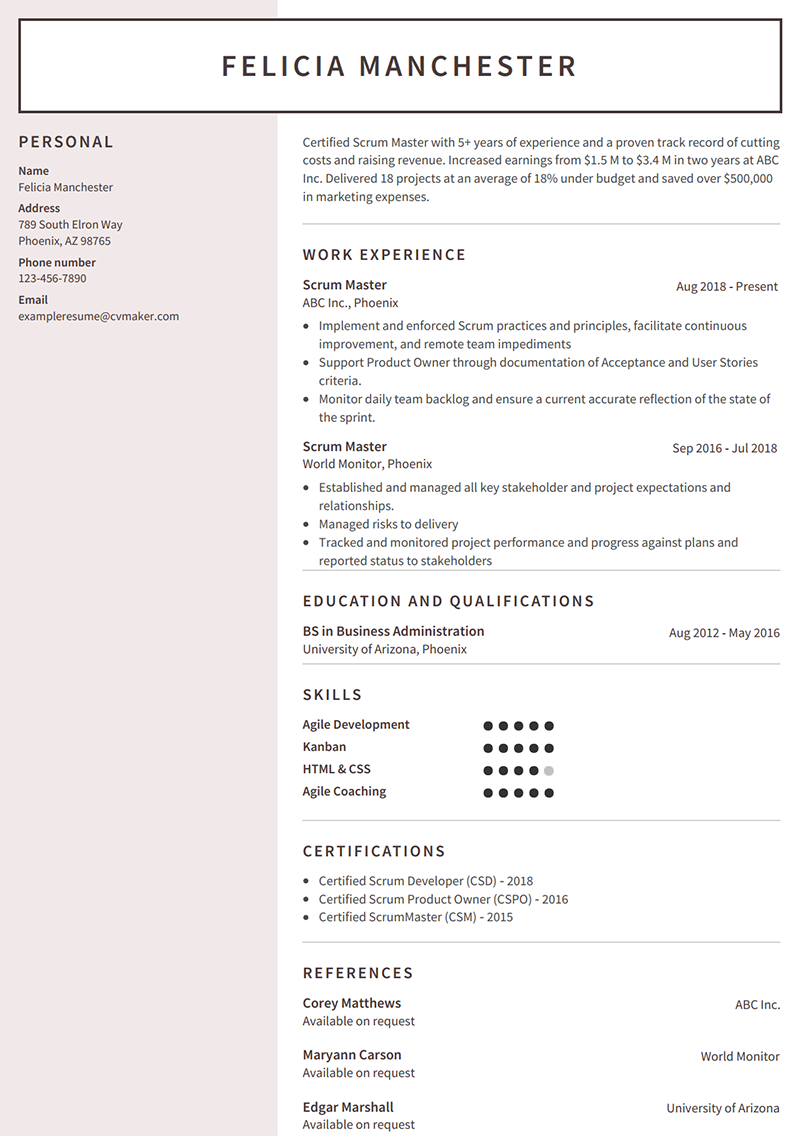 How to Write a Great Resume for a Scrum Master: A 2023 Agile Scrum Resume Guide
Now that you're ready to get started with your own Agile Scrum Master resume, Scrum Master resume with Jira, or SAFe Scrum Master resume, you need to know how to format everything, add all the required information, and make yourself sound more attractive than other potential hires. But don't worry, we can help with that.
It can seem overwhelming if you haven't written a resume in a while, but it's easier than you might think.
The resume's primary purpose is to provide contact information, show you have the skills for the job, and place yourself as a contender for a specific position. Because of that, every resume for a new job should be unique.
That doesn't mean you have to spend hours on new resumes every time – just that you may need to adapt the resume for each new position.
No matter what Scrum Master position you want, the following sections should be included:
Your contact information
A killer resume objective
Information about your work background
Educational information
A list of skills
Info about certifications
And a set of excellent references
Now that you have the basics ready, you can open up Microsoft Word and get started.
Or make it easy for yourself and use a Scrum Master template for your resume. It's as easy as choosing an appearance, adding your information, and downloading the resume so you can send it on to a recruiter.
Section #1: Contact Information
Sure, you understand Scrum retrospectives, have a knack for Scrum methodology, and know the difference between Scrum and PMP. All of that is important to get a great job, but let's go back to the basics.
The first section of the resume is your contact information. Again, this is essential information about you that allows a recruiter to get in touch with you.
Contact Information Example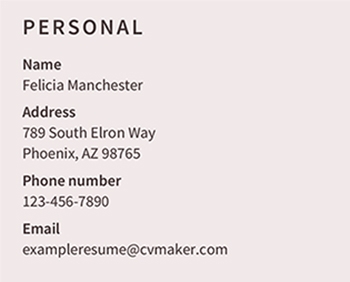 The perfect resume will have a contact information section similar to the one pictured above. Again, you can easily see the applicant's name, where they live, and at least two ways to get in touch with them.
Adding an email address and phone number is the most common method of providing contact information. But make sure you use a professional sounding email address.
Curious about whether to add links to things like LinkedIn or GitHub? It depends.
If the job description asks for links to websites like those, make sure to add them in. However, if that isn't something mentioned, it's usually better to leave it out. This section is short and sweet, so superfluous details aren't needed.
How to Format This Section
The formatting for the contact information section is also straightforward. Make sure your name is on there, include your address (or at least state or country), and two forms of contact information.
This isn't a place to be overly creative or add extras. Instead, it's meant to share your information so that interested hiring managers can contact you.
So, stay away from hard-to-read or strange fonts. Use minimal formatting. Make sure things line up and look good. Other than that, this section is a matter of adding your details and moving on. (But make sure you don't make any typos.)
Section #2: Resume Objective
The contact information section is easy to handle, but the Scrum Master resume summary is a bit more complicated.
Whether you're building a junior Scrum Master resume or are a senior Scrum Master, this is where you sell yourself and show your knowledge. It's a short two to four sentences that show your most extensive skills and achievements as a Scrum Master.
Senior and entry-level Scrum Master resume examples are included below to give you a better idea of what to shoot for.
But what you need to remember is that you should read and re-read the job description. This will give you insight into what a company wants from its hires.
Resume Objective for Entry-Level Scrum Master Resume

If you've never worked on Scrum teams or headed an Agile project, you might be worried about your chances. However, everyone has to start somewhere.
Your resume objective is a great way to prove you can do the job – even if your experience is contained in other positions or education. Take the knowledge you have in whatever industry and tie it to Scrum initiatives and projects for the best results.
Resume Objective for Senior Scrum Master Resume

If you are a senior Scrum Master, you're already ahead. You know Agile methodologies, have done project management, and are proficient in sprint planning and sprint reviews. So sell yourself by showing how you helped a company using those things.
And if you have any special skills, like software development or technical writing abilities, think about adding those too. It might be what puts you ahead of someone else with the same level of experience.
How to Format This Section
Recruiters look at the resume objective first, and, in many cases, it determines whether the rest of your Scrum Master resume is considered.
This is a way to say that you want to get this section right. Of course, formatting is part of that – but so is providing the correct information.
The objective should be no more than four sentences, so it doesn't become overly long and hard to read.
It should quantify your abilities rather than just stating you have them. Whenever you can show that you helped a company (using percentages and other numbers), try to add that in. It makes a massive difference in the way you'll be perceived.
Section #3: Professional Work Experience
Maybe you've been facilitating release planning with other team members at your last job. Perhaps you've just left your first internship or are looking for your first position in the workplace.
No matter the situation, you need to have a section for your professional work experience, if you have any at all.
Your Scrum Master roles and responsibilities resume is where you share the companies you have worked with in the past.
You also offer information about the dates you worked there and what you were tasked with on the job. This is another situation where you should look at the job description and add in anything relevant.
Professional Work Experience Example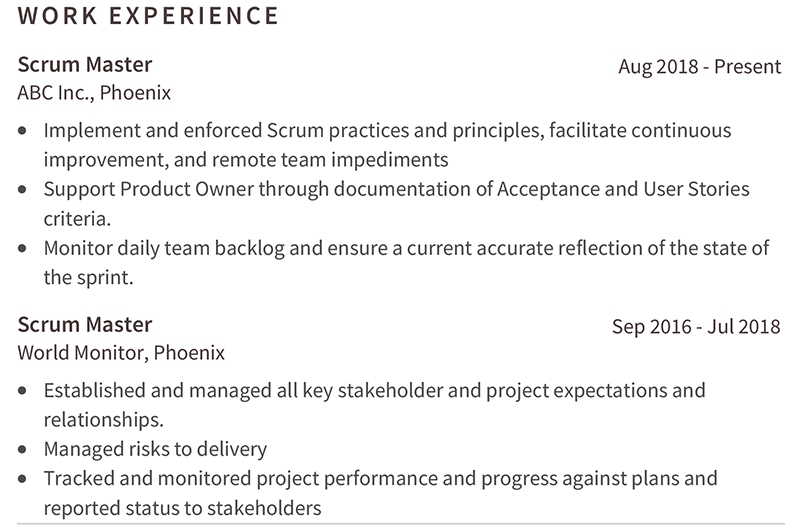 The example above gives you an idea of how to build your work experience section. If you worked with stakeholders, find a way to mention that. If you understand metrics and user stories, include it.
Have you dealt with cross-functional teams? Add that to the information about a job. If your job description mentioned PSM, working with a development team, or dealing with burndown charts, add those. Of course, only do so if you have the experience to back up what you are saying.
For those new to the job, be creative in finding ways to fill this out. Think about past jobs or volunteering positions and the things you did. You can likely find a way to make them relevant to the position you want now.
Just make sure you are honest about what you are capable of so you aren't making it seem that you understand something you don't.
How to Format This Section
Now we want to delve into how to format the experience section. The number one thing to incorporate is a set of bullet points. You can use these to delve deeper into your roles and responsibilities on the job.
Whether you're proficient with daily Scrum or have done something outside of the industry, bullet points let you provide extra detail.
In terms of overall formatting, most people will want to use a reverse-chronological style. You would start with your most recent position and list the company's name, your position, and when you worked there.
Add your bullet points and then move to the next most recent position. Continue for all your employment (or as much as you want to add to create a one- to two-page document).
Section #4: Education
A resume for a Scrum Master should also get into your education. Knowing keywords related to the position like Product Owner and Impediments is essential, but so is being well-rounded and educated.
Most companies expect a Scrum Master to have a bachelor's degree, but not all require it. For example, business administration and computer science degrees are common, but that certainly isn't a requirement.
Education Example

The example above is short and straightforward, but it shows the applicant's education. This will be looked at in tandem with your work experience to ensure you understand things like waterfall workflows and other aspects of Scrum.
In the example, you see the degree, school, and years the person was in college. In most cases, that is all you need. However, if your employment history is lacking, you can add GPA, honors courses, and leadership positions you've held.
How to Format This Section
For a professional resume, the format for education is similar to the work experience section. You don't need to be a software engineer to put things together nicely. (Although it might not hurt!)
You want to start from your most recent degree and work backward. So, if you have a master's degree, add that and then include your bachelor's degree under it.
You can choose to put your certifications here, but we recommend adding a separate section. If you have only one, a whole section might not be needed.
However, as many Scrum Master resumes feature several certifications, consider adding it below to a separate area for a potential employer to peruse.
Section #5: Skills
Now we get to the Scrum Master skills resume section. Rather than focusing on how many years of experience you have in Agile Development or clearing product backlog, you get to choose what is included here.
However, that doesn't mean you should go entirely off track and talk about how great you are at baking or video games. Make sure the skills you choose are relevant to the job you want.
Skills Example

You can see above how a skills section can be created. If you have relevant experience that wasn't placed in your work experience or education section, it can go here.
This relates to anything from Agile Coach experience to knowing SQL or working with Agile teams. It's great to show adaptability by offering both hard and soft skills when you build this section of a Scrum Master resume.
How to Format This Section
As you might expect, the job description can be a huge help in what skills to list. Everything from communication skills to technical skills and interpersonal skills can fit if required in the position.
So, let's say one of your skills is Kanban. You'd add that skill to your resume. However, you also want to show how proficient you are. In the example above, that's done with dots, but you can use something more creative if you wish.
Section #6: Certifications and Specializations
There are lots of certifications that can give you a leg-up and show you have an excellent track record. When you build a certified Scrum Master resume, this section gives you a place to list them all.
Add your certification in CSM and any other Scrum Master certification that you've completed to prove your knowledge and ability to learn more to help a business.
Certifications and Specializations Example

Since there are so many certifications from Scrum Alliance and other businesses, you may have several to include. Whether you've had extra learning in continuous improvement, product development, process improvement, or all of the above, add the certifications as you see above so a hiring manager knows where your skills lie.
Certifications are crucial in this job, so this section is not one to forget on a Scrum Master resume. It can quickly get you in for an interview when you handle it right.
How to Format This Section
The resume format for certifications doesn't have to be fancy. It also doesn't need to take up a ton of space. The most significant part of the resume will be focused on work experience in most cases.
You will want to include the name of the certification and when you received it. Adding where you earned the certification is another addition you can make if you wish. Otherwise, you want the basics here.
Section #7: References
Now that you've made it through all the challenging sections of a Scrum Master resume, all you have left is to add in some references.
You might wonder if references are required, and most people recommend adding them. Leaving them off will often only lead to the need to provide them if you move farther along in the process of getting the job you want.
References Example

You can see in the example image that the applicant lists three references. Two are references from current and previous jobs, while the last is from the university where they got their degree.
You can choose to add a personal contact as well, but it should not be a family member. No matter which references you choose to add, most of them should be related to past employment.
If you are straight out of college and have no past work experience, professors and others who know your abilities and intelligence can stand in for managers and coworkers in terms of references.
How to Format This Section
This section has easy formatting, especially if you use a Scrum Master resume template. In that case, all you need to do is fill in names, companies, and contact information. But even if you are making a resume from scratch, this is a simple section to build.
Put down the names of your references and where they work. From there, you can either leave the contact information or request that the employer contact you to get it.
The second choice is recommended. It keeps the contact information private until it is needed. If you choose to add the contact information to a Scrum Master resume, a phone number and email address are best.
Other Related Resume Templates
The resume template used for the example Scrum Master resume in this article is a great choice to create your own resume. However, we also offer a wide variety of other resume templates that you can choose from.
Some of the best options to adapt into a Scrum Master resume include:
The incredible thing about templates is that you can edit them to meet your needs. So even if the resume is set up for a chef or an attorney, you can make changes and use the outline to work as a fantastic Scrum Master resume.
Final Points on Professional Scrum Master Resumes
At this point, you have all the tips and tricks you need to write an excellent Scrum Master resume. If you use a template, you can quickly make a resume and send it to that dream position you just found.
And once you've finished that, all you need to do is pen an excellent cover letter where you explain your skills and why you'd be great for the company.
Before sending out your resume, make sure it has a standard format. It should have a compelling resume objective and information about past employment and education. Even if everything looks good, make sure to read it over at least once more. Consider using Grammarly as a way to catch any errors remaining, as well.
Scrum Masters work hard and can have a massive impact on the success of any business. Armed with a great resume, you have a better chance of being called in for an interview and eventually getting the position you want.
So take some time to make your resume the best it can be and watch how it helps you get a chance at the best jobs out there!