Retail Customer Service Resume Example & Writing Guide for 2023
Nothing makes you happier than the vibe of the retail industry and helping people by providing excellent customer service.
Every time you've assisted customers, it's been with heart and soul. Accordingly, your supervisors love you, and customers appreciate you.
But how do you get that energy and passion on your retail customer service resume?
It feels like you've hit a brick wall!
How can your customer service resume in retail stand out from other job seekers?
If this dilemma has brought you here, you're at the right place.
This article has resume tips on how to write the perfect resume that gets recruiters vying for your attention.
Retail Customer Service Resume Sample
With retail customer service resume examples and section resume samples included here, you'll have no problem.
Customer Service Resume Examples
To simplify it further, these three resume examples for retail customer service are at different career levels.
Entry-Level Retail Customer Service Resume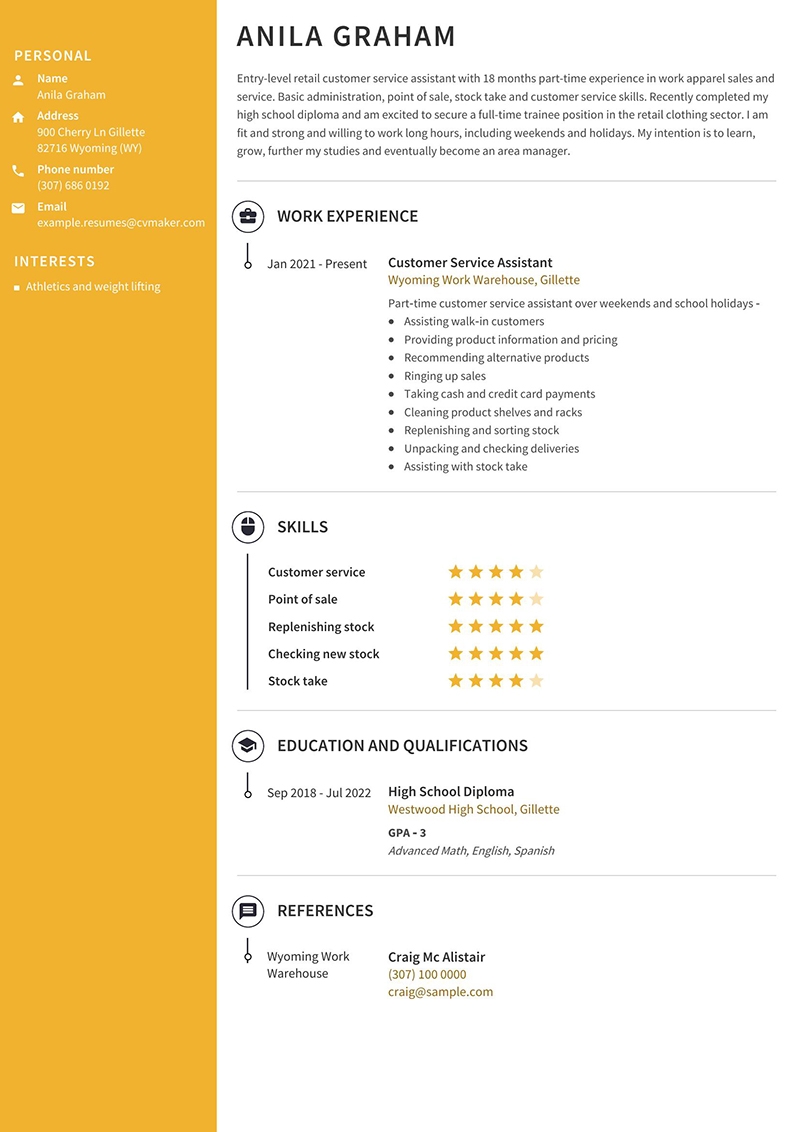 Download this resume example - Retail Customer Service Entry Level
Entry-level applicant Anila has selected our Harvard resume template in cheery yellow.
Customer Service Representative Retail Resume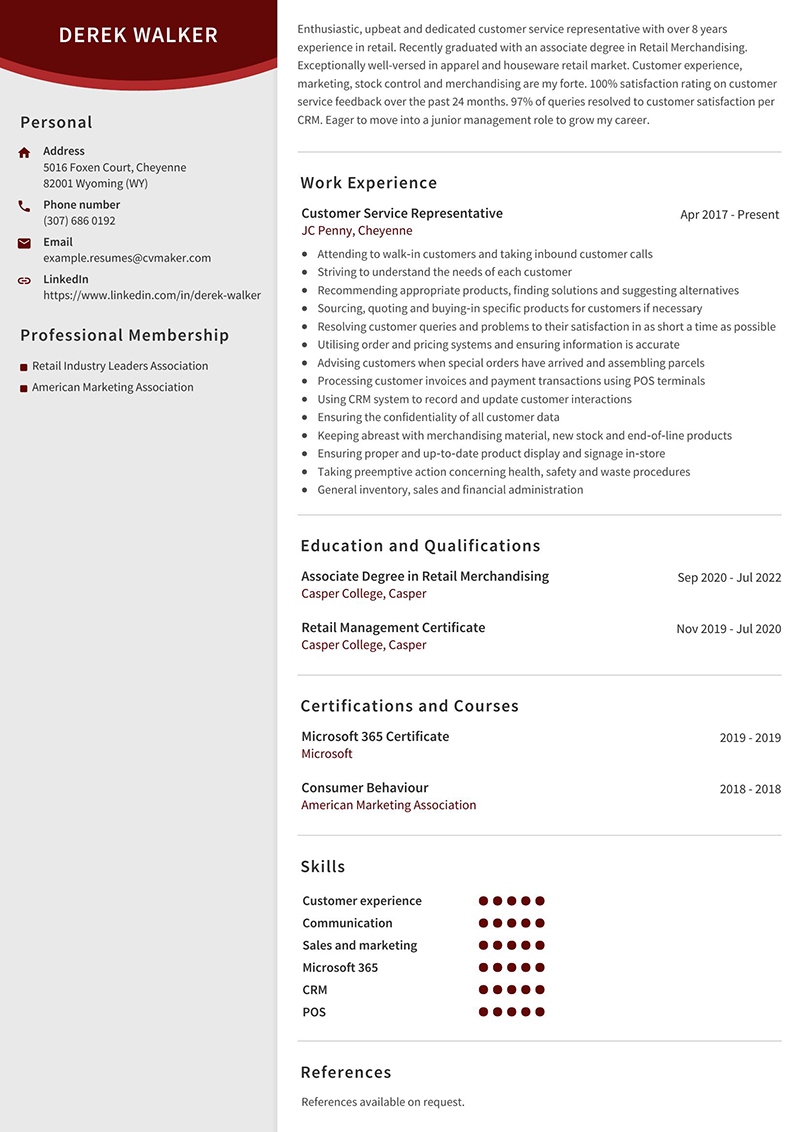 Download this resume example - Retail Customer Service Representative
Derek chose our Edinburgh resume template in deep red for his customer service representative resume.
Sample Resume on Retail Customer Service Specialist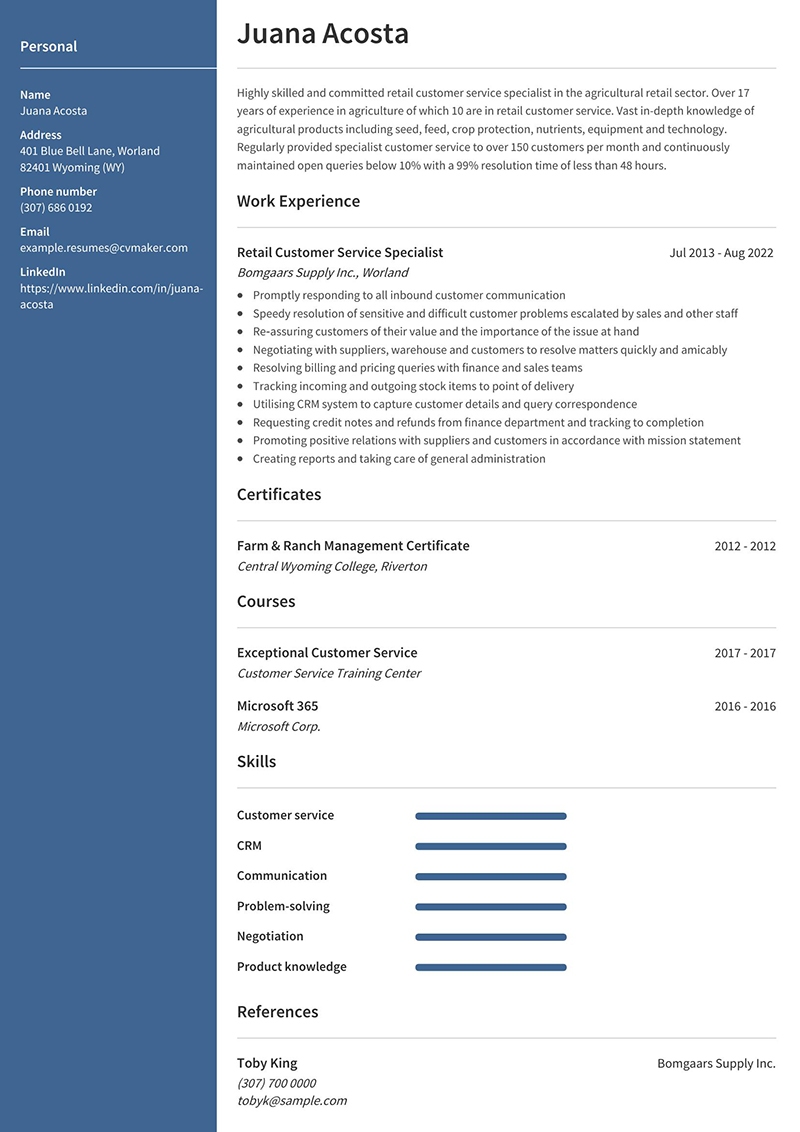 Download this resume example - Retail Customer Service Specialist
Customer service specialist Juana opted for our blue Stanford resume template.
Writing a 2023 Customer Service Resume in Retail: Full Guide & Retail Customer Service Job Description for Resume
The US Bureau of Labor Statistics predicts a 4% decline in customer service jobs over the next decade.
But retail will be okay.
That's because in-store retail sales growth is forecast to increase by 5.7% in the US.
Brilliant news, but…
The downside is that customer service reps from other sectors will be angling to enter the retail industry.
Of course, that's not an issue when you know how to write a top resume for customer service retail.
The secret is mastering the retail customer service representative job description and matching it to the job posting.
Retail hiring managers are busy people who know precisely what they want to see on retail customer service resumes.
Typically, they compile a job description populated with critical keywords and pass it on to recruiters. Recruiters load the info to job boards, social media and websites and wait for responses from ATS.
ATS?
Yes, applicant tracking systems play a vital role in HR and recruitment.
Job postings are processed via ATS, and all applications come through them.
Parsing software in ATS record all keywords for each job. As a job application comes in, it's immediately scanned for specific keywords.
Your retail customer service skills resume lands in a recruiter's inbox if keywords are picked up. If not, it lands in the bin without anyone even seeing it.
Overcome this by ensuring you include the keywords in the job ad and title in your retail customer service resume.
One way to guarantee you never get it wrong is a master retail customer service representative job description resume.
List every retail job you've had with a complete job description, employer details and employment dates. Do the same with your education, courses and achievements.
Save your master resume and all relevant documents in a folder and update it when anything changes. That way, it becomes a living document, and there's no delay or omissions when you're on a job search.
When you find a role that suits your skills and work experience, compare it to your master and identify keywords.
Now, begin crafting a targeted one-page resume using the exact keywords.
Don't forget to mirror the job title keywords as well.
For example, if it reads "retail customer service associate resume" or "retail cashier customer service resume", follow suit.
The suitable resume format, use of bullet points and fonts is equally essential as is submitting it in pdf.
Lastly, your retail customer service representative resume must fit on one page and no more than two.
This sounds like a lot to keep in mind, and it is.
A resume builder takes care of all the niggly bits allowing you to focus on getting all the info spot on.
Whilst each job will differ, it's pretty easy to spot descriptive words in a job post and mirror them on your resume.
There's no specific keyword list for retail customer service jobs, but these are some typical keywords you'll find –
Active listening
Business administration
Call center
Communication skills
Conflict resolution
CRM
Customer experience
Customer needs
Customer satisfaction
Customer service professionals
Customer service skills
Detail-oriented
Interpersonal skills
Microsoft Office
New customer
POS
Positive attitude
Pricing
Problem-solving
Product knowledge
Retail customer service
Retail sales
Teamwork
Up-selling
Personal Information
Retail customer service resumes must include a personal information section.
Nothing substantial, but a place where typos can happen, so pay attention and double-check before hitting send.
Transposed alpha or numerics means recruiters can't get hold of you.
You need to include nothing other than your full name, address, email and phone number.
If your LinkedIn profile is up-to-date, this is you include it on your retail resume.
Personal Information Example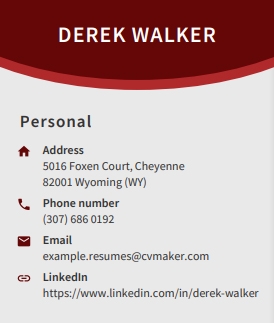 Well-spaced, clear and correct is all this section needs.
How to Format this Section
Accurate info, clear business style font and well-spaced – nothing more!
You can list your full address or state only; that's up to you.
The most important thing is you want recruiters and hiring managers to find what they need effortlessly.
Retail Customer Service Resume Summary
When reading your job application, your retail customer service resume objective or resume summary is the first thing someone sees.
Sitting right on top, it's a summary of your years of experience, customer service skills, qualifications and achievements.
Keep it relevant to the job posting and limited to no more than 80 words.
If you're making an entry-level retail customer service resume, switch focus to your education and career ambitions.
Write in keywords, quantifiable numbers, action verbs, and stats to showcase your contribution to the retail industry and customer service.
Even if you have plenty of stellar work experience to showcase, keep it relevant to the job you're applying for.
What About a Cover Letter?
Cover letters aren't always necessary.
Unless the post specifies a cover letter must accompany your application, don't include one.
The only exceptions are if you've just completed your high school diploma or applying directly and not to an ad.
A cover letter motivates an application and provides more detailed info. It's a formal letter addressed to someone specific, usually a department hiring manager.
However, because of all the details, it can confuse ATS, meaning even your best resume gets rejected.
An employer open to direct applications will likely exclude recruiters and ATS.
On the other hand, public job posts mostly exclude direct applications. To ensure fairness, employers that support transparent hiring processes want all applications via the same channels.
Resume Summary for a Retail Customer Service Resume

Notice how this applicant shares experience and abilities in less than 80 words.
Resume Objective for an Entry-Level Customer Service Resume in Retail

In turn, this entry-level applicant shares basic experience and career aspirations.
How to Format this Section
A resume summary must convince hiring managers you're what they're looking for; a resume objective must persuade them you're worth training.
Don't exceed 80 words, though.
Just give enough job-related details to make them want to keep reading your customer service representative resume.
Use keywords matching your skills, experience and achievements. Quantifiable numbers and stats add impact and reduce the word count.
Back it all up by expanding further in your professional resume.
Professional Resume Work Experience
In this section, you align your work experience with the job description on the posting.
A targeted retail customer service experience resume includes only skills, experience and training contained in the job advert.
Your aim is to prove to employers you've got what it takes and are the best applicant for the job.
Now's the time to remember ATS and get parsers working with you rather than against you.
Less is more when writing your retail customer service description for resume purposes.
Don't include experience not mentioned, no matter how excellent. They mean nothing to ATS.
To get onto recruiters' interview list, your resume must be high on keyword score.
Make success plain sailing for ATS and recruiters by listing job responsibilities in the same order as the job posting.
Professional Resume Work Experience Example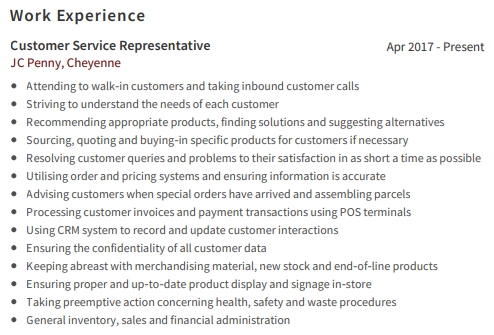 This retail customer service resume sample uses bullet points and concise descriptions with keywords.
How to Format this Section
The experience section must be easy to navigate and read.
A reverse chronological resume format works best for retail customer service resumes.
Use clear business fonts, bullet points and lots of white space on your professional resume.
Fit each individual job role into a single bullet point.
There's a good chance several people will view your retail customer service representative job description. So, make it easy to follow, comment on and share.
Finally, always follow the same order as the job posting and the same job title.
Education and Certifications for Retail Customer Service Representative Resume
A high school diploma is enough to get you started in the retail industry.
Most employers offer on-the-job and specific training courses for each customer service job.
Nevertheless, only mention education or training certifications listed in the advertisement.
The education section matters more to entry-level job seekers. The more retail customer service skills you have, the less impact it has.
Education and Certifications Example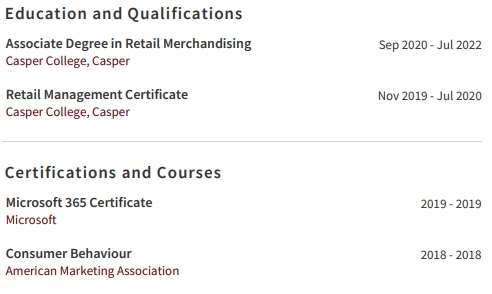 Keep formal education separate from short courses.
How to Format this Section
The education section must be straightforward, easy to read and accurate.
If you have a few relevant qualifications, list the most recent first and continue in descending order.
Separate formal education from short course certifications if you have both.
Begin with the institution, followed by the qualification and dates.
Retail Customer Service Skills
The skills section is a critical place for ATS parsers.
They'll search your retail customer service skills for resume for appropriate keywords.
Retail customer service resume skills include hard skills and soft skills.
Hard or technical customer service skills are learned knowledge gained through years of experience and training.
Conversely, soft skills or interpersonal skills are personality traits developed via life experience.
Regardless of how many skills you have, list only those required on your resume.
Retail Customer Service Skills Example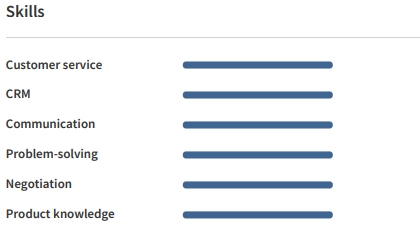 Only mention skills mentioned in the job post.
How to Format this Section
Make the skills section ATS-friendly, so your retail customer service representative resume moves straight to the interview shortlist.
You achieve this by mirroring skills verbatim from the post.
Rating for each skill help readers assess the depth of your customer experience.
References
Close your resume for retail jobs with references.
One or two references will suffice.
It's always best to give referees a heads-up. Firstly, so they know you're in the job market, and so you're assured they're available.
Also, confirm what contact details the referee wants to be shared. Privacy of information is a real thing.
References aren't necessary unless specified as a requirement. If you opt to not include references, list them as available on request.
References Example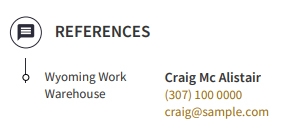 Make sure the reference info is correct and easy to read.
How to Format this Section
Accurately record the company and the referee's name, phone number and email address.
Nothing else!
Related Resume Templates
Having second thoughts about resume templates for retail jobs?
We have plenty of other customer service resume examples for you –
Final Points on Successful Retail Customer Service Resumes
That's it – now you're ready to write a mind-blowing retail customer service representative resume.
Before you get cracking, though, let's recap on the essential points –
Write a master resume to keep as a living document
Target each job application individually
Extract keywords from each job post
Take time selecting info from your master
Select the correct type of resume template for the job
Stay with a one to two-page resume
Use professional but easy-to-read wording
Use action verbs and positive language to keep it engaging
Submit your resume in pdf format
Save yourself time and hassles by using a resume builder